Odd-Bedfellows [2017-04-20]Renaldo and the Loaf are a British two-piece that brew-up a bizarre, surreal & distinctive blend of avant-grade pop, wonky (off) world music and general sonic quirkiness. The band originally existed between the years 1979 & 1988. They regrouped in 2006, and late last year released their first album in 30 years Gurdy Hurding. The bands two members Renaldo Malpractice (aka Brian Poole) & Ted the Loaf( aka David Janssen) kindly agreed to do an M[m] an email interview, and below you'll find a lengthy full career covering interview

M[m]: Tell us a little bit about the first time you both met? And how long after this did you go on to start creating work together?

RATL Sometime in 1969, we were both in the art room at school probably escaping from doing sports. Brian was drawing something inspired by a Tyrannosaurus Rex song (possibly Misty Coast of Albany) and David was also drawing a TyRex image...that's how we spotted each other. Naturally we got to chatting and obviously found we were both fans of TyRex and our friendship was started.

RATL Difficult to say exactly how long after we started working together to create 'music' – but it wasn't long. We both bought guitars at pretty much the same time and learned the basic chords. After an unsuccessful attempt to let our music teacher help us play properly, we set about playing in our own very naive way, 'writing' our own songs which we recorded from the outset. That would have been in early 1970.

RATL Over a period of 5 or so years, we progressed in our own way, playing pseudo – Ty Rex type tunes and also material influenced by bands like King Crimson, Yes and electric folk music...even a bit of World Music influence crept in. We did three live performances at a local youth club, each time getting a bit more experimental until we sort of baffled them.

M[m]: How & why did the projects name come about?

RATL Renaldo and The Loaf actually appeared in late 1979, before then we had only toyed with names as it wasn't really relevant, we didn't perform or release stuff. Immediately before RATL we were called Plimsollline...we adopted that name as an independent label, Raw Records wanted to release an EP (Tap Dancing In Slush) and LP (Behind Closed Curtains) in early 1979...as we know, this didn't happen. We went on to record our cassette only album Struvé & Sneff later that year and the name Renaldo & the Loaf was applied to that.

RATL The name is derived from our 'dice names'. At that time we used to go out pubbing with a group of friends and we were all into Luke Rheinhardt's book The Dice Man; so we used dice to add spice to the activities of the evening...nothing hectic, just harmless (but often humorous) choices like, which pub, what to wear, how to enter the pub, what to do in there, what to speak about. Each of us had dice names for these events – your dice name was given to you by one of the others, David was Ted The Loaf as he had a bushy beard (apparently looking a bit like a teddy bear) and had just gained his degree and so was considered brainy and had 'used his loaf' – Cockney rhyming slang for head (head, bread, loaf). Brian was given the obscure name Renaldo Malpractice – no one knew why and we have no idea to this day. So when it came to thinking of a name, Renaldo & The Loaf seemed natural.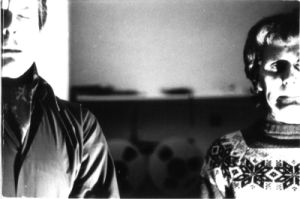 M[m]:What was your first set-up as the fledgling Renaldo and the Loaf? How did you go about capturing it? And where was the very early work of the project recorded?
RATL As said earlier, we recorded everything we did – this was a habit and we knew nothing different. So tape recorders were always at the heart of our set-up. In the very early days c1970 we used a simple cassette deck, a little later we used a Ferguson domestic reel to reel tape machine with very limited overdubbing. By 1978 we each had Akai 4000DS tape recorders which, by bouncing between the machines, allowed multi-tracking. This was what we used to record Behind Closed Curtains. After receiving some constructive advice from Geoff Travis at Rough Trade, who we played a few BCC tracks to, we acquired a Teac 3340S 4 track tape deck and set about making Struvé & Sneff. A little later we also had a Teac 2 track machine which allowed better audio quality for mastering and bouncing of audio.
RATL Over the years we had collected an eclectic array of instruments and things that made noise. Also, we had developed our own ways of playing guitar including preparing it and using effects pedals. We also had an old Watkins Copicat tape loop echo unit which we put to good use. So the initial RATL set up in regards to instruments was centred on guitars ...we aspired to have keyboards/synths but couldn't afford such things so we attempted to make equally interesting sounds from the items we had at our disposal.
RATL This was the set up for Struvé & Sneff and Songs For Swinging Larvae.
RATL Of course, as we improved our tape machines it became easier to create loops and these increasingly featured in our recordings.
RATL In the very early years we recorded wherever we wanted as the equipment was very portable but, from memory, it was often at David's place. Subsequently we had this arrangement where we would get together every Tuesday evening and Saturday afternoon/evening to work in what became known as Sneff's Surgery. Until we got the Teac 4 track, Brian used to carry his Akai deck round to David's each time using a wheeled trolley, but later the recording equipment remained in place in The Surgery.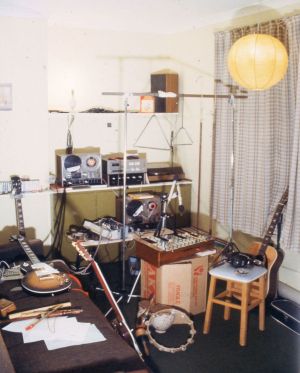 M[m]: Renaldo and the Loaf are one ( if not the only) notable sonic avant-grade project to come out of Portsmouth- why do you think this is & where you aware of any other projects in the area during the 70's/80's?
RATL If we were the only 'notable' avant-garde band to come out of Portsmouth, we have no idea why. We were quite isolated in what we were doing, didn't really promote ourselves and saw it very much as a hobby – though we weren't deliberately trying to be isolationist, it was just the way it was. After we made the album Struvé & Sneff and sold it in local shops we think people sort of noticed we existed and some local musicians bought the cassette. Prior to 1979, we were aware of other groups in the city but only in a tangential way....thinking about it, one other more experimental band that springs to mind was Uncle Ian.
RATL In late 1979 or early 1980 we were approached by the members of Attic, a prominent local band, who were curating a Portsmouth Compilation LP (to be called South Specific). They invited us to participate and through that we got to know a number of other bands – the local band hang-out was a pub called the Portland and now and then we would go there.
M[m]: Your first release was in 1979 with the Struvé and Sneff tape. At the time did you try & take it around record shops in the local area? And if so what was the response?
RATL Touched on this in the previous answer but the full story is this....in the late 70s Brian used to go regularly to a local record shop, Mardi Gras in Fawcett Rd, Southsea, and 'Henry' (a lady) the very friendly and helpful salesperson used to play snippets of records that he might find interesting. One day she showed him a self-released cassette by a band called The Marilyn Monroes. Brian bought a copy as it referenced the Residents on the cover. Upon listening to the cassette, we both agreed that the RATL material we had was good enough for public release....like if this band can do it, why not us?
RATL So the Struvé Sneff album was compiled, cover artwork done etc. and Brian took a copy into Henry for her to listen to. She liked it and offered to sell some for us. A flyer was printed to go in the shop window and with Henry's help the copies were quickly sold. Feeling confident, we took copies (on sale or return) to Virgin Records and HMV shops in Portsmouth – David also took some to Rough Trade who sold some. The tape was also offered for sale by mail order...in those days of increasing self made product you could get a free listing in NME, Sounds etc and so we started to sell copies around the world.
RATL Each copy was made in real time from the original master tape so we both had our work cut out...tapes were sold for about the next 3 years and we think a total of around 250 copies were made.
RATL Interesting footnote: A few years ago Brian was introduced to Keith Seatman, a Portsmouth musician who produces some inventive material, you could say he is currently one of Portsmouth's more influential experimental artists. Anyway, it turned out that Keith is Henry's brother and was one half of The Marilyn Monroes who were integral to RATL deciding to release their first album. Small world.

M[m]: One of the key parts of the project history is when Brian dropped off a copy of the Struvé and Sneff tape at The Residents offices in San Francisco, which led the project to becoming signed to Ralph Records. Could you tell us a little bit about this visit to the Residents offices? Did you just turn up unannounced? And what was your impression of their set-up then?
Brian: In September 1979, just as Struvé & Sneff was released, I did indeed visit San Francisco as part of a fly/drive holiday on the West Coast. Being a Residents fan I naturally wanted to visit 444 Grove St to buy some albums and, well, just check it out. I took the precaution of phoning beforehand to see if they would receive me and apparently as I had an English accent they said yes. So, as arranged, I turned up, rang the doorbell and was led through this black PVC tunnel into this double-height warehouse space with bare brick walls and a mezzanine deck around two sides accessed by a spiral stair. What I can remember is seeing the stuffed dolls from Snakefinger's Spot cover hanging around the staircase and I think a large painting above a sofa to the left-hand side. I was served by a soft-spoken chap who took my order for several Residents albums and duly brought them to me...I paid and he gave me a copy of the Santa Dog 78 single free. I asked if I could leave a copy of our cassette for them to hear; he took the tape and said he'd listen to a bit now. He retired to a small cubicle-like space under the mezzanine – I could see him through the windows and he listened to three tracks I think. He came out and said he thought it was 'excellent' and did we have any more material. Needless to say I was hugely happy someone at Ralph liked our stuff. I gave our contact info and said we'd send some more when we had it recorded.
The visit was something of a blur, I couldn't remember many details about the setup – of course, we visited Grove St about 18 months later and spent a lot of time there so certain memories of the place from that time are stronger.

M[m]: How soon after they heard the tape did they contact you regarding signing you to Ralph Records? And at this time had you approached any other labels?
RATL After the visit when the tape was left, we just got on with doing our music as we always did albeit encouraged by the positive feedback from Ralph. Within a few months we received a couple of letters from Ralph saying they loved the cassette and prompting us to send some more material to listen to. So we compiled up a 'promo' cassette of work to date including our live performance from April 1980 and sent it over in May – it was called Songs From The Surgery. Following that, we received a letter in July saying Ralph would like to put an album out for us – needless to say, we were hugely excited. In August we sent over the Hats Off Gentlemen promo tape.
RATL Jay Clem came over to the UK in September 1980 and visited us in Portsmouth to go through the contract and tell us more about Ralph – the formal offer/contract arrived in October 1980.
M[m]: Your first official release came in the 1981 with Songs for Swinging Larvae- tell us a little about the process of creating this release? And did Ralph give you complete artistic control? Or did they suggest changes when you sent them the demo tapes?
RATL The tracks for Larvae were recorded post Struvé Sneff in our established fashion of Tuesday and Saturday sessions. We don't think we allowed the request from Ralph to send more material to unduly influence our process – in a way it was Ralph who were pushing us, not the other way round. The tracks that eventually appeared on Larvae were, in composition, essentially the same as the 'demo' versions that we sent on the promo tapes.
RATL Ralph gave us total artistic control of the music, always did – they didn't suggest any changes at all. Only in respect to the cover art did we have to defer to the experience of the label – we knew very little then about the process and being at such a distance made conferring difficult. We suggested a sketch to convey our idea of a surreal cover image and this was freely interpreted by Gary Panter.
RATL Ralph only fully heard Larvae after we sent them the final master reels. Although a lot of Larvae was pre-mixed, the tapes had two tracks over a mixed down backing that could be manipulated and this final mix and mastering was done at Elephant Studios in London in November 1980. So afterwards we just posted the tapes over to Ralph and waited for the completed LP to arrive back a few months later.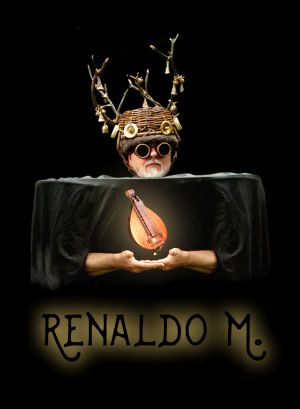 M[m]:Your second release came in the form of 1983's Arabic Yodelling- it saw you creating a more sophisticated & layered sound, which featured a wider sonic pallet.
Please discuss how you felt the creation progress of this album varied from your early work? And was their any pressure from Ralph to conform to a certain sound? Or did you have complete artistic control?

RATL Our first 'official' release, Songs for Swinging Larvae, and the earlier cassette release, Renaldo and the Loaf play Struvé and Sneff, were both recorded without the knowledge that they would be released....in innocence, so to speak. By the time we came to Arabic Yodelling we had a contract with Ralph Records so we knew that what we were recording post-Larvae, potentially, was for a new album. So, chronologically, it was our third release but it felt very much like the 'difficult second album'. The 'difficulty' being that whatever we came up with we tended to over criticise it. Given a bit of time to acclimatise to the situation, we eventually relaxed enough and brought the album together. To their credit, Ralph Records gave us all the time we needed and a completely free hand to record whatever we wanted, there was no pressure to pursue a particular direction.
M[m]:Fairly soon after the release of Arabic Yodelling you collaborated with The Resident's on the Title In Limbo album. How did the idea of this release first come about? And have you discussed doing a follow-up collaboration album with The Residents in the years since?
RATL When we visited San Francisco in 1981, just prior to the release of Songs For Swinging Larvae, The Residents were curious about what would happen if they and RATL were in a studio together. They then had the idea of recording an album with us in 4 days. We spent a day in their studio just improvising and were sufficiently pleased with the results to start selecting pieces to work on. After together selecting the excerpts from the improvisation to work on, the ambitious idea was to then spend a day working as two teams (Renaldo + Residents and The Loaf + Residents) to devise song structures, day 3 would be recording the overdubs and day 4 the mixing process. It quickly became apparent that the project couldn't be realized in the allotted time frame – in fact, due to other pressures days 2, 3 and 4 never happened - so the tapes were just put on the shelf. A few weeks later, we did receive a cassette tape of how it was left with some minor post-production work by the Residents and the project was given the working title of 4 Daze. A couple of years later, after meeting the Residents backstage at the London Moleshow, they expressed an interest in completing what we had started and Brian returned to San Francisco to finish the project. There has been no discussion of a follow up.

M[m]: Your next full length The Elbow is Taboo, didn't appear until 1987. Why was there such a gap between releases? And how do you think the way you worked together had changed in the ensuing years?
RATL Royalties from sales of Title in Limbo enabled us to buy an 8 track tape recorder and a mixer, which gave us greater possibilities. As the music became more sophisticated and ambitious our speed of working decreased. There was a shift in emphasis as the studio moved from 'Sneff's Surgery' (at David's house) to 'Chez Struvé ' (at Brian's house). Also it took longer to realize a new album as we had spent some considerable time and effort after the release of Arabic Yodelling putting together a compilation LP 'Olleh Olleh Rotcod'. This was on our own label and released via Rough Trade/The Cartel. Together with this we also established a working relationship with Stevo, head of Some Bizarre, and he offered to release our next album in the UK. We were still working with Ralph of course. Historically we had very little to do after we posted off master tapes to Ralph, a finished album would just appear a few months later, but with Some Bizarre we were fully immersed into the whole process...cover artwork, mastering, cutting etc. For various reasons this just ate up time....mainly in achieving cover photography we liked. Also of course in that time we produced the 12" Hambu Hodo.

M[m]: Until recently The Elbow is Taboo was your final release- please discuss why you decided to the end the project at this point?
RATL After the release of Elbow, which very much exhausted us, we recorded one more song Haul on the Bowline for a Ralph Records compilation, Potatoes. Beyond that, we felt that the well had run somewhat dry and our heart was no longer in producing more music....so we took a long holiday!
M[m]: After many years apart you both met again in 2006, and decided to start working together again. How did this meeting come about & how soon did you decide to work with each other again?
RATL After we met again, which was thanks to the internet, it felt very much like picking up where we'd left off....the intervening 20 years just fell away. Eventually we discussed the possibility of reissuing our back catalogue and David started making music again. Brian had continued with various projects over the ensuing years. The whole thing happened very organically, there was no decision to start recording again and certainly no thought of recording an album. But there came a point, about 2 years ago, when we realised we had a number of finished pieces we were happy with, which amounted to about half an albums' worth of material. Then it became rather more a conscious effort that, when the reissue series was finished, we would look seriously at finishing a new album. As the new album sort of crept up on us we thought it would be fun to do the same for fans and make its existence a complete surprise.
M[m]: Over the last few years you have been slowly, but surely reissuing your back catalogue, and rare unreleased material via Klanggalerie. Tell us a little bit about how you first got in contact with label & how the reissues came about?
RATL The link to Klanggalerie happened via ebay...Brian had bought a Residents item from a seller on ebay and that seller seemed to be disposing of various Residents and Ralph related items. One item that popped up was RATL based and Brian wrote to the seller to ask a question about it, noting he was Renaldo in the process. It turned out that the seller was Walter, boss of Klanggalerie, who was selling the items for a friend of his. From that we corresponded and Walter asked if RATL has ever thought of re-issuing their back catalogue. The thought had crossed our minds as we'd received a few invites from other labels to do something similar...but the timing was never right for us. Walter asked at just the right moment and we said OK. Walter suggested testing the interest in our old stuff by first releasing our original cassette version of Struvé Sneff...this we completed in late 2012. We thought the release should offer bonus material so we decided to add a second disc with our only live performance and some remixes of it. Pleasingly there was good interest in the release so Walter asked us to do the rest - so for nearly the next 4 years we put together the definitive collection of our 'first phase'. Our working relationship with Walter and Klanggalerie to us is very much like how it used to be with Ralph - that is a rare thing.
M[m]: The Klanggalerie reissues have featured great expanded artwork & new information on song creation etc. Please discuss how these elements came about, and was it a joint venture between you both?
RATL One thing that was surprising about the reissue series was just how much material there was. We spent some time digitising our old cassette archive, in fact it was Brian's work in progress audio diary which he used to listen back to what the last recording session at Sneff's Surgery had achieved - so in advance of the next get-together he could rehearse and get ideas. Happily, the cassettes had not degraded and were very usable. Of that which had survived there was material that was (in our opinion at least) sufficiently interesting and different from the previously released material to warrant bonus discs that complimented the original albums. The bonus disc content was very carefully considered by us both– the audio work was also a shared thing. Similarly, the artwork used and general design was a joint decision, though as Brian had a bit more experience with graphics programs he tended to put the package design together. The new artwork was generally expanded and developed from the Ralph covers and the TecTones CD releases from the early 90s. That gave a good starting point but as we decided on fold out covers and booklets extra visual material was needed – this proved a little more difficult as we had very few photos to document our history. We're talking about a world before the advent and ubiquity of 'the selfie', plus, at the time we had little concern with documentation for posterity. But thankfully just enough imagery was found to use.

M[m]: All of the Klanggalerie releases/ reissues have featured new/ exclusive material, but the Behind Closed Curtains / Tap Dancing In Slush / Rotcodism release is all exclusive/ unreleased material from early R&TL- why didn't they get released at the time?
RATL The tracks for the Behind Closed Curtains LP and Tap Dancing In Slush EP were recorded in 1978 with no thought of a release in mind. Later that year an independent label in Cambridge UK called Raw Records put out a request for demos – we probably saw it in one of the national music papers – so we assembled a tape and sent it off. To our utter surprise in January 1979 we received a very favourable response and following some correspondence and a meeting with the label boss in London it was decided they would release an EP and an LP....the EP being due out on 23rd March 1979 and the LP on 6th April. At that time we decided to call ourselves Plimsollline...we liked the 3 'L's together.
RATL But regrettably, the label folded before any of this happened. However, encouraged by the fact that someone liked our stuff we set off to London and played some tracks to the A&R man at Virgin – who was kind but said we weren't commercial enough – and the same day went into Rough Trade and played some to Geoff Travis. In those days he could be found in the shop and just played demo cassettes at the counter – he offered two particularly constructive comments. 1. Get yourselves a decent tape deck and 2. collide together more ideas into each song. He thought our tunes were interesting and had good ideas but each idea was played out too much.
RATL So we went away, bought a Teac 3340S 4 track tape deck, wrote new pieces and changed our name to Renaldo and The Loaf.
RATL When we signed to Ralph we sent them BCC and TDIS, but they suggested we should look forward rather than back and so didn't consider releasing them. Therefore they were shelved for some 36 years.
RATL The Rotcodism disc is produced from early experiments and material that was never considered for the LP and EP. So it would not have seen the light of day but for the Klanggalerie re-issue series.

M[m]: Still on the subject of Behind Closed Curtains…the material on these releases is often quite different in tone/feel from your later work. Please discuss how & when you more distinctive/known sound setting developed? And did it happen mindfully, or was it more of just a progression as sonic artist?
RATL Behind Closed Curtains was our first ever collection of tracks – prior to that we doubt that any of the recordings we had made could ever have been considered for release. So, effectively, BCC/TDIS describes the embryonic sound of RATL, where the sonic experiments we'd been indulging in since 1977 seemed to largely coalesce into coherent songs.
RATL We'd taken a break in the mid-70s and when we came back together in 1977 we were a lot freer in our overall approach and were happy doing various improvisations using Fripp/Eno-esque tape delay systems, music concrete, and exploring prepared guitar techniques. Basically building up our own palette of sounds and ways of playing.
RATL We were using our two Akai 4000DS tape decks and bouncing sounds between them, this would have coloured the kind of sound we might make; also we had just embarked on the idea of mimicking synth sounds with effects units and conventional instruments...so there was quite a bit of experimentation going on. That time was a melting pot of ideas and explorations, some of which worked, some didn't.
RATL It was the pre-natal state of what some consider the distinctive RATL sound that possibly was first heard on Struvé Sneff....so it's different and potentially even more naive.
M[m]: In late 2016 you surprised everyone by releasing Gurdy Hurding, your first album of new material in 30 years. How long had the album been in the works? And how do you feel the way you write & create sound today has changed since Elbow is Taboo?
RATL The album really wasn't in the works at all until about 18 months or so before it came out.

RATL We'd been chipping away at potential new RATL songs for a few years before that but in a very relaxed fashion, nothing really was finished off. However as we continued to work with Klanggalerie on the re-issues our thoughts turned a bit more to finishing songs off. We played Walter at Klanggalerie some tracks in April 2015, he liked what he heard and encouraged us to go for an album. After playing him further tracks in January 2016 a loose target of late 2016 was set....and that is what happened.
RATL The way Gurdy was conceived was very different to Elbow. Elbow was largely 'written' and recorded in the way the previous albums had been. Us sitting down improvising along to a loop tape to generate ideas that we would record and hone into a finished piece. As we had an 8 track deck, mixing desk and some early digital effects by then, the techniques we used had progressed to crude sampling, drum machine patterns and more multi-tracking to complement the usual approaches. Importantly, if we wanted to, we were able to get together to work on the songs in the same room.
RATL 30 years later, we now live in different parts of the country, technology has leapt forward and we usually only get to meet up twice a year. So the working method is very different. Basically we just exchange ideas by file sharing and use computer software to record. It would, of course, be enjoyable to work again in the same room but largely we'd just be sat at two computers, chatting and making sonic decisions. That can work just as well when you are hundreds of miles apart.
RATL One thing we have noted is that when it comes to our judgments in what excites us or what works for RATL material, our musical sensibilities are still very attuned and just as they were all those years ago. Not a conscious effort, it just is the way we are.

M[m]: Tell us a little about the visual themes for this new record, and you both dressed up as steam punk like minstrels. Where did this idea/theme come from?
RATL The music on the album has something of a medieval electronic feel and when we were in discussions with the album artist, Poxodd, we suggested that the cover might reflect a similar vibe. We sent her early mixes of some tracks, discussed the lyrics and eventually sent photos from the video shoot and from that she came up with her highly individual artwork for the album. It more than superseded our expectations, we loved it. Poxodd also designed and made us a hat each which then featured in the video and also on the cover.
RATL The hats very much influenced how we developed our look for the video. Together with Jez Stevens, who filmed and directed the video, we conjured up the surreal costumes. Renaldo's black cylindrical costume is based on the Padstow hobby horse, a throwback to pagan times and The Loaf's costume is more medieval in its look but has a definite 'made out of curtains' alternative feel. Perhaps it's steam punk....in this instance; Renaldo's archetypal goggles are very much a steam punk design.
RATL In the past we never really worked on any sort of image for ourselves, but in these days of video and social media, having a bit of fun in that department is bringing us pleasure.

M[m]: Fitting the new albums concept a lot of the tracks have an electro-fired- medieval vibe about them. Where/when did this interest in medieval tuning/ sounds develop?
RATL After we completed Elbow Is Taboo and when the dust had settled, we did chat about what we might possibly do next. We were both listening to Early Music and we mused about how RATL might work with that. We always liked the simplicity of beat and textural sounds in Medieval music...we had already used some instruments that might work with that sound, the bouzouki, dulcimer and mandolin for example. However soon after that we decided to call it a day, our energies pulling us in different directions, and it would take 30 years to finally realise how RATL might collide with the Medieval world.
M[m]: All of the tracks on Gurdy Hurding are fairly short & sharp in both their length & delivery, really moulding your sound into more approachable bite size chunks of sonic oddness. Was is a deliberate decision to write shorter/ more instant songs, or did they just develop that way?
RATL We don't think it was deliberate; it certainly wasn't discussed as a policy – as with most things RATL, it was likely by accident. Probably a subconscious thing, we knew when they felt right.

M[m]: For the new album you filmed a video for the song A Convivial Ode- tell us a little bit about how/why this came about? Where is was filmed? Etc?
RATL Our good friend Jez Stevens, a musician, VJ and filmic type, offered to give us his time and expertise for free so we could realise a video for the new album. We discussed which tracks might work and two front runners were there immediately – A Convivial Ode and Scent Of Turnip. Jez felt Ode would be the better track to initially work on and ideas did seem to be flowing freely when listening to the song.
RATL As mentioned earlier, Poxodd's hats kick started the feel for the film and Jez also suggested we look at scenes from A Field In England, a 2013 film directed by Ben Wheatley. It was decided the filming would be in Wales near where The Loaf lives and he scouted out potential locations. The storyboard was very loose and much of the content was improvised and decided on during filming over 3 very hot, exhausting days in August 2016. We say 'exhausting' as there was only the three of us, no crew, so we all had to carry the gear and costumes to the locations as well.
RATL It was filmed in three locations, a riverside park in Rhayader, a field next to The Loaf's house and also in The Loaf's garden. The story, insomuch as there is a story -minstrel and 'beast' walk across fields and then into the woods, it gets more dense and night falls so they settle down in a bower only to wake up magically having swapped places - this was developed during the filming and put together in the editing. Jez also took a lot of photos – he was very busy – and they became our promo shots.
RATL What about Scent Of Turnip you may ask – well we have loosely chatted about ideas for that but there are no plans in place as yet to shoot it. It would likely need a bit of extra help and equipment which needs funds.
M[m]: What's next for R&TL?
RATL We usually just wait and see – new music will happen when it's ready to.
RATL At Christmas we were invited by the US band, Controlled Bleeding to contribute a track to a remix project they have organised called Carving Songs based on tracks from their Larva Lumps and Baby Bumps album. Our track is called As Evening Fades (Murmuration Murder Mix) – it is due out on double CD and double vinyl around June, we think.
RATL Another project is the recording of a song using the lyrics from our Gurdy Wording competition winner, Eggoddleo Jones. It's called Song Of The Lungfish – it will be released at some time, but we can't as yet say when.
RATL We are in discussions about a vinyl release of Gurdy Hurding – details will be announced as and when.
Thanks to Brian & David for their time over the last few months answering my many questions. The projects official website can be found here . Gurdy Hurding & most of the other RATL reissues are available in CD format on Klanggalerie, and can be brought direct here.
Photo credits: Main front page pic, menu pic are Jez Stevens, and the new stand alone promo shots are Jez Stevens/Poxodd. All other pics are RATL
Roger Batty