Existential Beauty: A Primer [2017-01-11]Today the lineage between mid 20th century minimalism and what passes now as ambient music is mostly obscured. But lying beneath the sedimented layers of electronic haze, lazily sequenced techno and new-age indulgence there is a history that broaches some of avant-garde art's most pressing concerns. Questions around form, the centrality of the author, of the artist's relationship with the wider environment, and even the status of art and artistic consumption itself; all of these were present in the American milieu from which Harold Budd emerged. Born in Los Angeles in 1936 Budd was brought up in the tiny town of Victorville in the Mojave Desert where the light, wide and often desolate spaces would come to exert a permanent influence on him. In the late 50s he played duets with Albert Ayler in a army marching band before taking up studies in composition at the University of Southern California.

During this time he imbibed the minimalist ethos of artists like Mark Rothko and composers Morton Feldman, Terry Riley and La Monte Young, producing a series of increasingly abstract works that distilled his musical language to ever greater degree. After the drone pieces Coeur d'Orr and The Oak of the Golden Dreams in the late 60s finally came the solo gong composition Lirio after which Budd claims he realised he had minimalised himself out of a career. When he returned to composition in 1972 the music he created eschewed the vanishing trajectory of avant-garde minimalism for a pure "existential prettiness" that was in his own words in the record's notes "mindless, shallow and utterly devastating". The suite of chamber pieces he produced in this style were to coalesce into Budd's debut album The Pavilion of Dreams in 1978. The record was instigated and eventually produced by doyen of ambient music himself Brian Eno after he was given a tape of a performance of Budd's Madrigals of the Rose Angel by Gavin Bryars and Michael Nyman, both of whom ended up playing at the recording sessions for the album in Notting Hill.

Madrigals of the Rose Angel, a piece for female choir, harp, percussion and piano exemplified the new compositional style Budd would take forward over the next four decades. A subtly understated work of haunting beauty Madrigals refutes immediately any notion of ambient's so called meditative or peaceful qualities. The choir rises tentatively out of a backdrop of celeste and harp like first light on a cold winter's day; never soaring but rather engaging the piano and other instruments in a slow plaintively jazz inflected dance, somewhere between mourning and spiritual ecstasy. The record also marked the debut of what Budd would later come to call his "soft pedal" style of piano playing characterised by sweeping semi-improvised waves of melody that rise and fall in intensity, occasionally risking near inaudibility. Indeed it was this unorthodox style which his collaborators seemingly struggled to perfect that led to Budd taking up playing duties himself. Two years later he would inextricably link himself to the ambient label (one which he has never ceased to refute) through his collaboration with Eno on Ambient 2 (The Plateaux of the Mirror) . Here Budd's elegiac playing combines with Eno's electronic treatments producing one of the most moody yet musically inclined moments in the ambient cannon.

Since then Budd has continually returned to the fertile lands of mid-century avant-garde art over the course of a career that has spanned six decades and over forty records; mining the resources of minimalism, drone, modernist classical music, or in his poetry the influence of 60s counter-culture and the Beats. These influences have come together, often utilising the skills of numerous collaborators, to produce a singular body of work of great variety which has always managed to stand outside and yet move along with developments in music technology and the infamous ambient label. The following records are those which to the ears of this author are of special note in Harold Budd's discography.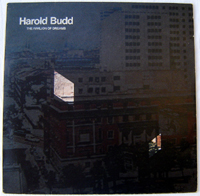 The Pavilion of Dreams (1978)
The Pavilion of Dreams is one of the most lovely, almost transcendently beautiful records ever committed to wax. Its suite of four compositions gel so well, from the opening tones of Bismillahi ´Rrahmani ´Rrahim, featuring Marion Brown's gently lilting alto sax, to the end of goddess inspired Juno, you might wonder whether they had come together by the hand of some divine power. Brown's sax is a revelation emerging as if from slumber from the Arcadian sounds of harp, celeste and glockenspiel. While on Two Songs the harp appears alone serenaded by Lynda Richardson's mezzo soprano in unique adaptations of works by John Coltrane and Pharoah Sanders. But it was Madrigal's of the Rose Angel, a title fitting for a divine work, that signalled the new direction in which Harold Budd was striking out. One could recognise Budd's characterisation of his new sound as "existential prettiness", less so with being mindless and shallow. If anything the strangely muted, almost mournful way in which the chorus hovers around the piano and percussion parts, as if trapped by some unspeakable melancholy, was suggestive of a depth and darkness of emotional content that undid any pretence to mere ornamentation. Here Budd's own stated criticism of meditative or new-age music as having no evil within it is given its finest response. It's perhaps because of this evil lying just under the surface of this gorgeous music that the record's ability to lull and seduce the listener is all the more devastating.
The Pearl with Brian Eno (1984)
Four years after Ambient 2 (The Plateaux of the Mirror) had introduced Budd's distinctive sound to a wider audience came the second collaboration with Brian Eno, the Daniel Lanois produced and distinctly chilly The Pearl. Even if you've never heard of Harold Budd chances are you've heard some of the music on this record, featuring as it has on countless documentaries as the go-to soundtrack for earnest reportage of historical events. This overexposure however does the record something of a disservice, suggesting a pliable perhaps even throwaway quality that in truth the record lacks. The music contained within is colder and more plaintive than Ambient 2 with the electronic treatments courteous of Eno encasing Budd's achingly pretty melodies in a fine haze or morning dew. Lanois' remarkably subtle production adds just enough of the uncanny to unmoor the listener from anything familiar. The sound of crickets can be heard on A Stream with Bright Fish, while Against the Sky is suggestive of an angelic lament heard from across a mist shrouded valley. Elsewhere songs like Dark-Eyed Sister positively shiver with foreboding and resistant remembrance. The Pearl is "dark ambient" before the Goths discovered it.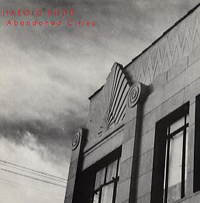 Abandoned Cities (1984)
Budd's other record from 1984 couldn't be more different from The Pearl. Something of a return to his foreboding drone pieces of the 1960s, the two extended works included here recall the dark enveloping canvasses of Mark Rothko's Seagram murals or the dystopian worlds conjured by William Gibson and Philip K. Dick. Certainly one of the shadiest entries in Budd's discography, Dark Star and its companion piece which gives the record its title were originally composed for an art show in California and were recorded in two days in guitarist Eugene Bowen's garden shed. On Dark star Bowen's Stratocaster power chords leap up out of Budd's gloaming synth and organ drones, mapping a simple improvisation around what could be the soundtrack to a solar storm. The title track withdraws into more introspective territory with an even gloomier pallet of drone and reverberations. The guitar engages Budd's desolate melodic repetitions in a game of call and response fitting for a death waltz.
Lovely Thunder (1986)
Something of a companion piece to Abandoned Cities, Lovely Thunder distils the extended meditations of the former into short vignettes evoking the memories and myths of Budd's childhood desert environment. Tracks like Sandtreader, Ice Floes in Eden and Olancha Farewell are built upon Burroughsian images of dead roads, gunfighters, harmonium and distorted radio transmissions drifting across physical and mental borders. Valse Pour le Fin Du Temps recalls the lingering fears of nuclear annihilation that had returned as the Cold War approached it's end, while Gypsy Violin is twenty minutes of wide-screen post apocalyptic landscape; the desert of destroyed civilisations meeting the desert of Budd's Southern Californian upbringing.
By the Dawn's Early Light (1991)
The 1990s were a time of collaboration and diversification for Harold Budd, where his now signature sound and aesthetic would come to be paired with a wide variety of musicians and styles, occasionally with mixed results. This period produced standout records such as Through the Hill, with guitarist Andy Partridge and the electronically inflected Glyph with Hector Zazou, while collaborations with chamber ensemble Zeitgeist and pianists Ruben Garcia and Daniel Lentz were less memorable. By the Dawn's Early Light was produced at the beginning of the decade and is one of Budd's most accomplished albums. Notable for its wide range of players, from B.J. Cole on pedal steel guitar to Mabel Wong's yearning viola and Susan Allen's harp it also features several recordings of Budd's poetry. On Aztec Hotel the ghosts of American first peoples haunt sleepy towns and dusty roads while Distant Lights of Olancha Recede returns to themes of westward migrations, frontier towns and youthful adventures. "Going east to Keeler-Distant lights of Olancha recede in the caked mirror. An hour and a half to Four Corners then we're home boys. A day and a half then we're home boys". Nowhere in Harold Budd's discography are the wide spaces and beautiful lonely vistas of the Mojave Desert evoked with such intensity as they are here. The opening refrain of viola on Boy About Ten are like sunlight gilding the houses of a remote border town, while harp and Hammond organ move around each other like fireflies in the dark on She Dances By The Light Of The Silvery Moon.

Avalon Sutra (2004)
By the early 2000s Harold Budd had reached something of a crisis and as he did in the early 1970s proclaimed his intention to quit composing. The press release to Avalon Sutra, released on David Sylvian's ever interesting Samadhisound label, signalled it as his last release. The double album included a second disk comprised of a single seventy minute reworking of Budd's music by the sound designer and software engineer Akira Rabelais. On the first disk the fourteen beautifully produced compositions for piano, string quartet and Jon Gibson's sax and bass flute sounded in no way like the swan song of a composer who later described his mood at this time as lonely, isolated and self-pitying. If anything the music on Avalon Sutra was the culmination of a period of change and refinement worked out on records such as The Room (1999) and the John Foxx collaboration Translucence/Drift Music (2003); both records developing new textures and combinations of effects, electronics and instrumentation. The mostly short pieces on the record seamlessly weave together strings with Budd's own playing while deferring to Gibson the role of lead melody maker. While the longer Little Heart and Rue Casimir Delavigne are masterpieces of emotive ambient/classical music without a hint of the throwaway or superficial quality that characterised much ambient music of the time. Despite farewell concerts in the US and UK in 2005 Budd continued to release records until during a Podcast with Rabelais in 2007 made explicit his error in announcing his premature disappearance.
Music for Fragments from the Inside - With Eraldo Bernocchi (2005)
Barely a year after the announcement of his retirement appeared this superlative crossover collaboration with Italian producer and sound designer Eraldo Bernocchi. Recorded as a live accompaniment to the film installation Fragments from the Inside it documents perhaps the most successful combination of Budd's playing with more techno or contemporary ambient/electronica. The Italian lays down a fine gauze of electronics over which a variety of percussive and synthesised rhythms spar with Budd's relaxed piano. Although occasionally veering towards the clichés of Eurocentric world-music or exotica the record for the most part is a fine exploration of the possibilities of two improvising musicians working at the edges of their respective fields. They would collaborate again in 2011 with Robin Guthrie on Winter Garden.


A Song for Lost Blossoms / Candylion / Little Windows - All with Clive Wright (2008-10)
With his phantom retirement firmly behind him Harold Budd entered a prolific period of recording and collaborating. Most plentiful were the series of records with former Cocteau Twins member Robin Guthrie which re-established a working relationship begun nearly twenty years prior with Budd's contribution to the Twins' Moon and the Melodies record. However, of all the material released since 2005 the trilogy of records with guitarist Clive Wright are perhaps the most satisfying. Wright's sparse almost luminescent slide guitar playing is the perfect foil for Budd's keyboard swells and minimal melodies. The first record in the series A Song for Lost Blossoms boasts a true masterpiece of long-form ambient composition with the over thirty minute Pensive Aphrodite and is followed up by the mysterious title track featuring the voice and poetry of Anna LaCazio. Elsewhere Budd transforms his extended meditation with Akira Rabelais from Avalon Sutra into ten minutes of concise ethereal bliss with the addition of Wright's searching guitar picking. A year after the first record came Candylion which expanded the blueprint to a larger ensemble harking back to The Pavilion of Dreams with arrangements for harp and chorus. Live drums and a overall more upbeat jazzy atmosphere punctuate one of the most varied entries in Budd's discography. The last and shortest record in series Little Windows places Wright's reverb drenched guitar centre stage around which Budd blows wispy arabesques of keys and electronics. At times broaching territory akin to doom ladened Americana, tracks like Procession of Moons and Queen of Cydonia are perfect for conjuring notions of those wide open vistas of the Mojave Desert that have haunted Budd's work since the beginning. The series ends with three iterations of pared down solo piano. Every note dripping with pathos and memory.
Bandits of Stature (2012)
String arrangements, whether from live instrumentation or synthesised have been an integral part of Budd's work from the outset. A significant proportion of Avalon Sutra was scored for string quartet and in 2012 he returned to this material rearranging it and producing nine new works grouped under the title Merry-Go-Round. Despite the absence of Budd's signature piano his compositions for strings exude the same obsession with devastating beauty, simplicity of expression and honest pathos found on his other records. Titles like The Dream of the Girl at the Lonely Desert Cafe and Perfume Doesn't Dance reveal a composer now in his ninth decade still channelling all his life experience and desires into heart rending elegies. Veil of Orpheus (Cy Twombly's), the only piece here featuring piano, completes the circle returning us to Budd's formative years at the University of Southern California where the romantic symbolism of abstract expressionism and beat poetry are filtered through Budd's dialectic of beauty and desolation.
Duncan Simpson