Between Faust and Justin Timberlake? [2003-06-29]Black Dice released one of the most interesting albums of 2003 in Beaches and Canyons (review here). Quite known for their thrilling live shows, I made my way to their gig in Belgium in early May and had a few words with Aaron Warren (vocals & electronics).

Their concert was really amazing, huge walls of noises, waves of feedback, mountains of distortions mixed with placid lakes of chilling ambiences. Not as confrontational as their concerts of a few years ago (or so I'm told) when they were in Providence. By the way, how is the scene there?

a: It's a small place and we know everyone there. We shared members with bands like Lightning Bolt.

m[m]: Just like them, you started in noise/hardcore music...

a: It was easy to play. I wasn't in the band then but I think it was the only way they could express their ideas. They were influenced by a lot of other things, but those things didnít express themselves in the music before everyone was a little more accomplished with their instruments. We felt we had an extreme rockíníroll sound and had reached as far as we could go in that directions and that it didnít made much sense anymore, we were at a point where we would only be doing feedback. From that feedback, we started to make feedback that was more melodic. We started to express more musical ideas, things that were loud and extreme but maybe a little more listenable and accessible.

m[m]: Did the move to New York have anything to do with the change in direction?

a: Well, I joined the band when they had been in NY for 6 months already, and we played those ďold soundsĒ for almost a year before it started changing. I had to learn the bandís old songs and itís only when we started to write new stuff that we explored different directions and got more into improvisation.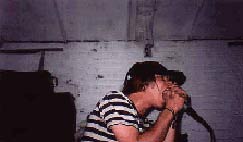 m[m]: How do you write your music? How important is improv?
a: Mostly we start in the rehearsal room, sometimes just jamming. We had a big period doing only that at the time we were working on Beaches and Canyons. When we heard sounds we liked we were trying to keep that, we would actually write down the settings of the stuff we were using. So we did a job of editing the stuff we didnít like. But sometimes we came with a concept, you know, ďthis songs is gonna be like a mountain, but there is a part where you go through some treesĒ. Weíre always limited by the actual sounds that our gear can produce. There is a lot of talking but everything is pretty rigidly composed.
m[m]: On the album, you have wave sounds, bird singing... Is nature important, or is it just because you enjoyed the sounds?
a: Weíre really into sounds. On this European trip, I heard different birds that Iíd never heard before, different machines. I was at the airport today and someone got those carts and was pushing it in that big hall and I thought it was an amazing sound. After a while you might get a real appreciation for sounds. The details on where they come from matter less.
There are no samples on Beaches and Canyons, but I just started working with a sampler and have recorded those birds singing. I was like, itís so cheesy and stupid, I feel ridiculous... But the just sound good, you know...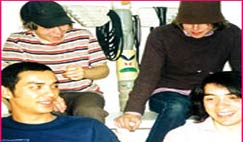 m[m]: How is the New York scene? Do you know each other?
a: On a social level, itís pretty hard no to know all the people involved in bands. Everyone is of a pretty similar age, and if youíre interested in music, youíre bound to meet them. NY is a big city, but the scene is pretty small, you know...
m[m]: Your US label is DFA. You are quite different from their other bands (The rapture, James Murphy)...
a: We knew the people behind DFA before there was a label, and we were friends of The rapture. We heard that there was a label being formed but we were a little be sceptical. The label was getting going around the time we finished recording Beaches and Canyons and they wanted to talk to us. We were becoming a popular band in NY so to them it kinda made sense... They thought our music was challenging to what was going on, and they wanted their label to be challenging too. What attracted us to DFA was also that in the punk and experimental scene, label donít release much stuff and are very cautious while DFA want to be more like a pop label where they have exposure to a lot of people.
m[m]: Youíve worked with DFA, Tigerbeat6, Fat Cat and many other labels. All of them are very different, was it just because you had the opportunity too or because you have that desire not to be pigeonholed?
a: Itís both. Itís definitely because we had the opportunity, but also because those are labels that we respect and that work with very different artists, doing different stuff . I think it would be a little boring to be on a label that only release the kind of stuff we do.
m[m]: What artists did influence Black Diceís music?
a: We all listen to pretty different kinds of music, weíre all into reggae music and like to listen to the mainstream hiphop that is on the radio, but we also check out modern composers now and then. We like Justin Timberlake and Faust. But our influences tend to be non-musical.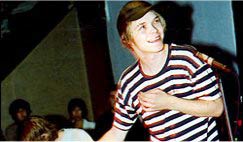 m[m]: In Black Dice, I hear the Japanese band Boredoms...
a: As much as them, we have an affinity with dance music. We all like them. We saw them in í99 and it was miles beyond the kind of music we were making at the time. Our music now still seems quite different but I can appreciate why you would say that. I think weíre working with similar ideas, coming from the same kind of place.
m[m]: You are also responsible for the designs of your CDís. Do you think that packages, design, music are all part of a whole thing?
a: Records are those little amazing things that anyone can have access too and I just like that total idea, that it reflects visually the sounds. Itís just a little piece of culture that people can look at and listen too in their room, or get in 20 years in a used record stores. Itís neat.
m[m]: If I had to sum up what you told me throughout the interview, I would say that Black Dice is a conceptual band...
a: We come from a fine-arts education and at the same time weíre just normal guys, we donít take everything to the conceptual level immediately... That would be kinda cheesy I think. To us itís just a matter of coming at it honestly, not trying to be too weird about it and just go for what we think sounds good, what we think looks good. Itís conceptual and practical at the same time.
FranÁois Monti