The Noise Chamber [2015-11-05]

German chamber orchestra Zeitkratzer are far from a conventional chamber orchestra- since the late 1990's the nine piece project have created their own distinctive takes on a wide range of experimental sonic genres & respected artists from with-in those genres: moving from Reinterpretation of British power electronics icons Whitehouse, through to their take on Lou Reed's classic noise work Metal Machine music, onto covering the work of 20th Century avant-garde composers such as John Cage & Alvin Lucier, through to new collaborations with the likes of Keiji Haino, Carsten Nicolai, Terre Thaemlitz, etc. Over the years the players with the collective have changed, but always at the centre of the project is German pianist and composer Reinhold Friedl. Reinhold kindly agreed to give M[m], an email interview.

M[m]:Tell us a little bit about the origins of the Zeitkratzer collective, and
when/how did the idea for an avant/noise chamber orchestra first come about?
RL zeitkratzer was founded in 1999. And it's concept was to create an European soloists ensemble, which is unique worldwide. The nine musicians in collective, the light and the sound engineer live in different European cities from Vienna via Amsterdam to London and meet for working phases at Berlin. Here, new projects are developed - in recent years as a steady guest of the Volksbuehne Berlin.




M[m]:The project has now been active since the early 2000's- how do you think the projects sound has changed/ developed since then?
RL The project actually started in 1997. And I think we've become better.

M[m]:When I asked how the changed/ developed since you started you said 'we got better'- could you please elaborate on your answer? RL ok, there have been several changes over the years – we made a few errors in the beginning, that everyone makes when they are starting out. The first real problem was created as always by success: after having played Lou Reed's Metal Machine Music for more than 2000 people in the audience, some musicians wanted to become rock musicians themselves and left the group. There was a new generation of musicians joining zeitkratzer, s Frank Gratkowski, one of the clarinet players worldwide, or the incredible French horn player Hild Sofie Tafjord from Norway, who was also the first women in the group. Or Lisa Landgraf on violin, a star of so-called "old music". So there came in a new diversity, but also intensity and openness.

M[m]:you talk about the addition of new musicians to the collective- is this something you want to carry on doing? And do you have a limit to the total amount of musicians who could be in the collective? RL There have been always 9, there still are 9 musicians, so we have never increased our numbers, only sometime replaced former members




M[m]:your first three releases appeared in 2000, in the shape of the following cd releases: SoundinX, Xtensions, SonX- on discog they are categorized as jazz/ free improv- do you think this is a good description of what was on display on these releases?
RL zeitkratzer is driven by unique programs. Blocks of repertoire created by the ensemble that can function either separately or mixed up. From Volksmusik of Danube waltz-reminiscences and zither noises to Xenakis [A]Live – a homage to a great composer with a paraphrase of his "Persepolis", the Electronics series including music by and with Keiji Haino, Terre Thaemlitz, Carsten Nicolai and William Bennett of Whitehouse, the Old School series dedicated to New Music of John Cage, James Tenney and Alvin Lucier, Noise with Merzbow and Zbigniew Karkowski, idiosyncratic Songs for soprano and ensemble and the famous Metal Machine Music by Lou Reed transcribed from guitar feedbacks to amplified instruments. So I don't mind how people categorize it, zeitkratzer is a statement for musical open-ness. Ears are made for listening.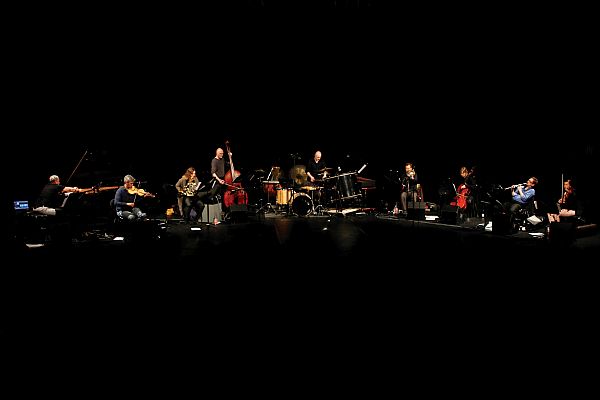 M[m]: So would you call SoundinX, Xtensions, SonX jazz/ free
improv? As I've not heard them so it be helpful to hear your take on them?RL No, zeitkratzer never played free improv so far. Those three CDs are full with compositions and if you check it e.g. on discogs, all those pieces are by very different composers and musicians.
M[m]:So far the project has put out around 30 releases- please pick ten of
your favourite releases, and explain why they are?
RL There is the story of a queen with seven kids. They were caught by
enemies, & she was asked to decided which three of her children should be killed. She refused to chose so and they were all killed.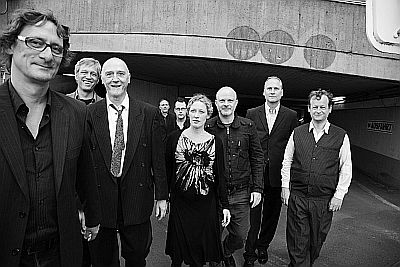 M[m]:Tell us a little bit about who decides on new projects to cover- do you do this as a collective, or is there just one person? RL I decide, the others agree or criticize
M[m]:Tell us a little bit about your personal introduction to avant-grade, noisy, experimental music- and is there anyone piece or album that had a real impact on you?
RL My father was a fan of Lou Reed's Metal Machine Music, my mother used to listen to Xenakis and Schönberg, so I was really astonished when I discovered, that there was something else other than experimental and avant-garde music. Honestly I still am
M[m]:What do you see as the most difficult/ time consuming piece you've worked on thus far? RL My piece "KORE" which will be released on vinyl soon via Karlrecords- it's super precisely notated noise music.
M[m]: Quite a few of your releases have seen you do your take on classic slice of noise/ experimental work such as Lou Reeds Metal Machine Music, the work of Whitehouse, Iannis Xenakis & John Cage. Tell us a little bit about the process that goes into deciding what you are going tackle cover wise? RL No, out of around 250 pieces we have in the repertory, there are a very few cover versions of existing music. As we played Lou Reeds Metal Machine Music and as he is well known, some people thought afterwards, that zeitkratzer were a cover band, and this is not the case. We never played Xenakis, execpt a duo piece for clarinet in cello in one concert in Switzerland in 2004. I composed an homage to Xenakis, it's title is 'Xenakis [a]live'! But this is not his music, And for sure, we played a lot of Cage, but this is the normal process of playing a score - I wouldn't call this a cover.
So: Lou Reed and WHITEHOUSE - Lou Reed was a huge reference piece, and it had an instrumental impact, so I thought we could give the piece even more by playing with our contemporary music playing techniques. The press agreed with this after the release.
WHITEHOUSE was an inspiration from Ed Benndorf in Berlin, he just told me: you hear this stuff and gave me a bunch of CDs of their work . And I thought by listening: this is exactly the kind of precision noise music, I was
looking for. Bennett's pieces are conceived so precisely, they are real
pieces, not wall of sound and just noise…So this is music, to be played in a concert situation, and there are also hidden structures inside, so it was real pleasure working with him.


M[m]:The other side of your work is creating new/ original compositions with respected collaborators such as Keiji Haino, Carsten Nicolai, and Terre
Thaemlitz- tell us a little bit about how/ when you came in contact with a
few of these collaborators?RL I had this idea in 1999, when I thought there is this great music out there, and this is sometimes much more "new music" or "contemporary music" as the people who pretend in the academic filed to produce it. And as we played amplified, I just got the idea, how to do this practically: we did not need a score anymore, I told the musicians to produce me an acoustic score and a print-out of the pro-tools-session or whatever - and we will produce our score our self. That's how Masami or Carsten did the scores and it worked perfectly. So this new approach - due also to the great abilities of the musicians in zeitkratzer to adapt to this situation - opened a whole new world: we could now work with a lot of different musicians who made great music, but never learned how to fix it on paper.


M[m]:How else would you like to collaborate with in the future?
RL We are working now with She She Pop, a renowned performance group, on the concept of zeitkratzer: what are we doing on stage, what is the impact of the situation in which you perform music for others? What do you think, while you interpret a noise piece, ...
M[m]:What's lined up next for Zeitkratzer?
RL War music: together with Max Brauer, one of the best young German actors - in the moment at Volksbühne Berlin - we reference to the changing of musical programs in war times, we do versions of Reger "patriotic overture", some positive war poems by Rilke and Brecht, Bachs chirals used in war times "Ein feste Burg ist unser Gott", etc... Interrupted by some string quartet adaptations for all the dead soldiers: premiere September 30, 2015 at Haus der Kulturen der Welt, Berlin, "Vaterländische Ouverture".
Thanks to Reinhold for his time & effort with the interview. More info about Zeitkratzer, and their releases can be found here. Photo credits: pic one by Vanessa Gageos, pic two by Vanessa Gageos, pic three by Joachim Gern, and pic four with Haino Keiji is un-credited
Roger Batty