Harsh Vibes in the Mile High City [2015-06-08]Over the first weekend in May, 30+ artists and throes of noise connoisseurs filled the Rhinoceropolis for the 6th annual Denver Noise Fest (DNF). Based in Denver, Colorado, the Rhinoceropolis serves as a long running concert and art space. As if a weekend of noisy activities isn't enough reason to celebrate, DNF 2015 also happened to coincide with the Rhinocerpolis's 10 year anniversary. DNF was started by Todd Novosad and John Gross back in 2010, but after Novosad migrated to Florida in 2012, Gross became the fest's primary mover and shaker. Gross was a busy guy all weekend and when he wasn't running around making sure things were moving smoothly or performing with his band Page 27, he could often be found somewhere chanting his mantra, "death to false noise!"

Throughout the weekend, noise acts came from far and wide to perform in an atmosphere that was far more relaxed than most noise fests I've been privy to. Absent was the dizzying approach I've come accustomed to of acts playing back to back to back in rapid fire succession, with little to no setup time. VJs: Projector Pete and VIDKIDZ, provided visuals for each set, while DJs: Cat Dog, Good Mourning, Little Fyodor, and Mudwolf spun tunes in between performances. The back room provided ample space for distro tables and socializing. Speaking of distros, the festival organizers partnered with local lathe cutter Meep Records to offer a 26 track locked groove 7" featuring artists performing at the fest, which sadly sold out the moment they were made available.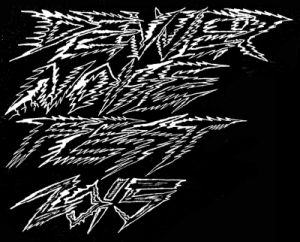 The fest started off with a set by Colorado's own (A)Sex. (A)Sex is the harsh noise project of Mitchell Rotunno, also known for several other projects, including: Tjere, Toxic Bliss, and more recently The Ebony Tower. After years of swapping tapes with Rotunno, I was very much looking forward to his set. His set was utterly crushing and loud as all hell. Wallish parts, static shifts, and abrupt cut-offs, all figured into his delivery. It was a powerful first statement to get the fest rolling and, in my opinion, one of the most memorable performances of the night.

Many other locals rounded out the evening and made Colorado proud. Denver's own Page 27, a trio that includes fest organizer John Gross, crafted cascading waves of sprightly synth tones, dense atmospherics and droney buzzsaw waves. The duo of Sirhc Neila, mixed some densely played keys with abstract trumpet noodling. Towards the end of their set, the keyboardist also utilized a guitar that was heavily modified, reminiscent of some of the hybrid instruments of Ken Butler. Other notable Colorado-based acts were Sterile Garden, Dolor, Unbridled Sonic Anarchy and Of Earth and Sun.

Florida was well represented at the festival this year. Smith Lavender, donning a pig-head looking gimp mask, worked a table packed with an elongated chain of pedals and a circuit bent children's keyboard. What unfolded was a punishing set of shredding feedback, stressed static buzzing, laser-like synth tones, and heavily distorted vocal stylings. Also representing the Sunshine State was Robert Brantley's Human Fluid Rot project; one of many mosh-inducing sets from the weekend. Brantley got the crowd to pack in tight and then unleashed a fetid stew of harsh noise static, squelch, buzz, and squeal. When he wasn't locked onto his gear, swaying to and fro, he could be found plowing and ramming through the audience.

One of the big draws for the evening was the legendary Macronympha. Formed by Joseph Roemer and Rodger Stella, the group has been a staple in the American noise scene going on 25 years now. On this particular outing, Roemer played solo as Macronympha. He utilized a cassette 4 track along with a large metal dome, presumably contact mic'ed, and a variety of effects pedals to produce a steady stream of harsh noise density. It was almost wallish at times, broken up by a flattened static wash, which sounded like a continuous stream of dive bomb explosions.

Ancient, Inc. followed with what was probably the most bizarre act of the evening. Dressed in a white robe and looking like a strange mystic (or cult leader perhaps), Ancient, Inc.'s set consisted of 3 acts. For his first act, he laid down a dense blanket of eerie chanting. While that was looping, he walked through the audience getting onlookers to cry into his mic, which he captured and looped. The end result being a collage of chants, cries, and maniacal laughter. The 2nd part of his set consisted of a lot of repetitive pulses and bleeps, which were produced by synthesizers he handbuilt. His third and final act was spent beating a piece of scrap metal with a crowbar. A real sonic holy trinity!

One of the final acts of the night was Chicago's Nookleptia. Nookleptia delivered a harsh noise onslaught of piercing feedback and static crunch produced primarily by a long mic (a podium mic perhaps) run through a couple pedals. His setup was small, but it was all he needed to ride that feedback. It was painful in the best possible way. At one point he took the mic, put it in the air conditioner vent, and began to bang on the shaft with a hammer. I was simultaneously smiling and cupping my ears, as the earplugs weren't doing shit to guard against those high end frequencies. Sometimes pain can be pleasurable.

Day 2 of the fest kicked off with the annual ritual known as the Harsh Toast Noise Brunch. Fest goers showed up early in the day to share food and chill to live sounds. Everything from pop tarts to tamales were on hand for performers and spectators to munch on, with several local noisers on hand to provide the soundtrack. Due to poor time management on my part and being geographically challenged, I strolled in late and missed a number of the performers. I did arrive in time to catch RejecktedKauses, who performed a set incorporating electro acoustic elements and synth, with lots of soaring sweeps, reminiscent of planes taking off.

Local experimental music composer Rick Reid started off day 2 proper. Utilizing theremins, synth, effects, samples, and a contact mic'ed saw, Reid delivered a set of trippy sci-fi soundscapes. The inclusion of samples (that sounded like clips from mission control) and the feedback from the bending and stroking of the saw, made me think I was listening to fragmented radio transmissions coursing through space.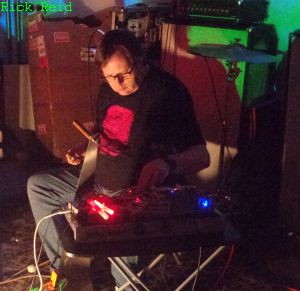 As the evening progressed, there were several artists that took on different approaches to digital noise. Truth be told, I've never been a huge fan of laptop noise, which usually conjures images of some dude stoically hunched over a monitor for 15 minutes, but Solypsis certainly didn't fit that mold. He performed a wild set of cut-up digital noise mixed up with beat oriented music. He utilized 2 laptops: one used as a prop for smacking himself in the face (which was eventually demolished) and the other used for churning out his mangled sounds. Seattle's ADC~ also performed a set of digital cut-up, most noticeably, on an extremely small set up. Her gear consisted of a tablet and a tiny mixer. Despite playing on such a small footprint, the sound was massive and very disorienting with lots of fragmented static crunch, laser-like blasts, dizzying sonic squeals, and abrupt stops. Austin's More Eaze took a much different approach to digital noise, interweaving ambient and harsh elements, but with softly delivered vocals and a live violin. It was pretty chill overall, and a nice respite from the harsher sounds that filled the night.

The one international act that made it to the fest was K.M. Toepfer. Hailing from Canada, Michael Toepfer utilized a mixer (all feed into itself), an old EQ, and a boutique fuzz. Think lots of power starved, squelchy sputtering, stressed buzzing, static hisses, and squeals that went from sounding like a dying car engine at times to a hyper fast forwarded cassette at others. One of the stand out performances of day 2 for me.

Denver's own Echo Beds was the closest thing that resembled a structured band at the fest, though far from the conventional sense of the term. The 2 piece utilized vocals, bass guitar, percussion and an assortment of electronics. And by percussion I don't mean a drumkit, but rather a large oil drum and cymbal. They played some really good ryhtmic, head-bang inducing heavy music that is really hard to describe. A friend of mine thought they had a Godflesh vibe.

The most theatrical set of the night was from New Mexico's Bigawatt. Marisa Demarco and an accomplice presented steady doses of caustic drone while performing behind giant hooded faces made of painted cardboard. The mouths on the 2 faces were rigged to open and close, giving the appearance of two giant heads engaged in noisy conversation. Austin duo Architeuthis Dux played a set of total fucking chaos. Wearing keffiyehs, the pair demolished the crowd with their brand of harsh pedal noise and throat shredding vocals. Mosh pits ensued and a bottle got smashed...shit got pretty intense. California's Demonsleeper performed a haunting set of dark rhythmic synth, dense atmospherics, crunchy statics and harrowing banshee wails.

Austin,Texas' Breakdancing Ronald Reagan (the moniker of Jonathan Cash) delivered what can only be described as the perfect collision of comedy and cacophony. His set was a maelstrom of harsh cut-up noise, mixed with silly samples, eye-wincing feedback, piercing vocals, and a video display of fucked up cartoons, featuring (most notably) the Simpsons and Sonic the HedgeHog. The icing on the cake was at the end of his set. Cash climbed onto one of the PA speakers and then jumped off, crashing onto his table of pedals with a flying elbow drop. The table collapsed inches aways from my feet. It looked like a painful move, but he managed to walk away in good spirits.

Florida's Hell Garbage gave the penultimate performance of the night. Ordinarily the solo project of Dylan Houser, for this tour he brought along a drummer. The duo performed a short set of improvised guitar and drum noise. It was a furious racket as Dylan channeled his guitar through a couple of small amps, tweaking effects knobs to achieve maximum feedback. Having a drummer to match the guitar attack just took things up a notch on the insanity quotient.

The final act of the fest went in the complete opposite direction. TANHZZ, the project of Tahnee Udero from Albuquerque, NM, performed a set of focused, low end, rumbly drone with crispy static flourishes. Her table was adorned with the New Mexico State flag and a few candles, which added to the overall ambience and mood of the piece. Despite being noisy, it was comparatively chill contrasted to many of the harsh noise acts of the evening. It was a much welcome soundtrack to my mind at that moment as I was digesting the weekend's events.

After everything was said and done, I walked over to Gross who was looking exhausted, but happy. I asked him if the fest had lived up to his expectations. He wanted to know if I had a good time. I emphatically replied, YES, to which he responded, "then the fest completely lived up to my expectations."

Thanks to John Gross and the Rhinoceropolis for putting on an amazing fest.

Denver Noise Fest can be found on the web at: http://denvernoisefest.com/
All pictures taken by Hal Harmon, front page pic of TANHZZ
Hal Harmon