A heavy meltingpot from the East [2003-03-10]Turkish metal band Mezarkabul released their third worldwide release Unspoken a long time ago and I reviewed it here. Last year they released Bir, a Turkish release. Bassplayer Tarkan was willing to answer a few questions regarding his band: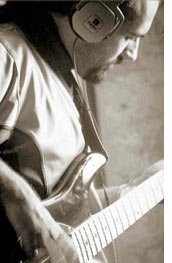 m[m] How and when did Pentagram start?
Tarkan The band was formed in 1987. We've felt that it would be a cool, long term experience from the first day we've met. We've just let it happen. m[m] Did you incorporate Turkish influences in your music from the start?
Tarkan Yes, but I think it has taken some time to improve our composing abilities to a certain level. m[m] You have a few albums that are only available in Turkey. Do you use the Turkish language and the traditional instruments like baglama, zurna and ney more on those records? Tarkan The only major difference is the language. m[m] I think I read somewhere that singer Murat is a conservatory graduate in both Turkish as well as Western classical music. What musical education do the Pentagram bandmembers have?
Tarkan Well, I believe mentioning our musical educations in the past would leave a wrong impression about our work so let's pay no attention to that matter.m[m] Are there more Turkish bands doing this combination? How does the Turkish public perceive it?
Tarkan Of course there are other musicians who combine western styles like jazz, rock, classical or pop with Eastern traditional music very well and this situation is the same in other forms of art. The interest of people in these kinds of bands and artists seems to be increasing day by day.
Turkey is like a melting pot for eastern and western cultures. I mean, the blend of these cultures is the essence of our lives and our music. So you can always sense traditional ways of expression in forms and concepts of our albums.m[m] How do people from other parts of the world perceive it?
Tarkan We feel really good about the feedback we received so far. People usually emphasize that Mezarkabul has a unique style and I don't know any better compliment.
m[m] Do you feel a connection to other 'oriental metal' bands like Orphaned Land from Israel? There aren't many bands doing this combination (Besides you and Orphaned Land and Melechesh I don't know many others).
Tarkan We like it when we hear other bands that have the middle eastern feeling in their music: Artillery, System Of A Down, Tea Party and Orphaned Land are good examples. m[m] How did you come to like heavy metal in Turkey? I can imagine it's not very common in Turkey (we don't hear much about it here in the West anyway).
Tarkan You are right that heavy metal is not mainstream in Turkey. But I still can't understand people in Turkey find mobile phones more interesting than Slayer. m[m] The ney (end-blown flute) is more prominent on Unspoken, do you take the ney-player along on tour?
Tarkan Yes, the ney-player mostly tours with us.m[m] What do the old texts on the sleeve mean? Where are they from?
Tarkan The cover artwork was designed by guitarist Hakan. The ancient Mesopotamian civilizations were the main influence for the album cover as well as the form of the music in it. m[m] The lyrics are more personal than on previous records, what are they about and why did you change it?
Tarkan Well, I think it's more of a progression, rather than a change. There are just more layers in the lyrics of Unspoken.m[m] The previous lyrics were more political, are you free to say what you want in Turkey? I mean, some rather sensitive issues in Turkey to talk about.
Tarkan Yes, we feel free to say what we want. You are right that some issues are sensitive in Turkey and maybe that's why they have to be talked about.m[m] Why did you have two bandnames now (Pentagram in Turkey and Mezarkabul in the rest of the world)?
Tarkan We had to change the name Pentagram because of copyright problems. m[m] The name Pentagram is a rather Satanic bandname (not to mention the logo). How does it fit your band?
Tarkan Pentagram has had many different meanings in different cultures in different times. For us, it's an ancient Sumerian symbol that represents the elements of life.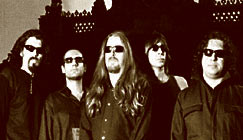 A heavy meltingpot from the East
Turkish metal band Mezarkabul released their third worldwide release Unspoken a long time ago and I reviewed it here. Last year they released Bir, a Turkish ...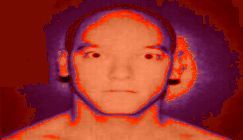 Geins't Naït - GN
Originally released back in 1986 GN, was the opening sonic statement from French duo Geins't Naït. It features two around twenty-minute tracks- which sh...