The Fearless Warriors of Laser Metal [2014-09-03]Nightsatan are a Finnish three piece who create a decidedly retro focused, cinematic & often tongue-in-cheek brand of synth based music they self classify as 'Laser Metal'. The projects sound references late 70's & 80's soundtrack work of the likes of: Goblin, Tangrine Dream, John Carpenter, Jan Hammer, and the genreal vibe/feel of chessey 70's/80's low budget sci-fi, horror, & fantasy soundtracks. So far the project has put out two full length releases: 2011's Midnight Laser Warrior, and this years Nightsatan and the Loops of Doom- which saw the band creating the soundtrack for their own self staring short movie, which was a surreal & cheesy tribute to the 80's Italian post apocalyptic cinema. The whole band: Wolf-Rami- Muscles & Synths, Mazathoth-Brains & Synths, Inhalator II- Heart & drums, kindly agreed to give M[m] a email interview.

m[m]: Tell us a little bit about the origin of the project, and how did you chose the projects name?
Wolf-Rami: In the distant future of 2005-2006 I was working in a record store and happened to witness a local doom metal legend Reverend Bizarre play an instore gig. I immediately wanted to start my own doom metal band, but I couldn't play guitar and I only had a room full of synths, drum machines and other electronic gear. I had no choice but to invent a new style of music called Laser Metal. I asked my friend Inhalator II to join the group as I knew he was a great drummer. As a free lance graphic designer I wanted to have a logo with a lightning bolt at both ends, so I needed a word with the letter N in both ends. I really liked the Argentinean speed metal band Retro Satan and voila, an idea was born.
Inhalator II: When Wolf-Rami and i rehearsed a couple of times, we felt like we needed one
guy to make us complete. Me and Mazathoth used to be roommates, and had played in
couple of bands together, so it was easy to ask him to join us.
Mazathoth:yeah, when Inhalator II asked me to join an all-synth band playing doom influenced music, I immediately said YES.
m[m]: Have any of you been in any other bands/ projects? And if so please give details of them & are any of them still active?
Inhalator II: I've been in about million bands, but nowadays I only focus on Nightsatan.
Mazathoth: Pretty much same here. Quite a few different bands, ranging from post-rock to powerpop. As Mazathoth I only perform with Nightsatan.
Wolf-Rami: Nope. Nightsatan is my one and only band. I've dabbled with synths on my own a lot, but this is the first time I'm in a proper band.
m[m]: You tag your style of retro focused cinematic synth music as 'Laser metal'- tell us a little bit about where this phase/ tag came from? And do you think there are any other projects that fit under this banner?
Wolf-Rami: I originally intended the music to be a mixture of doom metal and shiny ultra gloss soft rock -style production. A bit like metal music as heard in the show Miami Vice. I even went as far as planning to order custom made studded leather gear all made out of white leather. I guess Zombi, Umberto and Zombie Zombie share some of the same aesthetics as us, but they probably don't have a history in metal music like we do. We've wondered quite far from our metal origins as well. I've never given much thought to staying true to metal or anything else for that matter. What matters to me is staying true to ourselves.
m[m]: You mention a love of Doom metal- have you ever thought of doing a collaboration with a doom band?, and if so who would you like to collaborate with?
Inhalator II: I think it would be cool to do something with Electric Wizard because I don't think that they'd be scared of our synths :)
Mazathoth: A collaboration with the great Albert Witchfinder is something I'd like to see happen.
Wolf-Rami: We've thought about doing an album with vocalists and the wish list for the vocalists includes some of our favourite doom metal icons. It also includes some hip-hop-dudes and maybe a krautsinger here and there.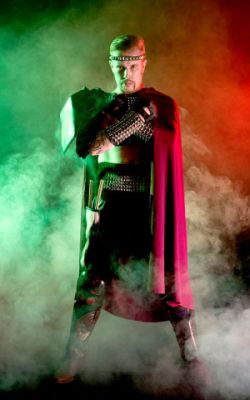 m[m]: Your first album Midnight Laser Warrior appeared on Solina Records in 2010- tell us a little bit about how this first album came about & what do you see as it's theme/ concept?
Mazathoth: I guess it was a typical first album for a band. At some point we just had enough songs written, so we made some demo recordings of those. Later we presented those demos to Jori (Hulkkonen) to get an opinion outside the band, and also because we wished he would help us flesh out the album. Luckily he liked what he heard and took on the task of recording, mixing and producing the album.
m[m]: This first album was mastered by Jussi Lehtisalo of Circle fame- how did this come about?
Inhalator II: We did our first 7" with another record label and i think that they knew Jussi and Tuomas, and knew that they've been mastering records. We liked what we heard and continued working with the guys.
Wolf-Rami: It's been a great honour working with these guys. I've been listening to Circle since 1994's Meronia debut and Jori Hulkkonen was also a great inspiration in the mid 90's when I was a youngster. They both showed me that you can have success outside of Finland by sticking to your guns and your own style.
m[m]: Your sound is very much set in the late 70's to early 80's- could you tell us a little bit about your equipment/ set-up? And was it easy to get hold of older/retro synths?
Mazathoth: We do use a computer for recording and as a sampler, but besides that we only use vintage hardware synths in our studio. I'm a big analogue synth geek myself, and have been since about mid 1990's. Back then analogues were relatively cheap and abundant, even in Finland. Nowadays I only have a few choice favourites left, but those will stay with me to my grave.
Inhalator II: I use old Roland SPD-11, and SPD-6 (in the studio I use some Roland HD -drums).
I also use some old drum machines (Tr-606, TR-707, DR-55), and some synths (Yamaha CS-15,
Roland Juno-106)
Wolf-Rami: I got my first synth (a Yamaha DX-100) as a Christmas present in 1988 and have been a synth-head ever since. Nowadays I prefer analogue synths but have really fallen in love with Ensoniq's digital synths and samplers. At our studio I have maybe 10 synths and some drum machines, but recently swapped my home-setup to completely software based by buying Komplete 9 from Native Instruments. It's a good mix. Hardware at the studio and software at home. Best of both worlds.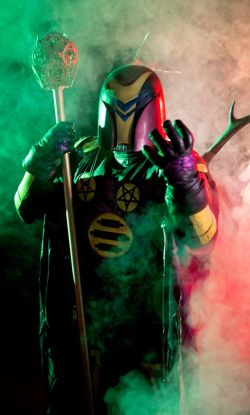 m[m]: The bands most recent album comes in the form of 2014's Nightsatan and the Loops of Doom, which appeared on Finland's Svart Records. It's the soundtrack for a short & bizarre movie of the same name which pays tribute to 1980's post apocalyptic movies- tell us a little bit about how this came about?
Mazathoth: Sometime after the Midnight Laser Warrior vinyl came out, Chrzu, a friend of ours, who made the excellent cover art for both MLW CD and LP, who is also an animator and was getting into live cinema, asked us if we wanted to do a music video. Naturally, we said yes and scraped together a few hundred euros to cover some of the costs. It was supposed to be a really trashy shoestring budget affair, with a very small crew, people working pro bono, etc.
But then Chrzu managed to get some more funding to flesh out a proper script for a short movie, which in turn led Chrzu to hook up with Twisted Films. And then it all really started snowballing. The budget grew like crazy and suddenly we had a whole team of professionals doing wardrobe, props, lighting and post-production. It was crazy.
m[m]: The film features the whole band playing in most of the films main roles in the - what made you decided to acting in it yourself?
Mazathoth: I think it just happened naturally. We are Nightsatan after all. But if there ever is a sequel, I think we'll leave the acting to professionals.
Inhalator II: Yeah, that was Chrzu's idea to put us there, and I think we did a decent job.
m[m]: As already mentioned the film is quite bizarre & surreal affair having a fairly vague plot running through it- who wrote the script for the movie, and could you tell us how you see the plot of the movie?
Mazathoth: The script is all Chrzu's handiwork, with only a little input from us.
Inhalator II: I don't want to bore you with how I see the movie; I want you to make your own conclusions.
Wolf-Rami: It's been great fun to hear different people's interpretations of the movie. There are so many hidden levels in it. At the same time it's cheap and cheerful like a good 80's action movie, but on the other hand it's kinda cosmic and really deep like an Alejandro Jodorovsky-film. It's filled with hidden references. Basically it all comes down to the theme of loops and breaking the loop.
m[m]: Have you got any future plans for doing any more movie work? What about sequel/ follow-up to Nightsatan and the Loops of Doom?
Inhalator II: We do have some plans, but they include only making music. We leave the acting to pros.
Mazathoth: We've thought about it and yes, another Nightsatan film would be fantastic. Time will tell.
Wolf-Rami: Yes. We'll have to wait and see.
m[m]: Clearly you are all huge fans of 1980's post apocalyptic movies- please list you top five movies in this genre & explain why they mean so much to you?
I think we'll do two each.
Mazathoth: Enzo G. Castellari's The New Barbarians. This flick is just fantastic. It has it all; flame throwers, an annoying child character, plastic domes on fucking everything from cars to boobs and Fred Williamson. Absolutely love it, even with the bizarre christendom vs homosexuality theme
Inhalator II: Movies like David Worth's "Warrior of the lost world" and "2019 – After the fall of New York" by Sergio Martino are fantastic (I also love Castellari's "1990: The Bronx Warriors").
Wolf-Rami: I'm a huge fan of Escape From New York and Snake Plissken. I've seen the movie perhaps a million times and have the soundtrack in all different formats and many different copies. Besides that I really like the Mad Max -series and recently I've even started watching some more recent post apocalyptic stuff like Jericho- and Revolution- TV-series and to my surprise have found myself enjoying them too.
m[m]: Your sound is clearly influenced by a whole host of different 70/80's electronica/ synth focused artists & soundtracks- please select 10 albums that have influenced you the most?
Again, I think we'll do three each, otherwise the list will be too long.
Mazathoth: Tangerine Dream - Phaedra, I trip out a little every time I listen to this, a musical meditation. John Carpenter - The Fog, the epitome of suspense and minimalism. Vangelis - Bladerunner, atmospheric, emotional and even romantic, this soundtrack really made the movie.
Inhalator II:Tough one, but here are some of my all-time favourites...
Fabio Frizzi – Zombi 2
Goblin – Suspiria
John Carpenter – Assault On Precinct 13
Wolf-Rami:
Warning – s/t – It was a magical moment when I first heard this german bands album and realized that we perhaps weren't the first ones to combine synths and metal music
Black Sabbath – Sabbath Bloody Sabbath – the same thing with this. I was blown away when I heard their Who Are You -track for the first time. They had preceded us by a good 25 years.
Slava Tsukerman – Liquid Sky soundtrack – One of the oddest records I have ever heard in my life. Truly original and I suspect that it was down to Slava's complete non-understanding of music. It's like a record made by a child with very expensive equipment.
I also love anything and everything by John Carpenter, Doris Norton, Jean Michel Jarre, BBC Radiophonic Workshop etc.
m[m]: Are they any of your favourite films you'd like to re-soundtrack/do-an- alternative soundtrack to?
Inhalator II: It would be cool to do re-make of some John Carpenter movie (don't get me wrong, the soundtracks are all perfect)... Maybe Fog?
Mazathoth: I wouldn't dare to touch Fog, which is one of my all-time favourites, but re-scoring a John Carpenter film would be cool indeed.
Wolf-Rami: I am also a huge fan of Carpenter and therefore wouldn't dare to touch his work. Maybe it would be fun to do a new soundtrack for something completely surprising. For example I am a huge fan of John Hughes -movies The Breakfast Club, Pretty In Pink and 16 Candles. Nightsatan could really transform those movies into something sinister.

m[m]: Has the band ever played live, and if so what is your live set-up/ stage lay-out like?
Mazathoth: Yes, we have and will continue doing so. Out stage setup regarding instrumentation is basically me and Wolf-Rami with a couple of synths each and Inhalator II on his trusty Roland SPD-drumpads.
Inhalator II: Yeah, we think it's kind of boring to just stand behind your laptop or to just walk to the stage with your jeans and t-shirt on. We always try to think of new and exciting things for the live show, like crazy visuals, cool lights, rivets + leather, smoke, lasers...
Wolf-Rami: The whole idea of our band at the beginning was that there are no loops, no samples, no programmed sequences. Everything is played live. We wanted to differentiate ourselves from pre-programmed electronic bands. That was true on our first album, but since those times we've slipped a little from our ideals. We still enjoy playing live and usually our live shows are much heavier than we are on record. It tends to go that way.
m[m]:You mentioned that you've played live- I take it this has mainly been in Finland. Have you any plans to play in other countries?
Inhalator II:: Yeah, We've played mostly in Finland, but there's couple of gigs that we did in Estonia and Sweden. We're gonna do couple of film festival gigs in Denmark, Sweden and the UK in October.
Mazathoth: I'd love to do a little tour in Europe in the not-so-distant future.

m[m]: Can you tell us a little bit about how you each chose your characters names & costumes for the project?
Inhalator II: That's secret information (and quite idiotic too)...
Mazathoth: I consulted the Necronomicon.
Wolf-Rami: I used to be called Tomi Steel after a metal workshop located in our hometown, but when our first single came out I got a message from a friend who told me that "Your single is tough as wolfram!" I immediately knew that I had to change my alias.
m[m]: What's next for Nightsatan?
Mazathoth: Writing new music.
Inhalator II: Recording that new music.
Wolf-Rami: Putting out that new music.
All: Thanks for having us!
Thanks to Nightsatan for thier time & effort with the interview. Nightsatan and the Loops of Doom is
available as a CD/DVD set from Svart Records- this takes in both the soundtrack & film, plus some visual extras!. The bands Facebook is here
Roger Batty