Accessing Truth [2014-06-29]Existential fusion jazz / metal band Cynic have had a long, strange trek since the release of their inestimably influential debut statement, "Focus". After a long 13 years of silence, the band reformed in 2006, and, over the course of 4 releases (2 full lengths and 2 EPs, beginning with 2008's "Traced In Air"), the sophisticated and detailed sound of a new millenium Cynic has emerged. With the newer material came a lighter sonic touch, more openly soulful songs and spacious, comfortable compositions with a greater presence of ambient elements. Though the sound has strayed far from the original 'death metal', the relentless existential quest at the root of the music, as well as guitarist/songwriter/vocalist Paul Masvidal's expanded sense of consonance, has remained fully intact, and the music is full of feeling and detail. Masvidal was kind enough to discuss the latest full length, "Kindly Bent to Free Us" via email interview.

m[m]: How would you describe the unifying theme behind the new record, or the concept it is meant to illustrate?
Masvidal: The entire album is basically a metaphor for a relationship with one's own mind and how the mind is the source of our suffering and also our liberation. The album cover represent three things depending on how you see it, due to it having a rorschach quality - a tree of life, a human brain and a mushroom cloud. All three of these images are directly representative of the album's journey inward and eventually outward.


m[m]: Much of your lyrical content is philosophical or existential in nature. As your ideas evolve, do you ever find yourself disagreeing with philosophies and statements in your past work?
Masvidal: I haven't. Most of the ideas conveyed in Cynic's songs are timeless truths that I've related to since I was a child. The songs are also more exploratory in a sense without insisting on a particular belief or point of view; more like an observer peeling away the onion layers in order to access truth.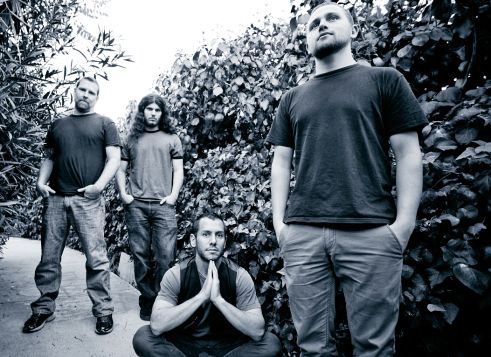 m[m]: It seems like you have made a conscious effort to fuse all your projects into one, with the integration of elements of Aeon Spoke into Cynic. What has inspired you to do this?
Masvidal: Aeon Spoke's songs are birthed from the same songwriter - coming from the same source - so I wouldn't know how to separate myself in that way. The big difference between the groups is in how the songs are produced. Cynic is classically progressive and experimental and modern. Aeon Spoke is all about stripping away and a sense of purity. Lyrically the approach is different. Where the to projects meet is in the melodic and harmonic continuity. It's a basic feeling reflective of my own heart as musician.
m[m]: Is "Elves Beam Out" in reference to DMT? Other titles such as "True Hallucination Speak" also seem to refer to visionary experiences. Do you care to comment on your relationship with psychedelic drugs, and/or psychoactive substances?
Masvidal: Yes, it is. I've been an active explorer of psychoactives since I was a young adult. I was introduced to Ayahuasca and DMT when I moved to California in the mid-late 90's. I've always viewed these substances as sacred medicines, not for party use. I've learned a lot about myself and developed a deeper view of human experience as a result.
m[m]: To my ears, the newer music has a lot of emotional openness by comparison to Focus. The songs seem to discuss your personal life and relationships in a more direct and literal way. Is this the result of a conscious effort?
Masvidal: The very nature of the album is more direct and personal. It's Cynic at its most naked and transparent. For ex - I don't go into lyrics with a specific goal, more about process and staying open to what arises depending on what the music dictates. We don't plan or calculate much in this group, we just try and document as honestly as possible where we are at any given time.

m[m]: Who have you been listening to that may have influenced the music on Kindly Bent to Free Us?
Masvidal: I try and avoid listening when working on a record due to all the noise in my head. It's more about creating space and allowing the work to come through. That being said, I'm always listening to all kinds of music, from various classical composers like Ravel and Bach to Brazilian Jazz, traditional jazz, misc pop, rock, metal, you name it.

m[m]: I loved the small fragment of soft jazz you included at the end of the new record. Any chance we'll get a deeper exploration of these kinds of ideas at any point?
Masvidal: Malone and I talked about that. I remember mentioning to him that I'd love to make a whole record of instrumental jazz trio works. It's been a deep love of mine, so perhaps?!
m[m]: You've said you prefer concise & concentrated pieces of art, and the "Carbon Based Anatomy" EP was one of your finest works. Are there any other EPs on the horizon?
Masvidal: Possible! Was just working on some new music yesterday and started thinking that maybe another EP could be in the works.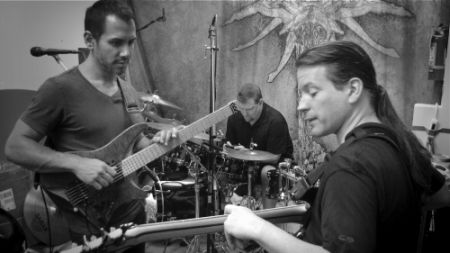 m[m]: What lies in the future for the band?
Masvidal: Some touring, more promotion, and if we're lucky and most importantly, more music.

m[m]: I noticed you've used another of Robert Venosa's paintings for the cover of this album, though he is no longer with us (as of 2011). How was this painting selected?
Masvidal: I chose it after many conversations with his wife, Martina Hoffman who's also a brilliant artist and a dear friend.
m[m]: Is music theory involved in your composition process? What is your opinion on formal training and education in relation to creativity and its natural, spontaneous expression?
Masvidal: Theory is always in the background since we're schooled guys but I think we all throw it out the window when it comes to actual composing and writing. More knowledge in the realm of music is a fantastic aspect and helps to develop a wider palette and grasp of harmonic and melodic language. It never hurts to increase one's vocabulary, at the same time, it's important to find one's own voice and trust your instincts as a creative person regardless of schooling. Ultimately we have to throw it all away and just make art that's compelling and interesting.

Thanks again to Paul Masvidal for his thorough and thoughtful answers. "Kindly Bent to Free Us" is out now on Season of Mist, and the band is currently touring the United States. Photo credits: menu picture of Paul & Sean by Mike Eller, band photo by Mike Eller, Studio photos by ?
Josh Landry