Into The Belly Of The (Prepared) Beast [2014-05-30]

Jussi Lehtisalo is a respected bass player/songwriter, founding member of celebrated Finish experimental rock/ multi genre band Circle, and he also started & runs the always rewarding/ quirky Ektro Record label.

Since the mid 1990's he has always been a highly prolific artists, releasing around 40 albums with Circle, along with a slew of other releases connected with a whole host of side/related projects- such as: Pharaoh Overlord, Steel Mammoth, Arkhamin Kirjasto, RšttŲ Ja Lehtisalo, Ektroverde, etc. But oddly for such active/ prolific artist he has created very little solo work, and has instead craved collaboration where ever he canÖ in late 2013 he reissued his only two solo albums- 2010ís Rotta & 2012 Interludes For Prepared Beast, as a joint release under the title of The Complete Solo Works. Jussi kindly took time out from his very busy schedule to give M[m] a email interview discussing his solo work, his recent work under the Falcon (Ex- Circle) banner, his sonic work in genreal,and Ektro Records.

m[m]:What are some of your earliest musical memories, and is there any one particular album or track that made to want to start playing you own music?
Jussi I remember my mother listening to Charles Aznavour and Edith Piaf when I was very little. I was more into Elvis and Crazy Cavan, who I saw play live in my hometown Pori in 1980, when I was just eight years old.
Listening to Led Zeppelin gave me tremendous pleasure, and I was really enthusiastic about them. To this day, I donít compare them to anyone else; they are in their own league right next to the firmament. The impetus for playing Circleís music came from the British band Loop.
Their music was like my own unconsciousness, speaking to me and inspiring me. I got a similar impression when I heard The Revelonsí amazing song Red Hot Woman. This was exactly how rock and roll should sound!


m[m]:You mention Led Zeppelin as a big influence- do you have a favourite zeppelin album, and if so which & why?
Jussi Houses of the Holy is my favourite album. The album contains No Quarter, possibly the best song ever written, and I also love The Song Remains the Same/Rain Song combination. I've always been fascinated by the epic, esoteric and mystic side in Led Zeppelin. To me, the band is completely on a level of its own. I don't even think of it as a rock band. It's rather a supreme work of art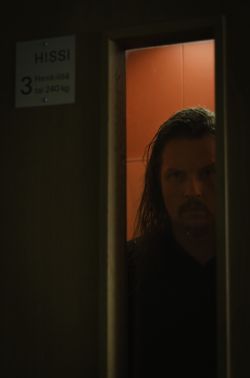 m[m]:Tell us a little bit about how & why you decided on Bass as you instrument of choice? And what other instrumentsí can you play?
Jussi I started with the piano as a little boy, and I sang in the boysí choir. I got a steel string acoustic guitar as a confirmation gift and started strumming it. I started playing the bass when our bass players kept
changing and there were guitarists swarming everywhere. As a bass player I tend to stick to the basics. Iím more interesting as a guitarist. My sense of rhythm is stunning when I get excited, and Iím very prolific with regard to making riffs. Sometimes my natural temperament also
offers surprises as I start shredding the guitar manically. In recent years, I have slightly improved as a guitarist. Iíve learned to play heavy riffs aggressively, though not very technically. When my abilities fail to serve me, I tend to invest in vision and delegating.

m[m]:You are of course most known for Circle- but were you in any bands before Circle, and if so could you give us details of these?
Jussi It can be said that Circle is my first and my last band. Iíve given it all I have, and Iím also very proud of it.
m[m]:Last year saw you reissue your first two solo albums- 2010ís Rotta & 2012ís Interludes For Prepared Beast- please tell us a little bit about how each came about?
Jussi I hate making music by myself, but sometimes Iíve noticed that I tend to withdraw a little in a group. As we went to my summer cottage once with my family, for some reason or other, I started making my first solo album, Rotta (2010). I was listening to shortwave radio, noticing that
it was the best ďbeatĒ I had heard in a long time. I just started playing tracks on top of that, and the result was my first solo album.
In the early days, in the 90s, I was very interested in experimental music, but lately Iíve been just doing riffs and more of a pop thing. I had regressed back to pop music, and in that sense the solo albums were a good way to return to one or, at maximum, two simple ideas, which I
just slavishly dip in the water, keeping their heads afloat.
m[m]:Both of these release seem to have an almost soundtrack like flow & quality to them, is there a plot or story behind each release?
Jussi I wanted to make music with uneven time signatures. I wanted things and sounds to spring each other to life, to speed up and crawl randomly.
Circleís Miljard (2006), and especially the recording sessions for that album, inspired me to take the idea a step further and to create a kind of faltering symphony. Rotta was more like a key turning inside a lock in slow motion, and Interludes for Prepared Beast (2012) was non-swinging death metal coloured by blast beat. I remember being
thrilled about the Australian death metal band Portal at that time. In retrospect, the influences may be obvious.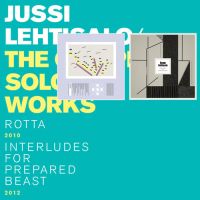 m[m]:Have you got any more solo works in progresses at present & if so what are they?
Jussi I have the third solo album nearly finished, but in fact I canít remember at all what it sounds like. I have the impression that itís very mediocre stuff, totally lacking soul. Iíve also done an electro seven inch and a punk EP, but Iím not sure if I care to release them.

m[m]:You say you donít really making music on your own- so do you find it difficult to get inspired on your own, or do you just enjoy the collaborative music making? And tell us a little bit about how your song writing process varies when you work on you own, or collaborate?
Jussi I'm more interested in expanding the collective consciousness and intercourse than examining my own superiority and masturbation. I'm inspired by my friends and hopefully they are inspired by me. I begin by strumming riffs, putting them one after the other, and, in the name of multiculturalism, I aim to preserve an equal amount of good and bad riffs. In my world, the good and the bad coexist in harmony, and being and doing are not just an elitist privilege.
m[m]: Last year saw you deciding to re-name Circle Falcon, tell us a little bit about why you done this & donít you think the whole thing will cause confusion?
Jussi The idea was to simply destroy the Circle brand by giving it away to some other guys, and to take away the trust in the brand. The idea was to criticize the notion of hanging on to achieved benefits, and to ruin our lifeís work by bouncing it like a flat basketball. Brands and concepts are guiding artists, and the artists themselves are desperately clinging on to the door handle. The idea was to get the ball back to the players and to take it away from the consultants, producers, brand developers, and the business; to reduce it back to insignicance, a human
before he is given a name, far out of reach of family burdens and expectations.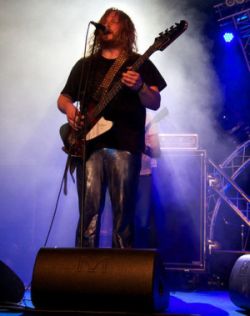 m[m]:Falconís first album Frontier saw you moving very much towards a US tinged 80ís rock, synth tinged AOR rock sound- is this something weíll hear more of in the future, or are you planning on taking the bands sound somewhere else?
Jussi My dream is to continue Falcon and to make ten albums of tacky radio rock. But the lease contract ended, so we turned back to regressive rock and roll, and were drawing joy of life from it for the next hundred albums.
m[m]:You have operated & run Ektro records since 1996- tell us a little bit about how & why the label came about?
Jussi I started putting out my own and my friends' music, because most artists in Finland don't get their voices heard. They're shelved into the margins. I keep doing what I do though it's not economically sound and takes up all of my time. My aim is to become extinct within a few years.
m[m]:Please pick your ten favourite releases from Ektro back catalogue, and explain why they are your favourites?
Jussi I love all the records I put out, but I name a few interesting records that certainly enrich the music enthusiasts' lives and which I wish would get a bit more recognition.
-Mission for Christ: The Complete Sessions CD (experimental punk from Washington DC from the 80s)
-Plain Ride : Skeleton Kites CD/LP (a guitar rock masterpiece)
-Rat at Rat R: Amer$ide Rock And Roll Is Dead Long Live Rat At Rat R CD (unique noiserock from the 80s)
-the Kolmas: Kolmas testi LP (a minimalist electro band of Lšjš ńijšlš of legendary Terveet Kšdet and Death Trip fame)
-Jesters of Destiny: Fun at te Funeral LP (one of the best heavy metal albums ever made)
-Toiling Midgets: Live at the Waldorf 1982 LP (awesome live album by a classic noisy guitar band)
-VHK (Vagtazo Halottkemek): Bite the Stars! CD/LP (the new album by the Hungarian shamanistic punk band of cult fame)
-Sound & Fury: Pulsacion CD (a fantastic new album by Finland's greatest jazz band of all time)
-…va PolgŠr and SŠndor VŠly: Mondrian Variations CD (minimalist art music, based on a superb concept)
-Dial: Western Front CD (a great classic of lo-fi and noise!)

m[m]:Whatís been the most fast selling item on Ektro, and what have been the release that has sold the most over the years?
Jussi The fantastic heavy metal band Ranger is super popular and sells very well. It suffices to see the band live to realise why the band's uncompromising and enthusiastic touch charms everyone. Ranger are the only thing that makes me miss my youth, but I have to say that the old Circle guys are able to knock a tank over, too.

m[m]:What have you got planned release wise for the next year or so with all your projects?
Jussi Circle (ex-Falcon) is just about to release an album called Leviatan and Circle (thatís us) will release a punk single Kumiluoti. I hope that Pharaoh Overlord and Circle will make a couple of records each this year. My heavy metal band, Aktor, will release a full-length and my noise rock band, Bensiini, hopefully releases a full-length, plus the
other goings-on. A nice year coming up once again!

Thanks to Jussi for his time & efforts with the interview. The Complete Solo Works can be brought direct from Ektro Recordís here, we reviewed the album here ( giving it a 4 out of 5 mark). Photo credits: 1st in interview pic by Eetu Henttonen
Roger Batty