Be Very Glad- Incredible String Band book interview [2013-10-15]Adrian Whittaker is a music journalists & long term Incredible String Band fan. Recently Helter Skelter Books have released an up-dated edition of 'Be Glad: An Incredible String Band Compendium'- the book he edited & co wrote about The Incredible String Band. Adrian kindly agreed to give me an email interview discussing this new edition & the ISB in genreal.

m[m]:What was your first introduction to ISB & what was your initial response?
AW Hangman – got it from the record library and hung onto it for weeks. Loved it immediately – dark and mysterious. It was my first 'independent' musical discovery!

m[m]:When did you first hear Hangman?
AW June 1968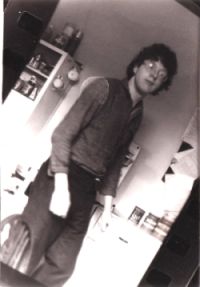 m[m]:Tell us a little bit about how Be Glad Magazine came about, & how did you become one of the magazine's three editors?
AW At the start of the 90s ISB music started being re-released on CD. I hadn't listened to the records for a long time but the reviews prompted me to rediscover them. I fell in love with the ISB all over again and dug out an old, unpublished 'historical discography' I'd done for Zigzag, which the fanzine Musin' Music kindly published. That in turn lead me to get in touch with Peter Neal, borrow his only, very scratched print of the Be Glad film, and put it on one Saturday afternoon at the Rio, Dalston. It turned out to be a real gathering of the tribes. There I met the 'Godfather' (Andy Roberts) who turned up with a pile of the first issue of the fanzine - which I hadn't even known about till a few days beforehand. It was also the first time I met Deena, my partner of the last 20 years!
Raymond Greenoaken and I wrote a lot for the magazine, and Raymond was an experienced graphics guy to boot, so when Andy ran out of steam it was clear we had to pick up the reins.
m[m]:Be Glad ran between November 1992 & Summer 2002, 20 issues in all. Could you please select a few favourite issues & explain why?
AW Probably not the last few issues, as we were running out of content by then (though we'd both become pretty good at Quark Xpress!). The very first issue is probably my favourite – a very homespun layout, but with some great artwork by Allan Frewin. In those pre-internet days it was really quite thrilling to realise that there were others out there…
m[m]:How did the magazine come to an end?
AW We ran out of interesting content and a 10-year run seemed pretty good. Also, what current news there was could be easily disseminated by the Be Glad website, which Martin Payne set up so we could maintain a virtual presence.
m[m]:Tell us a little bit about how the Be Glad book first came about? And how long did it take to become a reality?
AW I was a habitué of Helter Skelter Books, in London's Denmark Street, which was the only place in the UK you could actually buy a copy of the fanzine in a shop! When the magazine ended, I thought an anthology of the best, non-anoraky, bits could be a workable proposition. I sent a one-paragraph proposal to the late Sean Body (HS) and he agreed to go with it. The book started off being officially limited to around 200 pp, but it just grew like Topsy, and Sean, though wary, went along with my ideas. Raymond and Andy helped with choice of articles and with scanning in text from the pre-electronic issues. Raymond wrote the concise history at the start of the book which serves as a contextual framework for all the disparate pieces. I edited and, in some cases, more or less rewrote the various articles, got permissions from writers, music publishers and photographers and worked out linking passages to sew it all together. It took about a year to finish it, and Sean deserves major thanks for seeing it all through. We did, in the end, repay him by selling out the print run.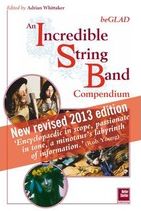 m[m]:The book is a nice balance of fan remembrance, ISB & related interviews, album dissections, song theme analyse, concert reviews & beyond. How long did it take for you to select the book's contents lay-out, and what made you go down such a mixed style & type of writing route?
AW Thanks for the compliment! At its best, Be Glad magazine was a lot more than the usual anoraky fan publications, and I wanted the book to reflect that, both in its breadth and in its quirkiness. It took a couple of months to work out what was suitable, with input from the other 2 editors and from Sean. I also wanted the book to have strong visuals, so I spent a lot of time sourcing best versions of photographs, cuttings, flyers and so on.
The wonderful foreword by Rowan Williams is down to my late mother, who heard him play Hedgehog Song on Desert Island Discs. It got the book a lot of publicity and the Guardian even reprinted his piece as an article in G2. Robert Plant (another candidate for the foreword) never did get back to me though. Neither did Neil Tennant, Bill Drummond or Paul McCartney…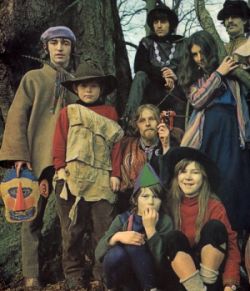 m[m]:Can you tell us what has been added to or updated in the new edition?
AW There are lots of detailed corrections and updates, too many to list, but I was especially please to be able to set the record straight about Mike Heron's 'Long Time Sunshine' coda, which we erroneously said was lifted from a Sikh hymn. This was misinformation circulated by an international Yoga company who had 'borrowed' it…
The main new section is a piece by Stan Schnier, latter-day ISB sound man and bass player, who we hadn't really hooked up with in the fanzine days. He has a great story to tell about the 1968 Fillmore concert, which he was at.
m[m]:What do you think the appeal of the ISB is?
AW Read the book for a full answer
m[m]:You are also curator of the Psych-Folk releases on Hux Records, and this year saw your release of 'Live At The Filmore 1968'. What out of print or rare ISB release would you next like to put out? And what about a reissue of U?
AW Pretty much everything, including U, is back out there – apart, of course, from the dreadful Scientology live album, which I wouldn't wish on anyone.

m[m]:Select three of your favourite ISB releases, and explain why they are?
AW At the moment, 5,000 Spirits, Hangman and Wee Tam/Big Huge. All classics. Runner-up is Liquid Acrobat As Regards The Air, especially Darling Belle (also a favourite of Scritti Politti's Green Gartside!) .

m[m]:Be Glad: An Incredible String Band Compendium is your first published book- would you like to do another & if so on what subject?
AW I Have actually edited 2 more – one of my late brother's writing, one was Empty Pocket Blues by Grahame Hood.
Might do one more in my own right but have nothing planned currently
Thanks to Adrian for his time & efforts with the interview. The new edition of Be Glad: An Incredible String Band Compendium can be ordered direct from Helter Skelter Books here
Roger Batty