Metal Above All [2013-10-14]While many conservatives would like you to believe that metal brings out the worst in people, those that embrace it know that it actually brings out the best in people. There's a loyalty and kinship among metalheads. Those that play metal will play metal til they die. Kentucky based death metallers Abominant are a great example of the lifelong lust for metal. Formed in 1993, Abominant has raged strong for twenty years, despite musical trends, file sharing, and all the BS typically associated with the music business. Bassist Mike May and guitarist Tim Ball were kind enough to stop shredding for a bit and answer everyone's (read: our) questions.

m[m]: From inside the scene, do you see any trends emerging that most listeners are unaware of?
Mike: My biggest pet peeve is mediocrity, its pretty easy to put out something decent these days, not much just totally sucks, and I think alot of people just settle for decent. I also really hate to see people pigeon-hole themselves into one specific genre (brutal death, power metal, folk metal.)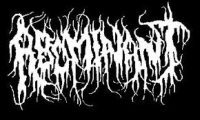 m[m]: Although I'm totally interested in your metal influences, I'm also interested in any non-metal influences you might have- Do any come to mind?
Mike: I'm very influenced by films and also my disgust for mankind, but unfortunately... I don't write the songs, so that answer is insignificant :)
Tim: Yes. Hendrix, Van Halen, Saxon (metal), John Sykes of (ex) Whitesnake; the guys will beat me for that. Yes, GRT, Def Leppard, Steve Via, I could go on and on. Some you might scratch your head at


m[m]: Do any of you play in, or want to play in non-metal bands?
Mike: No. why would we do that? Jim has played in some punk stuff in the past, but he's been in like 20 bands, so....

m[m]: The album art on Onward to Annihilation is great. Did it come from ideas you had & how much input did you have on the final cover?
Mike: We worked with Anton from tombstalker on that, and I think it's his first full colour cover like this. we have mainly done digital images for most of our albums and wanted something a little more personal and laboured on, and it turned out great. really the main thing I told him ,was to imagine he was doing the cover for bolt thrower, that's what we wanted :).



m[m]: You took a fun and unexpected turn with the thrasher, "Hold Your Ground." What's the story behind that? Was it as fun to make as it is to listen to?
Mike: I think, for the most part, we had been playing "the mob rules" live for about a year after dio died, and thought we should take a shot at a song in a more "traditional metal" vein . it was a lot of fun and it's no secret that all of us listen to just as much exciter, motorhead, scanner, agent steel, savage grace, etc as we do marduk or impiety. as fun as it is to listen to or play, its even better live. usually played sloppy and way too fast, the way its meant to be!!!


m[m]: I like that on your cover of Hypocrisy's "Left to Rot," you didn't try to mimic the old Swedish tone. So what makes up Abominant's guitar sound?
Mike: You'd mainly have to ask Tim on that. he's a real "gear head" for guitars. I think he looks at stuff on guitar sites like normal people look at porn. he gets new stuff just fucking constantly, so I think we have slightly different tone on every record, but the way it came out on the new record, I couldn't be happier.
Tim: A Peavey 3120 high gain through a 4x12 cab w/ Celestion g75's. A Boss SD1 overdrive pedal: volume 10, tone 5 and overdrive 0. Basically a tone enhancer. I used the same setting though out the recording except for the leads I did some eq setting.

m[m]: Is there any piece of gear you couldn't live without?
Mike: Sure........my beer.
Tim: My B.C. Rich Gunslinger, PRS ES Paul Allander, and ESP LTD MH1000. I got a Jackson Rhoads V on the way. That didn't really answer your question but probably the Gunslinger.


m[m]: Does your studio set up differ from your live set up at all?
Mike: Usually I record bass just straight and dry in the studio so we usually try to get it close to my chainsaw live sound in mixing. id say Tim has alot cleaner, less raw sound in the studio too. were just a fucking bloody mess live.
Tim: No, not much. There will be some eq settings but I like to keep things simple. I will use a delay for solos. Some venues are different than others but there won't be much. Heavier the best but in control.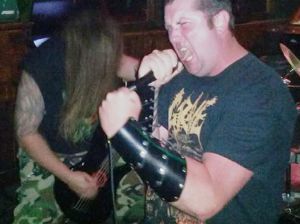 m[m]: Speaking of live sets, your longevity must lend itself to some fun tour stories. Have any you'd like to share?
Mike: We've seen and done some really weird shit, but alot of it is "you'd have to be there" to appreciate most of them. you know, : nudity, feces, vomit, sluts .. all the stereotypical depravity that goat metal brings.


m[m]: What can we expect from Abominant in the future?
Mike:More songs, more beer, more shows..and more 7 out of 10 reviews than you can shake a stick at!!!!!

Thanks to Mike and Tim for their time!

Abominant's latest, Onward to Annihilation, is out now on Deathgasm Records here. The fellas seem to be pretty active on Facebook here as well. Give em a shout if you're into that sorta thing!
Paul Casey