Shock, Horror & Walled Noise [2013-08-27]Burial Ground is a horror movie themed US based project that creates dense & often detailed walled noise. The project has been in existence since 2011, and has so far released coming on for 20 releases - taking in CDR's, split tape releases, and even a which VHS tape. Burial Ground is fast becoming one of the more sorted after & popular projects with-in the worldwide HNW scene, it's is all the work of La Crosse, Wisconsin based Anthony Shaw. Tony kindly agreed to give me a email interview

m[m]:Tell us a little about your first introduction to noise, and is there any particular track or album that made you want to start making your own noise?

Tony I don't even remember how I initially got into noise. One of my first roommates had an extensive collection of Merzbow, Throbbing Gristle, Einstürzende Neubauten, Nurse with Wound etc. At the time I was big into death metal so I didn't really pay too much attention. I kicked myself years later thinking about all of those wonderful albums I could have consumed. A few years after that I acquired these three pivotal albums: The Haters - Mind the Gap, Herb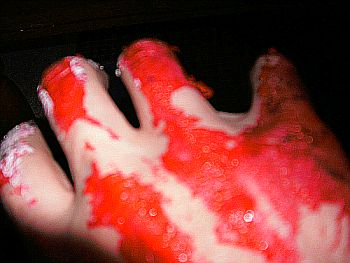 Mullin - Bolts and Merzbow - Oersted. I consider those three albums as the starting point to my infatuation with noise. As for recording and wanting to make my own noise, a buddy of mine who played guitar started to experiment with blenders and other household appliances, making all kinds of unsettling sounds, which I think was my first inspiration to try it myself. I screwed around with feedback loops and other things. Just experimenting to see what was possible. During that time I recorded all sorts of weirdness, none of it really focused. I was a huge fan of true crime literature, specifically serial killers, and after acquiring Slogun's Chronicle of Serial Murder I became obsessed with power electronics and that led to my first real effort as Albert Fish is My Hero.

m[m]:Can you tell us a little bit more about Albert Fish is My Hero?
Tony Well, in 2001 my sister was murdered. She was beat to death by her boyfriend. All of my pain and hate went into this project and my interest in true crime became an obsession. My family went to therapy, I recorded power electronics. The first release was a mish-mash of serial killers (Gaskins, Dahmer, Eyler, Gacy etc.), but after that the project became more focused with each release being fashion around a specific true crime case. I only made a handful of albums and a few compilation appearances under this moniker. My final album Aileen is a dedication to my sister.
m[m]:Naming your first project Albert Fish is My Hero, clearly you're a true crime fan- have you ever thought of doing any true crime themed HNW?
Tony I did put out a 4-way on my label titled Crimes of Passion. I had a bunch of old collages that I made from Colin Wilson's Crimes of Passion book and wanted to do a true crime themed HNW release. I contacted some artists that were interested and not too long after the project was realized. I think it turned out amazingly well. As for recording my own true crime themed HNW, I never really thought about it. It does sound fun though, I guess only time will tell...
m[m]:Tell us a little bit about how your Burial Ground project first came about?
TonyOver the years my interest in power electronics started to fade so Albert Fish is My Hero got pushed aside. I focused more on my harsh noise project Haemorrhaging Fetus, but that started to lean towards a HNW sound; so I decided to make a strict HNW only project. I mentioned in the first question that I was a big death metal fan and Mortician was one of my favorites at the time. I loved the use of horror movie samples in their songs. Mortician was a big influence when starting Burial Ground.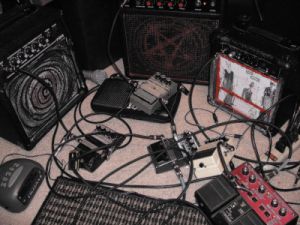 m[m]:Your project is named after the cheesy though over the top 1981 Italian zombie movie of the same name; which featured the infamous dwarf eating a women's breast scene- what made you select this as the projects title?
Tony The project was initially going to be called Burnt Offerings, but at the time the Barfing Dagger sub-label Burnt Sound Offerings came about so I decided to change it. As a kid I used to spend just about every Friday and Saturday night renting and watching horror tapes with my buddy. Burial Ground was always one that really stood out to me. Everything about that movie is perfect and I love it!

m[m]:All of Burial Ground's work is themed around horror movies- how do you go about selecting which film you're going to base each release around?
Tony Usually it's whatever I'm watching at the moment that inspires me... an old flick I've never watched or one I've seen time and again. It just depends on my state of mind at the moment and my excitement for whatever I'm viewing. If a label contacts me about a release I like to work around one of their favorite horror flicks. Same goes for splits/collabs.
m[m]:Tell us a little bit about how you go about constructing your 'walls' & what equipment you use?
Tony I try not to use the same method over and over so experimentation is key. And my equipment is always changing. The main pieces I've used for the last 5 years or so are an old Radioshack amp (it's a piece of shit and I love it!), a children's record player, contact mics (Trauma Tone all the way!!!), a shaker box, a few hand held tape decks and of course distortion pedals (my favorites being the Johnson EQ and Ibanez Metal Charger). I recently bought a Karaokee machine from Goodwill that I've been using a lot and I plan to buy a few more.
m[m]:Clearly you're a huge horror fan- please try & pick 10 of your favourite movies & explain why they are?
Tony Narrowing down a list of top 10 favorites would be way too hard. There are just too many to choose from. The first films I remember seeing when I was a kid were Psycho and Night of the Living Dead. Those two always stuck with me and will always be my top two. I do have a preference for formula slasher flicks though. Kids partying, getting drunk and/or high and getting picked off one by one. Now that's entertainment! Recent re-watches that I've enjoyed have been: Madman, The Stuff, Christmas Evil, Slaughter High, Bloody Birthday, Silent Scream, Visiting Hours, Scarecrows, Night Warning, The Gate, City of the Walking Dead, Final Exam, The Nesting, Watch Me When I Kill, House on Sorority Row, Blood Link, Trick or Treat, Cheerleader Camp...
m[m]:Have you ever played live with the project & if not is this something you'd like to do?
Tony Other than playing while someone is over to my house I have never played a live show for any of my projects. I have a social phobia that is almost debilitating. If I did ever do a live show it would definitely be for Burial Ground. There are just so many possibilities to work with visually. Maybe someday but it's really not likely...
m[m]:What else have you got lined up release wise from Burial Ground?
Tony Lighten Up Sounds will soon be releasing a 3xC60 dedicated to The Omen trilogy (the fourth film does not exist in my world as well as the remake). Also finished working on a 4xBizCard for Hair on My Food/Serious Business dedicated to the Critters flicks. Burial Ground will also be on a cassette compilation I'm releasing titled Video Nasties... other contributors include Vomir, Wet Dream Asphyxiation, The Prowler, Boar, Carrion Black Pit, Nascitari, Dead Body Collection, Crown of Bone and a few others. I have most of the tracks already and it's going to be one hell of a comp!!! Other than that, work has just begun on a Texas Chainsaw Massacre double cassette. Still plan on making the Friday the 13th 8xCS box happen at some point. Also recently re-watched Shock Waves and The Boogey Man, both just as good as I remember them being. I would love to do dedications for both of those. And a possible lathe might be in the works but it's too soon to announce anything
m[m]:Can you give us an idea of what video nasties are been covered on the comp?
Tony So far I've received tracks for the films Tenebre, Driller Killer, Don't Go in the House, Women Behind Bars, The Ghastly Ones, Possession, Faces of Death, Unhinged, I Spit on Your Grave and Delirium. I'm still waiting on more tracks so that isn't the final list.
m[m]:How/ why/ when did Worthless Recordings come about?
Tony I ran the label Life is Easy back in 2008 and was really loving the direction it was heading in, even had plans for a few vinyl releases, then my wife and I split. We actually split the same day I got my artist copies in the mail for my Haemorrhaging Fetus LP. It was a good and bad day, heh. After that my life kinda went to shit. I took a few years off from the noise world to gather myself. I never stopped recording but had no ambition or money to put towards a label. I got my shit together and decided to start Worthless as a short run label. Over the last few years I've worked with some amazing artists and have managed to put out over 60 tapes; and I have no plans on stopping any time soon. Next up are tapes from Shit Castle, Vassbotn, a double With Prejudice release, and splits between En Nihil/Demonologists and Actuary/Bête Lumineuse to name a few.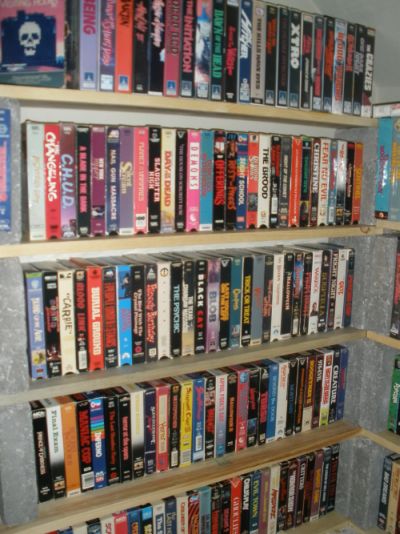 m[m]:What have been your ten favourite releases on Worthless recordings thus far & explain why?
Tony Once again it's too hard to choose. There are a few titles though that I always thought should have had more attention.. The MSHING tape is amazing but seems to get overlooked. The Hadals tape is one of my favorites but didn't get much attention. I can't put into words how much I enjoy the Lungwash tape and still have a ton of copies. And the HHL tape I've sat on for a while. Phenomenal fucking noise! HHL should be on every ones radar because he makes killer harsh noise!! I actually just received an advance listen from Anderson Cook who runs Tapes of a Neon God of an upcoming Hadals/HHL/Machismo/Sharp Tooth 4-way so keep your eyes peeled! It's a killer!! Hell, all of the Neon God tapes are killer!!!
I would like to take the opportunity to thank you for the interview and thank you for all the support you have show the label and project! Keep up the great work man!! Until next time...
Thanks to Tony for his time & efforts with the interview, and of course the great interview pictures too. Burial Grounds blog can be found here here and Worthless Recordings blog is here
Roger Batty