Hail To Satan, Black Metal & Noise [2013-06-20]Utarm is one of the most interesting and bizarre metal creatures from Norway. Noisy, gritty, mean, damaged and just plain weird, Utarm's (aka Sindre Foss Skancke) has been constantly pushing and destroying the boundaries of what is considered black metal for years, in addition to playing nasty harsh noise, industrial and power electronics in other projects (Stabwound Empire, Noisestar And The
Fall Of Rome) and painting huge canvases with violent pagan visions closely connected to his music. We had a chat about his activity as Utarm and a few words about his other outputs.

m[m]:Let's start with the mandatory introduction: when did you start Utarm and why?
Sindre Ave Nicola! I started Utarm ten-twelve years ago. I wanted to force the most depraved and ugly sounds to do great melodies, and to dive into concepts and ideas I could find out more about through this. For me music is the most ecstatic form of art, and I wanted to make it even better, carve it into my ears and scar all listeners. I wanted to make something by following pure instinct

m[m]:Can you tell us a bit about the evolution of Utarm, both in soundand purpose? How did your project change with time?
Sindre Utarm in the beginning was very primitive in physical terms, as I had never recorded on anything else than a simple tape recorder before. Also had very little equipment, I think a guitar and one distortion pedal. But where there is a will there is a way, I think these types of primitive records show just that. As I think you can understand I always favor the raw sound, primal and desperate. I have naturally upgraded my equipment a bit since then, but still like to keep it as raw as possible. As for purpose, some of the basic ideas stays the same, and always will. But there is also a need to evolve. Each song means something specific and when it is done there is no need repeating that, it would only degenerate the feeling, leavingrecordings with less substance and passion. It is hard to explain but each part of this growing project represent something for me that cannot be said, written or painted. One of the ground rules set from the beginning was that this is a Satanic project. I would say it still is, but my knowledge of the subject has grown, thus not being the same anymore. A lot of music is said to be satanic; it is the same all repetition, known paths of simple blasphemy and devil worship. Praise the Goat one million times, yes indeed, but there are also other subjects that are relevant to investigate from the ground zero point..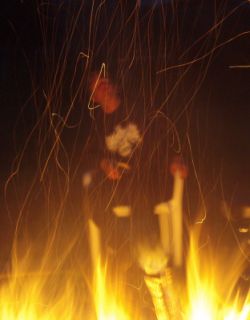 I chose to go this way a long time ago, so naturally I want to go further, develop. The first records I did was more of the primitive hailing Satan, praising Murder. I still stand proud behind those records. Later records are more focused on concepts of human behavior in different mental states. Especially when the human mind focuses on what lies behind the concept of being human, when/if we can go further than that. The Panic Chamber album was not entirely fictional, title is quite accurate for the making of that. Esoteric subjects has always been a part of Utarm, sometimes crude and primitive, sometimes more "schooled" maybe, but Utarm is my education. The need to investigate, try out and know more is the roots of it, both in sound & subject
Sindre I do not have a great solution for the greater good of society in my works, but to see a world slowly burn away under my feet is good fuel for art. Do it before it is too late! New songs are vaguely built on my mother`s uncles life, who is a missionary in east Russia. He is 85 years old, and travels by foot, preaching. I have had some conversations with him about art, life, theology and devotion, a very interesting man. What I do is Blasphemy to him, and I will give him some fictional choices up there in the lonely mountains. He lives truly on the outside of it all.
m[m]:You have a very personal and unique take on black metal. So- called "Black Noise" and "Black Metal Industrial" sounds became somehow more and more common in the last few years and it's been a long, long way since MZ412. I think your material goes beyond these simple definitions, though. Can you describe your approach to music as
Utarm, and maybe tell us what you think about the resurgence of this
kind of sound?
Sindre I started Utarm alone, and wanted to take everything I like from fucked up and harsh satanic music into the sound with other moremregular types of music I like. That was just the natural thing to do.
There was no black noise I was aware of at the time. I remember listening to MZ412 and some other Cold Meat stuff in the nineties and thought it to be dull as fuck then, but what did I know, I would maybe find it great now. Anyhow, I dismissed all that as boring computer game
soundtracks. For me it was just pure instinct to fuel the music I like into my own project, noise and Black Metal. I had barely set foot on the internet back in the early 2000s, so influences came from records I bought in shops, literature, art, hate, perversion and primitive Satanism. Somehow These Black scenes within noise and industrial never interested me, I found the material I checked out as forced, not from the gut. Black Metal Industrial is Mysticum and Black Funeral to me. I listen to a lot of Black metal, industrial, noise, power electronics, electronic music, rap but whatever fits. Micro-scenes are constructed everyday it seems, and I can see the need to describe music in two short words instead of actually saying how the music
sounds and the concept works. My approach to music is simple, I make what I like all the time. If it is not some of the best music I have
ever heard, you will never hear it.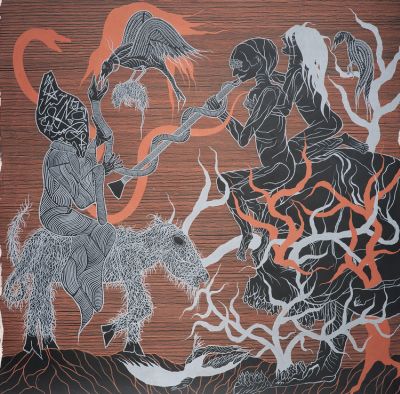 m[m]:What's the usual live set-up for Utarm? Do you manage to do everything alone on stage? What do you think about performing extreme
music live?
Sindre There is no usual live set up. Last time I played live with Utarm was three years ago, then with two session members and a butcher in an installation that suited the purpose. Utarm is doing some live initiations now in June/July/August with different members. First time
with a drummer in September. Concerts…Speaking generally of extreme music live; It can be a fulfilled ritual, a mindfuck beyond belief. It can also be embarrassing and ruin the band forever. I have seen bands play live after listening to their music for years, then never be able to listening to that band again because of the stupidity by the members. This is why music mostly is best at home, because the people who make so great music that shatters your head can be exposed as stupid musicians with no head. I experienced this too often, old idols fall in ruin. At least run home after the gig and never watch them stumble through the bar.

m[m]:Can you talk a bit about your latest full length, "Apocryphal Stories" ? The creative process, the ideas, impressions about the
final product?
Sindre The "Apocryphal stories" concept was based upon a reckless journey through the history of our religious spearheads aftermaths. All those fights left countless corpses, but they also left the small wings of their faith behind. Countless corpses said prayers to unknown gods, and those unknown gods would be present here, doing sacrifices, worshipping their own gods. All old gods destroyed by war of goldshould be included in the apocryphs. Then I bring my new gods into the
plot, and the climate escalate. I wanted to tell stories of small gods, of great gods deceived, new gods, plotting new religious history along the way, always putting my new characters in it. I did paintings all along the recordings, and it was great, bringing forgotten shitty gods of some obscure clandestine sects up again to face someone else in the exact same position. At the same time my own persona came up and interfered sometimes. This whole story may be a bit obscure and pretentious to everyone else, since all paintings in the process is not exhibited and all text is not revealed, and you may not give a fuck either. But not one album I've got in my collection tells me exactly what it is, but the ones I return to tries to say or scream something that is important to the creator, and that is the beauty of it all. From then on you make it up all along.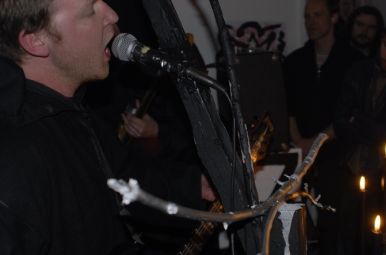 m[m]:Another mandatory and probably stupid question: black metal is one of Norway's most successful exports, and this genre's popularity and dogma owe a lot to your country. Do you think there's still interesting stuff going on in Norway? If yes, can you name a few remarkable bands/projects? Would you care to give us your impressions on the local scene?
Sindre I really hate that this is called export article, as it looks as great as a tramp stamp on a goddess. I still worship some of these early records of the nineties, who in their right mind doesn't? The question is; how many great BLACK METAL records have these legends made after
the legacy of the early nineties? A lot of people saw a future trademark and honed their music into slightly more acceptable forms, slowly adapting it to more commercial metal then brushed their faces while keeping the brand (not band) intact. Ninety percent of those
people saw a typical youth culture exploitation waiting to happen and grabbed it. And fuck them forever for that.
After this horrible accident of post 93-4 black metal rockstars, there is now also great Black Metal in Norway. Dødsengel, Sarath, Mare, Myrkraverk, Skuggeheim, OTOH-ORCUSTUS! Aptorian Demon, Knokkelklang,
Black Majesty, Saligia. Furze was great until the seventies records, because Necromancee Cogent is one of the best. For my local scene it is more death metal, but it is great; Diskord, Execration and Obliteration. Deathhammer is probably the most savage metal band in this country, they defy every genre. Outside of every form of metal I would recommend all people to listen to This is Music Inc. from Oslo.
m[m]:You're also active with many other projects, ranging from black metal to harsh noise and power electronics. Do you want to talk about these other sides of your activity?
Sindre All my projects is somehow connected I think, because raw and dirty sound is often connected to good music for me. Concepts differ, and some are more normal bands maybe. Utarm is for me an extension of every artistic work or "creation" I do, it is a spinal work, crucial. It is the most personal project, therefore more concerns with playing live, more prone to perfection here. I did a lot of noisegigs and releases over the years under different names, and a lot of them was great. I played gigs with so many aliases, it is great to play noise load and destroy ears and mind.
Stabwound Empire has been there frequently for years, almost as long as Utarm, but not releasing much. Stabwound Empire needs live action, disgust, gutter filth and a lot of anger. Since ca. seven years ago. Still needed, noise live is crucial. Lyrics focus on more social
issues. Then I also play Metal in Gribberiket. All our lyrics are taken from our favorite lyricists. Translation of bandname is "vulture's kingdom", so it makes sense. Slow and epic doom metal with raw sound I would call it. I do guitar and sing, Kybermensch do the same. He does
music with me in Noisestar And The Fall of Rome also. He has a vast knowledge of music theory and beyond, and I have worked with him for almost 12 years now. When I rarely play live with Utarm he is there. In Gribberiket Gimpmolestor plays drums and Witchfukker Wangen play
bass, both do backup vocals and have impact on our concepts and choise of lyrics. They are great people with vast knowledge of archeology and obscure drugs, and have read a shitload of good literature and history.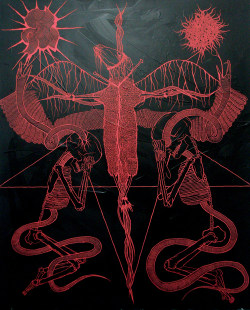 m[m]:What about your work as visual artist? Does it influence your music, or does it intertwine with it?
Sindre It all bleeds together in a good way. I never get the "artist drought". I rather switch medium if a particular piece do not work with what I want it to be. There is always a way, and as I said before, the idea is what matters to me. If a sound is not right I paint it. Then after I maybe get what I was trying to do. The unconscious works in all fucked ways. Influences go all back and forth, and I am fortunate to work with all this in the same room. It all affects each other in a way I like. If I want to recline and record somewhere else, Kybermench has a great studio. But all in all I see advantages all the way. It would be stupidity to keep different fields of art in distance from each other because of formalities. Instinct is crucial, whatever form it takes.
m[m]:What do you have in store for Utarm and your other outputs next?
Sindre Skullflower/Utarm Split album has been brewing for some years now, but now its finally out on Turgid Animal. I will play with Utarm live again now, some gigs in Norway and Prague is prepared for the summer, then more will come if the circumstances is right.
Thanks to Sindre for his time/efforts with the interview. The projects blog page can be found here
Nicola Vinciguerra