To The Labyrinth... [2013-05-10]Many Harsh Noise Wall projects focus on obsessions- be it on a type of movie, nihilistic moods, or even female pop stars. One project that has a very specific focus/ obsession is Santa Fe based Hoggle- the project is themed & obsessed with just one movie: The Labyrinth- the 1986 family fantasy puppet/ live action movie that was written & directed by master puppeteer & Muppet inventor Jim Henson.

The film featured David Bowie & Jennifer Connelly in main roles, and the story followed 15 year old Sarah (Connelly) who is left home alone by her parents to babysit her little brother Toby. But Toby keeps crying and Sarah, while telling him a story to make him sleep, inadvertently conjures up a fantasy world, then a Goblin King steals the child and brings him to his castle in the middle of a labyrinth. Sarah has to rescue him before midnight, or the baby will became a goblin. The project takes it's name from a grumpy and obstinate dwarf who to start with refuses to help Sarah through the Labyrinth, but in time they become firm friends. Behind the project is long term noise scene-ster Joe The Stache whose behind HNW/Harsh noise projects like Pig Shrapnel & Extreme Chafing , he also runs noise tape label Hair on My Food Tapes & Records. I caught up with Joe for an email interview about this most focused/ obsessed of HNW projects


m[m]:Tell us a little bit about how/why your obsession for The Labyrinth first came about? And what is it about the movie that fascinates you so much?
Joe I had not seen Labyrinth until I was in my early 20's and it was thanks to a friend's son that I happened upon it, as he watched it about 8 times a day. After watching it with him, I liked it enough to get myself a copy and while I'm not sure if I could be called obsessed, I did watch it fairly frequently.

Joe Really, everything about the film fascinates me. It has amazing puppetry, a great set of characters, great settings, plenty of little snips of comic relief that actually are funny...oh and did I mention DAVID FUCKING BOWIE! There is not a single part of this movie that isn't awesome.


m[m]:How did the Hoggle project first come about & what made you decided on this as a name for the project?
Joe I work all my noise in themes. I don't know why, but it's just how it all seems to fall into place. Hoggle was, I believe, my 3rd project started.
A couple years ago, I showed my own son (who was almost 2 at the time) Labyrinth. He loved it and watched it 4000 times since that first viewing. I had just been starting to make my own noise at that time with two of my other projects, and had been listening to a lot of HNW (which hasn't changed). A single image really inspired me to create HNW for this film and it was the scene when Sara first enters the Corridor and looks both ways down the unending hallways of gray stone. This, with the addition of the way the movie flows from one short chapter to the next was what made it all click together for me. Hoggle is my favorite character in the film, and it also happened to be my son's favorite character as well. That is one part of the choice of that as the project name. The other part is that Hoggle accompanies Sara throughout the majority of the movie, and is therefore a catalyst for the progression of scenes in many cases.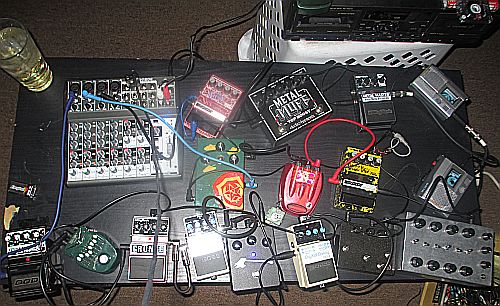 m[m]:tell us a bit about the equipment you use to create the project's dense walls?, and has this changed/ varied since the project started?
Joe Lots of distortion is always involved of course. Delay is frequently used as well. My equipment line up has changed throughout time, and I am always looking for the wall capacities within new equipment I get, and some that I have used on recordings has long since been sold or traded away to obtain other new equipment. When I started, I was somehow able to sit and do a single long track, but as time has progressed, I am unable to do that so much. I always do multiple tracks now. I usually change around my setup for each new track within a release, though usually sticking to the pedals originally chosen for the first track. I also try to vary my sound sources. I have a couple of tape recorders with speed controls on them as well as a handful of 4min loop tapes that work well for capturing HNW worthy sources. I generally run at least 2 sources, sometimes 3 or more on most Hoggle recordings of recent memory. Earlier recordings may have used just one, but I cannot remember, nor can I find my little notebook of Hoggle setups.
m[m]:What have you used as sound sources for Hoggle's 'walls' so far & is there anything you'd like to try in the future?
Joe In earlier works, I mainly used the good ol' WNG2. It has worked well, and I still sometimes use it in conjunction with other source. I eventually got some 4 minute loop tapes and those have turned out great for HNW. I have made loop tapes of the bathroom fan in my last apartment, a box-fan, and inflated balloons in the shower to name a few. As far as future source, I recently got a Weird Sound Generator that I have been using for HN and I have done a little bit of wall-building with it, but I need to further explore its wall capabilities. Also, the heater in my current apartment makes some pretty awesomely awful noise when it is running, and I need to get that on tape before it gets too warm.
m[m]:Do you release everything you record for the project?
Joe No, not everything, but quite a lot. I always listen to a recording quite a few times before I decide if I will use it. I've scrapped an entire session at least once or twice, and since I moved from one long track releases to multiple track releases, there's a good amount of noise that gets edited out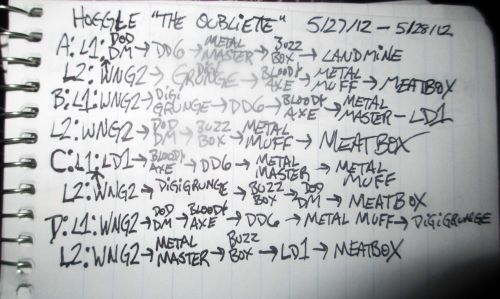 m[m]:So far the project has released seven release- do you have a favourite out of these seven?, and if so please explain why?
Joe My memory is so bad, I'd have to listen to them all again before giving you my opinion on them sonically, but I do feel my more recent recordings have been better just due to more variety of equipment to choose from and more sources being used. Aesthetically, "The Oubliette" is my obvious choice as it came with a hand-made replica of the bracelet Sara gives to Hoggle in that scene. The bracelet is truly amazing as Jon of Oktomedia managed to find all the beads at Hobby Lobby or some shit like that, and what he made, from what I can see in screenshots, is pretty much an exact replica of the bracelet. "The Corridor" is obviously high up there as well
because it was the scene that inspired the whole shebang.
m[m]:Have you tried or would you like to try & create one long/continuous HNW soundtrack for the whole movie?
Joe The longest Hoggle track was "The Entrance" clocking in around the 45:30 area, which does not entail the entire film, but damn near it. This could be a good idea for the final release though
m[m]:You often explain the project as 'A Labyrinth of Harsh Noise '- is this purely because of the projects theme or do you see the project as trying to create a Labyrinth type feel too?
Joe It's actually "Labyrinth of Harsh Noise Walls", and yes, it is mainly because of the project's theme. I wish i could say that i try to create a Labyrinth type feel to it, but I personally do not feel that HNW can take that type of approach in a truly labyrinth way. While I make and like HNW that does change, I feel the changes must be subtle. Yes, changes in a labyrinth can be and are often subtle, but the true sense of a labyrinth feel would be that of a maze which would entail more twists and turns. More twists and turns would put the noise in more of a Harsh Noise territory than a HNW area, and I am striving for HNW with this project.

m[m]:Do you see the project as a long term venture or do you think you'll run out of ideas soon?
Joe I have been working on this project for nearly two years already, and I am only about to record "The Cleaners". So, yes, I do feel that this project will still take at least a couple more years to play out entirely. Really, the scene when Jareth is defeated is when my project will truly end. The ideas are not wholly dictated by myself, but by the scenes of the film.

m[m]:Have you ever wanted to play live with The Hoggle project?, and if so what sort of set-up would you have in a live setting?
Joe I would love to play live as Hoggle. There is not a very big noise scene in New Mexico, it is mostly in Albuquerque and pretty much non-existent in Santa Fe. Some of the ABQ folks know me and i have played down there in my other project Laboratory Fire, but not yet as Hoggle. For a live setting, I would refer to my notebook (that I have to find), and use a setup (that I still had all the pedals for) that I had used for a previous release. While the performance would not be the exact same, it would at least be a rendition of what I had previous done.
m[m]:The Labyrinth was directed by much love master puppeteer Jim Henson- are you a fan of his other live action fantasy movie The Dark Crystal, or his work with the Muppets?
Joe The Dark Crystal was a good movie, though I have not seen it in at least 7 years. I need to get that one and watch it again (and w/ my kid. He likes creepy stuff.). I watched Fraggle Rock as a kid, but was never much into Muppet Show (though I did grow up on Sesame Street). I definitely need to get Dark Crystal back on my view list.
m[m]:Do you think a sequel could be made of The Labyrinth, and if so what would you like happen in it?
Joe There could be no worthy sequel. The Goblin King is defeated at the end! Any sequel would end up very weak in story I would imagine. And who would need one with all the fan-ficks about Labyrinth on the internet?
m[m]:Have you collected any memorabilia connected to The Labyrinth?
Joe I think someone sent me a poster once, but I am not sure where it is. I'm generally not much of a memorabilia collector, though I do get excited when I get stuff like that as gifts. My collections include gear, tapes, records, and CD(r)s.

m[m]:Can you tell us a little bit about the two up-coming release listed on The Hoggle blog:
008. "The False Beggar" Double Side A C50 (4-Eyes)
009. "The Cleaners" Lathe (Third Eye Grind Records)
What can we expect sound wise ect??
Joe For "The False Beggar" there will be 24:35 of HNW. I am shit at describing HNW in words, but the first track has a good low end basis with a heavy overlap of shifting/billowing mid-high range metallic static roar. The second track is a straight up mid-low shifting blast.
I have not recorded "The Cleaners" yet, and I'm not quite sure what I want to do yet. I generally don't think about my setup until I am creating it. I tend to be spontaneous, but thoughtful when I create my chains.
Thanks to Joe for his time & effort with the interview. The projects blog can be found here
Roger Batty