Festival report [2012-10-26]Contrast, without which we cannot perceive the world, is a phenomenon that defies homogenisation, where pleasure is relief from pain, and pain can be a prime for pleasure; where art is opposed to commerce, and the mundane is pushed back, often all too temporarily, by creativity. Capsule, the curators of the annual Supersonic Festival clearly understand this: from the coarse granularity of its urban, industrial environment so strongly set apart from the fallow fields of most other festivals, to the finer details of its handpicked programme of new music, installations, workshops, walks and talks, all deftly juxtaposed across a long weekend, the festival never fails to nurture new connections and rupture old ones.

But be warned, just like previous years, this much contrast in such a short period and relatively small space is intense to behold, punishing even. It warps your sense of time and place, rewarding with a revived set of senses, yet rendering the host body exhausted and over stimulated. And, just like the nine previous Supersonic environments, this year's rich and abundant line-up challenged each ticket holder to pave their own path through its diverse terrain, not one of them coming close to beholding all the sights and sounds on offer.


Mine started on a Friday night, crossing a river to arrive at a race track formed of vinyl records on which remote controlled vehicles scuffed and skidded across the grooves, their echoes floating up to dissolve in the tall Factory's brick arches. Led on into the largest of Supersonic's four stages, the warehouse opened with local lambs, Free School, their sheep masks portending stranger fare than their many modules emitted. The blend of live house beats with chiming synth refrains and falsetto vocals diverted the memory back to somewhere between Underworld and The Associates, a most unexpected but welcoming first stop.

They were followed by a kind of inversion – five rather straight-looking suits playing woozy, glitch-filled electronica, preferring old Fisher Price and Tomy toys to Free School's array of Korgs and Rolands. This was the work of the Modified Toy Orchestra, the notorious circuit benders who behave like Dr Frankenstein among play school graveyards. Their gimmick, of rewiring toy cameras, rockets, and mini keyboards, is initially a delight to behold delivering a neat nostalgia kick, but as the set drew on the novelty fades. Surprisingly, in its place there slowly formed a new world of electronic textures and treats as the 8-bit pop of their opening pieces that occasionally reminded of early μ-Ziq or Björk's 'All is Full of Love', was replaced by more beatless territories to form a nightmarish nursery of eroding synths bristling with distortion over which a dismembered dummy's head painfully narrates as her batteries run dry.
Unbelievably, for a festival that last year proclaimed Birmingham as the 'home of metal', the only guitar thus far in sight was the Toy Orchestra's small plastic one. But, London's Hey Colossus swiftly change all that with three guitarists taking their time to soundcheck before one of them suggests they should start, apologising to the crowd that they're not as professional as other bands. And they're all the better for it as their rhythm section kicks off a loping, wounded animal of a rhythm, and the strata of guitars rear up to build a riotous, hardcore red mist corroborated by the maniacal shouts of the lead vocalist bending and echoing through a box of tricks. Their songs don't end as much as fall apart, sometimes reminding of Jesus Lizard at their most chaotic and cruel, a rage against the porcelain, throwing up a nihilistic soup with a gleeful glint in their eyes as they play with madness without asking permission.
And if that was all Friday had to offer it would have been more than enough, but things were about to go, unbelievably, "one louder" as a behooded Justin Broadrick unveiled his semi-new moniker, JK Flesh. His seemingly ceaseless renaming can seem a bit contrived as Broadrick attempts to signpost each subtle swerve of his genre-blending oeuvre, JK Flesh being the name he used when part of Techno Animal with Kevin Martin, and now to indicate his solo ventures into brutal electronica. Like all his output, the sound is monochromatic and industrial, but on the basis of this performance it's the most forceful and refined yet. The heaviest of hip-hop loops and a riot of rave stabs arise out of a grey sea of introspective synth tones as the most powerful sub-bass sequences sees members of the crowd grab their throats, chest, and nostrils, their organs literally shaken by the greatest volume level of the weekend that sends some for the door. Others surrender to the juddering patterns to find his wraith-like guitar and wailing voice weaving through the bludgeoning beats, somehow eclipsing Godflesh's live sets with its ferocious funk both full of vitality yet morose and mean.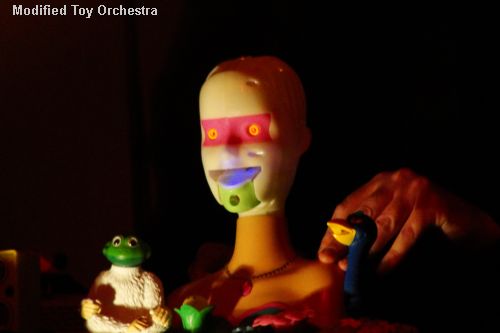 Saturday wisely started with a respite for the eardrums but a tonic for the mind: a panel discussion asking how art can endure in a post-digital age was made both depressing and optimistic, frustrating and inspiring by the pairing of Oxbow's Eugene Robinson and Crass' founder Penny Rimbaud. On the one hand it seemed misplaced to be discussing issues of endurance at a fringe festival celebrating its tenth anniversary, and on the other there was the no-brainer of the damage done by digital downloads that continue to plague if not bury anyone whose art can be uploaded. And it was this kind of duality that swung back and forth throughout a fascinating discussion on art and industry. Perhaps unsurprisingly when asked how much more difficult 2012 is for the independent artist, Rimbaud's reply was at first stiflingly terse and consistently contrarian: "it's not difficult," he proclaimed, confidently asserting that being an artist is a 'way of life' and, as such, is independent of the difficulties of commerce. For a brief moment it kind of cut the discussion dead, but Robinson was to become the perfect foil to Rimbaud's purist libertarian attitude, regaling tales of distribution deals gone wrong - often hilarious, always bleak - and how he has to pick himself up each time he's let down in an industry ripe with rip-off merchants at all levels. Throughout, Robinson and Rimbaud seemed to be enjoying each other's company more and more, as the former conceded that he agreed with the latter's principles even though pragmatics and a dim view of society get in the way. And, in turn, Rimbaud unravelled more and more of his position in a truly inspirational performance that simply framed art as nothing other than an "act of love" that he truly believed would always endure.
Enlivened with a fresh sense of optimism, an opportunity to absorb the sound art of Chicago's Kevin Drumm fell next on the agenda. In the small library stage he sat behind a desk lain with a modest array of gear and wires to ignite a crackling set of sub tones increasingly pierced by sound waves at the upper threshold of hearing curiously represented by a tight white dot gradually growing on the otherwise blank screens behind him. As the sounds diffused into shredding static, the animation took on the form of an exploding galaxy of shooting stars greatly helping onlookers to navigate the newly formed, harsh, primeval sound world, like a reverse-engineered score.
Mercifully nestled in between Drumm's dark matter and Merzbow's savagery is the stark singing stone of Jarboe and pianist Renee Valentine Nelson. In contrast to her strong, ritualistic rock set for Supersonic in 2009, here Jarboe serenely leads us through many shades of her work with Swans, World of Skin and solo, each extensively rearranged for just voice and keys. From delicate elegies to wrenching and raw confessionals, the black-gowned Jarboe visibly prepares herself for each chapter, her peerless voice painting pain and beauty in equal measure while Nelson's white-gowned accompaniment travels from soft and tentative to hard and heavy in a set that stood out that bit further than the rest.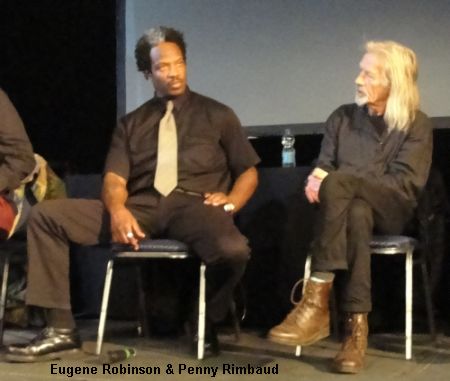 After such measured melancholy Merzbow's set seemed silly initially, but as the overdriven noise layers all stubbornly remained firmly in the red, that sense of silliness became psychopathic, like a maniac's laughter lasting too long. Interestingly, Masami Akita was joined for the entire set by a drummer who, unfortunately, could barely be heard above the relentless roil, but occasionally afforded a foothold or two with which to recalibrate the senses before drowning once more in the torturous tempest. A similar flash of sanity was provided by the brief appearance of Eugene Robinson who also tried to cut through the void, this time with the odd chant, but the incessant blistering ensured that his appearance was briefly felt. Perhaps the most powerful moment of Merzbow's hour was the end when the noise finally stopped and we were all thrown into relief.
Perfectly positioned last on Saturday's line-up was The Bug, Kevin Martin's industrial ragga hybrid. His booming bass allied to infectious beats aided by the enthusing MCs Flow Dan, Killa P, Miss Red and a brief visit from Hype William's Inga Copeland, saw Supersonic bounce like a Brixton dancehall. Somehow maintaining the arch edginess experienced from ex-colleague JK Flesh the previous night, but augmented with a fresh pop sensibility, Martin's was an effortless seduction of a dishevelled crowd that lapped up his riddims to create a true party atmosphere capped off by the only encore I witnessed all weekend.

Sunday started with the opportunity to be whisked back in time away from the Custard Factory on a walking tour entitled 'Crossroads of Sabbath'. Over ninety minutes it takes in several of Birmingham's inner city areas guided with enthusiasm and wisdom by local music historian, Rob Horrocks, to reveal the environmental and cultural origins of Black Sabbath's founder members. But far from being a mere photo opportunity to pose, sign of the horns aloft, in front of Ozzy's house (although this is granted), it's an experience that goes beyond any filmed documentary, biographical book or Google map. It leaves its pedestrians with a real, multi-sensory, psychogeographical set of impressions of both what it was like to grow up in the rapidly changing urban environment and how this may have influenced the four Sabbath members to hone their art, which, in turn has gone on to influence arguably every single artist performing at Supersonic over the past ten years and beyond.
Returning to The Custard Factory equipped with a new sense of the city, the small theatre hosted a deep listening experience of Pauline Oliveros' 'Earth Ears: A Sonic Ritual' interpreted by local electroacousticians the SOUNDkitchen collective. Iain Armstrong, Julien Guillamat, Annie Mahtani and Shelly Knotts marched purposefully onto a very dark stage to install themselves behind their evenly spaced laptops, each solemnly taking it in turn to light their respective candles. Gradually the pops and crackles of fire moved through the space joined by crisp, breathy airborne textures as occult symbols behind them cross-faded from circles to triangles and back again. Exquisitely engineered kaleidoscopic interchanges of other elements from earthy rumbles to tidal textures patiently cascaded as the audience were forced to look upon these almost stationery figures, barely discernible in the darkness, seated as if they held some arcane knowledge with which to control the elements.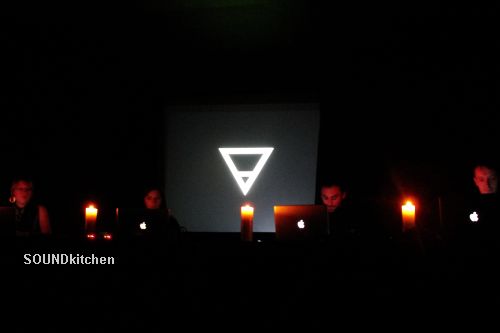 Similarly spellbinding was Robert AA Lowe's solo performance as Lichens, directly following a tour as part of Om where he animatedly played a wide range of instruments including tambura and tambourine. Here, though, he merely has a suitcase in which appears to be an analogue modular synth plus a microphone and several short wires. With a flick of his wrist a smooth sine wave is swiftly joined by similar to produce pulsing artefacts, calm and meditative, that spread soothingly around the room. Slowly, he picks up one of the short wires and patches it into the case to trigger further meditative undulations as he adds subtle vocal lamentations to the mix. Whether through intervention or a natural part of the process, magical arpeggiations arise threading the air with decorative pulses and patterns like sonic fractals, growing in complexity but without compromising the celestial, yogic ambience. He concludes to the roaring applause of a much reenergised, thankful audience.
The warmth spread by Lichens performance quickly evaporates as Tim Hecker sets his complex arsenal of effects pedals and modules to freeze the air with his trademark brittle piano layers and sub-bass undercurrents. He plays with dramatic changes in volume, shifting plates of icy tones to describe the dangers of a cold oceanic drift, perhaps, where the much-used 'organic' observation is at its most overt. The patterns he forms are rarely repetitive nor balanced, but grow with a will and a logic all his own, seemingly sculpted on the fly to arrive at a natural, desolate environment of melting clouds and shifting waves. His set perfectly suits the drop in temperature of the October evening that is sadly drawing to a close.
The sense of urgency the imminent end brings inspires a bit of a dash around the remaining performances. Kim Gordon and Bill Nace's Body/Head project sounded quite harrowing from the back of the room, their twin guitars lurching and whining atonally as she speaks over the top like a beat poet. Their bleak 'n' raw emotional intensity is almost the antithesis of Goat's colourful parade over on the main stage. Reminiscent of Secret Chiefs 3 from last year, their Eastern-influenced metal segues into more delightful fare as a tribal drumming workout builds to enchant the sorest of feet. They're followed by Oxbow Orchestra, the stage filled with classical musicians reinterpreting the bands uncompromising hardcore jazz blues legacy, but despite Eugene Robinson's charismatic stage presence the overall effect is elegant and subdued.
Wandering outside, the 'rest' tent in which this year's illustrator, David Hand, had been diligently drawing a panoramic postscript to the festival, was filled to the brim with people grinning from ear-to-ear as they bashed away at their tables and the scaffolding in concert with at least one of Goat's percussionists. Before being gently moved on by the always polite and friendly security, some serious grooves were struck as punters became the performers, laying to rest the weekend's final distinction.
KUDOS 5/5
Photography © Justine Bleasdale( front page menu picture of Hey Colossus)
Russell Cuzner