The Chantal, Ikodora '65 & Muzikaal Kabaal interview [2012-07-24]Netherlands based Jelle Koning is one of the more busy & multi-project linked artists with-in the European HNW/ noise scenes. He has at present seven active projects(Ikodora '65, Chantal, Cult of the Smiling Jesus, DRAAK, Slackernoise & Jaratondo) . And he also runs the excellent noise/ experimental label Muzikaal Kabaal. Jelle kindly agreed to give M[m] an interview via email.

m[m]:What was your first exposure to noise & the wider experimental scenes?
Jelle I started listening to noise rock bands in the mid-eighties, but the first 'real' noise I listen to was only a few years now. I started listening to the well known noise projects, such as: Merzbow, Masonna, Gerogeregegege, Hanatarash, The Rita. Later on I got into more DIY noise projects- I like the DIY stuff maybe more then the regular stuff because of the creative aspect of it. Limited editions, strange formats, self made artwork, cases and so on.

m[m]:What was the first HNW release you heard, and is there any one particular release that made you wanting start making your on 'wall,s'?
Jelle I think it was the Bachir Gemayel / Dead Body Collection - Split on Hoarse records.
No there's not one particular release that made me want to make my own HNW, but I was certainly inspired by some HNW projects such as: Vomir, Panic, Die Reitende Leichen.

m[m]:Tell us a bit about how the Ikodora '65 project came about?. what's the origin of the projects name & was this your first project?
Jelle It started somewhere in 2007 and the first Ikodora '65 release was Tappi Auricolari on Hoarse records - which came out in 2008
Actually it is a made up name, except '65 (pronounced as vijfenzestig) which is my year of birth.
Ikodora '65 is my main project with more styles then just HNW. Mostly it's harsh noise, with HNW elements


m[m]::two of your more recent HNW projects are: Chantal & Cult of the Smiling Jesus please tell us a little bit about how each came about, what you see there themes as and how you approach each projects composition?
Jelle Chantal is the named after a mannequin that I have for decoration. It was a name my ex-wife gave to her. The Chantal releases are housed in slipcase packages and titled a,b,c and so on.. Each cover features an picture of an unknown model on it. The projects style is brutal HNW.

Cult Of The Smiling Jesus is named after an imaginary group of people who believe that Jesus Christ gave his smile of hope to them, in times of depression, anxiety and psychotic moments.
There are two COTSJ records out now, both inspired by the Leonard Cohen - Songs of Love and Hate album. I love the black and white album cover of that particular record. And most of the Muzikaal Kabaal artwork is black and white. The songs' of both COTSJ albums contain short to long tracks of different kinds of hnw.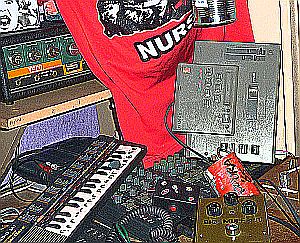 m[m]:You call Chantal brutal HNW, and I guess it is, but I've found the projects work quite pleasing & soothing in its feel. Is this something you aware of when your making 'wall's for this project?
Jelle I think so, I always try to put some emotions in my walls and not to do just something that's emotional-less
The same goes for my other projects.
m[m]:How do you go about selecting the unknown model pictures for Chantal releases?
Jelle It must be an artistic photo and not standard fashion crap. It takes some time to find pictures that I think they are good enough, for the next Chantal release I'm probably looking for a guy's face.
m[m]:Is the Chantal doll life size?
Jelle Yes it is, and I put some red led lights in her eyes like the Terminator. Sometimes she is wearing noise shirts that don't fit me.
It's a pity that she don't cook my veggie meals, but on the other side she never complains about loud music.
m[m]:what attracted you to using Leonard Cohen - Songs of Love and Hate album
as a theme for your Cult of the Smiling Jesus project?
Jelle As I said earlier it was mainly the minimal artwork that I like. The white font on a black background, and the album title although it's slightly clichéd.

m[m]:Are there any other albums you'd like to use a theme for creating a HNW
project?
Jelle Hard question, maybe I could do something with old Genesis records…like Foxtrot, Nursery Crime , or Selling England by the Pound. Totally not cool, but I love these records.
m[m]:What kind of set-up have you got, and how does in vary from project to project?
Jelle A Fostex multitracker for mixing and a big muff for most HNW projects. A Zoom Sampletrak, a Casio SA-1 keyboard a Vorg Echo -orbit that I used for my Jaratondo project - Echo Orbit project uses a Boss dr.Rhythm, a Sony Family Studio for the stupid sounds that I use for the Jaratondo project- First Steps In Ballet release and some contact mics. For the unplugged Chantal release on Disabled records I used a Zoom H1 Handy Recorder, to do some recordings outside.

m[m]:How often do you create noise, and is the time spent evenly split between your three projects?
Jelle Actually there are 7 projects at the moment! I create noise when I feel like I have to and when I have the time.
But for now I think once every two months or so.

m[m]:You mention you're in 7 projects in all- what are the other 4?
Jelle DRAAK, HNW on two cassette only releases. DRAAK is a nickname that a colleague at work gave to me, it's a Dutch word for bully.
Slackernoise also HNW, I've done one release of this project with a typo in the album title (not on purpose).
Totaal Geflopt is lo bit harsh noise on floppy disk.
Jaratondo is more experimental noise.

m[m]:You run the great noise/ experimental label Muzikaal Kabaal- how long has the label been going, and how did it come about in the first place?
Jelle I started in September 2011 to release some stuff of my own and some Dutch guys that I met.
m[m]:Please pick ten of your favourite releases on the label thus far & explain why there you're favourite?
Jelle Totaal Geflopt - Fratsen because it was my first release on Muzikaal Kabaal.
Fyarl - Fear Of Ketchup because it's my first release that I did for other noise dudes then myself. And it's the first relese to use the black cases that I now use mostly for the labels releases.
Female Harakiri - Death Of Chizuko Mifune , this was my first foreign release.
Sendot Sklin - I Hallucinate Numbers , the first field recording release on my label and different for the most things I released before.
Ghost - Hallucination, good memories at that particular time.
Hoggle - Approaching The Labyrinth, I like that movie and the idea to caught the movie in HNW.
Nightmare Castle / Carrion Black Pit - Bistritz To Borgo Pass / Witchcraft Through The Ages , this was the first split that I did.
Light Collapse - Karabash, pollution caught in HNW.
Ataraxy - A Face of Evil, because of the theme and the strange effect that the cover has. (baby Hitler)
Pooh - Pooh's House, not a standard but an unexpected theme for a HNW project. I like that.

m[m]:How do you go about selecting what to release on the label?
Jelle There must be a certain affinity with the person who makes noise then I ask him or her to do a release or they ask me. The most important thing is that I like the music.
m[m]::Have you ever played live, and if so can you tell us a bit about your live performances?
Jelle No, I prefer to make my music at home, I'm too chicken to play live I guess, but maybe I'll change my mind (I have been invited to a gig to do in the future.)

m[m]:What's next out on Muzikaal Kabaal in the next six months or so?
Jelle There are some upcoming releases by Dead Body Collection, Carrion Black Pit, Nightmare Castle and Vomir and some releases that are still unconfirmed.

m[m]:What have you got planed release wise for each of your projects? And have you got any new project or collaborations you'd like to try out?
Jelle I will do some tape and 3"releases in the future by Chantal, DRAAK and Ikodora"65. New projects are always interesting, I´m thinking of doing a release about the
Cook, the Thief, his Wife and her Lover , and one themed around David Cronenbergs ´Crash movie. And there are some upcoming, unconfirmed collaborations too.
m[m]:I'm interested to hear about the "the Cook, the Thief, his Wife and her Lover" as it one of my favourite movies by arty brit director Peter Greenaway. What attracted you to a project based around this & will it be a HNW project?
Jelle I love this great dark/ uncomfortable movie, and it could be a great theme for a HNW release. I can do something with the torture, murdering or cannibalism thing or something with the food and colour switch thing, I'm not sure which yet. The Michael Nymans score for that movie is awesome too

m[m]:Clearly you have very varied musical/ sonic tastes…please list ten of your
favourite albums & explain why they are?
Jelle This is a top ten that I made for a Dutch music forum. Explaining music is something I'm not great at, so hopefully the music speaks for itself
1. Sonic Youth - EVOL (1986)
2. Philip Glass - Einstein on the Beach (1979)
3. Ground Zero - Plays Standards (1997)
4. Shannon Wright - Over the Sun (2004)
5. Birchville Cat Motel - Seventh Ruined Hex (2007)
6. The Dead C - Vain, Erudite and Stupid (2006)
Alternatieve titel: Selected Works 1987-2005
7. Daughters - Daughters (2010)
8. Lightning Bolt - Wonderful Rainbow (2003)
9. SPK - Leichenschrei (1982)
10. Hala Strana - Fielding (2003)
Thanks to Jelle for his time & efforts with the interview. Muzikaal Kabaal website can be found here
Roger Batty