Dark Futures [2012-06-28]Konntinent is a London based one man project that summons up a dark & dystrophic mixture of unwell synth scaping & bleak electronica. The project has been in existence since 2008, releasing an MP3 album, CDRs, Tapes & CDís- the project most recent release is this years ďKirunaĒ. Behind the project is one Antony Harrison who is also known for work under his own name, as well as under the project names of Arev Konn(an outlet for more abstract and abrasive work) & Paco Sala (an outlet for his love of hip-hop, Italo-disco, & synth-infused pop music). Antony kindly agreed to give M[m] an email interview discussing the Konntinent project & the ďKirunaĒ release.

m[m]:Can you tell us a bit about how the Konntinent project first came about & whatís the origin of it's name?
Antony About 6 years ago I decided the best way of finding a band to play in was to form my own. There were about 4 of us but a combination of apathy, relocation and car accidents trimmed that down to a solo project. I could barely play an instrument at the time and had no idea about recording or computer programs. Retrospectively itís a miracle the first album ever got made. ĎKonntinentí was chosen in the lobby of a rehearsal place one evening, for the sake of booking us in under a band name. Itís an accidental misspelling that just stuck.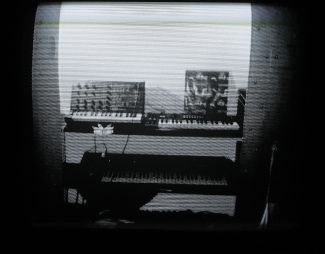 m[m]:The projects most recent release ďKirunaĒ is a truly grim & uneasy slice of dark electronica- when you started writing the record did you want to make it so grim sounding, or did it just evolve that way?
Antony Tonally and in terms of overall sound aesthetic, I knew exactly the sound I was trying to achieve. Iím not really into clean productionĖ and certainly didnít want to make a pretty record. Pretty is pretty, but not necessarily interesting or emotionally involving.

m[m]:The album takes itís name from Swedish town of Kiruna-what made you pick this title?
Antony Iíd visited Kiruna a previous winter and the environment had a pronounced impact on me. The arctic winter is an impenetrable and terminal darkness that eats you up. It felt merciless and unstoppable. When I started the sessions I was chasing a similar feeling from the low ends of the synths.

m[m]:I believe the ďKirunaĒ album was result of various improvised synth & electronics sessions that took place in January and February of 2011. Can you tell us a little bit about this process?
Antony Kiruna was written specifically to be heard on vinyl & I had a very clear focus how I wanted the record to be formatted and sound. It all came together in about three main sessions of about 5 hours each. Thereís a freedom to working without a precise plan & deep winter really helps me focus for some reason. I used a Juno 60, a Telecaster and some effects boxes Ė plus a bunch of recordings made straight onto cassette and then reprocessed.
m[m]:Do you plan to do anything with the stuff you didínt use on Kiruna, from the 15 hour session you did for the album?
Antony No. My heads just not in that place at the moment and I very rarely revisit previous work. Iím in the studio 5 nights of 7 & thereís a hard drive full of unused files and material from the last three years. Itís highly unlikely Iíll ever do anything with any of it. We trimmed about an hourís worth of finished material from Closer Came the light and thereís an entire album sat on the shelves from before that. Similarly there was about 2 hours of finished tracks for the Paco Sala album that eventually got trimmed to 40 minutes. Recording new stuff excites me infinitely more.
m[m]:I felt many of ďKirunaísĒ tracks brought to mind grim yet neo seared bleak sci-fi books & films. Are you a fan of the Sci-fi genre?
Antony Generally Iím a sucker for anything dystopic and technology related. William Gibson onward. Iíve always been obsessed by Blade Runner Ė thematically, aesthetically and musically. The OST in its many forms is the single biggest influence I can call out. Space ships and laser beams Iím less into, unless its Battlestar Gallactica. Iíve grown considerably fonder of my inner-geek post 30.

m[m]:Did you have any plot or visuals in mind when you composed the Kiruna album?
Antony The North Sea, during winter, at night.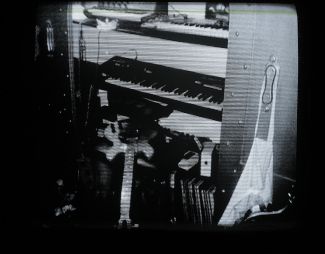 m[m]:List a few of your favourite soundtracks & explain why they mean something to you?
Antony Iíll gloss over Blade Runner, Precinct 13, and the Terminator score. Nothing more needs to be said about them that hasnít been said already and all were huge influences.
Akira OST by Geinoh Yamashirogumi
GeinohYamashirogumi was a collective I think. The score generally gets over-looked which is odd as its amazing. Obviously large chunks of it is bat-shit crazy; monk drone ensembles, wild tabla rhythms and all the rest. Anyone thatís ever loved Hana by Asa-chang& junray should definitely hunt down a copy of the full, unabridged version. Elements of the Ghost in the Shell score Ė the choral segments Ė are similarly intoxicating.
Three Colours Blue OST by Zbiginew Preisner
The filmís narrative spine is the completion of a symphony for the unification of Europe by a late composerís widow. The score is a central character in the film and is suitably pompous yet austere, broad yet concise. There was a perfect synergy between Preisner and Kieslowksi. The Three Colours films really frame the sense of a continent on the brink of cultural, political and technological upheaval. Thereís such an innocence & naivety about that period Ė and a sense of cultural isolation before the internet, before mobile phones, before budget airlines.
Tell No One OST by -M-
This one really caught me out . As far as I know Matthieu Chedid is an entirely unremarkable French pop/rock 40 something. For the Tell No One score however, he decided to channel Labradford Ė which is a great idea. Just gloss over the inclusion of U2

m[m]:Are there any movies youíd like to re-soundtrack?
Antony Koyaanisqatsi. Its an obvious choice and the Philip Glass score is brilliant, but surely everyone would want to have a stab at that?
m[m]:When was the last time you were truly freaked out or scared?
Antony No idea. Not a clue. Watching Aliens on TV with my Dad in the early 90ís?

m[m]:whats next for Konntinent?
Antony Nothing recorded as it stands. My headís just not in that place at the moment. Iím recording the next Paco Sala album right now and will see how I feel once thatís in the bag. There will be a (possibly final) live show at Rotate Festival in Innsbruck, Austria in July. Konntinent live has had various shape shifts and I intend this show to be entirely new material and approach. I love playing live and will usually play wherever there a logistically possibly opportunity to do so.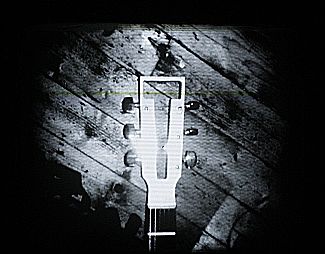 m[m]:How does the Konntinent project work in a live format & do you utilize any visual/ slides/ ect in live format?
Antony There have been many variations of the live show & Iím fortunate to have been joined by some very talented people. Very few sets and line ups have been the same. Itís varied from piano solo sets in Londonís union chapel to 4/4 synth jams in Seattle to improv noise processing at Dalston basement parties. Generally I donít play album material and shows are usually formatted specifically for the performance space. Rotate festival will be the first set since last December and at this point I have no idea what Iíll play but Iíll betaking a synth and a drum machine so thatís a starting block. Visuals I tend to be less involved with Ė I donít have those skills and leave it to others who do.
Thanks to Antony for his time and effort with the interview, and for supplying the great pictures. ďKirunaĒ is out now on Hibernate Records. For info on all of Antonyís project check out his blog here
Roger Batty