Paris Euro HNW Fest II reports [2012-04-27]The 2nd Euro HNW Fest took place on 7th of April 2012 in Paris at Instants Chavirés, the mini fest once again showcased some of Europe's best and most influential HNW acts.

Sadly no members of M[M] staff were able to make the fest, but instead we managed to get three 'on the ground reports' from the following: Lorenzo Nascitari(of Italian funeral wall noise project Nascitari, & suicidal piano project Tomorrow I'll Shoot Myself in the Mouth) and his friend Andrea Leonessa. And Nico Goghal( of Dutch HN/HNW project Goghal). The pictures used through out all the reports where taken by Mélissa Monrazel


HNW Fest II Report( in two parts)

Part I - Lorenzo Nascitari:

The long-awaited II edition of the HNW Fest took place at Les Instants Chavirés in Montreuil, in the suburbs of Paris, same location as the first edition of the festival.

The event brought together some of the biggest artists on the European and international HNW scene.

20:00 hours: as the lights go off, a shirtless, disoriented man carrying a metallic briefcase with only two wires coming out appears on stage. The man is Clougnioule, French artist William Nurdin's HNW 'persona'. After laying the briefcase on the stage and wearing a red clown's nose, the man starts smiling, when an awful roar invades the room frightening everyone. His wall is dense, brutal and absolutely static; paired off with his sinister smile, it penetrates the audience's minds generating terrifying sensations.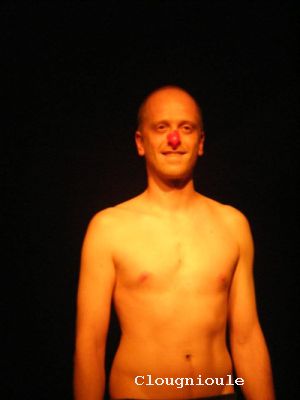 After 15 minutes of sheer terror, it's Belgian artist Goghal's turn. He sits in front of his set, deep in concentration and focused solely on the modulation of his pedals, which are wired to a no input mixer. His set is made with great dedication and precision, and it creates an extremely rich wall of sound, where the contrast between high, medium and low frequencies makes for a strong, original final result.

Two men bound together at the wrists take the stage next: they're the great French noise artists Ecoute la Merde (Underground Pollution Records) and Morgan Desbeet. The performance is a visual masterpiece - the two struggle furiously trying to free themselves in the oppressive atmosphere generated by their wall, which comes from a record player. After 15 minutes of intense striving, Ecoute la Merde finally kicks the record player to its and the sound flow's death.

One of least likely things you could imagine hearing at a HNW event has got to be a pop song. Make it Katy Perry's 'Teenage Dream' and you know the person sitting on the stage behind his computer is UK artist James Killick, whose project Love Katy revolves around his obsession with the English pop star. Not long into this awkward intro, the song gets interrupted by a very minimalistic and yet lively noise flow, mostly based on an alternation of high and low frequencies.

Italian artist Indch Libertine takes the stage next. He's wearing his deformed mask and ear plugs - a clear warning that his high frequency wall will perforate your eardrums. In his set, a tape recorder generates white noise that a mixer throws from one speaker to the other, gouging into the audio system like a drill.

In an interlude after Indch Libertine's deafening performance, Italian Dj Balli (various noise/weird projects under Sonic Belligeranza) experiments on stage with his record player and vinyls made of various, mostly plastic materials, that generate different noises when played.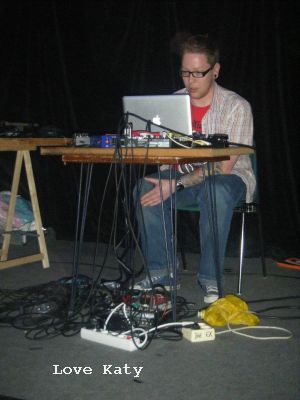 Part II - Andrea Leonessa (who was alone, lost and drunk on the subway for the first part)
Alexandre Bellenger and his complex analog set take the stage next. The noise put together by the artist is substantial: the sound flow, which one could characterize as similar to the Drone genre, crashes into a white noise, finally imposing itself upon the audience as static and strong. 'Chaotic Harmony' is what best describes it, and precisely chaos becomes the Creator therein, with its mighty destructive drive.
At h.22, a low frequency wave of noise takes over the stage; it seems to come from the same obscurity where Unearthed (UK) is concealing himself. The darkness and the obscure staticity produced by the artist combine in an oppressive, alienating atmosphere, which seems to institute a new sensorial organ in the audience, dedicated solely to perceiving Existence itself's incessant gearing of the Cosmic Machine.
It's Italian artist Nascitari's turn. His performance is defined by a static sound that clashes with deep aesthetic research of the visual part, definitely the most variegated of the night: between animal bones and a hunting rifle (Nascitari's trademark), the artist subjugates his audience in a terror règime undermined with low-frequencies.

The classical 'last but not least' suffocating wall that overwhelms the room for the next 25 minutes is the hallmark of a collaboration between two of the most important artists on the European HNW scene: Vomir and Å. As Vomir turns his back to the audience for the entire performance, Å regularly changes his pose for a couple of minutes at a time, such as his typical cadaveric lay. What ensues is a Manifest of Absence with a variety of possible interpretations: Void as ataraxic peace, or Void as ultimate existential sentence?

Credits:
Thanks to Andrea Leonessa for the second part of the report, and a very special thanks to Alexandra Manda for the complete translation
HNW fest II report by Nico Goghal
clougnioule
William Nurdin aka Clougnioule comes on stage bathed in white lights, his torso naked. He wanders along as if he doesn't really know what he's looking for, then suddenly he stands next to a suitcase. Once stood there he reaches down pushed a plug or something, and the wall of noise suddenly appears out of nothing.
After that he just stands there, watching the audience, with a smile that could turn seeming into crying at any moment. He has a red nose made of a shell of a babybell- little round cheese product with red hard shell.
He tries to hold the smile, but his jaws and lips are sometimes trembling- is this because of the noise or the emotions he's trying to hide?,
After sometime I really had to force myself to keep looking at him because I felt ashamed to be looking at a clown like figure that was trying to smile, but could suddenly bursting out in tears just like his wall of noise did. But he never did cry, he just kept standing there in one place and kept looking to the audience trying to keep up his smile.
Harsh noise Wall with performance art, how should one feel after this, was it funny? was it disturbing? I still dont know, but it sure as hell was a powerful act.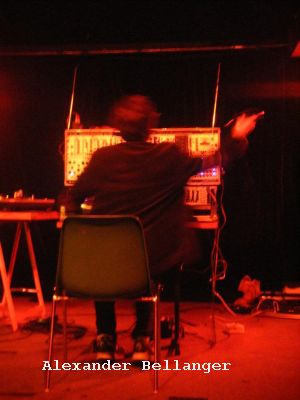 Goghal
well, what can I say about myself, I just sat there behind a table, red light, concentrating on the sound, trying to evoke subtle changes that could only be heard when you carefully listened.
HNW was a new world for me, it broadened my view on noise, it was refreshing for me. Last year I came to watched the HNW fest and was overwhelmed, this year I was on stage and tried to do the same as others had done to me the year before.

Fx Hx ( Flunetrazepam Haloperidol)
A duet of Christophe Nhdiystrec and Vivian from Underground pollution Records, both attached to each other with tools from the psychiatrics, tied up to each other , with a nurse standing beside, they both try to get out of the restraint without any success, its a very physical performance asking a lot from both men, fighting against something from which they can not escape, just like the noise, the wall, it keeps us inside too, tied up to the sound, standing before the wall, listening to it and looking at both men gives you the feeling that you have the urge to escape but that you finally will have to surrender, and accept the noise, accept the fact that you are tied up to your own ego, at the end when the noise stops, the fight ends and both men are standing still exhausted from the act and sweating, and I was also sweating too after watching this powerful performance annex enormous restraining wall.

Love Katy
Suddenly after all those harsh sounds we'd heard so far, Katy Perry comes out of the speakers with her newest single I guess, everybody in the audience looked a bit surprised, nobody expects this within the setting of a HNW fest. James Killick is sitting at the same table where I performed as Goghal, but he has a brighter/up-beat presences, he just enjoying Katy Perry music coming out of the speakers. After no more then a minute or so, the noise takes over gently and finally Katy has gone, and the wall has entered. During the next 10 minutes or so of the set you can hear Katy Perry singing somewhere lost in the wall of noise, or is it in my mind I can hear singing, I cant tell for sure.
Indch Libertine
Just before he went on stage, I saw this friendly little italian upstairs backstage getting ready, he put on black undershirt and...
well he went on stage, standing behind a table, dressed like a pastor, but he was also wearing a horrible mask, a great contradiction. I don't know if this is a message for the people leading the churches, maybe they all wear a mask while standing there preaching, but Indch Libertine was preaching something else then the bible- all the previous acts wall's were made of grumbling low tones mixed with Mids and some highs, but here there were no lows, no Mids only High pitched noise, aching your ears the whole time, it was the most painful preaching I have heard ever.
DJ Bali
Time for a break, for a drink and a smoke outside, but most stayed inside looking at all the merch that was available- there where more then five tables of the finest labels selling noise, harsh noise, HNW and other genres.
In the mean while DJ Bali was molesting his two turntables, not using regular vinyl records but instead self made plates with different layers on it. Also these 'records' were made from different kinds of material, metal, paper, and paperboards, they were put on the turntables and thrown away after not more then ten seconds piece. Finally he took one of the turntable off the table, and put it on the floor standing on it's side, he controlled this turn table with his foot, while playing with the other turntable on the table, scratching sounds combined with vinyl like noise and other weird sounds coming out of the speakers. His set was a perfect intermezzo to refresh the mind and the ears to get back to the next HNW acts, thank you DJ Bali, if I ever need a DJ for a wedding I will certainly give them your address !
Alexander Bellanger
Sitting not on stage but just before on the ground, perfectly chosen because this set was not only a noisy dream for the ears but also for the eyes too. I don't remember the name of what he was using to creat his noise, but it was great, and awesome, it looked like something that was stolen from the NASA. An analogue desk with numerous buttons and lights that lit up, and two antennas on top of it, it was like the spaceship that was going to get us into a black noisy hole. The piece started with one moog like tone that was circling around in a none defined pattern, and it was swelling and transforming into a wall of noise that seemingly came from out of space. A great set, astonishing really, all my little pedals paled in comparison to this set-up/ performance, ears wide open and also my mouth fell open too, I was transported to another place for almost 20 minutes.

Unearthed
I must say that I haven't heard any releases by this project before. A gentle well dressed guy sets up his suitcase far behind every table standing on stage, sitting in a corner on his knees and releasing the lowest rumble of HN wall I'd heard this evening. I sat on the ground just before the stage during this set, and the wall had an enormous meditating but still somewhat depressing feel to it. I closed my eyes, and this wall secluded me from anyone in the room, I didn't see or feel anything other then the sound, & the wall, it took me and didn't let me go, driving me deeper and deeper into it. I truly lost myself in the noise, there was no more me, there was no more earth, so this was how unearthed sounded to me

Nascitari
Next up was the act of the Italian Lorenzo Nascitari- To start with he sat on stage with a some kinda black cape over his head & he pushed his pedals….. to begin the wall was fairly gentle & subtle, but after a few minutes it turned into a dark depressing yet still oddly caressing wall, like he calls it himself funeral wall.
Once the wall was set, Nascitari let goof the beast with in himself, it was like he was been effected by his own wall. He started screaming, and went on to take some of his tools, the first thing I saw was the spine(he assured me later that it was a real spine but could'nt define from what it came). After some caressing of the spine he put it into his pants, pinning into his flesh and holding it in both arms, while still screaming and bending forward, torturing himself. After this he crawled to some other objects, put on a white robe, but put it only around his head, combined with a necklace that looked like a talisman from indians or something like that.
The wall kept on rumbling and Lorenzo kept on screaming, he was seemingly no longer there in person, he was really drifting away, even though this was supposed to be an act, the act felt as if it was real, as real as death can be. Like death suddenly his act was there and you cannot turn away from it, but here death was invited by the man himself, embracing it and asking it to take him away to a place where there is no sound, nothing, just darkness, death. Between all the artefacts he drank a bit of wine just to temper and make his throat ready for the rest of the act.
At the end he put on a rope nose form around his neck, and he placed the end of it under one of the turntables that DJ Bali had left standing on stage. He dragged his body down, making the rope to set tight around his neck. and then, while lying there with the rope around his neck, tight, he reached for a riffle, loaded it, put it to his mouth and shot it without hesitation, a red circle of blood, wine, was visible through the white dress wrapped around his head. finally nascitari was were he wanted to be, at the other side, still shaking from the act that drifted him in to the arms of death. This was for me the best sceptical I had seen so far. the audience went along with everything he was doing, the audience was the spectator of this suicide, they watched him die without feeling sorry, the cruel mind, Eros and Tanatos, its there in all of us , but the trip itself was for him alone and nobody else.
Vomir/ Å
And finally it was time for the king of HNW, the one who invented it or made it as pure as can be.
Romain( Vomir) stood there with the plastic bag over his head. no plastic bags were given to the audience this time, cause this was'nt a solo act from Vomir, but a duet with Å(Greg), who was lying on the floor just before Vomir who stood there without moving a bit, with his face to the wall.
Master and servant, together on stage. Also the two .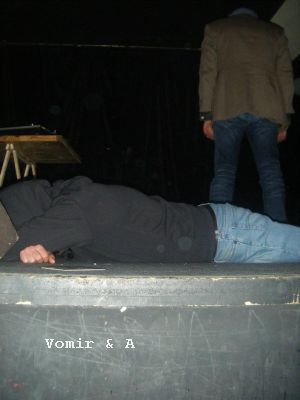 people who made this fest all possible. A perfect ending, a monster of a wall was thrown over the audience who watched and listened with respect, we all became servants at that time, looking at the king facing the other side and his best pupil lying there, moving a bit once in a while, even went to sit with his knees to his chest. The wall that should lasted forever, the two combining walls were lifting each other, Vomir's wall was more low and rumbling, Å's wall was made up more of mids, together they filled the whole room, even filled the air, and although nobody besides Vomir was wearing a plastic bag, still everybody had to reach for some air when this master wall finished after more then a half an hour
This was the grand finale at the end of the fireworks . A perfect ending, no wall could hold it against this last one, it was time to return to the normal world, the outside, but still, I felt the most 'normal', like a fish in water, being there at the HNW fest part two. I was there, I made noise, a wall of noise, I enjoyed all the other acts, and got to meet the nice people behind all these acts, it's the most intense noise fest I have been to so far. thank you all, and especially thank you Romain and thank you Greg !!

Thank you to Lorenzo, Andrea & Nico for their great reports. And thanks to Mélissa for the use of her great pictures.
Various