Of Vampires, Monsters, & Killers .. [2012-04-19]Nightmare Castle is one of the more recent HNW project to appear on the American scene- the project themes most of it's releases around old horror movies, and the projects sound can generally be seen as fixed walled noise with a creative edge. Behind the project is one Clint Coker from Austin Texas- Clint kindly agreed to give M[M] an email interview.

m[m]:Tell us a bit about when you first heard the HNW form, and is thereany particular track or album that made you want to start making your own 'walls'?
Clint I'd hadn't heard of it until early last year, after I'd done a couple of net-only releases. I had already begun experimenting with using recordings of machinery as source material before I even knew that there was a name for it, much less an entire genre with dozens of artists already doing it...haha. Ignorance is bliss, I guess.

m[m]:Tell us a bit about how the Nightmare Castle project came about, and how did you go about choosing the
name?
Clint I'd been wanting to do a noise project since the mid-nineties, but it wasn't until 2010 that the planets aligned in such a way that I could do it. As far as the name, I knew that I wanted to tie it in with my love for old horror flicks, but I didn't want to risk getting a "cease and desist" order from some angry film director. So, I made a list of my favorite films in public domain, out of those, Nightmare Castle seemed the best fit.
m[m]:Is Nightmare Castle your first sonic project?
Clint If by "sonic" you mean sound-focused as opposed to song-focused, yeah, I guess.
m[m]:You suggest you've been part of more song based/ normal structure based projects in the past- can you tell us a bit about these?
Clint Man, I've done it all. Started out playing bass in a
Black-Sabbath-wannabe metal band, Then lead guitar in an R&B outfit. Spent several years doing the solo-singer-songwriter bit. Moved to Austin, played about a million gigs, put out a few independent CDrs, even a novelty Christmas tune (!). If you were to google "Clint Coker" now, you'd still find evidence of that splattered all over the web. Austin is where I really got into experimental music and outsider
art. Tried my hand at assemblage art for awhile, which I still do as a hobby. Once I got back into recording, I started the Nightmare Castle and Dead Red Nudes projects. If I have any real talent at all, it has nothing to do with music or art, it's my ability to re-invent myself.

m[m]::I believe the project started off as a electronic-based noisescapes project utilizing feedback, prepared-guitar, and digital sounds. What made you decide to change to purely HNW ?
Clint Wow, that's pretty long question, and I've got an even longer answer...here goes. After I'd released "Armageddon Blues", I began looking for ways to promote it. I searched the net for noise related sites, blogs, etc., and almost immediately discovered Sleep Of Ages (aka Elias, aka Carrion Black Pit).At the time, his work was similar to mine, only much better. So, I sent him the usual "I like your stuff, check out my stuff" type email, we started corresponding and sending each other tracks and such, and it was he that turned me on to the whole HNW "scene" for lack of a better word. Like I said, I'd already been blindly heading in that direction, and when I found artists like Vomir, Richard Ramirez, Dead Body Collection, etc, I knew what I wanted Nightmare Castle to be. Soon after, I started another project called Dead Red Nudes for the drone/feedback/prepared-guitar work ,but, of course, the lines between the two projects get crossed now and then.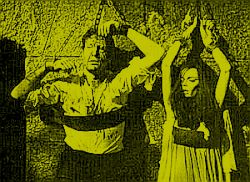 m[m]:Tell us a bit more about your Dead Red Nudes project & have you putout any releases yet?
Clint Dead Red Nudes is the "art-phag" side of my personality The side that digs LaMonte Young, Yves Klein, Marcel Duchamp....the side thatstudies Dada and Surrealism and Fluxus....the side that listens to Chet Baker while sipping espresso. I spent decades doing standard verse/chorus/verse/chorus/bridge/chorus type music...DRN gives me a chance to get away from that. There are a few things available as pay-what-you-want downloads on bandcamp, I've had a few offers to release it on cdr, but I wanted a project that had nothing to do with the "how many cdrs you sell", or "how fast it sells out" mentality. It's there if you want it....it's there if you don't.
m[m]:do you still use guitar elements in creating your 'walls'?
Clint Not really...there's a release due out on Spider Tapes that was built with guitar generated noise, but that's an exception

m[m]::Can you tell us a little bit about your set-up & how often do you work on 'walls'?
Clint In contrast to the way most HNW artists work, my set-up is all digital. I generally start by miking a heating unit, air compressor, whatever I can find that makes loud ,ugly ,continuous noise, record that w/my Tascam DP-02 portastudio, then transfer the tracks to my laptop where I'll use Audacity and/or Goldwave software
to add effects, play with speed, pitch, etc, until I have several tracks to mix together. As far as how often...whenever the mood strikes I guess.
I find myself doing nothing but walls for weeks on end then not doing anymore HNW for months.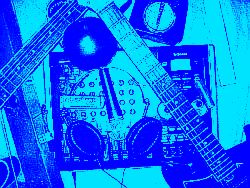 m[m]::Can you tell us a bit about how a 'wall' comes together? do you start with theme first, or will you have sounds first then think up a theme or movie to base it on?
Clint Almost always, it's the sound first. I'll look at something, say a window-unit air-conditioner and think, "Hey, what if I record that, then do this and this and this...?" It's when I'm listening to the finished, or near finished wall and the images it conjures up that I start thinking about theme.

m[m]:: clearly you're a huge horror fan- select 10 of your favorite horror movie & explain why they mean so much to you?
Clint Only 10???? Dude, there's no way. I could maybe list my 10 favorite horror directors, or horror film companies, but if I try to pick only 10 favorite films, my head would explode.

m[m]:: Ok please choose your ten favorite horror directors & film companies, and discuss a few of the films in each that appeal to you?
Clint I'll watch virtually anything released by Hammer, American International,or if it's from the 30's-40's,Universal Pictures.Also, I've been watching a lot pre-Nazi German horror and sci-fi lately. F.W. Murnau,Fritz Lang,...those guys were light years ahead of their time.
On the other hand, I shy away from...make that RUN away from big-budget films with loads of special effects. I've never seen any of the "Saw" films, or "Star Wars", I don't care about Freddie, or Jason,or whoever it is hacking up horny teenagers this summer.
Fave directors in no particular order...
1. Roger Corman
2, Dario Argento
3. Mario Bava
4. Tod Browning
5. A three-way tie with Ed Wood, Al Adamson, and Jerry Warren
6. James Whale
6. Curtis Harrington
7. Jess Franco
8. Terrence Fisher
9. Tobe Hooper
10.George Romero.....this could go on forever.

m[m]:Are there any films you'd like to re-soundtrack with HNW?
Clint Thomas Edison's 1910 production of "Frankenstein"

m[m]: Do you also enjoy reading horror fiction too & if so who are some of your favorite writers/ stories?
Clint I used to read all the heavyweights...Poe, Hawthorne,
Lovecraft...these days I prefer biography to fiction.
m[m]: most of your work is themed around horror films or horror concepts, but one slight departure was your "Death To Pigs" release on Sweet Solitude's 'Shades Of Grey' series- the release was themed around theTate/ LaBianca murders . How did this come about ?
Clint I just happened to see James Killick's post when he started the series, and the idea instantly clicked. Plus, there was so much Manson murder related audio material that I could steal....er..um..I mean...utilize. Of course, it didn't hurt that I'm a fan of James' work.
m[m]:: are there any other true crime cases you'd like to cover?
Clint Maybe Lizzie Borden...but not really. There's already a lot of true crime influenced HNW out there.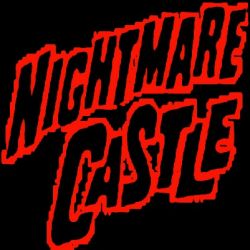 m[m]:: One of your releases "Liber AL vel Legis" takes it's name from the Latin name for Aleister Crowley's infamous & regarded occult text The Book of the Law. Are you a student of the occult or are you just fascinated by Crowley himself?
Clint In my late-teens I was really into the occult and heavy metal (weren't we all?). I still find it fascinating but I don't really buy into any kind of religion.
m[m]::When was the last time you were truly scared or freaked-out?
Clint I don't remember the date but it was pretty recently. It was a Saturday morning, I had nothing to do, so I decided to ingest about 720mg of DXM for breakfast....not one of my best ideas.

m[m]::Have you ever played live with Nightmare Castle, and if not is this something you'd like to do?
Clint I haven't and I don't see any way that I could, unless I brought a welding machine or something onstage and plugged it into amp

m[m]:: What have you got lined up next release wise for Nightmare Castle?
Clint I sent Spider Tapes 3 Dracula-inspired walls for a release called "The Dead Travel Fast" that should be out soon. Muzikaal Kabaal just released one inspired by "At Midnight I Will Take Your Soul" and there's an unfinished 51 minute wall in my computer based on the legend of Elizabeth Bathory,can't really say beyond that....so many projects...so little time.
m[m]::I note you've put out a few Dracula themed 'walls' now- who was your favourite person to play the count?
Clint That's a tough call...I guess it'd have to be Christopher Lee. He seemed to have the right mix of charm and ferocity, an "elegant monster", if you will
m[m]:Where do you think Nightmare Castle's sound will go next?
Clint To be honest, I don't think I'll be doing it much longer. I try to use a different sound source, or combination of sources, for each release, and it's getting more difficult to find new approaches. Besides, I've got a lot of other projects I'd like to get out before I'm dead. In fact, right now I'm doing pre-p roduction demos for what I hope will bean EP of acoustic guitar instrumentals. Real laid back stuff...about as far removed from HNW as you can get. I don't really care about sticking to any particular genre. Nobody listens to my records anyway, so I'm free to do whatever I want.

Thanks to Clint for his time & efforts with the interview. Nightmare Castle bandcamp page can be found here.
Roger Batty