2011 Fest reports [2011-12-01]The second Italian based HNW fest Staring at Wall 2011 took place in the small Italian town of Luserna San Giovanni on the 29 October 2011. Sadly no M[m] staff could make the event, so instead we got on the ground reports from two of the performing artists.

So first up below you'll find a fest report from Lorenzo Nascitari whose behind the Italian suicidal HNW project Nascitari. And secondly a fest report by Aleksandar Nenad whose behind highly prolific & unforgiving Serbian project Dead Body Collection…Alex's review also takes in his thoughts on a second HNW/ Harsh noise show that took place at The Tower venue in Dirtmor Prc Treviso which took place a few days after the SAW fest. Pictures used through-out both pieces were taken by Fabrizio De Bon( of HNW/ HN project Fukte, and one of the organisers behind the SAW fest) and these are marked with the letters FB. And by Aleksandar Nenad and these are marked AN.


Staring at Wall 2011 fest report by Lorenzo Nascitari
The location of the Staring at Wall 2011 festival was an old warehouse in a small town (Luserna San Giovanni) in the province of Turin; a place both suggestive and containing a number of installations made especially for the festival, as well as fairly hidden and hard to find. Despite it all, a lot of people from Turin and other parts of Italy turned up for the event, to experience one of the least known types of noise in our area, and making the fest a big success.

Molestia Auricularum started up the night with his gloomy, guttural and scraping wave of sound mainly consisting of low frequencies that would grow exceedingly during his performance. The sound source was a magnetic tape, which the artist lit on fire at the end of his performance, generating small variations in the wall of noise and consequently physically breaking the noise apart. Definitely one of the most powerful saturated flows I'd ever heard live.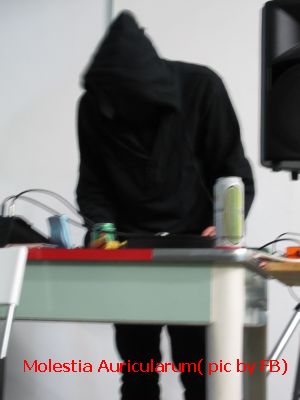 Afterwards it was DJ Balli's turn: noise DJ and founder of Sonic Belligeranza label, for his performance Balli only used two empty vinyl players as noise generators, with no additional effects. He managed to create a unique interaction with the outcoming noise by gradually increasing the thickness of the materials he introduced under the needle of vinyl players. His repetitive loops turned out to be really strong and incisive, even if it wasn't a purely HNW performance.
The French artist A, owner of A.F.P. (Anarcho Freak Production) label, who has also had a large number of releases and collaborations with other projects, offered us a wall of pure nihilistic immobility by means of a peculiar lo-fi sound composed of low and high frequencies. Lying on the ground and not moving a single limb during the entire performance, A stayed true to the 'traditional' European HNW school, but still managed to bring forth an innovative sound pattern.
Italian project Fukte was up next. The owner of Toxic Industries label and co-creator of the S.a.W. event for two years in a row, Fukte's performance was of great visual impact: the artist used a small tv set with antenna to generate white noise and impress his wall directly into the minds of the spectators. The distorted images on the tv screen helped give dynamicity to the noise without interrupting the frequency flow and without breaking the atmosphere created by the wall.
Nascitari (Claustrophilia Records) came up next. Artist's statement: 'I want to leave any comment on my performance to others... just another suicide...'
[Poseitrone's review: Nascitari, co-creator of the S.a.W., made his entry on a carpet of convulsive sounds and glics generated by his set. The artist's bare chest and cathartic expression annihilated the audience with the epileptic wall that was raised into the room when the artist shot himself in the mouth with a rifle. The body was consequently removed, giving way to the applauses for one of the best visual performances of the event.]
ELM is the founder of the historical French label Underground Pollution Records and in the past he took part in various projects and collaborations in the HN panorama. At S.a.W., he generated a sort of an esoteric ritual thanks to slow and evocative bodily movements which added a harrowing element to the performance. His wall seemed to open up as time passed by, like a huge abyss that could swallow the entire room. A decidedly imposing sound, tied to an almost hypnotic atmosphere.
Indich Libertine is an Italian project who already took part in the previous edition of the festival. This time, he wanted to make the spectators' ears literally bleed with his wall, consisting of a core of expanding high frequencies. His strident and acute sound would dynamically variate in intensity, mercilessly pounding on the audience's auditory system. I think what best defines this particular project is the utter overbearingness of the artist's very personal sonority.
Karkastix, yet another Italian project, started off his performance with a very corrosive HN improvisation that evolved in the complete devastation of what felt like a huge earthquake. His was, in my opinion, a truly penetrating wall coupled with a great visual interpretation; although there were maybe too many interruptions in the wall throughout Karkastix's bit, the noise was destructive enough to make it one of the best performances of the night.
Poseitrone managed to surprise most of the spectators by wearing an elegant outfit and by handling a classical horn. His wall, generated by an old microphone, consisted of a slow and extremely heavy flow; the microphone's feedback was almost never perceptible under the low frequency wave, but the artist would add medium and high frequencies by playing the horn in front of the microphone, thus modifying the wall with an unusual instrument for the HNW panorama.
Serbian artist Dead Body Collection (founder of Victimology Records label) presented us with a performance made of two separate tracks: the first brought forth a wall made of a minimal and very saturated sound, with a static and incisive flow that generated a sort of vibration bombardment in the room. The second part of his performance was composed of a more dynamic wall of great ferocity and huge perceptive impact. Choosing to break the performance into two 5 minute-long bits was interesting, although I would have preferred some sort of a transition between the two so as not to break the tension.
Clougnioule, a brand new French HNW project, presented us with the most peculiar performance of the evening (along with Poseitrone's). His entire set-up was hidden in a briefcase with a jack input, which produced a powerful static noise flow. The wall would cease very often, creating awkward and almost asphyxiating pauses, during which the artist kept his back turned towards the audience while maneuvering the mixer, only to return to the initial position and wait for the wall to re-appear on its own. Everybody wondered whether this was done on purpose or if there had been technical difficulties, but I think it wouldn't matter either way. The performance was absolutely astonishing, and the artist's approach was especially good in a peculiar situation consisting of continual back-and-forth's between saturation and silence, and finally creating a great sensation of void.
To finish off the night was Maria, Alessio's new and mysterious project, which turned out to be a collaboration between Fragil, Karkastix and A, with the visual support of Fukte and Molestia Auricularum, who stood staring at the audience from under their hoods during the entire performance. The three different walls merged perfectly in the mixing process, although remaining distinguishable. The apocalyptic wall generated from the union of these three flows seemed to grow endlessly, with continual additions of new strident and grating sounds, not to mention the very suggestive visual component. The humongous wall this destructive collaboration managed to create was really corrosive, a great way to wrap up the night, although I was expecting something a bit more unique and individual from Maria.
Staring at Wall 2011 fest report & second HNW/ Harsh noise show report by Aleksandar Nenad
It was gloomy and foggy Saturday morning in Venice. I quickly got ready and left to catch a train to Maestre to meet with Tay (Karkastix), Fabrizio (Fukte) and Alessio (+Maria+) so we could travel to Torino together. This year Staring at Wall fest was been held in suburbia of Torino. We met around 9 and travelled from Maestre to Torino by car. During the whole trip we were talking about "interesting" things in Italian which I didn't understand :) . Only after a while I realized what "proco dio" meant. :)
We were travelling for more than 5 hours, and we were stopping at different gas stations for refreshment (espresso and food). We arrived before dark to the train station in suburbia of Torino where Lorenzo (Nasticari) and Molestia Auricularum guy (can't remember his name) were waiting for us. We had a coffee in a local pub and then drove for another 20 minutes to the place where the festival was held. It was already dark when we got there. Luca (Poseitrone), DJ Balli and Daniele (Inch Libertine) arrived soon. We were waiting for the French guys who got a bit lost. They finally arrived - Greg (Å), Vivian (Ecoute La Merde), William (Clougnioule) and few more friends. In the meantime we heard that Svartvit wouldn't be appearing at the fesy. The festival was held in a big, nicely furnished room. The owner was an interesting old man who didn't speak a word of English, but was ready to help with anything once our requests were translated to him. The rehearsals began. Everyone tried out their set-ups. Merch table was ready. Lots of noise releases and other stuff were there. People were trading, buying, talking about different releases for a while. There was a bowl of pasta on the table. We had a dinner, drunk and started to get ready for the shows. It started around 10pm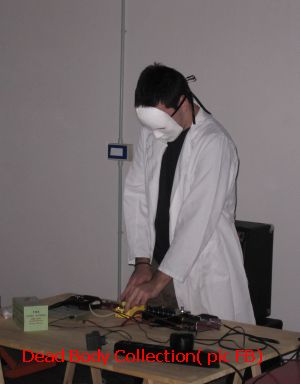 The first performer was Molestia Auricularum, pretty new HNW project from Torino. Dressed in black, with his great setup, he started to blast. Brutal, loud and violent! HNW in its finest! After him Dj Balli from Bologna had his performance. I've heard a lot about him and I finally had the opportunity to listen to him alive. He was performing with two gramophones and a mixer. He was playing with gramophone needles on empty surface which resulted with extremely harsh sound. After that he was putting "records" made out of various materials. Great and unique approach to noise. Brilliant! Å from France was next. Greg was lying on the floor while very brutal and unmoving HNW was blasting from speakers. Great sound! 10-minutes-long HNW trance! Fukte from Belluno was next. This time Fabrizio used static electricity of a little TV set, one distortion and a bass equalizer. He used TV antenna and switching "canals" so he could change the statics. Amazing idea and great noise! One of the hosts of the festival was ready.
Nasticari was performing without a shirt, lying on the floor with a shotgun in his mouth. Dark and depressive HNW was blasting from the speakers until everything stopped. Luca wrapped him up in a white sheet and dragged him off the "stage". Performance was real HNW suicide. Vivian as Ecoute La Merde was next. He was twitching on the floor without a shirt in Ecoute La Merde style. Great noise and performance! We had a short pause so the visitors and speakers can have a little break.

The thing worth mentioning is that the old guy (owner of the venue) was recording each performance on tapes, directly from the mixer. I hope we will get those tapes. After the break, Indch Libertine from Bologna was ready. He had creepy green mask and a shirt with collar (that looks pretty much like those which catholic priests wear). The sound was unbelievably harsh and loud. I think that it was the loudest performance of the night. Ear-shuttering show! Karkastix was next. Dressed in a green hooded jacket and his back turned to the crowd he was making brutal and loud changing HNW with some Power Electronics influence. His performance was really angry and honest! In one moment Tay crawled under the table on which the setup was and just sat there for a while. After a while he got up and approached to the setup and started hitting the table while the noise was still blasting and then everything stopped. Weird sound and weird act at its best! Fascinating! Poseitrone was next. Dressed in a black suit, equipped with 3 pedals, a processor and a trumpet. It began! HNW mass was echoing through the room. Really unique approach to Harsh Noise Wall!.
Next project was Dead Body Collection (author of this text) from Serbia. He was dressed in a white lab coat with his recognizable white mask. Dr Alex's performance started with silence, and once he said the word "Silenzio" the noise began. Minimal HNW (or Ambient Noise Wall if you wish) has filled the room. Maniacal, insane and depressive "moves" were the part of the show. Noise stopped. Dr Alex spread his arms and said "Morte". The second song was about to begin but the owner turned off the speakers (which he did after every performance) Why? I don't know. I explained to Lorenzo that I wasn't finished yet and that second song was about to begin, and he turned on the speakers to let the madness continue. Brutal changing HNW was raging out of the speakers. Unfortunately, Dr Alex was forced to calm down a bit due to his injury that he suffered during the first song, but he was consecrated on the pedals. The sound has suddenly stopped; he spread his hands and said "Amore'. That was the end of his performance. I can not describe my impressions, but I surely enjoyed despite the accident during the first song. Clougniole was next. This was the weirdest act that I have ever seen. William was barefoot, wearing no shirt and he was just standing there, starring at people and occasionally rubbing something red on his nose and giving to the audience something that looked much like squashed bread. Big part of the show was just silence which was interrupted from time to time when he turned noise on for a few seconds only and then turned it off. The last one was Alessio who performed under the name +Maria+.Karkastix, Å, Molestia Auricularum and Fukte joined him as well. Alessio, Greg and Tay were making noise while Fabizio and Molestia Auricularum were just standing there wearing bags on their head that resembled of the ones that one wears when he's about to be executed. Alessio was using distorted piece of sheet metal. Great collaboration for the end of the night.
That was the end of the festival. We stayed in the hall for another two hours, talking and trading. After that we went to Lorenzo's uncle so we could have some rest before show in Trevizo which was scheduled for tomorrow. I woke up tomorrow just before the noon. Most of them were already awake, talking and drinking coffee. After two hours, Alessio, Fabrizio, Tay and I left to Trevizo.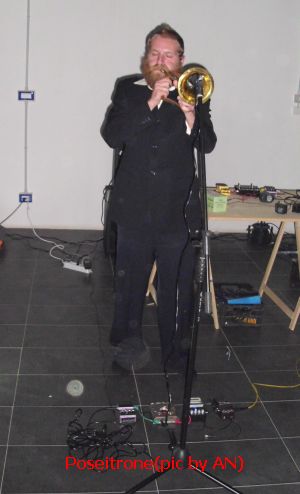 We arrived there around 8pm after a long ride. The place where festival was held is named Dirmitor Prc Treviso which is located just across of the road to the building called "The Tower". Really nice place with a local character and great people. French were late again. They arrived after an hour and then we started rehearsing. All was set and the sound was just awesome. We were eating pasta again. After the dinner we were talking and preparing the merch table. There were no many things left for trade or sell since last night. The time to start was getting near and Clougnioule was preparing for the gig. It has begun. He was wearing no shoes and shirt again. His strange performance, a bit of noise then a bit of silence and with something red on his nose while staring at people. This time there was more noise than yesterday. Fantastic noise!! Dead Body Collection (me) was next. Two candles, movie across the whole wall, white mask and white lab coat. First song was Ambient Noise Wall (ANW). Dr Alex was pouring hot wax on hands, petted candles, having mad seizures and then everything stopped. The second song has begun soon. Brutal HNW was reinforced with great movie played in the background by Matteo.The maniacal moves were present again as well as fragments of various psychic diseases, wax on the cuts. And the show was over. Weird and scared applause filled the hall. I can't tell you how others felt, but I had a great time. Fukte was next. Again little TV set and two pedals. Static was a bit louder this time. Fabrizio was occasionally turning on and off distortion so in one moment statics came into first plan and in other distortion. I really enjoyed in that dark listening to Fukte's noise. Dezroy Adam - Tay (who performed last night by the name Karkastix). Dezroy Adam is harsh noise/power electronics project. Again the film was played across the wall while Tay made noise with contact microphone and 5 pedals. The performance was brilliant! Tay was dancing, laughing and making various faces. Great show and sounds. Greg aka Å was already ready with his setup. He was lying on the floor, it was dark and he was blasting with a depressive vibe. I had feeling like I'm alone in the hall. After a while when the sound stopped I came back to reality. Perfect feeling and HNW. I can't wait to hear him again!
+Maria+ was up. Alessio and Fabizio made a lot of noise in front of cross turned upside down made of candles. They both had contact microphones. Fabrizio was screaming and Alessio was making noise with piece of metal sheet. Angry junk noise in Japanoise way. William was again getting ready for show this time under the name Cup. Contact microphone was taped to a plastic cut which he put on his chest. From the speakers heart beatings were heard and from time to time he was drinking water. You could hear it pouring down his throat. Quiet and odd performance. Serb-French collaboration was left for the end. Dead Body Collection and Å were making HNW as their own way. Å was sitting on the floor with his setup next to the table, and Dead Body Collection with his recognizable white coat and mask was behind the table with in front of five candles and his setup. It was probably the loudest show of the night. Movie played by Matteo was going in the background. Dr Alex after few changes on the pedals took two candles and dripped wax on the arms of the people who were present. Few drops ended up on Gregs hand as well. After he hid behind the table and took of coat and mask so he could leave it in front of candles on the table. Sound was suddenly turned off and the mass was over. Creepy, dark and brutal show.
That was the end of the festival. We hang out in club 'till morning. Alessio drove us to train station where we dissociated. Tay and I went back to Venice…
All in all it was fantastic! I can't say I didn't like any performance. All of them were great!
I can't wait for the next HNW festival!!
Many thanks to Tay without who all of this would be impossible, to Lorenzo for everything in Torino, to people of Dirtmor Prc Treviso (especially Alen and Matteo) and to everyone who blasted these two nights as well as people who visited the festivals.
Porco dio!!!!
Thanks to both Lorenzo & Aleksandar for their great reports, and thanks to Fabrizio & Aleksandar for the pictures.
Various