The nurture of nature [2011-08-30]Multi-instrumentalist and composer Hildur Guūnadůttir makes beguiling music that draws on both musicological forms and free-spirited experimentation, usually centered on her main focus, the cello, complemented by an array of both familiar and unfamiliar instruments woven together by digital processes and a sharp sense of the acoustic properties of a given space. To date, she has released two solo albums of seductive, fervent compositions on 12 Tůnar and Touch respectively, and has been even more prolific through extensive collaborative work that has ranged from worldwide tours as part of Icelandís experimental popsters mķm, to arranging the choral accompaniment to Throbbing Gristleís performance at Londonís Tate Gallery, and performing live and in the studio with the likes of Pan Sonic and BJ Nilsen, while also finding time to create installations and compose for diverse film, theatre and dance projects

m[m]:
Youíve been playing the cello for most of your life, and your two solo albums to date have deeply focussed on this instrument yet their compositions blend classical-style arrangements with more experimental, minimalist techniques like sampling and looping. Having been trained in both classical and electro acoustic composition, what side most influences your working methods? Do you find improvisation and the self-accompaniment enabled by technology to be more fruitful than score-based composition or can they feed off each other?

HG:
I donít have a specific writing technique. I just work in what ever way comes naturally to me. Sometimes improvising and sometimes writing down. If I try to categorise what Iím doing when Iím doing it, I feel it kills the music. I have a background in various styles of music, and Iím sure that all works together in some way. Although I would not be able to tell you exactly how it works together.

m[m]:
For your last solo album, Without Sinking, you aimed to create a sense of the sky and particularly cloud formations. Do you prefer to start composing with a concept in mind?

HG:
Frequencies have shapes and forms. When composing you take singular frequencies and their shapes, and connect them with others. And this connection will alter the shape of the original frequency you started out with. It helps me to formalise and visualise shapes before I start composing. Even though the final composition might not resemble the shape I started out with, there will always be a mental connection for me.

m[m]:
How do you predict what sounds will make certain shapes? Do you mentally assign shapes to frequencies as part of a personal code you have developed, or have you learnt the system from others? Does timbre affect aspects of this visualization in any way?

HG:
I use different systems for different pieces. Sometimes itís very literal, and other systems are just based on feeling or my personal projection of how I sense the timbres. I donít use methods from other people.

m[m]:
In your solo compositions do you ever pursue a narrative, like the science fiction story behind the Kalmukia album you recorded with Ilpo Všisšnen and Dirk Dresselhaus as Angel in 2007?

HG:
When working in theatre or film you mostly work in a narrative environment, but I normally donít do that in works outside of those mediums.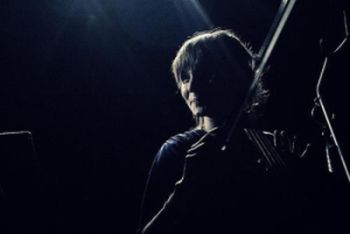 m[m]:
The last piece I heard of yours, Nacre, seemed a departure from your solo work, not just because it was composed for a church organ instead of the cello, but also as it was an experimental score based on the shape of DNAís double helix. You grew up in a musical family, with your father even appearing on your last solo album, and you dedicated Nacre to your grandma, a virologist, indicating that DNA forms the basis of inheritance. Do you feel your musical path has been determined to some extent through nature, possibly at a genetic level, as much as nurture?
HG:
I guess so. My mother always says that when she was pregnant with me, she knew that I would be called Hildur and that I would be a cellist. Of course itís hard for me to say for sure about any cause and effect in this matter, music has always been around me, so I guess I can say that it came to me naturally. In any case, I never made a conscious decision about becoming a musician, playing music was something that I started doing and never stopped.
m[m]:
What styles of music did you grow up with? What music most reminds you of your childhood?
HG:
My mother mostly listened to opera, and my father was mostly performing contemporary classical music with his chamber ensemble, so I mostly heard classical music of some sort. When I hear certain types of contemporary classical music, it reminds me of sleeping under my father chair at his chamber ensemble rehearsals.
m[m]:
Amongst your many collaborations often the same names keep occurring of experimental Icelandic musicians like mķm, Stilluppsteypa, "lafur BjŲrn "lafsson, Skķli Sverrisson, Hilmar Jensson and Jůhann Jůhannsson. Like your self, these artists seem to have orbited the Kitchen Motors collective and 12 Tůnar label and record shop Ė does this feel like a loose family, or localised musical movement? How active does this Ďsceneí feel nowadays?
HG:
Oh yes, it is very much like a family. I feel very privileged to have grown up musically in Kitchen Motors most active period. There was so much energy, curiosity and playfulness in the group of people surrounding Kitchen Motors. We all generously helped each other out with each others experiments, whether it was playing for each other, lending gear or lending a hand building an environment for a performance. Nothing was done out of any sense of carrier or money reasons, but purely out of the mutual curiosity of a question that usually started out "What happens if Ö. ?". Many of my strongest musical and personal friendships were formed in those days, and Iím still collaborating very regularly with many of those friends today, and the driving force is very much the same as in those early days. Of course weíre all a little older today, but I sincerely hope we never lose our curiosity.
m[m]:
Is there evidence of a younger generation of musicians in ReykjavŪk coming together to form new networks (like that of Kitchen Motors) who continue to ask ďWhat ifÖ ?Ē
HG:
Iím not involved in the music scene in Iceland so much anymore, so I canít really answer that question. But my younger brother is very active in Iceland and has a band, and he says itís very energetic and that people are generally very close and helpful to each other, although I donít think there is an organisation as such that brings people together.
m[m]:
Many of [the Kitchen Motors] musicians, including yourself, have academic qualifications in music at a high level Ė how important do you feel formal training or in-depth study is for modern music?
HG:
I feel itís very important for people to have guidance, that goes for anything a person wants to learn. Having guidance from the right person can only help people growing and deepening the understanding of what they do. For me it doesnít matter if that guidance is academic or not. But in music as with everything, you have to take that guidance a step or two further yourself and develop your own techniques as well. This you have to do with your intuition, and that is very hard to learn from somebody else. You might be able to bake a delicious cake from a good recipe, but after baking it the same way for some time, you might want to experiment with new ingredients.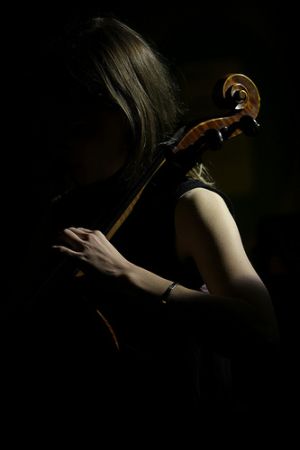 m[m]:
To develop your own techniques intuitively, have you found that you have had to Ďun-learní parts of your more formal training?
HG:
I didnít actively "un-learn" anything. I think the "un-learning" happened naturally as I thought less about the "rules" of playing and followed my intuition instead.
m[m]:
Much of your collaborative work with musicians outside of Iceland is with those arguably connected with post-Industrial styles, such as Throbbing Gristle, Pan Sonic, BJ Nilsen, and the Hafler Trio. Is this an indication of your preferred listening choices?
HG:
I guess my link to these people you mention, is that the driving force in their music is the before mentioned curiosity which is why we have connected sonically. I have never been a fan of categorising music, and Iím not even sure I know what a "post Industrial style" is.
m[m]:
What have you been listening to lately?
HG:
Lately I have been listening a lot to music from Mali and India.
m[m]:
What is it about this music from Mali and India that has caught your attention?
HG:
I think what I like about music from Mali, is that is seems very relaxed but in a energetic way. I think itís very uplifting music. I later learned that there is quite a structured hierarchy in the music world there, and itís only a selected few that are actually "allowed" to play music. That seems very strange to me, and is very far from the image I had about the way music is performed there, but I still like the music very much.
There are so many different styles of music coming from India, so itís harder to explain why I like music coming from there. Lots of the music I listen to from India, is very focused but flowing at the same time. It gives the sense of great concentration done in a very light and airy way. I like this very much and it creates a contemplative and warm surrounding for me.
m[m]:
You have previously mentioned how Without Sinking was a deliberately slower recording process compared to your first album, Mount A, due to greater exploration of acoustic techniques and microphone placements to get the sound just right Ė and it shows, being an unusually luxuriant, rich and resonant experience. Being so attuned to the nature of its sound, what listening environment would you recommend for this release? How do you feel about your work being released in digital formats such as .mp3 files?
HG:
I donít really know what the ideal listening situation would be. Perhaps lying on a sofa listening through great speakers. That sounds like a luxury situation to me! I wouldnít want to tell people how to listen to it though. The great thing about releasing a record, is that after countless hours of working on the music, you release it and send it out to the world and then it starts living a life of its own. You have no idea who will hear it or how it will touch the person that hears it. I see it a bit like time traveling, or sending a message in a bottle.
At this point it is pretty impossible to fight formats such as mp3ís. I understand musicians that get frustrated with it, but itís not a fight I want to spend my energy on. Thankfully digital conversion is getting better and better, and much has happened since mp3 was first introduced. As a musician and recording engineer, you are (or should be!) be very aware that the better the sound quality is when you record, the better the sound will survive the lower conversions. So I guess the better the original quality is, the better it will survive the mp3 conversion.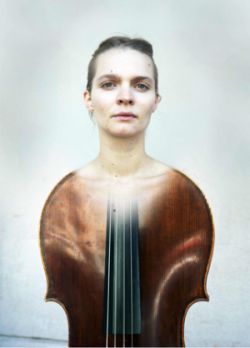 m[m]:
Your installation work often seems to focus on the acoustic properties of specific places and has been extended to experimenting with moving performers around the venue. Are you attracted to surround sound techniques such as 5.1 to bring this into your recorded work? Do you ever find the 2-speaker stereo system limits your intentions?
HG:
Yes, Iím extremely interested in the movement of sound, being surrounded and hugged by sound. Sound itself is nothing but movement. If it was up to me, I would always perform with 30 speakers! The more speakers, the better. But I mostly work with stereo, since thatís pretty much the standard concert format, so I have to reduce the music that would ideally be in surround for stereo. I think you can still do a lot with stereo, and I am a huge fan of panning. Sometimes you just have to make good with what you have, and save the bombs for special occasions.
m[m]:
What technological developments have most significantly modified the way you work?
HG:
I really love new equipment, programs and gear. Iím constantly searching for new things and ways to express myself. Itís hard to name one thing thatís changed the way I work. Perhaps the use of foot- and midi controllers for playing live. Using that kind of equipment makes it possible for me to have a lot of freedom when performing.
m[m]:
You play live extensively, both solo, collaboratively and in groups such as mķm and Stůrsveit Nix Noltes. Do you feel more at home in a performance setting or do you prefer the control afforded by the studio?
HG:
I love both equally as much. Itís important for me to do both hand in hand. I would get terribly bored just working in the studio. I get a lot of energy from playing live, but I think itís also important not to perform too much. You can really empty yourself if you perform too much.
m[m]:
Despite playing over 30 live dates throughout 2010 it seems like a slowing down compared to previous years which have seen many more dates, often including numerous tours with mķm as well as solo and collaborative shows. Is this an indication of a new album on the horizon or just a kind of well-earned rest? What can we expect from you in the near future?
HG:
I think I was playing a fairly unhealthy amount of shows the last years. So I did decide to slow down a bit, not to empty my cup too quickly. Iím still playing and working a lot though, but I guess the main difference in my schedule now is that mķm is not touring anymore. Weíre still playing one off shows, but very few of them. So my concert schedule nowadays is mostly solo shows, and I donít really tour by myself. So instead of playing a show everyday, I usually just play the weekends. Iíve also been doing other things like theatre projects that require me to be a little bit more still.
But yes, I am indeed working on some new albums. One is the organ piece you mentioned before and another cello record is also in the making. The new cello record will be based mostly on acoustic movement of sound, and will be recorded live, site specifically. It will also include some new amazing instruments my friends are building for me. I also have some vinyls coming out. Iím currently waiting for a test pressing of a double vinyl version of Without Sinking.
m[m]:
Congratulations on your recent award for the music you composed for the critically acclaimed new version of King Lear by the National Theatre of Iceland. How did this work compare to previous theatre projects you have done in the past? Were you involved in the performances as well?
HG:
Each project is always different. I have never worked with this director before, itís always a new experience to work with new people. The music was performed live, mostly on the Halldorophone - a cello based feedback instrument built by my friend Halldor Ulfarsson. I performed the first few shows myself, and then I handed it over to a friend to perform when I went back to Berlin.
m[m]:
Are you intending to release ĎNacreí (the organ piece) as a live recording or are you re-purposing it for the studio?
HG:
I already recorded it last year. It will come out soon, perhaps this year or early next year I assume. It is not a live recording. It was recorded in a church in Berlin, so I wouldn't exactly call it a studio album either.
m[m]:
What Ďsitesí have you selected for the new cello record and what is it about these sites that led to their selection?
HG:
I havenít selected the space yet, but I am keeping my eyes and ears open for interesting sounding spaces.
m[m]:
What has made you laugh recently?
HG:
Oh, I laugh all the time! The very last time I laughed was about 5 minutes ago, as I was watching a trailer for a Herzog movie.

Many thanks go to Hildur for taking the time to chat with us and answer our many questions.
You can keep track of her many activities on her website: www.hildurness.com
Photo credits: pic one by Jon Wozencroft, pic four by Mani Tommasson, pic five by Glenn Boulter

Russell Cuzner