Calm Before The Storm [2011-05-26]Late last year Merzbow(aka Masami Akita) released his largest cd set since the 'Merzbox'- the release in question was 'Merzbeint' a collection of twelve CDís which charts the unknown and undiscovered side of Japans king of noise- his more quite, subtle and soundscape based side. Masami kindly agreed to give M[M] a interview (his third for the site) discussing this new set and other recent developments in the world of Merzbow.

m[m]First off tell us a bit about how you came across the tape recordings that make up the Merzbeint set all these years later?
Masami In 2009, I did some cassette releases for the Blossoming Noise label based in the usa. The cassettes released were all works from the early 80s. The master tapes for theses were all on cassette and I just dubbed onto CD recorder, and then transformed them to digital files.
Masami Then some other US labels asked me to release a cassette tape. I was looking for the reason for a cassette release and it might be good to releasing works which made by cassette master recording-I mean MTR(cassette multi track recorder). Unfortunately my old MTR were all broken and gone. I was using Tascam Porta Two, but trying to buy MTR at Yahoo auction ÖI found some, but they looked like junk and there was no guarantee that theyíd work. But finally I found new MTR at online music instrument shop- This was a Tascam MF-01 and I bought two. It's cheaper than Porta Two, but it works. no problem.
So then I was able to release some cassette tapes from MTR recording which recorded period during late 80s- early 90s. In this research, I found lots of recordings from this period. Soleilmoon asked me to releasing 12 CD box set, and I thought it might be good to release these recordings.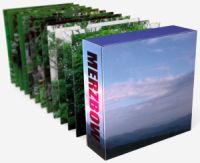 m[m]When you found the tapes that make up 'Merzbientí Ė did you find any other unreleased work & if so do you plan to release these?
Masami I've know the existence of these tapes from before , but I have the idea of selecting these tapes for one theme until last year. I have lots of unreleased tapes and I hope to releasing them on another box set on near future if possible.

m[m]Please tell us a bit about what has been done with the sets recording when they were transferred from tape to compact disc? Have the been remastered or cleared up in anyway or edited?
Masami All the tracks were original on 2 -4 track cassette tape. so, all material was remixed volume and EQ of each channels. Next I dubbed it to CD and then used audio editing software on the computer and cleared up and re-edited, but there was no overdubbed or effects added. The materials is very close to the master recordings, because I wanted to keep the essence of the original recordings much as possible
m[m]Please give us a full list of what you used to create the tracks on the whole of the Merzbeint release?
Masami Various scrap metals, various metals/ tin box with piano wires, various percussion by small objects, paper, stone, woods, kitchen objects etc.
contact mics, audio mixer, motor, electric fan, gas stove, guitar, violin, thermin, various effects. etc. but no synthesizer.
m[m]Why did you decide not to release any of the recordings at the time they were original made?
Masami I didn't intend to release them, because they were originally made as raw materials for other release, so they were not completed. Also I never used them as original, because I was mixed them very randomly and in a cut-up under the concept of exchanged music which I was fascinated during this period.
For example, CD 10 'MatHNAS' was originally made for raw materials for my mail collaboration between Christoph Heemann/HNAS, and it was released as 'sleeper awakes on the edge on the abyss' album.
Masami Now I listened to the recordings after more 20 years later and I think they can be completed works of improvisation music. so, I want to keep time-line of each recording and keep the title which I wrote just for identification on original cassette tape, or name of product of cassette tape as Maxell, AXIS etc.
Otherwise, these recordings are continuing in similar vein to albums like 'Storage'. but my direction now has changed to more loud and brutal cut-up.

m[m]The packaging for the 12 disk box set is made up of pictures of Japanese gardens and landscapes- where about's are theses located & whose idea was it for this design concept?
MasamiDesign concept was by Soleilmoon and I just selected the pics.
m[m]who decided on the runing order of the box set & why didnít you decide to do it purely in date order?
Masami I decided on the running order. I donít really think it's important to keep chronological recording order for this collection, as this box set is one whole concept 'Merzbient' and not documental concept such as the Merzbox.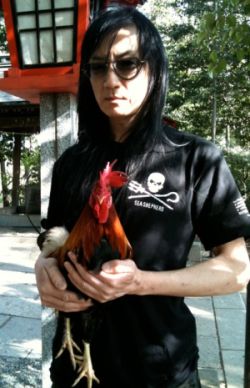 m[m]As this collection is seen as you take on ambient- who are some of your favourite ambient artists, pieces or records?
Masami I took the name 'Ambient', because originally these recordings were not fully realized themselves, they became realized with other tapes( exchanged music) or other musical operation (cut-up, random live mix). so, these tapes are raw materials and background, but there also very easy listening music.
I don't know exactly who Iíd count as ambient music artists, but in that type of bracket I like La Monte Young, Terry Railey, Angus Mclaise,etc.
m[m]Do you plan to do any future work in the form of the ambient/ stripped/ down material thatís found on the 'Merzbientí set?
Masami I don't know what I will be doing in the future. but I was very inspired by these old tapes, so they will probably reflect on my future works.

m[m]Recently you become very interested in the deathcore scene- how did this come about? And what do you see as key/important records with-in this scene?
Masami I'm listening bands like: Trigger The Bloodshed, Burning The Masses, Veil Of Maya, Wrath And Rapture, Throne Of Judgement, Taking Your Last Chance, Sons Of Aurelius, Maroon, Neaera, Heaven Shall Burn, Miss May I, My Bitter End, Here Comes The Kraken, Fuck Your Shadow From Behind, Contortionist, Circle Of Contempt, Conducting From Grave, Beneath The Rising Tide, Born Of Osiris, Red Shore, Chelsea Grin,
I think they are all very cool, look clean, technical, fast and have a new rhythmic approach...I especially appreciate vegan straight edge death/metalcore bands.
m[m]Do you think the deathcore has influenced your recent work & can you see your self doing a Merzbow take on deathcore?
Masami Not really, but probably some influence for my duo with drummer Balazs Pandi- this is a duo Iím involved thatís influenced by Sun-Ra and deathcore.
m[m]Do you still pay any interest to todayís noise scene & if so who are some of your favourite projects at present?
Masami I pay little attention to the so called 'noise scene' , so I donít really have a favourite project with-in this scene
m[m]You recently put out a collaboration between you and Zev on Cold Spring records entitled 'Spiral Right / Spiral Left' - how did this come about? Did you work on the tracks together or did you file swap & what do you see as the albums concept?
Masami It had been planed from many years and finally realized. Iíve appreciated Zevís works from long time ago and I'm very glad to work with him.
We exchanged files and mixed each others work. We selected the cover artwork from uk hermetic philosopher Robert Fludds illustration called 'The Chaos Of The Elements' which indicates the four elements fighting against each other.

m[m] Have you been effected by the recent tsunami in Japan & how do you think the Japanese authorities have dealt with the situation?
Masami I still haven't found the words really, because still continuing aftershock and nuclear crisis every day and we can't see the end.. itís a really brutal convolution of nature. We must change to more use of nature and biomass energy to generate electricity and no more nukes.
m[m]What release wise have you got lined up next?
Masami My next project is 3 series CD of theme of Cows on the Hypogogia label thatís based in the UK. The project is a collaboration between Paul from Amomali/ Hypnagogia label and myself. He gave me the information of cows shelter in Vandarin, India, and I was deeply impressed by their activities in helping injured cows in india. I'm vegan and don't drink milk, but I'm also appreciated hindu lacto vegetarians who living with cows in very friendly situation and drink their milk.
Otherwise, 'merzbient' will be issue on analogue 15 or more LPs box set with some extra tracks! And Merzbow+Balazs pandi second album will issue on ohm resistance, usa. this is featuring our latest live in NYC 2010
m[m]Can you tell us a bit more about cows project & how sonically is this gong to sound?
Masami 'Merzcows' project is dedicated to activities of 'Care for Cows' in Vrindavan, India. Paul from the Hypnagogia visited their place, and told me how beautiful the cows at there. Musically Iíve tried to make it warm and organic sounding by using granular synthesis, oscilators and tone generator etc.
Masami Additionally my next CD is entitled 'Flax' and it will be releasing on label based in Kiev, Ukraina. The albums final mix was done on the day after 3.11 kanto-north Japan earthquake and the day of hydrogen explosion of Fukushima nuclear power plant no-1. So, we develop the idea of make relationship between nuclear disaster, because Kiev is near the town of Chernobyl. Coincidentally this April is 25 years anniversary of nuclear accident in Chernobyl.

Thanks to Masami for his time and efforts with the interview. Info regards Merzbow can be found here, and 'Merzbeint' is now out on Soleilmoon records Ė for more info and to buy direct drop in here. Oh and as always the pictures of Merzbow through-out the interview are used with kind permission and are © Jenny Akita.
Roger Batty