The Oblive & Mass Graves Interview [2011-05-09]Oblive's "Falsehoods" was one of last years HNW highlights with it's crusty, detailed and highly consistent take on the genre. The man behind the project is Missouri based Jeff Landgraf, who is also behind more fixed and chilling supernatural obsessed HNW project Mass Graves. Jeff kindly agreed to give M[M] an email interview discussing both his HNW projects and beyond.

m[m]What first trigged your interest in extreme experimental music and in particular HNW & is there any one album or track that made you want to make your own noise?
Jeff Well, I went to my first noise show in 2007, not knowing what it was... I remember seeing Winters In Osaka play, and after that, I was determined to make noise of my own. I'd say the first HNW that influenced me was The Rita, particularly the "Magazine" release.


m[m]Tell us a bit about how both Oblive and Mass Graves came about?
Jeff Oblive came about when I decided to start doing extreme harsh noise, unlike the space/synth noise I was doing under my first project under my name, Jeff Landgraf. Mass Graves came about when I wanted to put out some unmoving wall releases.


m[m]Did you put out any releases with your Jeff Landgraf space/synth noise?
Jeff I put out a few.. Can't remember what they were called though


m[m]What was your first sonic project?
Jeff I've been doing something musical since I was in grade school. I started my first pop punk band when I was 11. Obviously we didn't go anywhere haha


m[m]Where does the Oblive name come from & what does it mean to you?
Jeff Oblive was a word I came up with... In my head, it basically means the present-tense verb for "Oblivious", and can't really be used in any context. At the time, I was really mentally checked out and not in touch with anybody or anything around me, living in a fantasy world.

m[m]Tell us about the equipment you use for both Oblive and Mass Graves, and does it vary for each project?
Jeff The equipment varies. Mass Graves used to only consist of white noise and DOD Death Metal, but that has changed. I think I used 8 or 9 pedals for "Robbie Doe" cdr. For Oblive, the pedals that almost never leave my setup are DOD Death Metal, Boss Super Octave, and ProCo RAT. Sound sources are mainly shaker box and tape.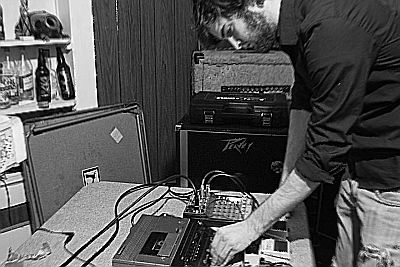 m[m]One of the last years HNW highlights was Oblive's tape c90 tape Falsehoods put out on Sweden's HarshFuckedForLife label. Can you tell us a bit about how long it took to put this together?, what do you see as it's themes?
Jeff I'm pretty sure I recorded all the material in one day, using just mixer feedback and contact mic. The title "Falsehoods" and the ghost on the cover, to me, symbolize the world and all the fake people in it. A lot of people I come across in my town might as well be ghosts.
m[m]Did you pre-plan the structure of the Flasehood releases before recording it? or was it much more on the spot/ improvised wall making?
Jeff It was all improvised.
m[m]The Mass Graves project is very much themed around ghost stories and haunted places in your local Missouri area- what trigged this interest in local paranormal & have you ever seen a ghost yourself or got very scared/freaked-out by a situation?
Jeff I have been into paranormal stuff for as long as I can remember. I have never actually seen a ghost myself, but I have personally been to all the places that Mass Graves releases describe. The most vivid freaky experience was the second time I went to Zombie Road (They Wait...). I lost the trail, and my cell phone went from full battery to dead in less than 5 minutes. I also heard heavy footsteps, like someone wearing big boots off in the darkness.
m[m]How do you find out about the places you base the mass graves material on? And do you always visit the places on your own?
Jeff I've heard of most of these places just from friends, but there was a TV special about Zombie Road on the Sci Fi network a few years ago. There are also websites that list various reported haunted locations in Missouri. I've only gone to Zombie Road by myself once, but got too scared
m[m]Have you ever thought of making field or EVP recordings in the sites you visit, and mixes theses with your 'walls'?
Jeff No, I haven't. That would be a good idea! Maybe I should do that soon.
m[m] Are there any other local or state wide haunted places you'd like to visit?
Jeff I'd like to visit the abandoned psychiatric hospital in south St. Louis. It's risky though. Cops keep an eye on it pretty regularly because of crackheads and junkies in the area.
m[m]As your interested in paranormal do you enjoy horror movies/ fiction? And if yes list a few of your favourite films, authors…and try and explain why you like them?
Jeff I enjoy some horror movies, but not too much, honestly. I don't watch too many movies, really.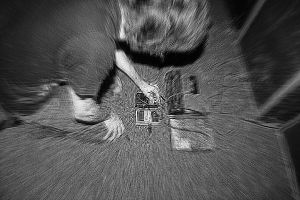 m[m]How often do you record noise? And is it split evenly between your two projects?
Jeff I record now only when I have a release lined up, but I make noise for personal enjoyment everyday. Mass Graves has been put on the back burner for now, but only because I don't have any upcoming releases.
m[m]Can you tell us a bit about the post-rock & metal band you involved with? And do either projects have noise elements in them?
Jeff My post-rock band that I play bass for, Vast West, has been writing and rehearsing for a few months now, and are currently booking a few shows around Missouri. My metal band hasn't fully decided on a name, but for now it's called Brazen Whore. BW will definitely have noise elements in it, especially heavy static and excessive guitar feedback.
m[m]How did Vast West & Brazen Whore come about?
Jeff Vast West came about when me and the guitarist and drummer decided to write a song. Then we got a vocalist and rhythm guitarist who are also good friends. That's about it. Brazen Whore is mainly a fuck-around band at the moment, but would like to write more and release material.
m[m]Can you tell us what type of metal Brazen Whore will be doing?
Jeff Brazen Whore is aimed toward doom/sludge.
m[m] Can you tell us a bit about the Fecal Dam project that you've just released a split with Churner with?
Jeff Fecal Dam is my new harsh noise side project that mainly consists of minimal pedal setups and metal junk/contact mic. Our split "Rectum Wreckage" is the debut release.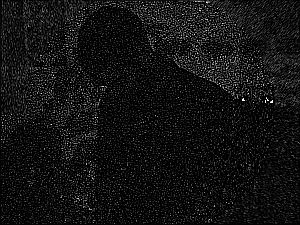 m[m]You seem to like and make a large sounds with-in a wide variety of different genres of music- can you list your top ten albums(of any genre) and why the mean so much to you?
Jeff In no particular order
1: Leonard Cohen - Songs of Love and Hate
This album always calms me down when I need to.
2: Adam Faucett - The Great Basking Shark
This man's voice has brought me to tears at times.. He's a VERY underrated folk musician.
3: Darkthrone – Panzerfaust
Darkthrone got me back into true, straight forward black metal. It's one of the most honest black metal albums I've ever heard.
4: Agoraphobic Nosebleed - Split w/ Cattlepress
AnB introduced me to extreme music with electronics. My favorite release of theirs.
5: Project Pat - Ghetty Green
I love southern rap. I grew up listening to Project Pat and Lord Infamous.
6: The Rita - Sea Wolf Leviathan
This album got me into textural filthy harsh noise, which led me to start Oblive.
7: Prurient - Cocaine Death
This album makes it into my playlist at least once a week. Prurient was one of my first favorite noise artists.
8: Gorgoroth – Pentagram
It's my second most played black metal album. I love Hat's killer vocals!
9: Sleep - Sleep's Holy Mountain
Sleep has been my favorite stoner metal band for a few years now. No real reason, I just always loved their music.
10: Queens of the Stone Age - Songs for the Deaf
To me, they are one of those mainstream rock bands that I never got sick of. They got to where they are because they're awesome

m[m] What have you got lined up next release wise for all of your projects?
Jeff Oblive will have a split 2xC30 with Last Rape, due out sometime next week. I am also recording for a release on Breaching Static, and splits/collabs with Boar, Godless Girl, and Discretion are possible sometime in the near future. Also Fecal Dam will be doing a few other splits later this year.
Thanks to Jeff for his time & efforts with the interview, and for supplying the pictures. Oblive myspace can be found here
Roger Batty