The Master Of The 'wall'... [2011-03-25]Vomir really need's little or no introduction to noise and HNW fans, as he was one of the most known and respected names in today's HNW scene. Since the project started in 2006 the black bag wearing Frenchman has released over 50 releases, and each stays firmly on the path of brutal, crusty and unrelenting Walled noise. The man behind the bag is Romain Perrot and he kindly agreed to give M[M] a second interview(the first can be found here).

m[m]How do you feel that your work has become a big influence on so many up and coming HNW artists? And do you feel this adds any pressure to when your making noise, because of peoples expectations?
Romain I really hope I won't repeat myself too much... I have no feels at all concerning any influence or expectations. I focus of the sound I do, nothing else. It's great if people keep showing interest, but it's doesn't matter if that interest stops…..I'll still keep on.


m[m]Your new self released cd "Application à Aphistemi" features a wall made from acoustic guitar- how was this recorded?
Romain The guitar track was recorded live, just plugged in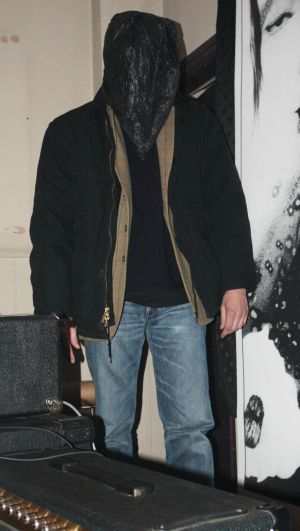 my recorder. I did lots of recordings, because any big mistakes, interruptions etc... ruined the track. So I practiced a lot ( I still do) and I was pleased with this track. Firstly I really didn't know if this should be released. My friend Marc Hurtado (from Etant Donnés) listened to it and encouraged me to put it on the record.

m[m] Following on from your use of acoustic guitar on the track on"Application à Aphistemi" would you like to make sound walls with other move conventional instruments?
Romain I tried this repetitive noise on acoustic guitar because I knew I would achieve real noise by changing and detuning the strings, and with the 12 strings, I would get enough resonance to almost recreate the low rumbling of HNW... When listening to some Phil Niblock's work or Zietkratzer, you know that you really can do noise on acoustic. But to achieve a wall, you must really continue the gesture and dissonance, or it can really change quickly into simple repetitive music or drone.
m[m]Why did you decide to release "Application à Aphistemi" on your own label? And do you plan any more future releases on the label?
Romain I was putting money aside from some time, planning a release, and now was the time because I was satisfied of the tracks I had.
m[m] on the picture of yourself in side "Application à Aphistemi" there's the number 23, whys that there and what does the number mean to you?
Romain Well that number links to William Burroughs, Throbbing Gristle... it's just a reference...

m[m] You often mentioned beat/ experimental writer William .S. Burroughs as a big influence on your work- when did you first come across his work? What stands as you favourite book/ story by him?
Romain I discovered Burroughs in my late teens. I first read the Naked Lunch, as almost everyone, and then read everything. I was fascinated that everything that interested me was coming from him or related to him. And that continue to this day. I would recommend the trilogy Cities of the Red Night/ the Place of Dead Roads/ the Western Lands. Each reading, at different period of your life, reveals something different, and each reader can understand something specific to him and not to someone else. Absolutely amazing. Essays and the Job are also great read.
m[m] would you ever considered doing an album or a track based around Williams Burroughs work and if so what book(s), stories would you use?
Romain No I don't think I would directly do something about based around Burroughs work... the 23 reference says everything

m[m]Over the last year or so you've started to receive coverage in wider experimental music media like The Wire- how do you feel about this & are there any publications you would'nt want to be feature in?
Romain Well that was a big surprise to have such coverage. I feel honoured to be in such a publication where a lot of artists I admire are talked about. I just guess that any publication, wherever it is, could be good. I mean, a full stadium, full of people with a plastic bag on their head, separated from each other, completely focused on noise... that would be great. But to be honest, no real feeling. It's good to get support and interest of course; but I know that won't change anything. I just continue the noise.
m[m] When I came to see you live in November last year I found it an very emotional and at times sad experience- do you feel this emotion in your noise yourself & is this something you'd like to expand?
Romain Well, thanks for that, Roger. Emotion... ah !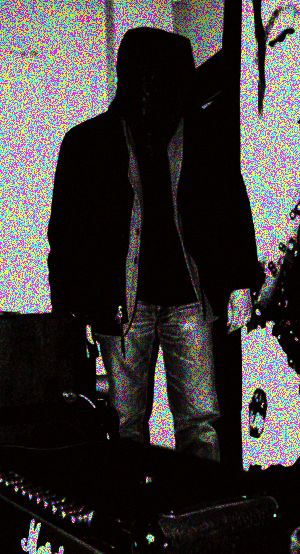 difficult to answer that... but in the end I wouldn't say I feel any emotion during a set. But certainly a feeling of serenity, you know when you feel that you are at the right place, at the right time... it's no sadness though, rather emptiness, but feeling empty in a great way.
m[m] Are you still recording at least a wall a day & has anything changed in your equipment or the way you make your walls?
Romain Well I'm certainly still doing a wall day yes and recording when needed for a specific release. Nothing has changed in my equipment. Still using three lines, made of noise generators and effects. I mix those lines on a small mixer, then the mix goes into old eq and sometimes analog (tape) echo

m[m]For the most part each new release you put out remains unflinchingly unmoving and unchanging in it's crusty HNW attack, but ever so often you put out a track on a compilation or release an album that deviates slightly from this form by adding in other almost harmonic elements. Take your track from Staring At Wall- The HNW Annihilation cdr compilation, which finds you feeding a vibe like or harmonic church bell element under your noise. Is this something you'd like to investigate further in future releases?
Romain I never deviate. I always use the same gear - only the settings of the effects and EQ are modified. So to answer your question, I do not add anything, no harmonic elements at all. The settings, the mixing of the different noises make everything occurs. And the rest is in your head. I really do often have that kind of reaction. Some people says " I hear this", "I hear that"... and especially during live sets... and each person hears different things. Of course those reactions interest me a lot, and it reveals the possibilities of the mind when surrounded by the static, saturated by the noise.
m[m] why do you decide to title so many of your pieces untitled?
Romain I guess it's not really that important. When I find a good assemblage of words, I use it. Maybe I should just find one good title and then just add a number behind it... maybe I'll do that...
m[m]Serbain based Victimology Rec. is due to release Maisonbruitarchive a four cdr box set of your old recordings- can you tell us what to expect from this?
Romain Yes, Victimology will release this boxset due in a month or two. It will compile all first vomir releases, even some pre-vomir works (aka Romprai Etron). Those releases were cdr I released myself and were very limited. I hope some people will find interest in those tracks which relate to the development of my static noise work.

m[m]Can you tell us a bit about your pre Vomir project Romprai Etron, and was it still HNW?
Romain Romprai Etron was a 'vomitcore' project... that was more or less digital noise, drum machine, and voice with distrotion. I made several releases, cdr and tapes, mostly split. you can have a look of the past here http://etron.canalblog.com/ In the end I was already working on static under this moniker, before changing to Vomir.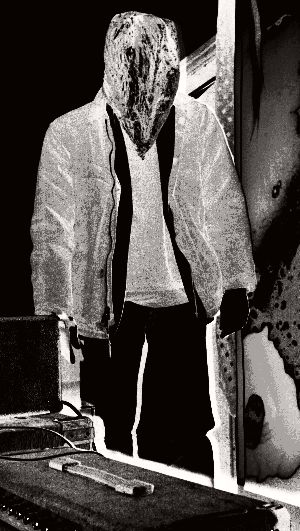 m[m]recently you've put out two releases from your new project Roro Perrot, which mixers together harsh-noise-core & extreme noise improv with a slight dada edge. Why did you decide to form this project & where do you see the project going next sonically?
Romain This projetc will just go nowhere, it will be just that over and over again. I guess it's the gesture I like, repeating and repeating again the same thing, to get to the core of it.

m[m]What do you listen to when you not listening to your own 'walls' or others 'walls' and is there anything that might surprise people you listen to?
Romain I now doing a weekly radio show called 'Le Chant du Séparé" on l' Eko des garrigues, an associative radio in my town. The show can be listened on the internet and be donwloaded (podcast). The playlists will show that I listen to all manner of stuff postpunk/electronic/experimental/improvised/noise music. Anything that might surprise ? I do like Giorgio Moroder (Munich Machine, Knights in white satin), James Brown (payback period), some dub records (The scientist...), early Pink Floyd, Charles Manson's songs...

m[m]Talking about your radio show on l' Eko des garrigues- how did this come about & is there any limits to what you can play on it?
Romain I was doing a radio show in Paris, and I was missing not doing it anymore. Through Marc Hurtado (Etant Donnés), I met the radio boss and simply proposed him a project for a program dedicated to noise and expe music. As this radio is focused on alternative music, they gave me a yes immediately. I fix my own limits, I know that I am on air on a associative radio (so non commercial, no advertisement etc...) so with a fairly important audience. I won't play one hour long HNW program. People would simply think the freaquency is down !!!!! I try to present what I'm listening to, what's interesting me.

m[m]You been heavily involved with organizing the upcoming French HNW fest in Paris on the 23rd of April- can you tell us a bit about the venue and what people can expect from the festival?
Romain To be honest Greg from Anarchofreaks productions did all the job for the festival. I just helped. This fest will try to gather most of the major artist of the genre, from all over Europe and the USA. The fest will present 17 acts !

m[m]over the last year or so the French HNW scene really seemed to have blossomed with so great acts. Why do you think this is?
Romain Yes, that's great. I think that because french labels like Anarchofreaks, Slow death, shops like Bimbo Tower, Le Souffle Continu, distributor like Metamkine, are supporting and spreading the genre make more people aware of the scene and so start to contribute to it. The HNW fest will have 5 French acts and that is very good.

m[m]Do you think there are any cultural reason for the growth of the French HNW scene?
Romain No. Seriously, I don't think anything about French culture have anything to do with the growth of HNW in France...
m[m]What have you got lined up next release wise?
RomainThere is a new limited 7" on dotdotdot out just now, a LP planned on the italian label Urashima, and plenty of more good stuff, but as nothing announced now, I won't speak for the label. Infos will be posted on my blog page & on the noise boards...
m[m]Can you tell us a bit more about the vomir book and cd that's mention on your blog?
Romain Well, it's a book about principles, discipline and methdology, through Harsh Noise Wall and every day life, to gain the 'Abysum'. The book is based on an old catholic writing, but of course completely modified ! At War With False Noise should release this normally this year, after having had the text translated last year. The book will have French and English version plus a CD.
Thanks to Romain for all his time and efforts with the interview. His vomir's blog can be found here: http://vomirhnw.blogspot.com/ . And for those interested in attending the up-coming Euro HNW fest drop into the Venue website here: http://www.instantschavires.com/
The pictures used here are credited to: Peter Davidson© for the large Glasgow audience picture and Michael Ridge© for the picture of Vomir on stage in London last year

Roger Batty