All the world is a open grave… [2011-02-13]Bördel Noïr produce some of most dark, damned and death encrusted Harsh Noise wall ever made. The project is highly secretive and originates somewhere in western France. Below is a very rare email interview with project…and keeping in with the projects need to remain anonymous there simply know as BN, for of course Bördel Noïr

m[m]What first got you interested into noise & in particular HNW ? & is there one certainly album or track that really inspired you to start your own project?
BN As far as I can remember I have always been in lust for noise. by chance I heard very early, at home, artists like Varese, Partch, La Monte young, Henry, Xenakis etc .. among other weird stuff like Magma & Coltrane ("OM").

BN The child I was, was & is still fascinated by metal scraps, rust, destroyed machines, well, metal junk in general. My pleasure was to break motors & explore what was inside. Their ready depths. First the pretext was to find copper & bring it back, as a kind of treasure hunt.

BN As a child I lived in a port, almost dead, a sinister & ruined place, so tons of metal junks were available. Then the obsession with Noise emerged. not as music, not as art, just naïve childish lust for funny noises. Anyway I began to record some of these noises with a walkman in order to listen to them again in bedroom. Since then the treasure was noise, and not an longer copper. I still always have a piece of metal on my person, to scrap everywhere/ everytime.

BN Then I heard Einsturszende Neubauten. It was folk bruitism to my ears, but at the same time I realized that my childhood pleasure of noise could easily turn into an artistic activity. I remember a quote by Einsturszende Neubauten: "we are like prehistoric beings, we make sounds with our environment material." So true….
Next I heard Throbbing Gristle, & all the other industrial hoard, but only old stuff. I discovered pedals, other devices than metal junk, & began to experiment industrial noise. nothing really good.
I listened Merzbow a lot, but I really got on harshnoise after listening Black Leather Jesus and Richard Ramirez solo works. "Crash & Honour", "Audio negativism" & "I keep my stuff inside" where my first encounters.
This was the definitive step, or better punch in the face, because of the raw, filthy sound, the obsessional character of their works, & the audacity & fun I felt they have doing it. he's got noise in his veins & that's all. I make noise because of Richard Ramirez.


m[m]When did Bördel Noïr first come about ? and how did you decided on the projects name ?
BN In 2007-2008 , my own noise was already static, but I wasn't satisfied at all : there was something missing. & for sure there's one album that inspired me to start my own project, or helped me to really obtain the sound of it. "Possessed Nun Sleaze" by The Rita. obsession for depths was unchanged. I often walk near a river, by night, out of the town. I feel it's a real black place, on a magical aspect. each time I feel there a black bestiality, something that comes from under earth, not only from the river. one night I went to this place just after listening to "Possessed Nun Sleaze" & here it was : the noise & the place provided me exactly the same feeling of some roaring bestiality, violent & black, coming from the depths, the muffled growling of some monster, at rest but grimly so , it knows exactly how to possess you, how to awake in you from your own depths, to trip you out of civilisation.
Back home, I began immediately, I plugged in two DOD Death Metal , one equalizer, one vocal mic lying in a radiator, and just listened for hours what was going on, making little modification from time to time. Surely after this walk I was in a kind of alternated state so all was very instinctive, & after maybe one hour I didn't make other manipulation : I stayed in front of the amp all night long, & was very impressed by something I wasn't waiting for: the wall was static , black & deep ok, but I noticed some haunted "voices" coming out of the amp, something very commonly you can hear on many HNW releases, but I never really noticed it before.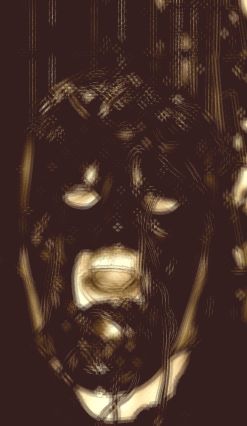 I was hypnotised by this repetitive flow of ghostly anonymous voices in the distance. The same spirit I'd felt as a child oppressed with noise : the noise hidden in the depths of a dead motor, the noise hidden in pedals & amp if you use them in a "deviant" (?) way. maybe the ghost in the machine.
Anyway, noise of static depths, static death was in the room, it was HNW & I decided to start a HNW project.
I worked on it, and at the end of 2009 I thought some walls worthy of a listen by others. I put some online and a week after Robert of Unearthed - Corpse candle etc contacted me for a release on his label Spider Tapes that was about to start, 6 months later. A few weeks later Geluidoverlast contacted me too. Bördel Noïr appeared with these two first tapes, "s/t" & "silence".
BN The name of the project is older than the project it's self. the words "Bördel Noïr" were written in black on aluminium paper in my room, it was a writing project ( & I go on writing, it's as important as noise), and quite a project of life, or the perception I had / have of things, in a period of total chaos and insanity, excess, & the first irruption of schizophrenia. Bördel Noïr means Black Chaos & Black Brothel at the same time. I will stay decent as a virgin on the second aspect of the name if you don't mind. the name is influenced by Bataille writings, as some walls titles like "silence" or "la mouche hilare".

m[m]All your work with Bördel Noïr has a real obsession with skulls, crypts, & graveyards __ Where does this come from ?
BN it comes from experiences in dreams / nightmares / hallucinations / somnambulism / catatonia. I always have the same dream in which I am trapped in a black pit, a place of terror totally inhuman & unknown, & I must say totally "simple". sounds here are silence & terrific sounds at the same time. This dream burnt early a hole inside of me. I perceive myself not as a person but as a black hole, that's why places of death obsess me so much.
m[m]Do you have any favourite crypt or graveyard that you have visited ? & have you ever had a strange or unexplained experience in them ?
BN hmm... the very answer is in answer to question 3... anyway the catacombs of Paris are fantastic... I've been very impressed too by a graveyard in Hungary, in a forest close to Romania, there's no indication at all on maps, you just suddenly see thousands of pieces of woods rising from the ground, in like tooth form, & without anything written on theme : these are the graves. What interest me most in these places is the weird nature of silence & sounds when they are in the light of death, & of course always this depths obsession. A crypt is like a gored temple, as noise is a gored sound. I haven't experienced more unexplained experience in those places than in other places. as I suggested my truly deep obsession is for holes, "orifices", & there are holes everywhere ; fixing just a little hole in the wall of my room provided more unexplained journey or sudden manifestation than catacombs. mon voyage est immobile.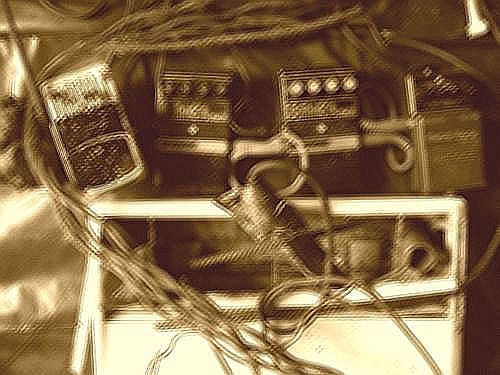 m[m] How often do you make walls ? and what equipment do you use to make them ?
BN my set-up is very basic : two DOD death metal, a Metal Muff, Boss Ds1, Boss Metal zone, Octaver, Graphic Equalizer , Parametric Equalizer, & Mixer. the only pedal that I never remove is the Death Metal. as source material, I use a vocal mic lying on the floor, or I put it in a radiator , or it can be a jack instead. another source material I use is a storm of white noise coming out of a radio I bought especially for it, because this radio is dead & you cannot obtain other sound from it than this white storm. when I wanted to buy , the guy thought it was a joke, & he almost gave it for free. the only thing you can modificate is volume, treble and bass. it's a great joy to listen to all these dead singing, howling on radio & to offer them the possibility of more death through distortion. Another source is a contact mic fixed on metaljunk & I play with hands on metal, the slower I can. I use my own walls as source too, to make the black beast screw with herself, to go deeper & deeper in the hole, to push the hole in another hole, endlessly, unto bottomless pit. in the future I will use the same sources, but i'd like to explore some recordings of metaljunks I collected through years, or other noises. many possibilities.
BN I make walls every day, & each set is long. I need a lot of time. this noise must really invade the room, my body, everything, I want to be trapped in. I like to plug & listen the noise for a while before doing anything, in order to be already in an hypnotic / somnambulist state when I go on the set-up & begin to perform. & when I release it's only always after hours of walls, if I don't experience dissolution , if there's no radical impact on me, I won't release, I will stop & wait better moment. what I prefer is the strange black peace & immobility that invade me physically, when this catatonia or cataphonia is here it's pure joy. but doing the whole thing is real fun, the entire process is fun.



m[m] You are very secretive about your identity - why is this ?
BN I want to remain totally anonymous, Bördel Noïr is enough name. for the moment, at least, nothing is definitive (?).

m[m] Would you ever be interested in playing live ? and if you would you wear a mask or disguise to do it ?
BN I'm schizophrenic & cannot afford to do gigs, I cannot stand being in places where there are too many people. I know my only personal limits, a braincrash could irrupt. Solitude is a vital necessity.
Maybe things will evolve, I don't know.
I often wear a masks & disguise when I make walls now (even if most often my face skin is enough mask) one of my favorerts is a womans black dress, & a shawl I put on my head _________ like a Spider Transvestite.
It's an ingredient that can provide alteration of perception, & I feel like it's as in some rituals, where you have to wear the disguise or signs of the entity that will possess you. so I wear the skin of death to enter the death walls. but I do it as I feel it, I hate serious aspects of rituals, I prefer grand-guignol laughing madness, without respect for anything. Chaos.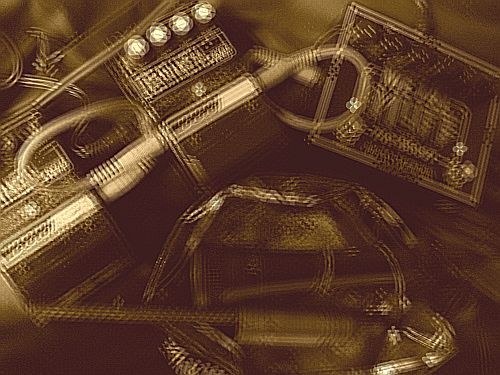 m[m] What other kind of noise, sound or music do you enjoy listening ?
BN Tons of industrial & harshnoise, still. I won't make a list, there are too much. beside this, raw black metal, & quasi-exclusively Les Legions Noires different projects. many Tibetan & Hindustani music.
The New Blockaders , Rudolf eb. er, Runzelstirn & Gurgelstock, A.M.M & finally, all the concrete noises & sounds I can hear , in my flat or outside, for example I stay for hours each week in front of a big fontain, which has the configuration of a wall of water, vertical, she teachers me a lot. like for holes, I 'm attentive to her little sounds, what I call dwarf noises.


m[m] What are your thoughts about what happens after death ? BN..... a chaotic redistribution of energies, without any coherence... maybe... Madame Mort pushes you in another room or corridor of her hilarious brothel, & it changes nothing to the grotesque cosmic screw... but what is after or before or during does not really fascinate me... I feel more a kind of instant-pit in which everything is present at the same time (I mean we can experience this at each instant-pit in this life), all multi-universes, all dimensions, all your doubles, etc. What we perceive as our life is only a little ray of a black star.... & it's bottomless, futile, joyfull.
I will stop here , because I guess I could make an endless blah blah about it ... I will only add that it could be a great experience to realize the incarnation, the material presence of so-called "after-death" IN this life.
m[m] Have you got any releases lined-up ? if so can you tell us a bit about them ?
BN My latest release is the split c60 with Placenta Lyposuction (on Underground Pollution R.). the next one will be a 18 mn wall called "Hors" on AnarchoFreaksPr. both of them focused on dense crunchy textures. A split C47 tape with White Gimp Mask, & a split tape with Four Flies will appear too, with a more agressive sound for both of them. A huge 6X90 cs Box is planned on Masonry R. : 12 sides / 12 walls. we planned it before last summer, so all of these walls are from this last summer sessions. I cannot wait for the final result on tape, I had great moments making them, it was a summer of total immersion in this box project. last thing : I will maybe start two collab projects beside Bördel Noïr, or be part of something, but it's all under construction, so I wait before telling more...

Thank you so much to Bördel Noïr for their time/effort with the interview, and the great pictures that have been further corrupted at M[M] towers. Bördel Noïr myspace site is here http://www.myspace.com/bordelnoir
Roger Batty