An interview with Black Sun [2010-12-17]Glasgow's Black Sun have been prowling the interstices between hardcore, industrial and metal since 1998 when Russell McEwan (R.MCE), then drummer with indie-rockers Macrocosmica, got the urge to record his own darker strain of song. The resulting album, Fleshmarket, was made on a PC using self-sampling loops with the assistance of guitarist Kevin Hare (KH) who also shares vocal duties. Soon afterwards Graeme Leggate (GL) was recruited on bass to form a lean squad equipped to take their heavy, brooding sound on the road. Since then, the trio have recorded a further five albums together and continue to play regularly across Europe. In addition to their dedicated honing and evolving of their powerful performances on stage and on disk, McEwan collaborates with fellow Glaswegian Kylie Minoise as Atomized, while the band recently diversified into a tribal, performance-based faction (Black Sun Drum Corps), as well as collaborating with Jarboe and Oxbow's Eugene S Robinson (ESR) who kindly chips in during this interview.

m[m]: Your sixth album 'Twilight of the Gods' was recently released - all the songs have been part of your live set for the past year or more, and you've been posting links to demo versions on your website for some time now leading up to the album's launch. Does this suggest a new, more extended developmental recording process for Black Sun than before? Did any songs change radically as a direct result of this R&D process?

R.MCE: This time around we wanted a much more developmental time period to truly bed the songs into the live set. Make them fun to play as there is a musical complexity for us not experienced before. Also the nature of writing something we like then adding vocals to the recordings then learning how to play it all live all over again. Only time and practice achieves this for Black Sun.

KH: After the release of Paralyser we wrote intensively, certainly we're always jamming on ideas, but at that time we just had so many ideas and wanted to explore them to their fullest. There are a lot of influences we have as a band not just the obvious ones mentioned in articles. As such many songs were indeed different beasts at the demo stage some more than others, the title track in particular was originally 15 minutes long. In the lead up to recording we reviewed the material closely making it as good as it possibly could be and this is evident in the finished recording, it's head and shoulders above our previous albums, and that's down to the time taken to craft each and every part.

GL: We are constantly writing all the time, even right up until the second recording session where we rewrote some of the parts to the title track 'Twilight'. We aren't happy with a song until it's right, nothing is done half assed in Black Sun, it's either right, or we work on it some more to get it right.

R.MCE: Songs such as 'Crawling like a Leech' did not make it on to the album. Currently we have around four to five songs along those lines at different stages of development that were conceived as part of 'Twilight of the Gods'. Title track 'Twilight…' is a radical departure from the original and has gained power as a result. I think when we had the benefit of having all the songs at our fingertips – much more than could fit on the album – it was inevitable some would not make the cut. At the moment the band are concentrating on rehearsal of our live sets and getting the new material as tight as our well known material.


m[m]: Compared to your previous releases, 'Twilight…' sounds like it has a bit greater dynamic range with more contrasting elements. As a result, it feels, dare I say it, a bit more accessible without compromising its force. Was this an intention at the song writing stage or did it evolve out of the recording process?

R.MCE: It was important for us to really focus the attack of all our songs, playing and approach to working in the studio. Time is money and we strived to get as much for the money as possible.

m[m]: It was recorded with Duncan Cameron (Teenage Fanclub, BMX Bandits) at Riverside Studios. You've previously recorded with James Plotkin (OLD, Atomsmasher, Khanate, Khlyst) on your 'Sacred Eternal Eclipse' (2006) and 'Hour of the Wolf' (2007) albums, and Billy Anderson (Melvins, Neurosis, Swans) mixed a track a piece on 'Hour of the Wolf' and 'Paralyser' (2008). How different is the experience of working with these outside influences to recording in isolation, and how much does it affect the final result? Are there other producers or engineers you'd like to work with in future or can you see yourselves going back to a self-produced approach?

R.MCE: I think we've recorded in just about every situation possible for us: self, tracking with engineers with self-mixing, and having it mixed and mastered externally in the case of Plotkin and Anderson. This time there was a combination of Kevin Hare recording and mixing album demos at our rehearsal studios in Glasgow then taking the demos to Riverside with Duncan to illustrate certain ideas we wanted for each song. Working intensively in the studio is certainly more consistent in approach and maintains momentum in the sheer quantity of work involved. We completely lived that album for two years straight and it was important to see it right through to completion.

KH: When we'd worked with James and Billy in the past it was a shame that we couldn't actually have them over here in the flesh as that would certainly have speeded up the process rather than mixes flying backwards and forwards across the pond! In terms of actually being in the studio with them from the start then I think those albums would have been very different, recording in isolation with the engineer is, I feel, the better approach as you are getting their skills and input from the start of the process. Being able to do that this time with an engineer as skilled as Duncan Cameron was invaluable. I'm actually an engineer at the Riverside Studios in the smaller Studio 2, and I'll certainly be demoing any new material in there rather than my home rig like the Twilight demos were. I'd happily work with Duncan again the sounds and performances he got out of us on this album are amazing, and there are so many engineers I'd like to work at some point in life - Matt Bayles, Kurt Balou, Sandford Parker, Joe Barresi and probably Steve Albini are highest on the list. These guys have made many of the best records I own.

GL: In the past we've done a few albums that have been self produced, but I think the band has benefited greatly from working with outside influences. Duncan Cameron in particular is great to work with. He knows exactly what the song should sound like and won't comprise, it works well, falling in line with our work ethic too.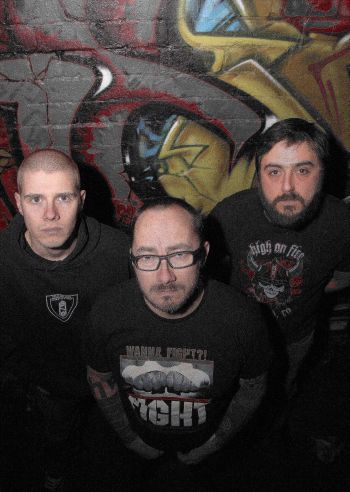 m[m]: You've said that one of the appealing factors of working at Riverside Studios was that you get to record to a one-inch analogue master tape. Having straddled both analogue and digital technologies in the past, what is the key difference for you between these options and do you have any specific apprehensions about either?
R.MCE: 'Twilight of the Gods' was recorded to Protools HD. Studio 1 at Riverside is brand new and there is a strong combination of state-of-the-art digital equipment mixed with vintage analogue gear. We basically went with what sounded best for the song at each particular moment. 'Paralyser' was recorded to 2" master at the old Riverside studio and I still like the sound of that album.
KH: People will always be divided but I feel that these days there's not a great deal of difference between high end digital and analogue tape much depends on the skill of the engineer and the rest of the equipment like the desk and mics that are being used. A combination of both yields the best results.

m[m]: Digital technologies have made it much easier to record and produce music, enabling more people than ever before to release their attempts. Do you feel that this dilutes the art form making it increasingly more difficult for anyone to be heard, or, conversely, does it maybe encourage more innovation and requires people to listen with greater discrimination?
KH: I think it encourages more innovation - the results that can be achieved using Pro Tools 8 with good plugins, a good analogue desk and a couple of decent compressors are fantastic, but you can't beat an experienced engineer with a studio that has great sounding rooms and a vast quantity of gear at their disposal. And that's when it all comes down to what you can afford to do at the time and I think people can forget that sometimes. Lots of early hardcore albums sound quite mental at times but they're still amazing fucking records, so for me it still comes down to how good your tunes are.
GL: I'm all for it. Good always shines through the bad. Yeah, there are going to be great bands that fall by the wayside, but if something is truly special it will find a way.
R.MCE: Writing a hit song, ie: someone wishing to buy it, is still an elusive skill despite any mentions of formula or genre I see and hear. Getting people to hear Black Sun's music is a constant to us and that's why we love playing live.

m[m]: Black Sun's sound blends elements of hardcore punk, industrial and metal styles, emphasising the bottom end for maximum weight while retaining a strong, almost militaristic rhythmic discipline. Meanwhile the lyrics seem to have correspondingly dark themes often involving religion, crime, warfare or suicide. You've said before that you have suffered from depression and loss – so, is this extreme end of the music spectrum a cathartic way to cope with such things, maybe in a similar way to primal therapy?
KH: Yeah i'd say so, over the years it's definitely helped me. Everyone has demons to some degree and I'm lucky enough to expel mine on a regular basis!
R.MCE: I think the only therapy in the music is personal. That's certainly the source of any lyrical theme. People have to make their own decisions about helping themselves despite any reading into my lyrics. I do listen to songs by other artists and bands and get totally wrapped up in them for a while but still you have to deal with whatever challenges your life presents. And there was never a time in your life when you did not have to look after yourself.

m[m]: Russell, your myspace page indicates you graduated from Glasgow School of Art in 1990 with a BA in Fine Art and you used to have a job as a video editor. Do you still work on any visual-based projects? What experiences from the world of visual art have you brought into Black Sun's creative processes? Which visual artists most influence Black Sun?
R.MCE: I've shot a couple of Black Sun promos such as 'Disintegrate to Khrist' and cut our music to freely downloadable films such as Merhige's 'The Begotten'. The visual skills I have are used directly in cover design and merchandise but mostly it's the process of collaboration with Kevin and Graeme which maintains my drive over the last ten years. I don't really separate any ideas which come to me and I've always kept sketchbook/notebooks. I like the fashion design of Alexander McQueen and Leigh Bowery and with Black Sun Drum Corps some of my Scottish Highland heritage in the use of kilts etc.

m[m]: Many interviewees have asked about your musical influences and amongst a wide range of artists from different genres you have consistently cited Arvo Pärt's 'Alina'. What is it about this piece that makes it so important to you? Have you considered using classical instrumentation in Black Sun compositions?
R.MCE: 'Alina' just completely crushes me; much more so than anything considered 'heavy'. Often it'll come on the iPod on random and I almost have to sit down. I was fortunate to hear some Pärt live at Glasgow University Chapel last December and its beauty is indescribable. Very little on BBC Radio 3 or Classic FM floats my boat. It's all so lacking a tune. I have worked with cellists in other collaborations and I wouldn't rule anything out for Black Sun.
KH: I certainly wouldn't rule out any classical instrumentation as long as the part or instrument was right, if we'd been in the studio longer I'd have liked violin or cello on 'Transcending The Mire'. I've always loved how classical music has always directly influenced all forms of Metal to some degree.

m[m]: Kevin mentioned earlier that you have a lot of influences and "not just the obvious ones", which influences do you have that you think would be the most surprising to your listeners?
R.MCE: Kevin is a major Iron Maiden fan and he has an extensive music collection; he catalogues them by band, album title, genre and producer. Sometimes I go round there and get all the CD spines in colour code like a huge rainbow. Everyone in Black Sun has a hugely wide ranging musical taste and I think it's necessary in order to hit all the emotions and differing states of mind in life. Currently I'm listening to Free Church of Scotland hymns which have no musical background and are call and response phrases from the bible rather than songs.
m[m]: Russell, you work with fellow Glaswegian Kylie Minoise as Atomized, which sees you sporting a Leigh Bowery-ish look while working with layers of intense noise carved out of cheesy pop music from the eighties such as Howard Jones, Madonna or Haircut 100. Is this more improvised in nature than Black Sun's well-rehearsed sets, and does it hint at any guilty pleasures in your listening habits?
R.MCE: Atomized was actually rehearsed as fuck. I never really leave very much to chance in terms of set structure. However the character I played 'Lovely Feyde Rautha' began to blur with my own and tapped too deeply into areas of my personality I'd never encountered before. It's great working with Lea Cummings (Kylie Minoise). He is a consummate professional and a total inspiration.

m[m]: Do you have any further collaborative projects lined up with Mr Cummings?
R.MCE: Lovely Feyde Rautha is returning as The Snow Queen. I still listen to Visage and Atomized were an intense processing of many of the pop bands of the 1980's given a power electronics edge and visually raped in the live situation.

m[m]: I was lucky enough to be a volunteer in your Black Sun Drum Corps at Birmingham's Supersonic Festival earlier this year. It highlights a more tribal, ritualistic side to Black Sun and invites novices (like myself) to be part of a group-drumming-based performance. What made you embark upon this path, how many Corps have there been to date and have the results been consistent?
R.MCE: The Corps is an extension of the collaboration with Kevin and Graeme extended to Pete Flett (Holy Mountain), Ross Rankin (Titus Gein) and Matt Evans (Guanoman). I also had costume and makeup design assistance from Vicky, Andrea, Connie, Victoria and Cat. With that team round me I couldn't fail. There was a strong sense of what everyone's purpose was that weekend and we were augmented by twelve participants of differing abilities. My roots are industrial with Test Dept and Laibach featuring strongly. Mix that in with the metal that Kevin and Graeme bring and the result is our set at Supersonic 2010. Last Christmas was the first Drum Corps in Glasgow and it was a huge success. We've been asked abroad and I also have another Glasgow show in March 2011. Join the Corps!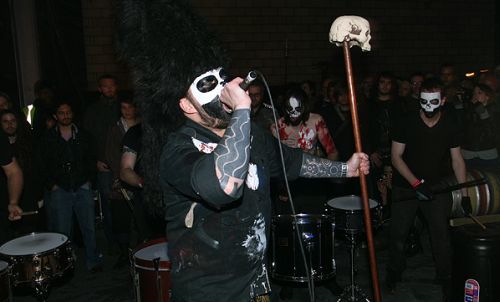 m[m]: Your live performances, be it Black Sun, the Corps or Atomized, can include theatrical elements, be it face paint, costume, video wall or even burlesque dancers! How do you go about designing a performance and have you any experience of theatre or performance outside Black Sun and Atomized?
R.MCE: My background is site-specific performance installation influenced by artists such as Alastair MacLennan, Joseph Beuys and Hermann Nitsch. I started by taking over spaces at art school in Glasgow and occupying them for anything up to a week at a time. I would make endless loop cassettes and create a mood which I lived in for a while. Found costumes and props mostly from skips which was de rigour at the time formed the content around my body which was equally as important as the found material.
m[m] Have you played any non-typical venues, or have you any ambitions to in the future?
R.MCE: The straight answer is yes. I never talk about any projects still in research and development mode directly but I'll publicise and concrete events.

m[m]: You regard your live performances as of equal (if not greater) importance to your recorded releases. Would you consider putting out a live album or DVD to capture the live Black Sun experience?
KH: The live performance is the real raw energy of it all where anything can happen which is why I'm sure people in bands play, and the studio side of things is like birthing a monster! Both equal in my book. I'd love to put out a live album but the time and the recording has to be right. We do keep any live recordings we get so who knows what will surface. As for a DVD at some point I grew up with the Pantera ones and have quite a few more so I'd be into that!
R.MCE: In the main I hate live albums with a few exceptions. I have some archive Joy Division in which a few tracks captures something of the moment. I couldn't completely rule it out as Black Sun is a group effort however.

m[m]: Black Sun has played all over the Europe and debuted in the States last year. You said that you can find London audiences "quite reserved". Which places have given you the best reactions?
GL: Ireland has always treated us very well each time we have toured there. Some of the places up north also like Dundee and Elgin have been fantastic too. Also, we toured Portugal and Spain last year, and the audiences were amazing, they were so appreciative of a band coming a distance to play for them. I think that a lot of bands would bypass these places and just play the big cities, but I think most of our really special shows have been in the unlikeliest of places.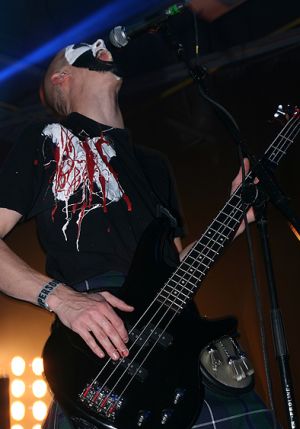 R.MCE: Countries such as Portugal and Spain are very passionate and demonstrative about Black Sun which is great. Every single place we play is different and so many factors are involved in the live environment that not being able to predict the night keeps you interested. Creating an intensity of performance is our main aim.
KH: The times we've been in Portugal and Spain have been immense; people there just embrace heavy music in all its forms. Cork and Ireland in general, the
Midlands, and I always love the 13th Note in Glasgow.

m[m]: Russell, for the first Terrorizer Grindhouse gig you performed a solo DJ set – do you have any particular stylistic methods when DJing, or is it more about the selection? If you were DJing tonight, what would be on your set list?
R.MCE: Think I lasted about half my set that night! I'm too eclectic to stick to one genre but it is good to have people dance to your favourite music. Probably should have had way much more power metal for the Grindhouse audience. I like to dance and I still do to early Nitzer Ebb. Anything with really heavy drums and bassline is likely to get me moving.

m[m]: Which track ended up clearing the floor then?
Severed Heads 'Propeller'. Australian electronic maestro Tom Ellard's twisted dance track and I've always loved it. I first heard all that stuff at Psychic Youth benefit discos in the late 80's in Glasgow run by Psychic Jim McGrath who ran Echo Records in Byres Road.

m[m]: Eugene Robinson of Oxbow joined you on stage at last year's Roadburn festival and appears on the latest album. How did this meeting of minds come about and do you have anything further planned together in the future?
R.MCE: Been a fan of Oxbow for years and years and started chatting to Eugene online round about 'An Evil Heat' album. When I saw we were both appearing at Roadburn I suggested we collaborate on a Black Sun track 'Tabula Rasa'. We sent E the demo and lyric sheet and then met for the first time onstage. I knew Eugene would be great and there are a couple of Youtube videos of the performance too.
KH: I'd love to do an EP or album with Eugene, he's so in tune with what's needed and delivers every time. And he's a great laugh!
ESR: The weird and interesting thing about musical art in extremis is that the great weight of dark and darkening themes overshadows that these are essentially just post-World War 2 existential concerns regarding our inability to enjoy Rolls Royces and fur coats like god clearly meant for us to do. Life is capricious and unfair and sometimes brutal and always unyielding. Buckets of cash make it all easier to endure. Barring that force of arms. It just so happens that we're closer to being able to bring force of arms to bear here, and therein lies my personal affinity for Black Sun and I would guess their affinity for me and Oxbow: we'll never "make it" though it's quite clear to all involved if we don't? No one should.

m[m]: Your other major collaboration last year was where Black Sun performed as Jarboe's band at Supersonic Festival. How did this come about? Did you get to rehearse with Jarboe before the performance?
R.MCE: Jarboe's main backing band was Esoteric from Birmingham whom she's toured Europe with and I just augmented the percussive side of things. We rehearsed the night before and it was a very exciting time for me being a huge fan of her work. I also learned a lot from her approach to working with musicians. Jarboe is our equivalent of a diva; an elder stateswoman for all things musically intense.

m[m]: As well as the latest album you recently hinted that you may have some "noise releases" coming out on cassette. Can you tell us a bit more about these? What else do you have lined up for the future?
R.MCE: We appear on a Black Flag tribute cassette compilation called 'This Is Good' recently released on Land-O-Smiles Records in the US and Lee Bartow of Navicon Torture Technologies is compiling a 'cunted' noise remix cassette of Black Sun's 'Code Black' and 'Crawling Like A Leech' songs.

m[m]: What has made you laugh recently?
R.MCE: 'Papa Lazarou Speaks To The Dead'
KH: National Lampoon's Animal House ALWAYS cracks me up!
GL: Rejected Star Wars promos. I really want a death star BBQ

Many thanks go to Russell, Kevin and Graeme of Black Sun (as well as Eugene Robinson of Oxbow) for taking the time out to chat with us. Pictures three & four used in the interview were taken at this Supersonic Festival by Lee Edwards (c)
'Twilight of the Gods' CD is available now with a vinyl release coming in 2011, distributed by Southern.
You can keep track of Black Sun's varied activities across the following sites:
www.future-noise.co.uk
www.headofcrom.com
www.thesleepingshaman.com
Black Sun: www.myspace.com/black_sun_1000
Black Sun Drum Corps: www.myspace.com/legionofblacksun
Russell Cuzner