Sombre Romantics [2002-03-05]Virgin Black, how do they sound? Hard to explain. I'm sure the band members themselves have trouble answering that question without feeling like they are leaving much unsaid. One thing is clear to me though: they are a metal band. The catch is that they don't always play metal. I had a conversation with lead guitarist Samantha, hoping she could clear things up for me. m[m]: Hi, lets start right away with the typical question to get it out of the way and inform our readers who are not yet familiar with the band; could you tell us about how and when the band was formed, what other material you released, how do you describe the style of music that you play and who plays what in the band?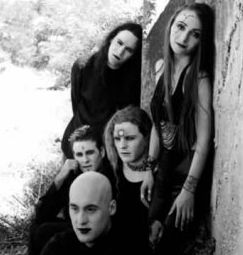 Samantha: Virgin Black's sound had already been initiated prior to the inception of the band. I had written a lot of material and began working with several other members (Craig being one of them). But in my mind, the true inauguration was when Rowan London, after hearing some of the written material expressed much interest. He shared the same affinity, passion and vision for music which consumed my heart, and it was an inevitable bond. Soon after in 1995 our self-titled demo was released, which generated a small yet avid cult following. After hearing the songs, Dino moved from Melbourne to Adelaide in order to replace our temporary drummer. Our next release was an E.P. entitled "Trance". During this period opportunities were bestowed to sign with various small labels, but we chose to hold back and work toward an album where we were ensured full control of all aspects. Our forbearance was rewarded by the enthusiasm of labels such as "The End" (US) and "Massacre Records" (Europe). The music is a melange of classical, doom, black, gothic, opera, - yet inherently formed within us. To me, it is a composite of emotions. The band consists of: Rowan London (vocals, piano, keyboard) Ian Miller (bass, vocals) Craig Edis (guitar, vocals) Dino Cielo (drums) and myself, Samantha Escarbe (lead guitar). m[m]: Now that "Sombre Romantic" is getting decent distribution and coverage in the North/South America (and the rest of the world) and that the promotion machine is running, does it feel a little strange to you since the album was recorded nearly two years ago (correct me if I'm wrong)? Do you feel that is still representative of the band as it stands now, or do you think you evolved even further? (as a sidenote, I think Solefald was in that same situation with their "Pills.." album).Samantha: When we write, we use whatever sound, whatever instrument and whatever method necessary to best describe an unfolding story. We aim to capture a mood, not a style. I believe this is timeless.I am not afraid to use music written five years ago; if it is evocative and powerful, and perfectly portrays the words, then it will be used. This is an area we do not fear.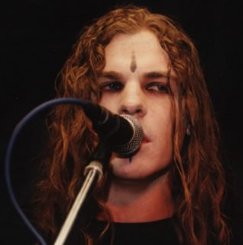 m[m]: I was also wondering, how did you get that great production on your debut? I remember not too long ago when nearly all bands had relatively bad sound on their first album, and now you release a very ambitious CD full of choirs, subtle string textures and crushing guitars that literally come out of the speakers as if the band was playing live in my closet. It must have cost a fortune! Who inherited family money in the band?!Samantha: Every detail on the album was executed by the band. It was self-financed, self-recorded, self-produced, as well as photographing our own artwork. Before entering the studio, every detail was perfectly formed within our minds. This saved a lot of studio time. And because we executed it all ourselves, we saved a considerable amount of money. (When you work with people like Rowan London, it is difficult to walk away with a product which is less than perfect!). it was definitely a learning experience, and hopefully for the next album we will be able to further build on those experiences.m[m]: I really appreciate how it seems like the band built each song from scratch, not using any formula or "Song-O-matic" machine. I believe it succeeds in giving a distinctive personality to each piece. How do you approach song writing? What are your main influences (musical/non-musical)? Is the band working as a democratic entity or is it more like a dictatorship (not necessarily a bad thing)?Samantha: Rowan and I always write alone, yet share the most quintessential musical relationship. Nothing is ever written at rehearsal. Words are written for music and music is written for words. One element feeds off the other, and all the instruments are usually developed in unison. We don't restrict ourselves to our main instrument of choice, and songs are often completed down to the guitars, drums, piano, strings and vocals etc. prior to the rest of the members even hearing the first note. But when it comes to learning the piece of music, each member has the opportunity to further embellish with their own particular characteristics.I feel we are inspired rather than influenced. To be influenced usually creates a product which possesses a semblance of that which influenced you. But inspiration is unpredictable and usually does not reflect the source. For example, we could be inspired by the mood of a classical piece which could spawn a black-metal sound. Mood is the greatest inspiration. Personal experience is also undeniable.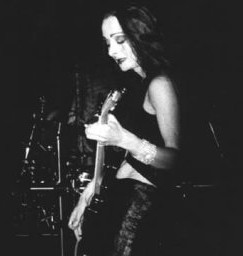 m[m]: How did the idea of incorporating electronic elements, mostly percussions, come up? I find the way they are used very original and effective…The organic vs. synthetic elements are balanced in a way that I haven't heard in many other bands. It just sounds natural, and not cold..Samantha: I'm not sure that I agree with the "not cold" sentiment. I think the harsh industrial type beats work well because they are appropriately cold. The moods and atmospheres through the album don't just alternate without justification, they develop, and rise and fall in dramatic sequence with each sound type laying its part. "Walk Without Limbs" features electronic styled beats that uphold the tension in the song toward the subsequent climax and fall into "Of Your Beauty". "Lamenting Kiss" on the other hand maintains a hypnotic feel encouraged by a different type of electronic rhythm. It's harsh and cold in the face of the desperation of the words. Everything has its time and place, just don't expect too cheerful!m[m]: Is there a story behind the band name or did it just sound cool? Samantha: The name (like so many other things on the album) encapsulates contrast. The scourge of being human, and finding purity and beauty within that humanity. Virgin/purity, Black/humanity, almost opposites, but not necessarily.m[m]: I suppose that Virgin Black didn't stay inactive between the original release of "Sombre Romantic" and now, can we expect a new album soon? (well, not too soon, I still haven't discovered all the subtleties of the debut yet). What is the scoop on the next one? Any major changes in musical direction?Samantha: It has been quite hectic since the release of "Sombre Romantic", and you are correct, you can expect another album. Most of it has already been written. We anticipate returning to the studio within the next few months. A scoop on the next one?? Well, it's…….. ah, you'll have to wait and see!m[m]: Well thank you for your time. I wish you great success because I honestly think you deserve it. Anything else you'd like to say to Musique[Machine] readers?Samantha: Thank you Mikhail for this interview and for the fervour and vehemence you have portrayed. The support of MusiqueMachine is truly appreciated."Sombre Romantic" will be released in North and South America by "The End Records"on Feb 12th 2002. The first pressing is a limited edition - which includes a bonus "Trance" EP. And check out our website.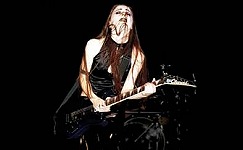 Sombre Romantics
Virgin Black, how do they sound? Hard to explain. I'm sure the band members themselves have trouble answering that question without feeling like they are lea...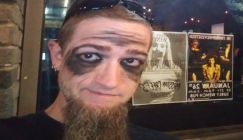 Ennaytch - Vacuum Cleaner Music F...
Here's just shy of an hour's worth of thickly roasting walled noise, that flirts and darts with occasional layer shifts 'n' textural deviation. E...