Of Mossy Banks & Lazy Afternoons [2010-07-07]Jahrtal are a Austrian folk band who make rich, soothing and sometimes sombre, but always beautiful folk music that's lined with earthy and warming 1970's spirit. Their sound is all finished off with sleepy and hazy mainly male, but sometimes female German singing. The band have recently released their second album "William Blake - Lieder Von Unschuld Und Widerfahren" on the excellent Austrian label Ahnstern( home to great often experimental folk acts like Allerseelen, Svarrogh, Sangre Cavallum & Zlye Kukly). The bands main songwriter Ewald Spiss kindly agreed to give me an email interview.

m[m] What are some of your earliest musical memoires? And what started you on the path to make music?
Ewald Music was important for me as far back as I can remember. My father played the big cymbals in a traditional brass band. As a child I often accompanied him to performances, mostly connected with religious Catholic events and special days.
As a schoolboy, I began learning to play the flute and then guitar - first in a music class and later, as a teenager, I taught myself. Together with both of my sisters and a close friend we had a folk group for a couple of years in the 1970s.
Later in the 1980s I was primarily engaged in sound works and acoustic collages and in combination with this in art installations and radio works.


m[m] How did Jahrtal come about? What does the name mean? And is it your first project?
Ewald Jahrtal started in 2007 when I recorded a single containing two songs and had to find a name for the release. The name Jahrtal has two parts: Jahr means year and Tal means valley.
The origin of the name actually goes back to the 1980s when I publicly exhibited my paintings and drawings. At the time, I didn't want to use my real name, Ewald, so I called myself Valdan in variation of Ewald - Waldan - Valdan - Val d'an. Val means valley and An means year in some Roman languages. So Jahrtal is the translation of Valdan back into German. Jahrtal has no exact real meaning but let's think of one (at least allow me to) and associate it with time and landscapes. And this makes sense again.

I was engaged in a number of projects of visual and acoustic arts over the years. Jahrtal is my first project of folk music.
m[m] There are two members in Jahrtal yourself and the female singer Christine- do you write the songs together? And what is each of your roles with-in the band?
Ewald Christine is my dear companion and wife of many years. Sometimes we play songs together. Some of the folk songs in "Lichtbuch" were selected by her. I am responsible for most of the songs and the arrangements.
Christine likes to sing - she has a beautiful voice - but it's not that important for her to carry on the "Jahrtal" project. That's more or less my passion.
m[m] How did you come about getting signed to Ahnstern for your debut album Lichtbuch?
Ewald In 2007 I was looking for a record label to release some of the digitally re-mastered sound works I realized in the 1980s and 1990s. So I came in contact with Steinklang Records. In the same year I also recorded the first Jahrtal CD single "Zwei Lieder" as a sample recording of the William Blake songs which I had set to music in the 1970s. I sent one copy of this single to Steinklang Records and Max Percht, the owner of Steinklang Records and founder / member of Sturmpercht, asked me to do some more songs for a new sampler he was working on at the time. As I did more songs, one song led to another and so on until "Lichtbuch" was recorded.
m[m] Your new album William Blake expands on the sound of your debut by adding in different and new instrumental textures as well as other musical genres was this a deliberate or did it happen in a more organic manner?
Ewald This happened in a more organic manner. The origin of the Jahrtal Blake songs goes back to the 1970s, as mentioned before. For Jahrtal's new recordings of the Blake songs I almost used the same melodies and tried to bring back the "musical" spirit of that time. In addition to that I tried to find an arrangement fitting to each song emphasizing its special message.
Also, it's always fascinating for me to try out new instruments and sounds, although I understand I will never reach a high standard or professional level of playing in doing so...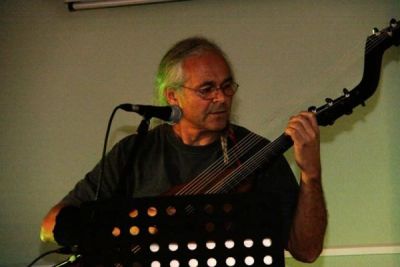 m[m] What made you decide to use William Blake's "Songs of Innocence" and "Songs of Experience" as a theme for the new album?
Ewald As explained before, I wanted to record these poems and set them to music back in the 1970s. I also like and mainly agree with the messages of these poems; messages of a free, critical but always loving mind.
I first came in contact with the poetry of William Blake through Allen Ginsberg's LP "Songs of Innocence and Experience" that I heard on the radio when I was a teenager. I was very fascinated by this music and tried to find this LP for many years in vain. Not having been able to find this record I finally decided to create my own versions of some of the songs. This was the beginning of "Lieder von Unschuld und Widerfahren". The translation of the poems into German was featured in the Jahrtal William Blake CD I did in 2008, just before the actual recording of the songs. This was a very beautiful and interesting work, bringing me very close to the poems.
m[m] Would you like to use any of Blakes works as a future album or track themes? What about any other poets or writers?
Ewald I have not yet thought about this, although it could be an incitement to continue with William Blake songs, another challenge...
Yes, for many years I have been thinking about setting to music the songs and poems by the wonderful Tibetan poet and saint Milarepa.
We will see if Jahrtal will be able to do that.
m[m] What are you top ten favourite records and why?
Ewald 1. Incredible String Band: Liquid Acrobat As Regards The Air - very unique folk with many musical influences

2. Mike Heron: Smiling Men With Bad reputation - brilliant and intense album, I like it's eclectic character

3. Amazing Blondel: Fantasia Lindum - very beautiful music and songs, I wish I could play and sing like that

4. Sandy Denny: The North Star Grassman And The Ravens - very beautiful, atmospheric and intense songs

5. Fotheringay: Fotheringay - great guitars and voices

6. Allen Ginsberg: Songs of Innocence and Experience - brilliant and almost unsurpassable set to music of William Blake's poetry

7. Nick Drake: Five Leaves Left - own and love this classic album since its release

8. Ron Carter: All Blues - very laid back and excellent Jazz

9. Don Cherry: Relativity Suite - great world music Jazz

10. Zygmunt Krauze: Klavierkonzert - very rarely to hear and hard to find great subtle new classical music
m[m] Do you ever play live? If so whats your set-up like? And any chance of seeing you play live in either the UK or the US?
Ewald There was a single live performance in St.Koloman near Salzburg at the Steinklang folk evening in September 2009. I was performing some of the Blake songs playing my old lute and an instrumental version of "Fein sein" on my dilruba. Christine was with me but decided not to perform with me. I was very nervous even though there were only a few people in the audience. It was a cold and rainy evening, my fingers were stiff and I was starting too fast. I was not satisfied with my performance at all, although some friendly people in the audience told me that they liked it.
Anyway this folk evening continued much better with a very brilliant performance of In Gowan Ring together with Lisa O Piu followed by the Austrian band Klammheim.
I do not know, if there will be a chance to play live in the near future, because I am quite bound to my family and responsibilities.
In addition to that I do not consider myself to be a great performer. I am more like a drawer and painter working in the studio or in the field solely without an audience. Anyway, if the right circumstances should arise, it could be possible for Jahrtal and for me to play live again.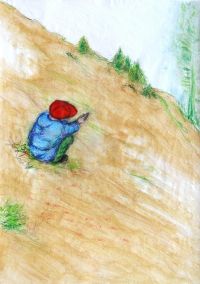 m[m] What's next for Jahrtal? And have you started work on any new material yet?
Ewald Jahrtal recently is working on some musical themes for collaboration with the Serbian band Prkos Drumski. Another idea is to set into music a Buddhist fairy tale. Another long time idea is to pay homage to my teachers - this could become a crossover project between Jahrtal and the sound works I did in the 1980s.
Yes, there are some ideas - but there is no hurry - we will see, what time will bring about.

Thanks to Ewald for his time and efforts with the interview and let me use some of his pictures for the interview. You can hear some of Jahrtal work at their myspace here. Their two albums were released on Ahnstern and can be brought direct here.
Roger Batty