The Monolithische Aktion label interview [2010-05-14]Matt Nihil runs the German based Monolithische Aktion label and records under various names – currently, most prominently MX Nihil and Die Reitenden Leichen. With, among other things, his outstanding material, excellent label roster and perfect art direction he has increasingly managed to enthrall noise and hnw audiences. We asked Matt to do an interview and found he was happy to. His insightful thoughts and answers you can read below!

m[m] Firstly, thanks hugely for wanting to do the interview – hugely appreciated!
m[m] Alright, to start off, could you tell something about how and when you got into noise? I personally did not catch on till last year, but you seem to've been around for a while already!
Matt I started my old label "World Nihil" and my first "proper" Noise & Industrial-project "Black Light Orchestra" in 1999, but my earliest Industrial & Noise-works reach back to 1997.


My first encounter with Noise and Industrial music was through an article in some Punk-fanzine around 1997. Back then I was 16 years old and very much into Hardcore-Punk, Grindcore, Powerviolence, Death Metal & Noisecore. When I read the article about the early Industrial music (Throbbing Gristle, SPK, Boyd Rice …) it hit me like a lightning bolt. The descriptions of the Industrial-sound and its aesthetics read exactly like what I was searching for, but I had no idea where to get these records and I had no internet back then. So I decided to create my own Industrial recordings (or what I thought it could sound like) just for myself and so I did. At that time I recorded Noisecore and very trashy Grindcore and Punk-stuff, so I had a little experience with recording-equipment etc.


Later I found the address of the Artware Audio mailorder and some other Industrial and Noise related ones in another fanzine and bought the first Industrial and Noise records (Throbbing Gritsle and Non / Boyd Rice stuff). I guess this was in 1998. Especially Non / Boyd Rice's early works heavily influenced me. Other musical influences were 90s Japanoise and 80s Power Electronics like Incapacitants, Hijokaidan, Whitehouse, Mauthausen Orchestra, Sutcliffe Jugend …


m[m] You ran the World Nihil label for a while and are currently putting out material through Monolithische Aktion; besides that you also seem to record actively. Does either of these things have priority for you? Is there anything you prefer doing?
Matt Well, if I had to choose between those two activities, I certainly would choose to work as an recording artist myself.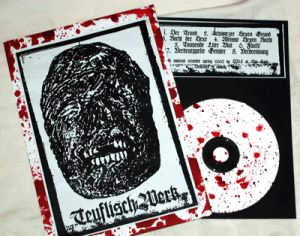 m[m] With your current project Die Reitenden Leichen you have made quite the name for yourself in the hnw scene. Where did your interest for hnw come from? Do you feel your hnw developed naturally from your earlier output? And in what direction is your sound developing currently?
Matt I don't know how it would appear to someone who knows my old and my new works, but doesn't know me in private, at least from my perspective the development from my old Power Electronics and Noise-projects to HNW came pretty natural.

Some Blank Banner material (one of my old Noise-projects) I had recorded was almost non-changing or at least very repetitive and most material was based on very few source-sounds. Some of my other projects were heavily based on loops and repetition as well, especially Black Light Orchestra, though this was mainly Industrial and not Noise-stuff. I view my current works as a further development from the basic sound-ideas and moods of Blank Banner and from the ideological & aesthetic intents of Black Light Orchestra. But the actual interest in HNW started when I first listened to "Total Slitting of Throats" and then bought some more stuff by The Rita, The Cherry Point and Werewolf Jerusalem. Actually this was the first time I read the term "Harsh Noise Wall". At that time I was very much bored with the Industrial & Power Electronics-stuff I did and HNW offered a new impulse and another perspective on my works in the field of extreme electronic music. It gave me new inspirations, though I naturally didn't simply switch from PE to HNW within one day or so. When I started to use the "MX Nihil" moniker for my works I was still very much doing PE, but with an HNW influence which grew more and more on me and finally lead to the stage and decision to stop all my activities focused on PE, Industrial an so forth and to fully focus on works in the HNW-vein. And this is basically where Die Reitenden Leichen starts.

Matt My current material tends to become longer and rather un-changing. On the other hand I am experimenting with loops again and actually have used a test-tone generator for some of my new, yet unreleased recordings. Content-wise I can say that DRL is becoming more "ideological". DRL releases will contain more stuff which based on my personal "Weltanschauung" (worldview), because I feel that I have neglected this part of my work to some extend. We'll see... But it will definitely contain more "occult" and satanic material.

m[m] Judging from the themes of your releases, your main interests seem to be hnw ideology and horror films – is this correct? What, ultimately, inspires your noise most?
Matt I like the horror genre a lot, but I'm not such a big expert like other wall-heads when it comes to horror films really. I have my favourites, which are mainly of the "occult horror" branch. But I am also a huge fan of E.A. Poe's and H.P. Lovecraft's writings. When it comes to horror films I like the Hammer-films a lot and the more "gothic-horror" style in general. But I also enjoy stuff like Italian zombie flicks and Giallo films a lot. Besides that I am a big, big fan of horror "Hörspiele" (radio dramas) like "Geisterjäger John Sinclair", "Macabros", "Gabriel Burns", "Die schwarze Sonne" and the like. Luckily the tradition of German language radio dramas is still very vital and prosperous.

Matt My interest in the HNW ideology is obvious I guess, though I am actually very skeptical towards ideologies in general. But I've been interested in the creation and development of ideologies for a long time now. Even with my old projects I was experimenting with and researching ideologies; always with a good amount of irony attached to it.
The HNW ideology bears some sort of aesthetic qualities which are very interesting, I find. Words like "purity" and "militant" crossing one's mind for example. These words imply certain things and in combination with the aesthetics of the releases on The Rita's old label "Militant Walls" for example invoke very specific moods and ideas in me. And the radical minimalist qualities of the HNW style seem to resemble and satisfy my often "monomaniacal" needs and obsessions very well.
I admit that for me it is very much about the "aesthetic qualities" in general. I am a person who is focused on creation AND presentation. Both are equally important aspects of my works to me.

Matt Besides these two aspects, the philosophy of Satanism and my interest in people like Nietzsche, Ragnar Redbeard, LaVey and The Church of Satan (of which I am a member) are pretty important influences when it comes to symbolism, philosophies and aesthetics included in my works. And I am also very much influenced by several artists and art movements. Also other musical genres and their aesthetics influence me a lot in one or the other way.
I think what I am doing with DRL should be viewed very much by means of terms like "ritualized aesthetics" and "aesthetic nihilism".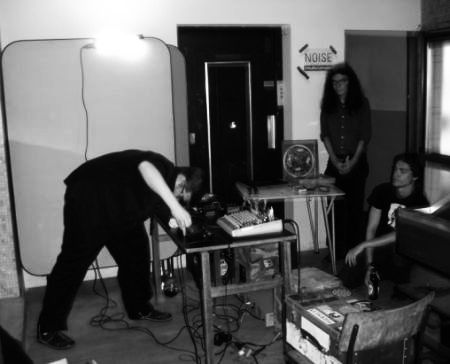 m[m] The name Die Reitenden Leichen was derived from the Blind Dead series (and the Blutgericht tape seems to've taken its title from the fourth and final film). Was there any special reason for choosing this name?
Matt Well, the Blind Dead films (which carry the name "Die reitenden Leichen" in Germany) were the first horror films I saw when I was a child and which I do remember. And I remember that they scared me to death back then. The name is not necessarily only linked to the series for me though. The name stands for several moods and thoughts for me as well, but these are very difficult to explain, as they rely on some kinda personal symbolism.
"Blutgericht in Texas" is also the German title of "The Texas Chainsaw Massacre" and I mainly used the word "Blutgericht" as title because of TCM, which I like a lot.
m[m] Can you tell something about the creative process behind your noise? Statik Fanatik, for instance, was described as the result of a 3.5 day long amphetamine session. Are there any set rituals for when you play or record noise?

Matt The "Statik Fanatik" session was a really hard one. I was awake for 3 1/2 days on amphetamines and recorded one tape-side each new day. To me it was an experiment with my own consciousness and perception. The longer the session lasted and the fewer energy I had the more aggressive the walls became, at least that's what it seems like to me. On the first day I was full of energy and highly focused and the longer the session lasted, the harder it became to focus on the textures of sounds and their interaction. At some point I had to force myself to stay awake.

In a normal case, before I start to record a new track, I make notes. These notes can contain ideas about the sound-sources and themes, diagrams for pedal / equipment set-ups and source-treatments, as well as working titles, quotes and references I might use for inlays etc. When this process is finished I start the recording sessions. In a normal case I then sit in front of my "recording-table" and my monitor-boxes, with all equipment I need for the specific session lined up, applying my notes to the equipment. Then I start the recording. If I dislike something within the wall during recording, I erase the track and re-think and correct my notes and start over again. When the recording phase is finished I listen to the track several times before I decide if I gonna use it or not.

I always record with dimmed lights (preferably candlelight). Back in the days I recorded in black light only, which I will most probably incorporated in future DRL recording and live-rituals again. For some reason I can't imagine creating and/or recording in broad daylight.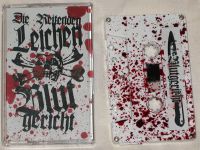 m[m] As for your releases, every single one I have looks absolutely beautiful. There seems a clear sense of direction in the art, with the often stark black and white and red designs fitting perfectly with the music. Are you an experienced designer, and do you do anything in this direction professionally?
Matt Thanks! Glad that you appreciate the artwork this much!
Yes, I studied graphic-design and I have plans to start-up and work as a freelance illustrator in the near future.

m[m] Do you have any favourites among your own material? Why is these/are these your favourite(s)?
Matt I think my favourites of my own works are always the latest recordings. I guess they are my favourites, because they simply represent my latest thoughts, ideas and reflections on sound and its presentation, and also resemble my latest obsessions with philosophers and/or artists and/or specific materials, moods etc.

m[m] The HNW fest, where you were scheduled to perform as Die Reitenden Leichen, was unfortunately cancelled due to Eyjafjallajökul (the volcano that erupted and so effectively shut down all European air traffic for a week, MM). Have you performed with Die Reitenden Leichen before? Or with any other of your projects? Do you like performing live? And will there be a Revenge of the HNW Fest, so to speak?
Matt I have only performed live twice as MX Nihil yet, but all the other guys and I are talking about another (maybe more than one) HNW fest at the moment. And there I will be performing live as DRL among others.
Although I am rather a shy person I like to perform live. The live situation adds very much to the mood of the sound. The acoustic of every venue is different and can have great effects on the sound; naturally it can also have terrible effects as well, but that's part of the challenge I guess. The live situation is great when the sound becomes really physical in my opinion. When the whole venue is shaking and you physically feel the frequencies and you get buried under and/or soaked into the textures of the wall, it's a great performance for me.

m[m] You already mentioned some musical influences on your work. What are your musical interests beyond noise and hnw? Are there any particular artists or genres you enjoy?
Matt I listen to all different kinds of music. Reaching from Richard Wagner to Minimal music, from Morrissey to Grindcore, from 80s Wave to Breakcore etc. It all depends on my mood ... In the last few weeks I listened to a lot of Black Metal, Robbie Williams, Onkyokei stuff (Japanese free improvisation, MM), Kraut-Rock and some 80s Pop. So, I am very much open to a lot of different musical styles.
If it would be the question which other styles influence my works, then I guess I have to list Onkyokei and Black Metal, because at least at the moment these are the two genres which influence my new DRL recordings and the involved aesthetics the most, besides other HNW-artists works naturally.

m[m] What do you think are the current hnw essentials? The albums any hnw fanatic should own?
Matt Well, I will only list a few releases, because I think everybody should find out for him/herself which releases are essentials to him/her.
Various Artists - "Total Slitting of Throats" CD
The Rita - "Bodies Bear Traces of Carnal Violence" CD
Vomir - "Claustration" Box-set
Another artist whose works are very important is Werewolf Jerusalem.
m[m] Across all genres, what are your top ten favourite records of all time?
Matt I can't make such a list really, because this very much depends on my mood. And besides that I have phases where I almost exclusively listen to Noise and then there are phases in which I almost don't listen to Noise stuff at all.

m[m] Can you tell us what you have in store for us in the coming months or years? What is happening with Monolithische Aktion and Die Reitenden Leichen?
Matt Oh, there's good amount of stuff coming up!
Die Reitenden Leichen will release a limited C20 called "Bedem" and a 2x C20 box-set called "Golden Rules" (working title) soon. Then there will be two split releases: One with Namazu Dantai and one with Ptomain. I am also working on more material for CDRs and cassettes.
Monolithische Aktion will release the C100 HNW-compilation "Up Against the Wall, Motherfuckers!" soon. Also CDRs by Dead Body Collection, Jack Halter, Namazu Dantai, TFT and some more.
Besides that I am planning to release a Vomir / DRL split-7" & CDR-set, though this will take some time, because I still need to get the money together for this.
After all this is done I think Monlithische Aktion will take a break, because I want to focus more on my own works as Die Reitenden Leichen and MX Nihil.
For more info people can visit my website or e-mail me.

Matt Thanks a lot for the interview and your support!
m[m]Thanks so much, again, too!
For anyone who is curious, you can find the Monolithische Aktion blog here: http://monolithische-aktion.com/blog/. You can e-mail Matt at info@monolithische-aktion.com.
Sven Klippel