If You go Down To The Woods Today... [2010-05-10]Every musical career seems a little arbitrary on the outside and in retrospect. Robin Crutchfield first came to most people's attention through his membership in the seminal downtown New York outfit DNA, but that's been merely one chapter in a long and varied career—one where the caterwaul of the "no-wave" scene, the glittering mystery of folklore and fairy tales, and the drone and strum of medieval and ethnic music all rise and converge. There's no contradiction between all that. The man's large; he contains multitudes.

m[m] Tell us a little about your affinity for fairy tales and "improbable books", as you've called them, and how that relates to what you're doing currently.
Robin As a child, I loved books and stories depicting worlds of wonder where colorful tiny beings existed in a fragile green world of simple things among nature's smallest dangers in the shade of ferns, moss and curling vines. I fantasized over tiny homes built within the hollows of trees with furnishings and clothing made from plant materials and gathered human castoff objects like thimbles and tacks and acorn caps or an entire home built out of an old high-top boot. Some of the most inspiring of images came from a Golden Book of Elves & Fairies illustrated by the wonderful Garth Williams. A handful of tales passed along by the Brothers Grimm through the Andrew Lang collections and illustrated by H.J. Ford have continued to enthrall and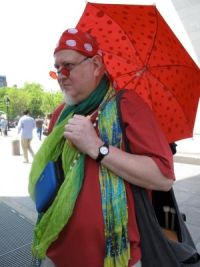 inspire me. Visuals of these tales carry me through my daydreams to a world of escape that I can only approximate to paint with notes from the harpstrings and the buzzdrone of the tanpura. In most of these stories human beings are the dull, dimwitted outsiders who stumble unsuspectingly on the world of magic presided over by these tiny civilizations who have more pressing business to attend to than the trivial things man obsesses over.
m[m] Side note re: Lewis Carroll. Have you seen The Annotated Alice?
Robin I am aware of, but have not read, The Annotated Alice, although I have ready many of Carroll's major works and his Adventures Underground and Through The Looking Glass are among my favorites.
m[m] What do you think of the idea of mythology in the modern era—e.g., that modern man needs myths just as much as his predecessors did?
Robin Some do and some don't. Everyone finds what they need, be it religion, superstition, Star Wars or faeries. Personally, I'm not much in favor of the mythologies that drag the battles of men into their plotlines.

m[m] The first Dark Day album and singles were released on Lust/Unlust – that's the same label that released Martin Rev's first solo album, too.I'm curious what you think of Rev (and Alan Vega, and Suicide)?
Robin Alan Vega and Martin Rev were innovators, and had a great deal of effect on the whole No Wave scene; Suicide bridged punk and electronic music.

m[m] How does your writing relate to your other artistic output (music)? Is it fed from a different place, or do both of those things channel the same basic ideas into different forms?
Robin The more I try to escape into an otherworld of fantasy, the more it finds its way into my music and writing. It wasn't so clear in the past. I've always been intrigued by the mysterious and strange, the otherworldly, but whereas that stuff found its way into my lyrics, it didn't so much impact my novelettes or short stories which were affected more by a process or wordplay game like some of the ones incorporated by the surrealists in their written works or the cut-up methods used by Burroughs and Gysin.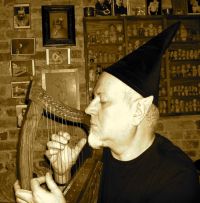 m[m] In a recent interview you mentioned the tape recorder and the photocopier as being the two most valuable inventions for advancing music in the 70s. How's the personal computer and the Internet affected things now, musically, in your purview?
Robin The personal computer and the internet have carried the DIY movement into the next phase where labels are redundant. Now anyone can make music, record it and share it with others around the world, without leaving their sitting room. These tools seem like extensions of the photo-copier and tape recorder for helping artists express themselves and let others know about it. I think we are finding, and will continue to find, that the invention of the handheld devices containing still and video cameras and email capabilities, have had a dramatic effect on the course of world events, and in particular the policing of our societies. Insidious in its own way, I wonder whether the inventors of camera phones conceived of them as police force deputies and detection allies when they came up with a 'fun' way for consumers to document their lives and share those documents with others. These doubled-edged swords have caught both criminals and errant police in questionable activities and held them accountable. The whole concept and extension of it is quite brilliant when you think about it. What future invention might carry that kind of impact under the guise of a toy?
m[m] I picked up DNA On DNA not long ago and to my ears it doesn't sound dated at all. How has this music held up for you?
Robin It depends a lot on the context in which the music is heard. At times I listen and think this was some of the most Godawful stuff ever laid down on tape. And at others times I chuckle to myself and think, wow, that was really quite brilliant! But then, a lot of music has a context in which its receipt is either favorable or unfavorable. It's all subjective entertainment.
m[m] Do you have any contact with the other former bandmembers of DNA?
Robin I ran into Arto in a Tower Records about 15 years ago and the exchange was very friendly. Otherwise, we have had no contact before or since. Ikue I have not heard from since my days with DNA. I am a relatively private person and was never a scenester. I have recently reconnected with a number of old acquaintances on Facebook that I hadn't been in touch with for 30 years, including Amos Poe who made the film The Foreigner, which I had a small acting role in.

m[m] What have you read/watched recently that you liked?
Robin The only book that I have read recently which had a major impact on me was The Golden Key by George MacDonald. It was written in the late 1800s though. Films that have had a lasting impact are oddballs like Valerie and Her Week of Wonders which is a Czech film made back in the early 70s.The Philly folk-psych followers seem to have adopted it as a cult object which they revere. As to other books, films or television, much of it is too fleeting to be more relevant than passing light entertainment.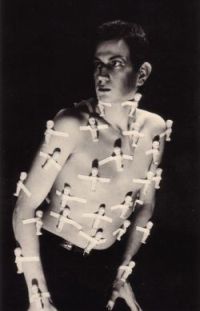 m[m] Who'd you collaborate with, if you had your pick of anyone? (Alive or dead!)
Robin Oh, there are many. Robin Williamson and Mike Heron; Nico; Moondog; Annette Peacock; Feathers; Fit & Limo; Simon Fisher Turner; Jack White; Colleen.

Thanks to Robin for his time & efforts with the interview & pictures for the interview. Thanks also to John from Important for making the interview possible. Robin's new book "Eleven Faerie Tales" is available from Nigh Eve publications, and his new album "The Hidden Folk" was released last year by Important Records to buy direct go here. Visit Robins website, here, for sound samples and links to merchandise.
Serdar Yegulalp