All at sea [2009-05-31]Elegi are one of the most effective purveyors of the Classical meets electroinca genre that has appeared over the last few years. So far the project has released two sea influenced and atmospheric albums in the form of 2007's Sistereis & the recently released Varde. The creative mind behind the project is Norwegian Tommy Jansen- who kindly agreed to give me an interview via email.

m[m]How did the Elegi project first come about? And what influenced you to follow the atmospheric and sea bound tone of your work thus far?
Tommy before Elegi I had always worked with others in making music & sound; Sometimes it can be very rewarding when you meet musicians that can bring out the best in you, but it is also often a constant fight. If you have an idea and a vision, it's really hard to give it up because the ones you are working with want to go in another direction than you. At one point I was really tired of making albums and was thinking of maybe doing something else, like composing for films. I was also really tired of traditional song writing and wanted to be totally free from all rules if I should keep on making music.

TommyThe last album I had done at the time I started working on Sistereis was a huge production in every way, and I wanted to go in the opposite direction and make a minimal, simple, moody album that was intense enough to keep it interesting to listen to. I had the sounds in my head and started to get curious to see if I could pull it off. I sat down one night and started with what would be one of the central parts on the Sistereis album. I got super excited and once again felt the love and passion for making music, which I had been missing for a long time. I grew up by the sea and have been a wreck diver for many years. The sea and its history has always been a huge inspiration to me, so it was natural that this would be the concept when I first went solo.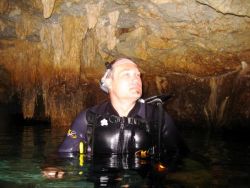 m[m]You mention you drive Shipwrecks- how did you get involved with this? Whats the most interest dive you've done? & have you ever used any of sounds from your dives on your work?
Tommy Hard to say exactly just when it started, as I've always been interested in what's under water and I used mask and fins as a kid to see what it's like.
I guess the fascination never went away, so when I was old enough and found a course I could afford, I jumped in. You see, I grew up by the sea so it's kind of in my blood. Got some more education and special courses and went diving whenever I could. First time I tried wreck diving I was hooked. Especially WW2 wrecks interest me, Studying their tragic history prior to the dive and then going down there and seeing the remains is such a sad but amazing experience. I have travelled all around the world seeking different kinds of dives and just like with everything else, each dive has its charm.

TommyThe best nature dive-site I think, is on an atoll called Sipadan outside Borneo. Amazing coral reefs and marine life. Dozens of different types of sharks, turtles and huge schools of barracuda on every dive. I'm sure this is what heaven must be like. My favourite wreck I think is one in the red sea- it's a WW2 wreck that was bombed and went down with a lot of people and equipment. When you're swimming inside the ship you find motorcycles, airplanes, a train as well as lots of personal belongings from the victims. Strange and solemn feeling to float around in their cabins in thier wet graves. I am also a huge fan of cave-dives and hope to explore more in the future. But it's not the safest type of diving one can do, There has been a few occasions when I was not sure if I was going to get out alive. Since I recently became a father I have to consider every dive more carefully now. Also the boat-rides it self can be a treat when you get caught by really bad weather in the middle of nowhere. There are a lot of underwater sounds on the Sistereis album, that I have recorded on different dives. I did some heavy treatments to them, so I don't think you'll know what it is when you hear it. Might sound strange to some, but there really is a lot of great sounds underwater!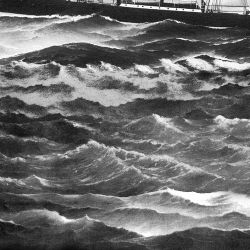 m[m]Your work is often half atmospheric/noise based and half melody and musical elements- how do you go about starting to write or compose a track does the atmosphere or the melody come first?
Tommy Yeah, that balance is really important to me. I guess you've sumed up what Elegi is all about really. I like to have contrast in my music and think that a nice melodic theme gets more beautiful when it is on top of an ugly sound, just as noise gets more expressive when it leans on something nice.I tend to feel that most ambient electronic music and straight noise music is too boring and monophonic. It's kind of killing itself. It's just like making food. You want different ingredients to complement each other. I'm like that with every thing in my life. It's all about the yin and the yang. I am really into sound design and I want the atoms of a piece to tell a story. Some tracks are made up from a melodic theme, but most of the times the atoms comes first, as I find that to be the strongest ingredient in my music. But also, a lot of the sound design in my music is melodic themes that is heavily reworked, so it is sometimes difficult to say where the sounds ends and the melody starts. They are made to work seamlessly together as a whole and I guess for the listener it's a sum of all parts that make up the music.
m[m] Your new album Varde has quite a few mentions in the album booklet about Captain Scott's doomed polar expedition- how did you become interested in the idea of Scott and would you say this is the albums main
concept or theme?
Tommy As I was working on Sistereis I was reading a lot of marine history and of course I stumbled across many of the polar explorers; as in those days they needed to sail for years to get to where the actual expedition started. They had to cross the most hostile waters on this planet to get there and I decided that this was too huge to just be a part of the Sistereis story and that it needed to be told separately.
I mentioned my idea of maybe making a trilogy to my record company and the English distributor and luckily they liked the idea and approved of it. Most of the stories on Varde are set on ice , but as sailing to and from the ice was a big part of the explorations, you can sense some of the boat like sounds on this album too, to make a transition from the first to the second part of the trilogy.
At first I was mostly into the Norwegian explorers, as were taught about them in school. As my interest in the subject grew, I bought tons of books and documentaries about the explorers from every nation. Varde is really my ode to all of them, but the diary they found on Scott's dead body is so strong- it was wonderfully suited to the albums booklet & theme. I also had some strong memoirs in the beginning from Shackleton and others, but in the end they were cut out. I don't blame people who believe that Varde is Scotts story alone because of this, but my intention was to salute all of them, both those who succeeded and those who is still buried in the ice. For instance; the last track called Den Store Hvite Stillhet is for fellow Norwegian Roald Amundsen. The voice on this track is from another Norwegian explorer called Fridtjof Nansen, and it is the actual recording of his speech he held at Amundsens funeral in 1928.
m[m] Varde seems a lot denser and aged than your first album Sistereis-why did you decide to make your sound more dense and noisy(for want of a better word) and do you think future records will see you making your work even more dense & can you ever see your self
doing an all out noise record?
Tommy I kind of feel that music creates itself. The story kind of dictates how they should be told. That said, I felt that the sound of the ice, snow and wind should have a brighter approach than the dark and muddy remains of a ship on the bottom of the sea. The noisier parts are my way of painting a picture of the snowstorms with sound. The old vinyl cracking's is also heavy represented because all of the expeditions brought gramophone players with them and some noisy 78 records for entertainment. Amundsen even brought a harmonium on the ship and played both to entertain his crew and when he was frustrated and sad. This is also one of my favourite instruments, so it felt natural to incorporate this on the album too. Some of the piano parts are even recorded on his actual piano, as I visited his house outside Oslo and got to play it and record some to have an authentic feel to it. Some field-recordings are also recorded in that house and some on Fram, the ship used by both Amundsen and Nansen. I'm kind of weird that way; I want it to be real in some way. On Sistereis I did some recordings under water, as I was diving on wrecks, but since I couldn't afford to go on a polar expedition, this was how I compensated for it. Hahaha
Tommy About noise; I will definitely work more with noise in the future, but as I mentioned earlier, I don't see my self making an all out noise record. It bores me and don't give me the challenge I'm seeking.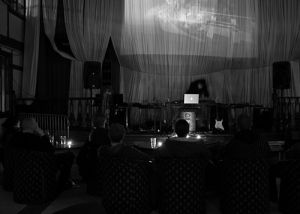 m[m] Have you ever played live with the Elegi and if so can you describe what the shows have been like? And have you ever thought of play at sea or near the sea?
Tommy Yeah, I play live, but not as much as I want to. This is both because I don't have the time to travel as much as I should and because I feel like my music is difficult to recreate live, since every little sound is made in the studio through a time consuming process. I could do something completely different live, but the audience is kind of expecting to hear the Elegi sound when they go to see me live I think, so I don't feel it's fair if I do something completely different. If money wasn't an issue though, it would be a lot easier. Then I could bring a bunch of musicians and I could focus on the sound-design parts. A symphony orchestra and a mixed choir would be nice! Hahaha

Tommy My gigs are usually 90% improvised. I have some stuff planned in advance, but usually when I get on stage I don't know what to do and where to start. Instead of just playing some pre manufactured sounds on a laptop, I like the feeling of being scared and the freedom to go wherever I want to.That way the gigs don't sound the same either. I use stuff like Theremin, accordion, old tape-recorder, piano, synth with a bunch of old stomp boxes and contact microphones on a lot of different stuff, going through software on my laptop, so that I can sample myself and mess it up on the fly.
It kind of sounds like an old horror movie I guess and that's why I often use visuals too, so that people don't need to watch me and can instead enhance the experience. I usually also take my music a bit further live and tend to use noise more of a tool live than on records, to keep the audience on the edge of their chairs. For some reason I never put on a noise records around the house, but I think it works wonders in a live situation. Kind of the same energy as on a rock concert in a way. You know, it gets more physical...

m[m] Your work is often deeply cinematic- have you ever wanted to do film or visual soundtrack work? And if you could are there any films you like to re-soundtrack & why?
Tommy Absolutely! I am a great film enthusiast. Just as much as music really. In fact, this is maybe what I see my self doing in the future. I guess that's why my music sounds so cinematic too.I want to make sounds for movies in the same way I make albums as Elegi; let the sound-design blend in with the score and let it melt together.
Tommy There are many films I wish I could score, but if I shall pick two, it would be Werner Herzog's Nosferatu and Theo Angelopoulos' Weeping Meadow. Not because Popol Vuh and Eleni Karaindrou failed in any way (they are both heroes of mine actually) but the films have such strong stories and open up for the composing in a big way. I like melancholy and tragedy, slow passages and dark scary parts. If someone managed to combine this in a movie sometime, I wish they would call me!
M[m] Clearly old sea based pictures be it of people ships or landscapes are very important for both albums artwork- how have you gone about sourcing these and have they been easy to get hold of?
Tommy I really enjoy looking at visuals when I listen to music and the artwork really complements Elegi sonics. As for sourcing the artwork I've already mentioned I have lots of books relating to the sea and sea bound explorers , but we also went to the national library to find more materials. Even old postcards was used as base for the collage work. The good thing about old historical pictures is that they are free to use. Hah. I'm so glad to be signed to Miasmah, because Erik Skodvin(label owner and sleeve designer) is a master at designing art that goes perfect with my music. I think artwork design is so important for an album and when the physical cd disappears, we'll loose an important part of the storytelling, so we need to look into different ways of multimedia platforms to compensate for this.
m[m] what do you count as the ten most favourite albums of all time & why?
Tommy Ouch, that is a tough one! What I listen to usually changes from day to day depending on mood and place, but here are some albums that never dies and that I keep coming back too: (in no order)
Arvo Pärt- Alina
One of my absolute biggest influences, and has been for years. He has done wonders for modern religious music. His symphonic and vocal pieces are remarkable, but this stripped down album is simply magic. How expressive a piano and a cello can be...
Arvo Pärt- Te Deum
I could use all the 10 spots just on this guy, but I won't. I have to include this one though. I love to travel around in Europe and visit sacred churches and attend concerts. It would be a dream come true, to experience Te Deum in a church in his hometown Tallin. Even though he is really traditional in a way, he has found his own voice. The Tintinnabuli technique that he invented is so simple and expressive. One note or simple triads is all you need, if you do it right & Arvo Pärt does it right.
Eleni Karaindrou-Weeping Meadow
Eleni's music to Angelopoulos films is remarkable. She can bring a tear to my eye with one note. The simplicity really speaks to me I guess. I really love the soundtrack to Ulysses Gaze as well, but this was the one that I lost my heart to.The way she use the Greek instruments and tonal traditions is unique. No wonder why she gets to do all his films. They really enhance the pictures as they are meant to. One of my favourite movie directors by the way.
Wojciech Kilar-Bram Stokers Dracula
Oh dearest me! What a musical language! I love the European tonality. This could easily be a requiem. So solemn and at the same time true horror.
Henryk Miko³aj Górecki-Miserere - Opus 44
Another of my favourite composers. This is kind of a hybrid of Arvo Pärt and Wojciech Kilar. I like when sacred music becomes tragically dramatic and almost scary.
Gavin Bryars-The Sinking Of The Titanic
Another great composer. This is like the serious brother of my Sistereis I guess. The musicians were placed in a metal constructions to get the sound of the majestic ship. What I use machines and software to achieve, he gets from the acoustic instruments alone and clever microphone placements.
In my next life, I will stay in school, so I can do the same... (laughs) Also check out his wonderful requiem and Jesus' Blood Never Failed Me Yet
Deathprod-Morals and Dogma
One of the treasures of Norwegian music. What can I say... this is absolutely magic. Dark ambient or drones can so easily be boring I think, but this album keeps you on your toes for as long as it lasts or longer.
Dino Saluzzi- Kultrum/Rosamunde quartet
I love tango and i love the accordion. What better way to listen to it than with the master Dino Saluzzi together with a string quartet like Rosamunde? So sexy and so melancholic at the same time.
Tom Waits- The black rider
My hero! There is, and will always be, only one Tom Waits. Once again, I could mention any of his albums, but I will mention the one that is not so well known by most. I love stage-music, and the cabaret-Vaudeville /Weill/Brecht feel Mr. Waits manage to come up with is just outstanding. He has music history's strongest voice and writes lyrics like no one else. He creates his own universe, and I would love to live there! May he make many, many more albums. The saw player on my Varde album has played with him on the Orphans album, so maybe I 'm getting closer... (laughs)

m[m] What are you working on at present & any ideas yet for a new Elegi album?
Tommy I did a lot of the work for the third album a long time ago, but I had to put it aside for some time. We don't want to release all the albums too close and I tend to change and rework my music if it's not released. I did maybe 50% of it and the rest is in my head. Don't want to tell too much about it, but it is also about a big and important part of our history, about explorers, scientists, politics and religion.

Tommy Right now I am working on a huge modern dance show together with Svarte Greiner. They will bring our music on a world tour starting after the summer this year. It's really great stuff, and the people behind it is world class! I'll post the schedule for the tour on my site when it's set, so people can catch it when they are in their country it if they are interested.

Tommy I am also working on my first real movie now. I did some short-movies together with an American movie maker to try out different things, and it ended up me scoring this full length movie.The first shots look amazing and it is a dream to get to score it. I'm also working on some remixes and some compilations & I will put out a new album called Baysnull that is not part of the trilogy sometime later this year on another label . I had tons of ideas laying around that didn't fit on any of the albums of the trilogy and decided to put it together, make it work as a album and release it separately. There's also lots of other nice things happening and being discussed, but don't want to say to much about things that is not 110% decided.
Thanks to Tommy for his time & effort answering my questions. Both Varde & Sistereis are available on Miasmah for more info, sound samples ect drop in here. And
Elegi myspace can be found here
Roger Batty