Masonic doom [2008-09-01]Moss bobed to the surface of the Doom underground back in 2005 with their lovecraft and ocultic influenced debut album Cthonic Rites, which stills stands as one of the most punishing, hopeless, heavy and suffocating examples of the genre. They've just unleashed their second album Sub Templum, which keeps the unforgiving riff crawls and suffocating atmosphere in place but adds in more atmosphere and new sonic elements to their dark brew. Vocalist Olly Pearson kindly gave me an email interview.

m[m]How did Moss first come about and form? Is this your first musical project?
Olly We were in a few bands together previously, not really doom bands or anything.. We just wanted to get together and make some fucking slow music really. We'd get stoned together and talk about how the band was gonna sound before we even played a note.

m[m]How did the writing & recording of Sub Templum vary from the writing & recording of your first album Cthonic Rites?
Olly Cthonic Rites was kind of improvised. We had the riffs and arrangements and everything, but no idea how long any of it should last. There's a whole punk vibe to that album of just going for it, but Sub Templum w completely planned and rehearsed to every single detail. It was stressful making the album, if there's a fuck up the whole track could fall apart and you'd have to start over again. not really desirable when you're working with 35 minute tracks! We suffered for Sub Templum, and I think it's turned out a lot better than we could've imagined. Feels much more like a proper album.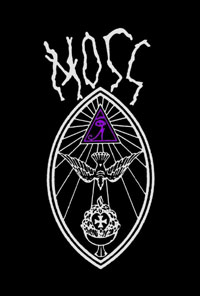 m[m]As with Cthonic Rites Sub Templum seems to be composed as a suite of songs – can you tell us a bit about the albums concept? And what's is the meaning of the cover artwork with it's Masonic references?
Olly 'Lux E Tenebris' is the theme of the album...light from darkness. Which is a Masonic quote, but something, like the cover, we have readapted to ourselves and our concepts. The idea that the darkness is our light, our source of power. The cover to us represents what is the "Sub Templum", an arcane underground church where this worship and ritualisation of darkness would take place . The track 'Subterranean' for instance deals with someone who crawls down into the Sub Templum to perform this worship and to speak rites that will grant a state of becoming undead.

m[m]Sub Templum sees you introducing new elements to your sound like Hammond Organ, clear vocals, melodic cord progression ( at least on one song)- Do you think you'll use Hammond organ again in the future? As I really enjoyed there feeling with in your sound.
Olly I really enjoyed using the Hammond.. I'm not trained or anything, just improvised a few keys and went for it. I would like to use it again in future, but sparingly. and it has to be a real Hammond, they are hard to come by in the condition of the one we used.

m[m]What new elements would you like to introduce into your sound in the future?
Olly I'm not sure.. I'm happy with how we are right now; I don't think we need to add blast beats or anything like that. We do some crust punk stuff at rehearsals sometimes, I don't know if any of that would make it into a Moss track though. We are well aware of our boundaries.

m[m] I read you watched various horror film during the recording of Sub Templum - what influence do you think this had on the albums sound? Olly It's all about atmosphere and vibe, we all get on the same page after watching some cult horror. Just gets us into the mood for going into the studio and reflecting the atmospheres of what we've just seen. You could listen to some bands for inspiration, but most likely you'd end up taking someone else's ideas or vibe without really knowing it. With a film, it's something else completely. To have visuals influence music is a very special and unique thing.
m[m]Your clearly huge horror fans- can you list your top five horror stories or books, then your top 5 or more films and why?
Olly I'll have to get back to you with stories, so fucking many ..tons of Lovecraft of course, and Poe, Lumley, Le Fanu, Machen.. Loads!
films -
Queens of Evil
Death Walks At Midnight
Vampyros Lesbos
Werewolf Shadow
Suspiria
70's horror only of course...fit the time so well. Horror after 1985 got really fucking bad for some reason, I blame Freddy and Jason pretty much!

m[m] Will you be doing life shows with the Sub Templum album and if so do you plan to play the whole album?
Olly Yeah, we're playing Rise Above's 20th Anniversary, with Electric Wizard. It will probably be the only show we are doing for this album. I think we'll have time to do a couple of tracks, but not the whole thing.
m[m]What are you working on at present? Do any of you have any side projects etc?
Olly At the moment we're just taking a break.. We might be doing some recording at the time of the Rise Above show, some tentative plans for a 12" ep perhaps.. We do have some side bands; Chris especially has always been involved in a few bands, but nothing any of us will talk about in the context of Moss.
Thanks to Olly for his time and efforts with the interview. Sub Templum is out now on Rise Above Records and you can check out samples of it here at their myspace here but really samples don't do it justice you have to hear it in all its grim and horrifying wonder.
Roger Batty