Of Sludge & Atmosphere [2007-12-14]Mouthus create an unequal & dense mix of noise, suffocating guitar tone, electronics & battering rhythm. But also have the ability to be able to summon up more uneasy/alien atmosphere mixing together ritual, ambient, acoustics guitars and avant-rock elements into a distinctive blend. This year has seen them released two of the years highlights in the form of the sludge brain melting wonder that is Follow this house and the more darkly melodic yet still atmospheric and at times devastating Saw A Halo . One half of Mouthus, Brian Sullivan, kindly agreed to give me an e-mail interview.m[m]:How did you both first meet? & what made you decided to form Mouthus?
Brian Nate and I met through Karl Bauer of Axolotl, a mutual friend of ours. We were all playing together and Karl left for San Francisco . Nate and I decided to keep playing together, so mouthus came to be.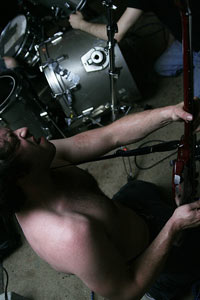 m[m]: Was Mouthus your first musically project? & what's the origin of your name?
Brian It is neither of our 1st musical projects. We have been in various bands since we both have been playing music for most of our lives. The name came through me mishearing something that Nate said. it sounded better than what he said so we stuck with it.m[m]:Who does what in the band musically wise & do you both jointly write the material?
Brian Nate plays percussion ,electronics and keyboard, I play guitar, keyboard, woodwinds and vocals. I might play some percussion on overdubs. we write together. one of us might have a part or idea before, but it changes once its brought into mouthus.m[m]:This year you've brought out two very different albums; Follow this House which shows your sound at it most punishing and brain melting & more recently
Saw a Halo which though is still intense features more layered vocals, dark melodic elements and acoustic guitars- Do you think you'll continue to see-saw between extreme & more melodic albums?
Brian I don't think of it as see sawing, follow this house was done in our studio w/ all keyboard overdubs and the basic tracks are relatively old [from around spring 06],but they all came from a certain point in time, and I suppose it was a pretty intense time judging from how the album came out in the end. Saw a halo was built in the studio - our 1st time in a real 24 track studio - and was the product of having that liberation of multiple tracks and just being in a different environment than we usually record in. I cant really project how the next studio album or the next time we recorded album will be, only that moment will dictate where the sound will go.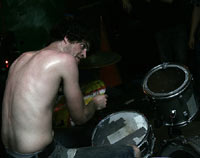 m[m]:The running order of each album seems sequenced for maximum effect - do you story board each album? And do you have visual or a concept behind each one- if so what was the concept, etc behind Saw A Halo & Follow this House?
Brian I don't know if storyboard is quite the right term, but it is something to that effect. That is why on the previous question follow this house sounds the way it does. We record all the time and tend to pick tracks that will mesh well with each other besides just being strong on their own. We do want a certain cohesion to an album, not just a random grouping of songs that happen to be recorded in approximately the same time period. Sometimes cohesion has its downside, there are many songs that we feel are good, but never made it to an album because they did' nt fit With how the album was shaping itself. but "for the great slave lakes" was a solution to that. those are all tracks over a 3 year period that never made it to an album, but we had so many that we could shape some theme out of the unused tracks. As for saw a halo, that was all done in a 4 day period in close quarters and under time constraints, so the cohesion or the concept was shaped out of the parameters we were working within.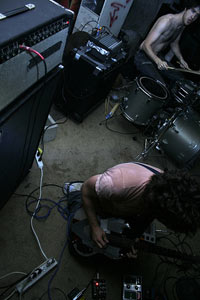 m[m]:Album artwork seems very important to you too, with both Follow this House & Saw a Halo having there own distinctive design & feel to fit the albums perfectly- how do you go about selecting art? And what is the out of focus picture on the front of follow this house?
Brian Glad you like the artwork. we do all our own. Nate does all the Mouthus records artwork. I do the photo stuff saw a halo I did wit the stipulation that it would' nt be a line drawing[which Nate usually does] or a photo[which I usually do].
Selecting art? I just try stuff out and see what fits the sound. Nate does the same, but he's more visually prolific and has a lot more options within his artwork to choose from. The out of focus pictures are not out of focus on Follow this house cover, there polaroids of topographical transparencies that I layered and shone lights through.
m[m]:Has it been difficult to recreate your sound in a
live setting being a two Piece? & tell us for those who haven't seen you live how the shows flow? On the subject of live shows- any plans for any European shows?
Brian We tend to work roughly off themes we have recorded, or as of late, improvise from a selected number of ideas that we haven't recorded. Live shows flow very differently from night to night, which is good, It keeps us on our toes and interested in what we are doing. some nights we take our time building up energy, let it move slow and evolve. Other times we just charge out of the gate and see what happens both can have positive or negative outcomes. you can be relaxed and loose and not have the right momentum or energy to keep that moving. Other times that kind of mentality can create a piece of music that couldn't even fuck up if you tried. As for europe, we are planning on coming back soon, maybe for a short tour in the late spring and then hopefully a longer one later in the year with the loosers.
Thanks to Brian for his time and effort with the interview- Follow this House is out on Important records & Saw a Halo on Load records. All pictures used in the interview were taken at 2006 bbq of the beast by Dustin Fenstermacher © and are used with his kind permission- to see more of his photographic work go here.Roger Batty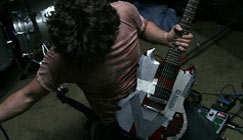 Of Sludge & Atmosphere
Mouthus create an unequal & dense mix of noise, suffocating guitar tone, electronics & battering rhythm. But also have the ability to be able to summon up mo...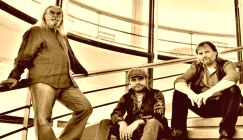 Peter Knight's Gigspanner - From...
Since leaving Steeleye Span in 2013, violinist Peter Knight has devoted all of his attention to his trio Gigspanner. The group have received a wealth of posi...