Pop Deconstructed #2 [2001-07-18]It seems that it's time again for another edition of Pop Deconstructed. This time I'll do something a little different and instead of reviewing songs from the Billboard "Hot 100" I'll lend an ear to the top 5 of the "Modern Rock" charts. Who knows, maybe it'll be a more pleasant experience than last time.But before getting to the meat of the column, I'd like to clarify a little something about the way I review these songs since after the last edition I received some mail from people telling me that song X or Y wasn't *that* bad... I, of course, asked why and most of the time it came down to "the cool video with hot chicks". So I'd like to point out that unless I mention it, I haven't seen the videos for these songs (since I rarely watch music television) and I judge them on the music alone, which is what (supposedly, anyway) matters.As with the last time, I'll listen to the songs in reverse order, starting from number 5 all the way to number 1. This top 5 is from the July 14th, 2001 version of the "Modern Rock" Billboard charts. So without further ado, may the deconstruction begin! ROOOAAAR!#5 Stone Temple Pilots - Days of the WeekOn the first listen I was rather skeptical but after a while I realized that this is actually a well written and well performed rock song. The melody is rather pleasant and catchy and there is nothing blatantly wrong with this song except that it's nothing really new or ground-breaking. It has a somewhat retro feel and it could've easily been released in the 70s. The arrangements are rather nice and it's evident that these guys are real musicians and not just hacks (jazzy chords, nice basslines, fitting drumming..) and Scott's voice is competent and goes from melodic harmonized singing to nearly spoken word melancholic mumbling. A very nice song, much better than that sappy ballad that I reviewed last time!I give it a "C+" since it's very well done and pleasant.#4 Tool - SchismI'm actually surprised to see that song in the modern rock top5, I guess that if it hadn't been written by a band with as much name recognition as Tool it wouldn't be here since it's not very radio friendly... What I mean is that Tool became popular by being lumped in the 'angry rock/alternative/whatever' bandwagon because they had a tendency to say "fuck" a lot in their songs and write some dark music but in fact they don't share many (if any) of the musical characteristics of that musical crowd. I wouldn't be surprised if many people who will buy Lateralus on name recognition alone would be disappointed by it since it doesn't have obvious singles and the over the top anger that AEnema had .Schism is 6:50 minutes long with a psychedelic part sandwiched between two slabs of prog/hard rock (if such a thing exists). The most remarkable thing about it is probably Carrey's drumming which is complex and somewhat tribal, but the opening bassline is also quite catchy and makes the song instantly recognizable. Maynard's vocals are rather subdued and low in the mix compared to what he did in the past, but they also excel at being very unique and Tool's trademark without being too weird or 'out there'. A special mention should also go out to the production which is very open and dynamic.Overall, it's a good song but it's not blowing me away or anything. It's surprising to see something of that vein in the "modern rock" top 5 and I hope that it'll make many people realize that there is some different and 'progressive' music out there. I guess Tool is a perfect 'gateway' band for many newbies. Let's just say that it's a much better starting point than some of the other stuff I've seen on the Billboard website."I know the pieces fit"I give it a "A-" since it's rather nice to see something else than a 3 minutes verse-chorus-verse-break-chorus song in the charts.#3 Weezer - Hash PipeAnd while we're talking about 3 minute pop songs...I rather enjoy this one although it gives me the impression that Weezer has gotten very, very lazy. Their knack for writing geeky pop songs is still there, but the ideas aren't used to their full potential and it seems that a good portion of their song-crafting talents have gone down the drain (maybe success did that?). For example, the breakdown at 1:48 min is very poorly executed and although the verse are rather cool sounding, the chorus is a little anti-climactic. The guitar 'solo' could also have used a little more effort to make it more memorable or at least a little more melodic than the pathetic thingy they put in. I'm also getting the impression that they are starting to re-use their old "oooh w-oh oooh" choruses.I give it a "C-" since it could've been much better with more effort.#2 Blink 182 - The Rock ShowThey probably just wrote that song to calm down their angry groupies and make them believe that they are "that special girl" for the guys of the band. I guess this could be called a "young and having fun" summer song. The lyrics are about touring and girls (with the fake sentimental part in the middle and all). This song has only little artistic value and it's just another one of the countless fun & (trying to be) catchy "summer songs" that everybody will have forgotten, or gotten sick off, in a few weeks. It's very formulatic and there isn't much to say about it except that any novelty value (toilet humor, girl songs, funny lyrics) that Blink had is gone or totally watered down. They became a parody of themselves (I wasn't even a big fan to start with... Let's just say that a few years ago I have heard their other albums in my friend's car).I give it a "D+" since there is no substance, not much musicianship, originality or songwriting skills. The "+" is because it's better than nothing when driving on a sunny highway.#1 Staind - It's Been A WhileBefore hearing it for this column, I had heard that song only twice, so it wasn't totally ruined for my by all the radio and video saturation (that my friends seem to have experienced). This song sounds rather derivative of some older bands, although I can't exactly put my finger on what it reminds me of. I guess it could be a mix of Alice in Chains' softer moments and something else.. Maybe Bush or another of those hard rock/post-grunge bands? I can't really say since I'm not an expert on that style.But I must admit that "It's Been A While" reaches it's goal: it's catchy, bitterly sentimental without being too cheesy and the arrangements work very well."It's been a while since I've fucked things up just like I always do"I give it a "B+" since it's pretty much the deluxe version of what can be done with that old semi-ballad catchy hard-rock formula. I think it's pretty much what Creed tried to do with "My own Prison" [sic]. I don't really like it, but what the hell, I can recognize a well done song when I hear one and surprisingly this time, the #1 isn't the worst song of the batch.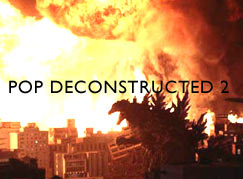 Pop Deconstructed #2
It seems that it's time again for another edition of Pop Deconstructed. This time I'll do something a little different and instead of reviewing songs from th...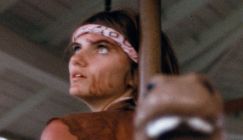 Death Screams - Death Screams( Bl...
Death Screams is an early 1980's North Carolina set slasher- featuring corny 'n' camp dialogue/ characters, some neat brooding stalk scenes...