Of Mountains & Legends [2011-08-18]Fräkmündt are a four piece Swiss band who brew up a heady, atmospheric & slight twisted mixture of: alpine Folk, Germanic drinking songs, organic/ nature lined industrial texturing, off-kilter jaunting indie guitar folk that's all ribbed with some slight ambient black metal and avant tinged ambient elements. The band put has so far put out: a tape release "Losid Vo Bärge Ond Tal", their first full length release "Urbärglieder" and a mini album "Uufwärts e d'Föuse" all in 2010 on the great Austrian Percht label(home of fellow creative germanic/alpine folk projects like Sturmpercht, Allerseelen, Jahrtal, Svarrogh, Sangre Cavallum, ect). The band is due to release their new album "Heiwehland" in the autumn/winter of 2011. Res- the bands Lead vocalist & precisionist kindly agreed to give M[m] an email interview.

m[m] Tell us a bit about how Fräkmündt came about & who does what in the band?
Res Fräkmündt was born out of the idea to revive old songs, legends and tales from the alpine regions of Central Switzerland. We simply want to keep those old stories and tunes as well as our dialect alive through a vivid, peculiar and personal musical and lyrical re-interpretation.
Fräkmündt are:
Käthi: Accordeon and basic song structures
Anneli: Hurdy gurdy, flute, bass, voice
Chregu: Guitars, composing and arranging, percussion, effects, all kinds of musical engineering
Res: Lyrics, concept and voice, some additional mouth harp and other noise And our newest member and very talented guitar player Guschti, who can be heard on some of the songs on our upcoming CD "Heiwehland".

\r\n


m[m]How did you chose the projects name & what does it mean in English?
Res Fräkmündt is the old name of Mount Pilatus, a prominent mountain near Lucerne and location for countless legends about ghosts, dragons, dwarfs, witches and the wild hunt. Fräkmündt derives from fractus mons, latin for the broken mountain. Later the mountain was called Pilatus, because the legend says that the restless corpse of Pontius Pilate was thrown into a lake underneath the summit and dwells there from that time on.

\r\n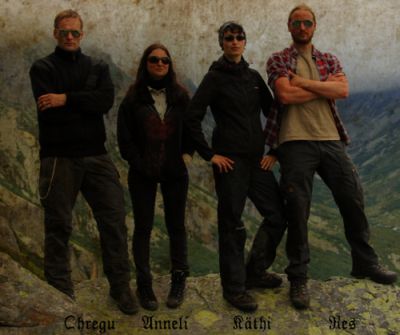 \r\n

m[m]Are any of you involved in other projects other than Fräkmündt? Res Anna is involved in ELUVEITIE, GODNR.UNIVERSE, THRUBYRED and has guest appearances in many other projects, as for example our friends of BLUTMOND.
Chregu is VINTERRIKET, ATOMTRAKT, NEBELKORONA and DANNAGOISCHD and is involved in STURMPERCHT, THRUBYRED and BATTLE DAGORATH.
Guschti is active in an excellent project called MOONSHAPED.
Res sometimes works together with Chregu writing lyrics, singing, screaming and taking pictures for the artwork of VINTERRIKET ("Nebelfluh", "Zwischen den Jahren" and an upcoming conceptual picture book and CD combination about Iceland called "Garðarshólmur") and ATOMTRAKT (voice on the upcoming album "Artefakte des Verderbens"). The two also released three illustrated books called "Reflektionen" (only Res) "Impressionen eines Wanderers I" (only Chregu) and "Impressionen eines Wanderers II" (photographic art by Chregu, poems by Res).

\r\n


m[m]The bands sound moves from Alpine folk, onto light folk/rock, onto Russian sounding folk dwells, through sinister and theatrical ambience- do you plan your work to be deliberately genre mixed or does it just come out that way?
Res We usually do not plan our music. It should be wild, spontaneous and without any limitations, as real folk music always was. So even if we play an old traditional tune everyone adds his ideas to the basic structure. In the end our songs grow with every contribution of the members, representing our emotions and impressions of the alpine landscapes, tales and attitude towards life.

\r\n

m[m]How did you end up signing up with Percht ?
Res We met Max Percht after one of his great Sturmpercht concerts in Switzerland. His label was just perfect for our kind of music and the relation between label and band is rather cordial than just professional.

\r\n

m[m] Can you tell us a bit about some of the themes and legends that your first album Urbärglieder are based around?
Res On Urbärglieder every song is either a legend, a traditional Swiss folk song or the description of a special landmark. The legends include amongst others the wild hunt ("Wuotisheer"), a tale of the devil building a bridge in the craggy Schöllenen gorge ("Tüüfusbrogg"), a story about a love doll built by mountain farmers which comes to live and kills one of them ("Sennetuntschi"), the legends of the dragons roaming in and around Mount Pilatus ("Wörmer") and the tale about the ghost of Pontius Pilate ("Karfriitigsfüür").

\r\n


m[m]How long did it take for you to write and record Urbärglieder, and where was it all recorded?
Res It took us about half a year to record the album or better to arrange and build up the songs. They were all recorded at Chregus "Luftschutzkerker" at the Bözberg in Switzerland.

\r\n


m[m]Still on the subject of your debut album- can you tell us what the many pictures of leeches relate to on the album artwork?
Res These aren't leeches. They are rather some kind of dragon embryo, taken from a drawing of the so called "Dragonstone". The legend says that the stone was dropped by a dragon near Mount Pilatus and found in a clump of dry blood by a farmer called Stempflin. It was believed to be some kind of dragon egg. The stone still can be seen in the natural historic museum of Lucerne.

\r\n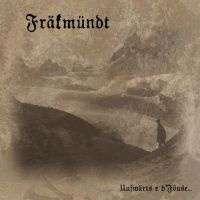 \r\n

m[m] What's the concept behind your second release the mini album "Uufwärts e d'Föuse"? Res "Uufwärts e d'Föuse" translates to "upward the rocks". It is a conceptual album with 27 minutes of playing time which takes the listener on an imposing musical journey to untouched alpine areas of central Switzerland. After a non-standard so-called "Alp-Blessing" ("Aupsääge") which is the intro of the album, the journey goes straight up to the mountains towards twilight and upwards to the rocks ("Uufwärts e d'Föuse"). Having reached the top, a beautiful and mystical night in the mountains awaits the listener ("S'nachtet y). On the next day the trip continues, accompanied by gleaming shafts of sunlight which are reflected by glaciers and walls of rocks ("Schyne"). Now it's time for some drinks and fun within an alpine cabin ("Höttehock"). The end of this unique musical journey is formed by the awareness that it is the most important thing to be proud and free ("Stouz ond frey"). The very end of the MCD is a Dark Alpine Ambient track called "Bärgtröim" (Mountain Dreams) which smoothly leads the listener back to the valley

\r\n

m[m] Are there any classic Swiss folk albums you think are worth checking out? Res When it comes to traditional Swiss folk music you should listen to "Mosibuebe". Amazing musicians playing songs passed on from generation to generation.

\r\n


m[m]Have you played live yet & if so what was your live show like? and if not how would you like it to be?
Res We haven't yet, because all of us are very busy beside Fräkmündt and we didn´t find the time for some serious live rehearsals yet.
We would like to have wild concerts! Using many different instruments, doing some improvisation, capturing the wild and impetuous atmosphere of alpine legends and nature and even some participation of the audience would be great.
\r\n

m[m]Whats next for the band?
Res After releasing the concept mini CD "Uufwärts e d'Föuse" and two exclusive contributions to the compilations "Oak Folk" and "Mit fester Hand" in 2010 and 2011 we are now finishing our second full length called "Heiwehland", consisting of 16 more varied and more intense tracks than we did ever before.

\r\n

m[m] Can you tell us anything more about your upcoming album "Heiwehland" , what's it going sound like & when's it due out?
Res Our second full length album will be called "Heiwehland" (roughly translates to "Land of Nostalgia") and consists of 16 more varied and more intense tracks than we did ever before.
Old sagas, alpine landscapes, homesickness and pure joy melt together into a unique musical journey.
Thanks to Merlin of Eluveitie who played the drums for the entire album and some other great guest appearances we were able to realise our musical vision better than ever before.
Annelis great voice can be heard on many of the songs, there are even more instruments, more variations, more depht of the songs, more changes of mood and more hearts blood in each note and word.
At the moment we are mixing and mastering the songs and take care of the artwork for the digi-pak and the booklet which this time will contain a description of each song in English as well.
The album will be out this autumn and you can listen to the song "Tanzlaubehond" on the "Pagan Folk & Apocalyptic Psychedelia Compilation part III" along with many other great contributions, some of them with Fräkmündt members, which is out on Steinklang or on youtube to get a first impression:
http://www.youtube.com/watch?v=9kLoD2n666E
Some raw excerpts also can be heard here:
http://www.youtube.com/watch?v=eqPvz3OjgCI

\r\n

Thanks to Res for his time & efforts with the interview. The bands website can be found here http://www.fraekmuendt.com/ and both Urbärglieder" & "Uufwärts e d'Föuse" can be brought direct from Percht/ Steinklang Industries here:
http://www.steinklang.at/shop/

Roger Batty