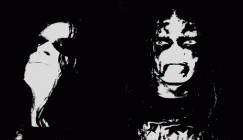 Propast - Unholy Serbian Darkness
Iíve taken a huge interest in Propast since I discovered Věstnik Preispodnji, the bandís debut EP, at the beginning of this year. From the majestic, hat...




Otavan Veret - Otavan Veret
If 2014 is proving to be anything itís going to be known as the year of releases. Ever since January 1st, itís been an avalanche of not only new releas...