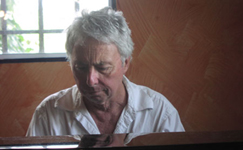 Harold Budd - Existential Beauty:...
Today the lineage between mid 20th century minimalism and what passes now as ambient music is mostly obscured. But lying beneath the sedimented layers of ele...




Hollywood Horror House(DVD) - Hol...
Here we have a recent DVD reissue of a long out-print horror movie from the early 1970's. Hollywood Horror House( aka Savage Intruder) is a haphazard, t...