Article Archive: qNo Articles yet!



Signora Ward Records - Nylon Wall...
Signora Ward Records is an Italian tape label that focus in on very specific types of noise & themes, and those are HNW & Feet and Legs/ Nylon S...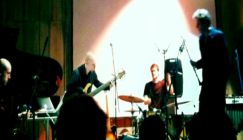 Splice - Silent Spoke
Here we have two pro CDs, presented in a cardboard, gatefold wallet; decorated with scratchy graphics and smeared colours. Splice are a quartet centred aroun...