Article Archive: qNo Articles yet!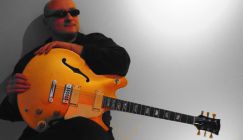 Mike Fazio - Textural Guitar-scapes
Veteran experimental guitarist Mike Fazio has been releasing his textural, freeform and improvisational music for upwards of 20 years now. Decidely ant...




David Shea - Rituals
Multi-instrumentalist David Shea used to be an incredibly prolific composer, with a steady stream of more than 20 albums between 1992 and 2006, his work larg...