Land Ahoy! [2010-02-07]The Kittiwakes are a three piece English folk band who released their wonderful debut album 'Lofoten Calling' last year & it fast became one of my favourite releases of the year & one of my favourite folk records of the last few years. The whole band kindly agreed to give me an interview via email

m[m] First off tell us a bit about the origins of the band & how did you all meet? Tell us a bit about each member's musical origins?
KW The band came together in order to play and arrange the compositions that were emerging after I visited the Lofoten Islands. I already knew Chris who plays accordion and piano and a lot of other instruments from our time working in music education in Greenwich and Lewisham. We found Jill via a musician's website called Musofinder.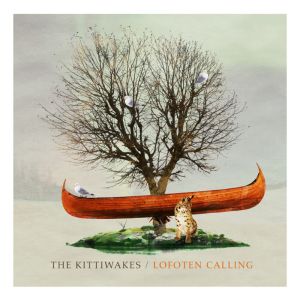 \r\n

KW We all have different musical backgrounds. Chris has long and varied experience as a performer, composer and arranger, as well as being involved in music education for over forty years. He also ran his own folk club at one time. Jill's first instrument was violin aged 7 after seeing a string quartet on Pebble Mill and quite liked the idea. She also plays with Pogues Tribute band The Pogue Traders and plays a plethora of other instruments including mandolin, guitar, mandola and banjo. I also started playing violin aged 7 and have been in a variety of bands and ensembles playing a range of styles. My Previous composition work has included writing music for theatre and a concept album about Nordic runes called 'Runa Megin'.

\r\n

m[m] where does the bands quite quirky name originate from?
KW A kittiwake is a sea faring bird that lives in colonies off the coast of the UK and Norway. Kitty is also a nick name of mine. I thought it would be nice to link the band's name to the themes around the sea.

\r\n

m[m] Your wonderful début album Lofoten Calling is based around the tales & legends of the Lofoten islands which are just off the Norwegian coast.. What attached you to this as a concept & theme?
KW I visited the Lofoten Islands in 2006 and came away with lots of musical ideas whirling around in my head. It seemed as if there might be enough potential material there to create an album, and that folk music seemed the most appropriate way to approach it.

\r\n

m[m] Have you ever visited the Lofoten islands yourselves?
KW I have visited the islands, but Jill and Chris haven't. We're hoping to perform the music there one day!

\r\n

m[m] The liner notes of Lofoten Calling claims the album was recorded in a garden shed- what was the reason with this & did you have any problems with the neighbours when recording the album?
KW The shed at the bottom of the garden is a recording studio at the bottom of Steve Grocott's garden. It isn't completely sound proof, and one Sunday afternoon I remember we were competing with a neighbour's drum practice!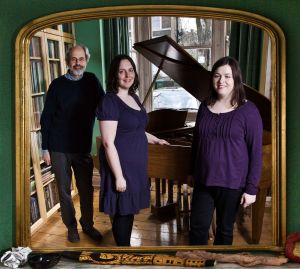 \r\n

m[m] How long did it take to write & record Lofoten Calling, and when you write songs do you do it together or solo then bring the songs for the band to add their own edge?
KW I began writing the songs and music in April 2007. All the material was in place arranged and ready by September 2008 and we spent up until January 2009 recording. So all in all it was about one and a half years. For Lofoten Calling, I wrote all the tunes and lyrics and brought those to the band for us to arrange together.

\r\n

m[m] Lofoten Calling has a really nice & varied mix of quirky/ joyful & more emotional/ poignant songs craft- which type of song is easier to write?
KW It's really hard to pin down how songs come about. Each time it can be completely different. I can start with a melody line or a sentence or a theme and then the other things grow out of the starting point. Some songs just flow out naturally, and some are laboured over. For instance I knew that I wanted to write about World War Two in the Lofoten Islands, but for months I couldn't find a way to do so. Then I found a hook to hang my hat on by finding out that my grandfather's ship was part of action at the islands, and so researched around conditions at sea in that area to find source material for the song 'The Arethusa'.

\r\n


m[m] You're clearly very influenced by traditional folk music- can you list five albums or songs that made a really a impression on you & why?
KW I was directly influenced by seeing Spiers and Boden live at the Leigh Folk Club. That experience led me to investigate other contemporaries in folk such as Eliza Carthy. So initially my influences were drawn from modern day interpreters of traditional music. I'm going to be a pain and choose three albums and two songs : )

\r\n

Albums:
'Songs' by Spiers and Boden
'Rough Music' by Eliza Carthy
'The First Cut' by Dr Faustus

\r\n

Songs:
'Maid on the Shore' Eliza Carthy
'Across the Line' Bellowhead

\r\n

m[m] You seem to be a rather active live band- what are some of the more bizarre & unusually places you've played?
KW Every place we play is different. We've played everywhere from small folk clubs to bigger venues and of course festival stages. Wherever we go we meet lots of interesting people.

\r\n

The funniest place I've ever performed was on the side of the Thames near Greenwich for a community play.

\r\n

m[m] what's next? Any plans for a new album? And what up coming live dates have you got coming up? KW We've begun writing some new material, but it's in the early stages at the moment. Some of our gigs coming up are:

\r\n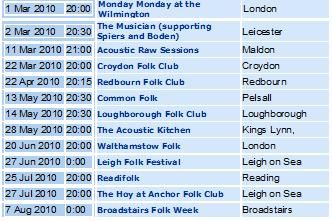 \r\n

Thanks to the band for the interview & thanks to Lauren at Southern for making it possible. The bands website is here & there myspace here

Roger Batty