Ghosts in the Machine [2007-03-14]David Kristian is a respected Canadian electronic sound artist who's released critically acclaimed and challenging work since the late 1980's. Recently he has worked more on film soundtracks and film sound design, to fit in with this he has released collaboration with respected Manga artist Ryosuke Aoike called Ghost Stories(reviewed here) which offers up a two disk set. Disk one is a muilt-layered electronic/ambient horror soundtrack, With Disk two offer up selections of tracks from the first disk in 5.1 surround sound,with creepy animated Ghost Stories by Ryosuke Aoike. David Kindly agreed to give me an email interview.

m[m] Where did the idea for the project first come about? And did you before or now do you believe in Ghosts?

Dk I came up with the seed of the idea after seeing Kiyoshi Kurosawa's "Korei" (Seance). When C0C0S0L1DC1T1 approached me to put together an audio-visual project with 5.1 sound, I thought it would be interesting to approach the ghost angle since I had always wanted to explore "immersive" horror. The biggest challenge was to make my concept connect with the label's love of architecture and 3D animation.

Dk To answer your question about whether or not I believe in ghosts, all I can say is that we fear what we do not understand, and that a lot of what we now see as scientific fact was once considered supernatural. As an agnostic and a sceptic, I think much of what we consider to be supernatural or spiritual phenomena will someday be explained via scientific findings.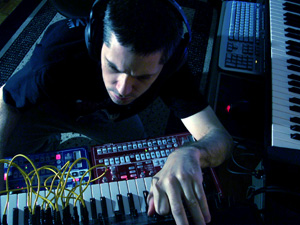 Asian ghost lore is quite different from Western ghost lore, which made it easier to avoid all the clichés that saturate Western popular culture.
Ryosuke Aoike, who isn't really superstitious either, had many interesting tales to tell, including one about very thin spirits hidden in building walls; that story helped me make the connections between ghosts and architecture.
m[m]How did you and Ryosuke Aoike first meet? Was he the first person you approached to work on the visuals side of the project?
Dk Ryosuke was my first choice as an animator. He's a very gifted artist, and he and his wife Kiyoko had been good friends of mine for some time.
Strangely enough, we had never really talked about horror or ghost stories before this project came about.
What had brought us together in the first place us was our passion for underground comics and animation, from Robert Crumb to Satoshi Kon.
m[m]You mention in the album liner notes that you left minidisk players in wall spaces and dark abandoned spaces- were about's were these and what's the most bizarre thing you found on the recordings?
Dk I didn't really leave the MD recorder in dangerous places, but its interesting how one's imagination can fill in the blanks in regards to sounds. I've been listening to a lot of 1940's radio programs these part few months, stories from Arch Oboler (Lights Out!), The Inner Sanctum, and X Minus One.
The simplest sounds can be interpreted in so many ways.
It all depends on the context.
m[m]You mention in the linear notes that EVP elements appear on the albums recording- are they still recognizable on the album? If so where do they appear?
Dk I can't be specific without going through the whole CD and DVD, but I can tell you the phrase "Help Me" was picked up from a scanned photo, and that strange voice-like tones emerged from juxtaposing harmonically waveforms on more than one occasion..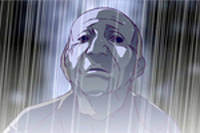 m[m]How long did it take to complete the project from start to finish? And what where done to or what process did the samples go thought before coming part of the album?
Dk It took me about 8 months from start to finish, mainly due to the complexity of the mix. The key to this project working as intended was subtlety. Less is more, and in this case, less is more frightening. The surround tracks were also toned down. I wanted the listener to feel safe in the 2D world before introducing surround elements. You forget you're listening to 5.1 and all of a sudden, you hear something coming up from behind.
I didn't use a lot of processing on samples taken from the real world, simply because I wanted the sounds to be pure. I think the synthesized sounds and the sounds rendered from images were strange enough to distract from the real elements.
m[m]Who did the story lines for Ryosuke Aoike animations? And what came first the animations or the soundtrack?
Dk I gave Ryosuke very rough guidelines and let him decide what to do. I think it worked out well. we didn't want stories to distract from the overall mood. The project is more of a painting with a soundtrack than standard narrative animation.
m[m] I believe this is your last album and you've decide to concentrate purely on Soundtrack and film sound design- why have you decided to do this? And have you got any interesting or bizarre tales to tell from your film work?
Dk I don't really see a future for the record industry. It's time to close up shop, evolve, and upload. It's time for artists (in all media) to broadcast their own work, and get sponsorship from advertisers. Why use iTunes when you can be iTunes?
One of the main reasons I wanted to do the project for C0C0S0L1DC1T1 was that the label understands you have to put out something special. Not just a CD.
Film is different because it's so complex and expensive to produce; You have to depend on the talents and resources of many others to make it happen. It's a true collective work. I don't have anything out of the ordinary to report from my film work, because when I am working on a soundtrack, I'm a little less adventurous. I'm there to serve the film, not my own creative whims. I still get to explore, but in a collaborative manner.
Dk I think there are a lot of similarities between Ghost Storeys and Nacho Cerda's The Abandoned, which I almost entirely scored in a textural manner. It's hard to tell where Glenn Freemantle's sound design ends and my soundscapes begin in some spots.
In others, I brought in more melodic elements, but I tried to always be subtle about it because I didn't want to take the audience out of the film.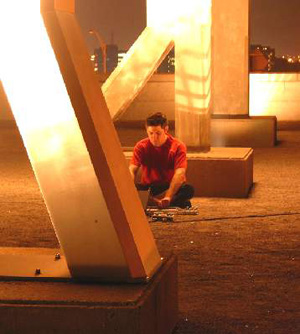 m[m] List your top ten soundtracks and why?
Dk 1. The Fog - John Carpenter
Better than Halloween and Escape from New York. I love the minimal piano Theme and the detuned analogue synth sounds. The reason no one can remake a John Carpenter film effectively is that they don't use the original scores. They were a big part of what made his earlier films unique.
2. Sorcerer - Tangerine Dream
TD scored William Friedkin's film sight unseen, using only the screenplay as a guide. This is the last great thing recorded by my favourite TD line-up of Froese, Franke and Baumann.
3. Forbidden Planet - Louis and Bebe Barron
Self-immolating homemade electronic vacuum tube devices, the AFM did Not approve, but the FP soundtrack remains one of the most innovative and effective ever recorded. Without it, the film would have remained a classic, but could it still impress today's audiences?
4. The Andromeda Strain - Gil Melle
A Jazz master meet the EMS VCS-3 synthesizer. Music to infect a planet by.
5. Blade Runner - Vangelis
I love everything about this score except for the love theme. Regardless, Vangelis' music managed to send shivers down my spine from the first frame. I love his use of synths and acoustic percussion.
6. UFO (TV Series) - Barry Grey
I was obsessed by this series as a kid. From the main theme with its GoGo Beatnik vibe to the eerie end titles music.
7. Mulholland Drive - Angelo Badalamenti
His best score since Blue Velvet. I would have put Blue Velvet based On the music alone, but Mulholland Drive has better production and lush reverbs.
8. The Shining - Wendy Carlos, Gyorgy Ligeti, Bela Bartok and Krysztof Penderecki. Aside from the main theme by Wendy Carlos and Rachel Elkind, most of the music used in the film came from some of my favourite contemporary composer's works.
9. Dune - Toto (and Brian Eno)
Forget the piano and guitar tracks, and just listen to The Trip to Arakkis, the Prophecy Theme, and Final Dream.
10. Vertigo - Bernard Hermann
One of Hitchcock's best films and what was arguably Bernard Hermann's best score.

m[m]Are there any films that you would like to have scored- that you feel you could have improved on their soundtracks?
Dk I wish I could rescore any of the John Carpenter movie remakes, just to try and retain a bit of the original feel even if I didn't have the rights to the original
music. I'd like to rescore a lot of today's horror films, especially the ones that have scores that are more action than horror.
m[m]what are you working on at present? And are they any thoughts to take Ghost Stories on to the big screen and in a live format?
Dk I just finished scoring Douglas Buck's Sisters (remake) with Edward Dzubak (an Emmy winning American composer) and I'm currently scoring a documentary called American Psyche by Paul van den Boom, and preparing a piece in homage to British horror writer Ramsey Campbell that will premiere at an event called Epoxy, which is being curated by Eric Mattson.
There are no plans to bring Ghost Storeys to the big screen, but I have something in the works that may be of interest to those who liked the project. Stay tuned.
Thanks to David for the interview. To find out more about Ghost Storeys and David work in general go to here
Roger Batty