On Lucifer's heels [2007-02-28]Herr are neoclassical/ neofolk project that manage to sound a lot more epic and real in their execution than a lot of projects going under the neoclassical banner. The bands second full length album Vondel's Lucifer first movement (reviewed here) was released last year and stood of one of my highlights of the year. The band are also interesting split between London and the Neathlands. Michiel Spapé from the Netherlands half of the band and one of the main songwriters kindly agreed to give me an interview via email.

m[m] Does one half of the project been in the UK and the other in the Netherlands cause any problems? How do you go about writing together?

MS Well, it does, sometimes. Of course it would have been more of a problem if we had a jazz music ensemble or something of the sort, but as it is, we minimise problems by having a composer – that is, me – and being in the digital age. So, I compose something, I give it some kind of theme and ask if Troy or Miklós would like to add some lyrics to the piece. Then, I ask Oskar to replace a few of my sampled strings, and perhaps a few others to do some part as well.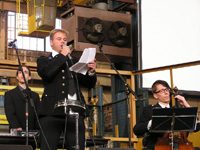 m[m] The feel of your music seems more authentic less sampled manipulated feel that some neo classical music has- it this important to you?
MS It is, to me. There are two good reasons for using the current setup of quality – that is, not just some synthesized stuff but something that gives a real try at sounding authentic – sampled (not looped) instruments. For one, an orchestra is too expensive. Secondly, which comes into play when talking about 'what if', an orchestra does not give as much control as using a PC does. It is a bit hard for me to acknowledge this, but in the end, I certainly am a control-freak, mockingly calling myself a self-assigned band-dictator, and so on – but in the end, it is brilliant to start out with an idea and guiding it all the way to completion; besides composing and arranging, I also do the mixing, production (and mastering, preferably), booklet design and website.
m[m] what triggered the theme of decaying empires in winter of Constantinople?
MS Triggered? It is hard to say, really. I suppose there are many reasons, but for some reason, the logical step for a band named after the Holy Roman Empire (for lack of better names... we're still considering Herrenliga to be the official name!), was to make songs about a) the Holy Roman Empire, b) the Roman Empire, but very much the third and last: about the Byzantine Empire. Why the last, we pondered? In fact, in what has become of the Western Roman Empire, we know so little about the Eastern, even though it existed so much longer, and this, alone, was quite enough to be so inspired about. What must they have felt, in 1453, as what remained of the once proud empire of which the borders stretched no farther than the eye could see, was being besieged by Mehmed II? In contemplation, it seems really ironic that the Holy Roman Empire and the Vatican were always so inspired by the Romans but simultaneously so engaged in their own struggles that they neglected sending their fellow Christians to help the East. If they had, indeed, the Greeks, Baltic states, etcetera would have been spared much suffering in the direct aftermath of that battle.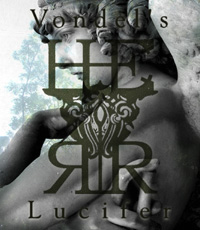 Sometimes, we get emails from people in these countries who thank us for bringing this up, though, we actually only bring attention to the existence of the Byzantine Empire and mark this era as historically important and inspiring.
m[m] winter of Constantinople(Herr's first album) brings to mind the similar air of decaying grander as coil's- Horse Rotorvator- are coil an influence at tall?
MS Influence? Well, I like Coil, Horse Rotorvator is one of my favourite cds (I love the Ape of Naples too, by the way!), but I don't think this has influenced much of the compositional or lyrical work. Subconsciously, perhaps.
m[m] What decided you move away from the more song based feel of Winter of Constantinople?
MS Nothing, really. There is only one real sing-song track on TWOC: New Rome; two songs are 'chanted', as we call it, and the rest is spoken or instrumental. The chanted stuff might have been on Vondel's Lucifer, but we pushed the one song saved for that to the second movement. And well, it's hard to do real singing with the complex rhyming translation of Van Noppen. We have one of those, yet (the second movement is still being made), which we play live, and this one is a bit of an 'intermission', or, reiterating the 'story so far' (a bit like starting soap-opera!), with Troy's lyrics. But it can't really be Vondel's Lucifer with all that Milton influence, can it... So, we try sometimes to extract some song-like structure, but it does not often work like this with Theatre.
Besides, the Renaissance idea of opera is mistaken: the classics were not all-sung, but often spoken as well, so we can still call it opera!
m[m] When did you first come across Vondel's text of Lucifer? And what made you decide to make it in to amusically concept album?
MS Well, I'm from a liberal Roman-Catholic background, so it should not be surprising to have come across Lucifer already during primary education... Quite a fascinating book to come across, for I dreamed of becoming a writer and was hungry for words. I know English people think their language changed a lot during the last five centuries, but for as long as I have read both of them; I have been able to understand Shakespeare better than Vondel!
m[m] How long did it take you to write the musically backing and put the album together for Lucifer?
MS Two years, but I hasten to add that I work fulltime as a researcher and have been occupied with TWOC and other musical projects as well, simultaneously.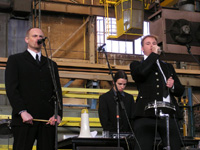 m[m] Has work started on the second part Lucifer yet? And if so how does it vary from part 1?
MS Yes, it has. A few songs are already more than a year old and I still want to use them for the second part. However, we have only added vocals to one track (the one I spoke of before), which is also available for listening on the website. It's not quite representative for the album, much like none of the songs on the First Movement is representative for the album as a whole. Well, perhaps one is, but only because it is so long that it made many reviewers hate the thing! Anyway, song-, or should I say track-wise, it is much more tragic, because well, it is a tragedy and most know how the story ends. It also features more strings and may sound less folky, as we seem to slowly turn away from that.

m[m] how do you go about recreating your sound in a live environment?
MS Specifically, with a laptop and midi-keyboard, a backing tape, two drummers and two vocalists and a cellist. I have also been studying the violin for about a year now and will most definitely use it when I feel confident about it not being too bothersome! There is also a backing projection, and usually a few gadgets involved.
Thanks to Michiel for agreeing to do the interview and supplying the pictures. Thanks to Justin from Cold Spring arranging the interview. Herr's website can be found here. You can hear samples/ buy direct both winter of Constantinople and Vondel's Lucifer from here.
Roger Batty