Off into the darkened fields… [2006-12-08]

Boduf songs weave dark folk come psychedelic magic with a distinctive dank English feel about it, So far they have released a self titled debut last year and this years Lion Devours the Sun ( reviewed here). Boduf Songs is the work of one person Southampton based Mathew Sweet, whom also has numerous other self released projects, that dip more into drone, doom and other experimental genres. Mathew kindly agreed to give me an email interview.

m[m] What are some of your earliest musical memories & what influenced you to become involved with sound making?
Matthew I started playing drums when I was about 12, mainly because it seemed like an awesome instrument and I wanted to be Bill Bruford/Neil Peart. A long winding path has led me through various musical interests, rather than any one particular influence, a steady development has landed me at the exciting and glamorous lifestyle I now enjoy.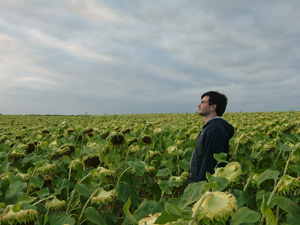 m[m] I take it from the mention of Bill Bruford & Neil Peart, you were a prog fan? And are you still now? What do you get you musical kicks from today?
Matthew Prog was the first thing I really got into in a big way, so naturally some of it still holds a certain nostalgic joy for me. Red by King Crimson will always be an awesome album, Close to the Edge by Yes... all fun times. Today I have been enjoying the Low Christmas album and some Noothgrush.
m[m] Why did you decide to push the Boduf Songs project forward instead of one of your many others?
Mathew I had been making music that was more experimental and predominantly instrumental, and Boduf Songs was really a little challenge to see if I could do something more readily accessible, with lyrical content and more standard structures and blah blah. Some people I played it to liked it a lot and suggested I send it out to some labels and what-not to hear, which I thought sounded like a terrible and pointless idea. Then I thought that maybe I could make a collection of the rejection letters so I went ahead and did it, and as it happens I was fortunate enough to only receive positive comments.
m[m] Will you be releasing or looking for labels interested in your other projects?
Matthew Not particularly. Most of those things are pretty old now, and I've made them all freely available online. It's nice just to get it out to people who might be interested. There are some new things in the pipeline…

m[m] Do the other projects include people other than just yourself?
Mathew I've been lucky enough to find a few like minded people, and many of the other projects are group activities. Some are 'proper' bands, that have played live shows and such, and others are the results of bored weekends or afternoons of improvising for our own entertainment. Notable luminaries include Clive Henry, who features on many of these things and also plays a vital role in the Boduf Songs live performance ensemble and runs the tape label 'Little Creature', and Jonathan Shaw, who once owned a telephone taken from Des Lynam's house. It was all crusty round the mouthpiece. m[m] You mention live performance of Boduf Songs – what does your live show consist of and any plans for a tour supporting Lion Devours the Sun?
Mathew There are a couple of guys that help me out with the live performance side of things. Obviously there's a few bits and pieces on the records that would be difficult to replicate live, which means we're forced to look at the songs a different way – it's an interesting process. Generally the songs are stripped to their barest elements and then there's a little experimentation to see what works best. I like the idea of working with a limited palette and getting as much out of it as possible, so a big part of the process is choosing the instrumentation.
We have a few shows lined up for Italy in the new year, and hopefully we can find some more in Europe around the same time. I'd really like to get out to the States in 2007; an opening slot with a like minded act would be perfect. m[m] I believe Kranky signed Boduf songs on the strength of your promo- which became your first self titled release - how much was it changed for release?
Mathew It wasn't changed at all. We discussed the options of re-recording it, and some attempts were made to reduce the amount of background noise and stuff, but those experiments failed and we all decided that the version that I'd originally sent to them ended up sounding the best. m[m] Why did you decide to take a darker, more disturbing route with Lion Devours the Sun?
Mathew I didn't really decide to, that's just the way it came out and the way it developed. I like dark pieces of escapism and it's sometimes hard to find things like that that aren't somehow ridiculous, or come off as cheesy or ironic or silly. I was definitely conscious of trying to avoid that, though obviously it's debatable whether I achieved it or not. m[m] The press releases for Lion Devours the Sun mentions that it features invocations of demonic forces- any truth in this?
Mathew To divulge any specific information on this matter would be to take my life in my hands and risk an eternity of assorted agonies in the company of only the most unpleasant tyrannical monstrosities and various other bad things, although I can state with considerable confidence that the suggestion is pure bunkum.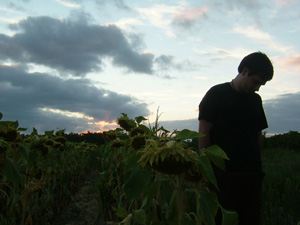 m[m] I see your self titled release as more of a grim spring record and Lion Devours the Sun a grim and macabre winter record - where do you think you'll go next with the project?
Mathew Grim and macabre summer record. Jaunty sunshine hits that you can dance to on the beach, albeit whilst weeping silently into your hat, overcome with grief at the vacuity of your own existence.
m[m] The two Boduf Songs albums were released within a year of each other - so when can we expect the next album, also is there anything else in the works other project wise?
Mathew I've tentatively begun work on a new Boduf Songs related project, hopefully a collaboration… more on that when things are confirmed. Also playing guitar in a metal band that's just finding its feet.
m[m] Your lyrical content certainly on the new album is knee deep in macabre and horrific imagery- are you a fan of the horror genre?
Mathew I'm a fan of film in general, and there are many movies in the horror genre that have a certain resonance to me, usually something that's more to do with the atmosphere that's created than anything else. I feel like it's an underdeveloped area nowadays, it's taken on a formula and regenerated it over and over and there are very few film makers prepared to step away from that. I suppose that it's kind of stigmatised as something unworthy of a more considered or artful approach – give the people what they want and all that. The last thing I saw that made me sleep with the light on was a documentary about 'old hag syndrome', a surprisingly common sleep disorder of sorts, wherein people awaken paralysed with a menacing old witch in the room or sitting astride them. Aside from being a chilling notion in itself, there was a distinctly unsettling feeling to the whole thing that bought me to a sort of dark nostalgia, thus necessitating a lights-on sleepytime.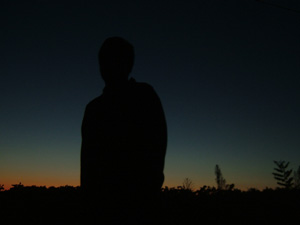 m[m] Going back to films and the atmosphere they can create – are there any that particularly jump to mind, which had an effect on you?
Mathew There are lots that have had an effect on me for sure – none that I can think of that have particularly inspired me musically in a direct way. The original 'Wicker Man', most things by David Lynch, 'The Cabinet of Dr. Caligari', Paul Czinner's 'Inferno', Herzog, Onibaba, the first 'Alien' movie, Vargtimmen… these all have beautiful and compelling atmospheres. In terms of more recent output, I really enjoyed Herzog's 'Grizzly Man' and the Townes Van Zandt documentary, 'Be Here to Love Me', both highly recommended. m[m] Your music feels very English, deep in our damp countryside and grim legends and earth tones- did you grow up in the countryside?
Mathew No, I grew up in dull suburbs, and perhaps that experience has something to answer for in terms of the sort of imagery I'm drawn to, an escape from the small town drudgery. I think I've always preferred the general grimness of certain pastoral scenes and landscapes to the more in-thy-face style of grim, with the corpses and the blood and the theatrics and such.

-A look inside the beast-
Selected and dissected discograph of Mattew Sweet

Randolph Carter - Easter Parade (Blue Baby recordings 1998)
More rhythmic and looped based dark tone, with repetitive and eerier use of percussive matter and creepy synth giving all the ten track here a deeply unnerving edge, that never result in sounding cheesy. This really is wonderfully developed and focused for a first release, it easily stands up in quality and depth of sound to other darkly rhythmic artist and soundtrack music.Randolph Carter - Title Withheld (Blue Baby recordings 1999)
Following on from the tone of the first randolph Carter album with its creepy cinematic tone, but much more striped back and minimal. This is full of slow moving sinister piano hits, eerier looped micro rhythmic elements and general unpleasant air. Though a few barren vocal-less acoustic guitar tracks appear, giving a foreshadow of Boduf songs.Heavy Manufacturing Concern - All Language (Blue Baby recordings 2000)
One near on 30 minute track with all manner of looped noise and sound matter and electronics. With a pretty constant droning ambient like loop- akin to staring out onto and endless black sea- both hypnotic and vaguely eerierHeavy Manufacturing Concern - Ausserhalb Under Erasure (Blue Baby recordings 2001)
Three quarter of an hour tracks based on looped eerier element s, but a bit more striped down and somehow dryer sounding than the first HMC album. With the middle track wondering more towards sinister sub electronica beat loop, that weaves in slow revolve drone melody.Four Man Ghost - 2 ( Blue Baby recordings 2001)
A few improvised tracks with different sound elements, but for the most part moving more towards dark instrumental indie come folk vibe. The odd electronic/ rhythmic elements are still present, but they sound is denser and somehow more warming.Maps Of Hell - n/t (Blue Baby recordings 2001 )
One long 30 minute doom encrusted track, very lo-fi and wonky sounding with bassy sleaze and guitar battering and low guttural 'what could human sounds' hover in the maelstrom. Goes from a slow death crawl to just about moving doom and distortion chug.Pistol At Dawn With An Afterglow - No Songs Of Birds, No Russle (Blue Baby recordings 2005/ 2004)
40 plus minute ambient track built around looped clear guitar playing, cello drones and various other layers of sound matter. both hypnotic, restful and often errier in places.Boduf Songs - n/t (Kranky 2005)
A less threatening and darker album, than its follow up. But it still hovers with sinister intention. Like a the feeling of dread on a carefree summers day. Released as it was sent to Kranky, taking in nine songs and lasting just over half an hour, A very focused and fully formed for a debut album. A perfect sweetly, macabre collection of lulling and evil undertoned softly spoken songs. Boduf Songs - Lion Devours The Sun (Kranky 2006)
>You'll find my review of this hereThanks to Mathew for his time & efforts with this interview. You can find more about Mathews work, Buy direct and Download most of his none Boduf songs catalogue here.
All pictures Were Kindly supplied by Mathew Sweet ©
Roger Batty