Norgarian Country 'n' Eastern [2001-07-11]The Norwegian band Farmers Market is gaining a new audience being presented to a jazz audience being signed to jazzlabel Winter & Winter and by playing jazzfestivals like North Sea Jazz."Well, it has all the same ingredients as jazz, so jazz musicians should be interested!!" says bandleader and multi-instrumentalist (and virtuoso, I might add) Stian Carstensen. The odd thing is however: their music is mainly based on Bulgarian 'Stambolovo' or wedding music. Although this brand of Bulgarian folk is indeed influenced by jazz to begin with it's definitely not your average Afro-American jazz. "Some people are only looking to USA, which might be a drag" says Stian.Stian Carstensen played the accordion from his ninth, until he found out no chick would fall for an accordionist. He started to play the guitar and forced himself to listen to heavy metal until he actually liked it and even had a Judas Priest backpatch! He played in a metalband called Døza Furborn. Stian: "we never recorded (thank god!!!!) but we bit the head of a couple of chickens!!" After some "not so important" fusionbands he ended up in the fusionband Farmers Market. They worked with Henry Kaiser and David Lindley on two albums called Sweet Sunny North: "We had to come up with something Norwegian on the spot, it didn't sound too good actually".Then something happened to Stian that changed his musical life completely: "I heard Ivo Papasov's band in 1992. Wow! What a shock!! I bought tickets to Bulgaria within two weeks". In Bulgaria he attends a show by a Bulgarian choir where he met Vesselina. "She showed us some places and then it started to roll". Farmers Market existed as a free-jazz quintet since 1991 with all members having a background in jazzdepartment of the Conservatory of Trondheim. Their line-up consisted, besides Stian, of bassplayer Finn Guttormsen, drummer Jarle Vespestad, guitarist Nils-Olav Johansen and Håvard Lund on reeds. Suddenly Bulgarian wedding music was their new brand of music and they recorded their first album a few years later: 'Speed/Balkan/Boogie'. It was released in Norway and recorded live with guests from Bulgaria. When Håvard left the band they started searching for a replacement. Through a Bulgarian friend they heard from Trifon Trifonov who eventually auditioned by jamming with Stian through the phone for an hour. Trifon used to secretly listen to Western jazz on the radio when he was young and this influence was very appropriate for Farmers Market. His virtuosity and knowledge of jazz was perfect for the wide range of music that was to be covered on their second album 'Musikk Fra Hybridene'. The 'Hybridene' (or 'Hybrids' in English) were a fictional country between Scandinavia and Europe where people from many countries lived and mixed their musical traditions. The album contained everything from insane medleys of wellknown hits to ultrafast folk-core to odd-metered funk. In Bulgaria this broad range of styles not common, most likely "because they didn't have access to all the music we heard for ages".Bulgarian wedding music emerged in Bulgaria in the sixties with the introduction of electric amplification to traditional folkmusic. Bulgarian authorities weren't to pleased with these Western influences and only traditional folkmusic and the heavily arranged (ironically, with Western harmonisations) vocal music like Mystere Des Voix Bulgares got support. Nevertheless, at weddings and other ceremonies the wild and loud music of artists like Ivo Papasov started to flourish in the seventies Besides the volume other influences were added ranging from jazz to Bollywood soundtracks. In the eighties this music gained some recognition and there even came an annual festival in Stambolovo, hence the name of this movement.The German label Winter & Winter released the new album in May 2001 . "W&W is very good for us, we just played for a big audience in Tokyo and things started to happen after we released on that label. Actually we have fans many places". The new album is less extreme is some ways. "I think that we are going for a more fluid style, as a result of lots of livegigs and a more personal way of playing the odd meter grooves, a more funky version". The music still has a lot of influences from Indian tablas to Laurel & Hardy-like slapstick music "but the most important thing is that it should be naturally incorporated in our style as a fluid element". There still are styles that might be explored in the future: "I like the way West-African bands do grooves with ostinatos with 2 guitars, maybe we'll try something out in our own way". Funny enough the Norwegian interludes on the first two album seem to remain the only ones. "We are not born into a traditional setting with authentic Norwegian music, so we are not that skilled on that", says a Norwegian playing Bulgarian music! "Besides, Norwegian music isn't so good for a band, it's more of a one-fiddle thing....but who knows??"On all albums there are a lot of guest musicians, something that will probably will be happening more in the future. "Well,I played some gigs with Django Bates and I can imagine to play again with him. I also like Arve Henriksen (he plays in the Norwegian band "Supersilent") a very special trumpetplayer and singer, he will play on my next soloalbum I guess". Like in Bulgaria, the liveshows have no pre-fixed setlist, one person starts a theme and the rest of the band has to follow, from what I saw Trifon and Stian are the leaders in this, but: "I try to be a leader, but the others are such anarchists, in a good manner I mean, so we often have discussions on stage while playing. But if I want to play a tune, I just start it, and the rest will follow me". There's a lot of improvisation going on with all the fast chordchanges and modulations. Besides tracks from the albums they play Bulgarian tunes, that also easily can be from Greek or Turkish origin, as well as 'Barbieworld' by Aqua for instance. Thanks to the improvisational character of the shows even a powerloss can't destroy the show as I saw in 's-Hertogenbosch; the acoustic instrumentalists just kept playing, automatically inviting the audience to come closer to the stage. "We did that in Norway on a whole show, when the power went down, it was cozy". More info can be obtained from the official (and funny) internetsite.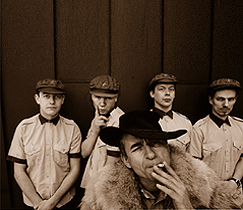 Norgarian Country 'n' Eastern
The Norwegian band Farmers Market is gaining a new audience being presented to a jazz audience being signed to jazzlabel Winter & Winter and by playing jazzf...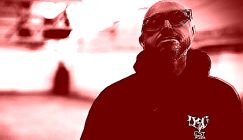 Colossloth - Promethean Meat
Returning to Cold Spring with their latest album, UK's Colossloth continue to plumb the depths of industrial with the rough and crushing Promethean Meat...