Feeling Dread [2006-07-26]Hwyl Nofio is a group that defies simple classification. Their sound is often melancholic, nostalgic and sometimes laced with a creeping dread. They combine avant-garde, ambient, noise, musique concrète, contemporary classical and soundtrack elements to create a sound and atmosphere quite unlike anyone else. Dwelling between composed and improvised forms. Hwyl Nofio came about in 1997, as an evolving ensemble based around its originator Steve Parry, who had previously worked with Matt Johnson of The The and Colin Potter of Nurse with Wound. Here's a report of my e-mailconversation with Steve Parry.

m[m] How did you first become interested in making music? Was it always in the form it is now?
Steve I have always been interested in making music. Growing up in Pontypool in S.Wales music was integral to my life. My mother played the organ in church and we always had a piano in the house. My younger sister Christine and I spent Sundays in church sat at our mothers' side as she played to the congregation. I presume the hymnal drone permeated my consciousness. I did study classical guitar at the age of 8 years and received piano tuition at 14 years. However, I have always sought the unorthodox. I am fascinated by the mechanisms of sound and would attach bolts to the strings of the piano and experiment with different tunings on the guitar. I built my own music making instruments out of bits of wood and metal. In musical terms I like to change the order of things ' screw things up ' create something that is essentially its own.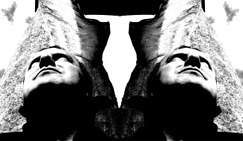 m[m] Each of your albums to me seems to capture a certain vibe for most of their running time: The Singers And Harp Players Are Dumb has a macabre yet easy feeling, like sinister goings on a summers day. Hymnal Has a nighttime air with dark intentions and the last album, Hounded By Fury seems to remenisce on a time past, heady with incestuous breeding and of bodies in decayed buildings. Was this deliberate to give each album its own air?
Steve Making music is about capturing the moment. Life's events and the unconscious essentially reflect in that moment. It's very much my state of mind at a particular time and place - I've never consciously tried to define the sound of a particular album. Music composition basically is about perception and experience. m[m] What does 'Hwyl Nofio' mean? I take it its Welsh?
Steve Yes, it's Welsh. Loosely translated it means 'emotional swimmers'. m[m] Your album artwork seems very important to the whole feeling of each album. Can you tell us a bit about how each came about? Who are the couple on the front of Hounded by Fury for instance?
Steve I like surrealist art: Francis Bacon, Angus McBean, Man Ray. I feel it's about interpretation and asking questions that don't necessarily amount to the same answers. Hwyl Nofio's artwork is based on imagery that has a personal significance. The couple on the front of Hounded by Fury is a bit of a mystery. The photographic image is contained on an old metal photographic plate that hangs on the wall of my cousins' house in Garnant, S.Wales. He only recently unearthed it and shock horror cleaned it with WD40! Thankfully the image survived. m[m] Hounded by Fury seems to mention trains and railways a few times in the track titles and the artwork- why was this? Where did these ideas come from?
Steve Oh, the train thing! I only in actuality noticed the diverse references when someone else pointed it out to me. The track Lost Man Found On A Railway Track is founded on an actual encounter with a man strolling up a railway track. I was in the car in some small desperate community in S.Wales, navigating a level crossing and this guy just appeared on the horizon. I had a camera and quickly took the photo. It's on the Hounded By Fury sleeve. The track The Darkened Windows Of A Ghost Train North is based on childhood memories.

m[m] Your work seems perfect for soundtrack work (though in someway I feel that moving images, might spoil one's imagination) Have you ever considered or been asked to do any soundtrack?
Steve Music as the soundtrack to one's life! I would relish the opportunity to work with moving images or perhaps an art installation. It would be good to imagine creating the soundtrack to a future Un Chien Andalou or L'Age D'Or! m[m] How do you go about writing songs? Are they primarily composed on the guitar, which I believe is your first instrument?
Steve I'm constantly experiencing life as sound. It's about getting the damn thing down on tape. Primarily, I compose on guitar and piano. Improvisation and experimentation are also key elements to composition. m[m] have you every thought about or taken your music to a live environment?
Steve Yes, most definitely. Although the logistics of mounting this are prohibitive, given the financial budget it would require. I am thinking of working on a small ensemble for the future. Recently, I had the wonderful experience of hearing Jerusalem Lane performed by a brass band. I also am contemplating working with a full orchestra on future productions. m[m] Your music without doubt touches down in a murderous and scary air, what scares you?
Steve Smiley happy people, politicians, religion, people in uniforms, conformity, ignorance, safety Pins, toenails... m[m] what are you working on at the moment?
Steve More Hwyl Nofio, some solo and collaborative efforts with different musicians. m[m] I recall from reading the press sheet, that you had done some work with Nurse with wound? How did this come about? And what did you do?
Steve I recorded an album with Colin Potter of NWW about more than 20 years ago. He had this little home recording studio (in an old outhouse) at the back of his cottage near York. I had just moved to York and contacted Colin via some guy in a local record shop. Having been living and making music in London for the previous four years I felt pretty jaded and disillusioned by the large record company thing. I travelled north to be with my future wife who was studying for an art degree at York college. I needed to escape, get back to basics, and enjoy making music again. Also, I was unemployed and totally skint, I certainly could not afford the cost of studio time. Colin and his wife were incredibly gracious and generous in allowing me to record an album worth of material. I would turn up with various sound making devices: my fender guitar, pieces of metal, a bucket, hammer, saw, flute, homemade glockenspiel, field recordings, an old cassette recorder. Listening now, it's interesting to note that the music contains many references to what later would become Hwyl Nofio. I recall also playing guitar on Colin's cassette only album The Where House.
Recently, I unearthed the presumed lost recordings in the loft space of my house - they are pretty primitive sounding but nonetheless retain an innocent charm. I had not been in contact with Colin for a very long time but recently contacted him to share my excitement at discovering the recordings. I also wanted to reimburse the cost of the recording. Unfortunately, the emulsion of the recorded tape had deteriorated and this needed to be re-baked; in addition the sound has been digitally enhanced. Who knows if enough people are interested I may just get around to releasing this music in the future! The album is titled Womb.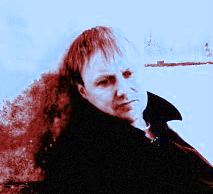 m[m] You release your CD's on your own label, are there any artists signed to the label?
Steve Yes, Hwyl is primarily about releasing Hwyl Nofio CD's. However, previously we have released CD's by Belgian avant-garde /improvisational guitarist Gilbert Isbin and various solo cds by Hwyl Nofio collaborators Sandor Szabo and Trevor Stainsby. m[m] Why did you decide to form your own label?
Steve I formed my own label for various reasons. Essentially I wanted complete artistic freedom without any constraints imposed by other persons. Also, I'd previously signed to a large record label and had some bad experiences. Personally, I think the whole corporate rip-off of signing over copyrights can amount to daylight robbery. m[m] name your top ten favourite records and why?
Steve The Velvet Underground & Nico
The Jimi Hendrix Experience ' Electric Ladyland

Django Reinhardt - The Hot Club Of France
David Bowie ' Low
Neu - 2
The Dambusters - Soundtrack
John Cage - Sonatas and Interludes for Prepared Piano
Robert Johnson - The Complete Recordings
Harry Partch - The Harry Partch Collection. Volume 1
Male voice choirs/brass bands
All of these recordings have personal resonance. m[m] How is the new material sounding and what will the solo material be like?
Steve I have been working on some new Hwyl Nofio material. The sound is pretty much like the rest of Hwyl Nofio's music, whatever that is. I have been working on a solo album whereby all sounds derive of the guitar. I have just taken delivery of a new Washburn hollow body guitar and so experimenting with new tunings and adaptations.
Look back in dread
Hwyl Nofio have released thus far four albums, this includes a limited edition now out of print cdr disk entitled Anatomy Of Distort. Here's a brief look at their discography: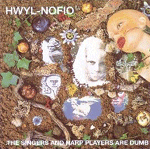 The Singers And Harp Players Are dumb (1999)
The debut seems to drip with lush pretty melodies that hover with sinister dread, giving the feeling of murderous and macabre going-on's, on what seems like a normal summers day. Much like the way Halloween brought dread to normal suburban streets, Steve Parry and his dark companions mix beauty and dread perfectly. The piano seems a centre of a lot of the tracks that gives it almost a creepy modern classical edge. A perfectly formed and realized debut.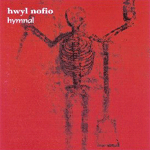 Hymnal (2002)
Very much of the night and the bottomless black pits of one's imagination, it introduces deep bassy caverns of sound, where instruments twitching, sneaking and scuttle by creating a chilling and suffocating air. This is music that brings back fear of the dark, the shadows that seemed almost human like, the dry creaking of the house late at night, which could be footsteps. A captivating and chilling excercise in black-as-coal atmospherics, guaranteed to send a shudder or two down one's spine, like a cold bone finger slowly trailing down your body.


Anatomy of distort(2005) Anatomy of distort seems to bubble and crawl with eerier and shadowy motives and actions back through time , it catches snapshots of ; people crowded around mutilated bodies on Victorian London street Connors . Hunched and grey figure cutting its way through dense fog banks. Dieing flowers on badly candle lit mantle piece, row drained lovers collapsed in the half light, slowly sobbing. It seems to hovering in a droning, bad heat hazed modern classical air and suffocating guitar rumblings - such a pity this is no longer availed- hopefully it will be reissued sometime soon. Easily as Morbidly Satisfying, as their unlimted items

Hounded By Fury (2006)
Their new dread-filled masterpiece, my full review can be found here


Thanks to Steve for the interview for more info about hwyl nofio, and to buy any of their albums direct go here. all pictures kindly supplied by Steve Parry. Roger Batty