The Sound of Silence [2006-07-16]Jacob Kirkegaard is a sound artist, who has thus far released two albums on UK's Touch label, along with a collaboration with Philip Jeck. His first album Eldfjall (2005) investigated the sounds made by the geothermal vibrations of Iceland's volcanic geyser regions. His more recent release has been Four rooms, which was recorded within the isolated zone around the Chernobyl area. Here he investigates if radiation has a sound, I reviewed the album here. Jacob kindly agreed to give me an email interview, talking about the fascinating project four rooms and his future work.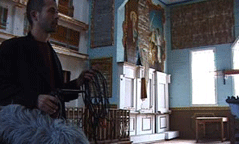 m[m] How did you first come about with the idea for four rooms?
Jacob The idea partly derived from a workshop that I did at the Danish Academy of Architecture in 2004. The idea for this workshop was to explore ways to listen to rooms and to explore time related to architecture. Another idea, came from a room. He recorded his voice in a room and played this recording back into the room, while recording it again and again. Lucier's piece does also bear an architectural aspect, as his voice changes according to the space he is located in. I thought it would be interesting to carry out this process in abandoned rooms, but without speaking like Lucier did, simply just to place a microphone in a room and to leave it alone.
Lastly, the most important motivation for 4 Rooms was my interest in radiation and the time-aspects attached to it. As we all know, some radiation in Chernobyl will be there for thousands of years to come, it is an incredible amount of time to imagine. By travelling to this zone and placing a microphone inside some of these radiating rooms, would I be able to record something of this time? If I then layered this on top of each other, would I then be able to listen to a longer span of time in a shorter time?
m[m] How did you go about getting permission to get in to the isolated zone?
Jacob It took a good amount of time on the internet untill I found out that there was an administrative office for the so-called 'zone of exclusion'. There I got in contact with a guide, who explained to me that I would have to write a letter explaining the purpose of my visit, including info about myself (passport number etc), and for how long I wanted to stay. After a couple of weeks I received an email from my guide, who told me that everything was alright and that I was welcome to come. I never received any official invitation, only an e-mail. It was actually not so difficult to get in as I had thought in the first place. I basically started my research, without any knowledge of how to enter, so it was of course very exciting to find out that I could now go. Once it became clear that I was actually going, I was so thrilled and nervous at the same time. I imagined that I was going to outer space, to hell or to paradise. Some no-space for sure.
m[m] Did you find yourself effected by the radiation?
Jacob well, during this whole project, the planning, the actual stay and now, I have gone through various states of feeling mentally effected. I have felt no signs of physical effect. As we know, the physical effects show later on, if at all. I will never know for sure. Before going, I spent at least 6 month's researching on radiation and the risks of going there. After reading articles and talking to radiation scientists etc. I arrived at the decision that it would be OK for me to go. Or else I wouldn't have gone.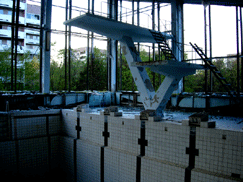 Jacob Visiting the zone was undoubtedly the most interesting journey, I have ever been on. I spent three days travelling around in this wasteland, Surrounded by an outermost astonishing nature. The air seems so incredibly fresh. Of course you don't smell or see radiation, you just know that it is there, and this makes everything seem very artificial. Nature all of a sudden looks and sounds so artificial, or 'unnatural'. Very much like Tarkowski's landscape in Stalker. It was very filmic in fact. The effect that 'something is wrong here', but it hasn't revealed itself yet. Even the silence sounded strange. Radiation has added another dimension to what we know, something transcendent and mystical.
Travelling for hours in an extremely lonely, but colourful and overwhelming landscape in an October autumn, knowing that there is something in the soil, something around me that I cannot see, evoked a feeling, that is very difficult to describe. I have never found myself feeling outside reality (literally alienated from the world that I understand). There is a different spirit inhabiting the place, it is divine, but devilish. Something that eats you slowly, but there is no monster to see, only wild nature. It is like a spell.
So it is an extremely interesting place, and it reached beyond myself. Experiencing Chernobyl is like entering another zone in myself.
m[m] How did you go about choosing the four rooms? And where exactly are they? Are they near each other?
Jacob I was interested in finding rooms, which had once been active meeting points for people. The rooms should contain a good resonance. The rooms should also bear a visual strength, since another part of this Chernobyl project involves video. This is now an installation entitled AION.
My guide around the zone was a fantastic person, she understood my project very well. Without her brilliant insight and knowledge of the zone, this project would have been very different. I explained to her about the project, she proposed some rooms, that she found interesting.
The three rooms were the swimming pool, the gym and the auditorium, all located in Pripyat city. The church is located in an abandoned village named Krasno. There are no churches in Pripyat, because Pripyat was built strictly on communistic ideas . So the 3 rooms are all located inside Pripyat, which inhabited 50.000 people. I don't know how far Krasno is located from Pripyat, but it took more than an hour to drive there, as the road was very bumpy and there were also trees to lift off the road on our way...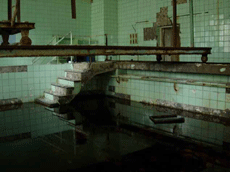 m[m] Explain in detail how the tracks were created? Over what period of time was each track completed etc?
Jacob Each track on the CD is the sound recorded in the respective rooms. For example, Swimming Pool is the sound of the swimming pool. The drones, tones and overtones that are heard on the track are the last sound layers I recorded there. At this point the room had started to sing. Creating the track, I didn't do much mixing or any processing of pitch or reverb, or anything like that. The sounds stand, purely as they were created on the spot. It is the technical approach in how to obtain this kind of sound that interests me, rather than to work with processing at home on my computer. I equalizing the sound file in order to let the already existing frequencies appear clearer. With some equalization, the dense layer of evoked overtones unfold.
m[m] How did you first become interested in sound art, this form of working?
Jacob I started creating music when I was around 12 years old, trying out all sorts of instruments, starting out with guitar and finding sounds inside my dad's oriental instruments that he had collected. I've studied classical cello as well, Bach and such. I was 19 years old, when I stumbled over Walter Ruttmann and also Pierre Schaeffer and they completely opened my horizon. They inspired me to think about 'the world' as being an instrument, contrary to all the obvious instruments, which were created with the intension of being an instrument. So I started recording the world and putting it together to my own puzzle... later on, studying at the academy of media arts in Cologne, Germany, I was introduced to exciting recording tools, aside from the normal acoustical microphone.
The accelerometer (a super sensitive contact microphone normally used for scientific purposes), inspired me to 'listen behind the surface' of things and this opened a very large world for me. Imagining that things dont sound as they immediately seem to. I could dive into them and listen from behind or below the sound. The quality of sound would only sound according to our perception or according to the tools we would use. The medium is of course always the message, but then I guess the less obvious, or hidden messages are the more exciting to explore.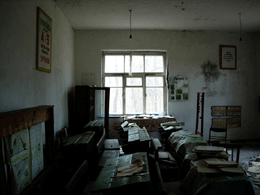 m[m] What are your future plans for sound art work?
Jacob I have a whole lot of different projects for the rest of this year; After my stay in St. Petersburg, where I'm now enjoying a NIFCA residence. I will go to Italy, to set up work for the Eco e Narcio project curated by Daniela Cascella. My contribution for this project concentrates on a similar method, as the one I carried out in Chernobyl, namely to evoke a sounding space by layering the sound of a space. In Italy I found spaces with echo inside and outside astonishing landscapes.
In August I will create a work at the west coast of Jutland in Denmark, it will be a 16-channel sound tunnel right on the tidal sea, sand, and in the water. I will also present AION, at the Waves festival in Riga and do concerts in Sweden, London and Rotterdam. In the next issue of Leonardo Music Journal (MIT press) I will appear with a previously unreleased track from my Chernobyl trip entitled Concert Room.
Thanks to Jacob for the interview, Jacob's site can be found here here and here. Both albums can be ordered direct from here. All pictures were taken with permission from Jacob's own site. Roger Batty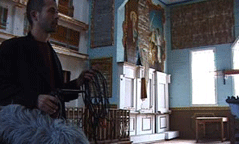 The Sound of Silence
Jacob Kirkegaard is a sound artist, who has thus far released two albums on UK's Touch label, along with a collaboration with Philip Jeck. His first album El...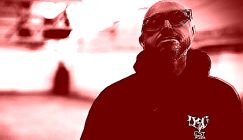 Colossloth - Promethean Meat
Returning to Cold Spring with their latest album, UK's Colossloth continue to plumb the depths of industrial with the rough and crushing Promethean Meat...