Peeping Tom, a sneak peek [2001-07-05]After 2 days an official statement about the leaked Mike Patton tracks came out. According to Greg from Ipecac records 2 of the tracks might end up developing into Peeping Tom songs. The other 4 might end up somewhere else.A couple of days ago someone accidently put 6 Mike Patton (Mr Bungle, Faith No More, Fantômas)songs online. They were referred to Peeping Tom demo tracks. A wizzkid found out and posted the URL on a forum.In this article I will give a preview of the six demo songs. Facts about the Peeping Tom project are that Mike Patton signed a deal with Reprise Records. Studio work begins late summer and the album will be produced by Dan the Automator (Dr. Octagon, Handsome Boy Modeling school, Gorillaz and Zach De La Rocha). Patton has demo'd 20 songs and the label is hoping for a 2002 release followed by a big tour. According to Patton: "Reprise certainly hope Peeping Tom will get serious radioplay. I would be shocked if it didn't." In other words, this will be Patton's most accesible project since his Faith No More career.1. The first track last for almost 4 minutes and starts out relaxed, then some beats jump in and Patton sings with a Jamacain accent. The song is kinda funky and even has some electric guitars in it. They use some nice electronic effects too. The track is not really hard to get into, but neither a potential single.2. The next track could be referred to as 'Keep Our Love Away' since that's part of the refrain Patton sings over and over again. The song lasts for about four minutes and reminds me a bit of a poppy Mr Bungle track. It could be released on single since it's quite catchy and easy to sing along with. There is even a flute and a Bunglish orchan in the song.3. Third track is one of my favourite songs. It might be called 'Here Today' since that's what Patton sings in the refrain. It's a moody and dark track and he let us hear the best of his voice. Think about a soft Faith No More song mixed with Massive Attack beats. Quite catchy and a potential radio-hit.4. The next song reminds me a bit of soft Faith No More, like 'Evidence'. It's kinda smooth and I think it has the same lyrics as the second track, this time with a different rythm. But hey, that's why it's a demo. I prefer this one a bit more then track two since. He put more variation in this one. Patton does some short rapping and we even hear a (synth)choir at the end.5. Track 5 is the most different track from the bunch. I would describe it as the Jackson 5 song. It's 70's soul with background singers and cheap police-siren effects in the background. The cathcy track might be called 'Desperate Situation' because of it's refrain. Patton does a great job with singing this kind of music. I'm looking forward to hear more of this.6. Last track starts with a great beat-melody and then flows into a relaxing trip-hop song. The refrain has electric guitars and is quite heavy, Patton even screams in it. The song can be described as Faith No More goes trip-hop. With heavy Massive Attack influences and Patton's screams this is by far the heaviest track of all of them.So if these tracks develop into Peeping Tom songs then we can expect something good on the full lenght album. Which of these 4 songs are from the Peeping Tom project is not known by me. But who cares, if these tracks stand for the quality of Patton's future projects I would wait for it.Last edited on 8.00 PM - 05 06 01Disclaimer: Musique [Machine] can't help anyone to get these tracks. None of these will be distributed by us. Niels van Rongen




Peeping Tom, a sneak peek
After 2 days an official statement about the leaked Mike Patton tracks came out. According to Greg from Ipecac records 2 of the tracks might end up developin...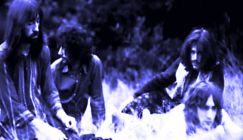 High Tide - The Complete Liberty ...
Formed in the late 60's High Tide where a British band, which brewed up a rough 'n' ready at times heady mix of heavy psych rock. proto-met...