Horribly noisy [2006-07-10]The evil mastermind behind seething horror noise project The Cherry Point is Phil Blankenship. He also runs the noise label Troniks which releases his own material, along a myriad of other noise projects from across the world, but always with a keen eye for quality control. His biggest recent release was California, a ten vinyl set document of contemporary California based experimental, noise, drone and improvised music, which was a co-release with, Ground Fault Recordings and RRRecords. The Troniks label has now been going since 1997 and is well recognised with in the noise scene, Phil kindly agreed to give me a email interview.
m[m] What was the first thing that got you interested in noise and making noise yourself?
Phil I've always been into a lot of things going on at once. Growing up I would read a book, watch a video, do my homework, listen to records, etc. all at the same time. This constant overload developed into an obsession for input. Noise seems to encompass that perfectly.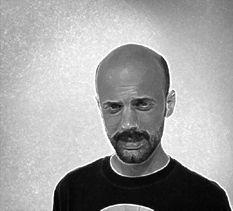 m[m] How did the Troniks record label come about?
Phil Like most small labels, Troniks started because no one else would release music by the label head. As I gained access to the internet, I was able to network and find like-minded freaks & weirdos and decided to do releases for them, too.m[m] The likes of Wolf Eyes have opened up the noise scene more to the public eye, what do you personal think of this, do you think it's been a good or bad thing?
Phil Success changes a lot of people, but I think that people who work hard deserve to be paid for their efforts... kind of like Ayn Rand might say, "Talent should be rewarded".
m[m] looking at your album artwork and vibe to The Cherry Point releases, you're clearly a horrorfilm fan. Name a few of your favourite films and why?
Phil Private School, Fast Times at Ridgemont High and Gremlins. Why? Phoebe Cates.
m[m] what's been the fastest selling item on Troniks so far?
Phil Easily, it was the Thurston Moore/John Wiese split 7".
m[m] How do you go about create your blood noise tapestry ?
Phil It comes so naturally, you could say the noise records itself. I generally stand in front of my gear and twist a few knobs. If I'm feeling active, I may move the faders on one of my mixers or shake my 'shaker box' which is a west coast noise staple.
m[m] To there seems to be a split in the noise scene, those coming at it from a more art sense and those coming from the more base anger point of view, what side of the fence do you fall?
Phil I guess I fall into a third category, a noise artist that actually has sex.
m[m] List your top ten records?
Phil a few favourites, in no particular order:
Bikini Kill - Pussy Whipped
Excuse 17 - s/t
Goblin - Profondo Rosso
Merzbow - Venereology
Mocket - Pro Forma
The Need - s/t
Prurient - History of AIDS
Skin Crime - Audio Pathology
Sleater-Kinney - s/t
John Wiese - Catwoman is a Cat Vampire 7"
m[m] what's are you working on next with The Cherry point and what's coming up in the future on Troniks?
Phil I'm working on a disc for the amazing Xerxes label from Japan. Also, several more Cherry Point collaboration records should be out by the end of the year (with Privy Seals, Sewer Election, Treriksröset , Mike Shiflet, Ahlzagailzeguh, and others). For Troniks/PACrec there will be new CD's by The Rita, Envenomist, Roman Torment, Yellow Swans and others. Plus a few new LP's that I'll keep secret for now.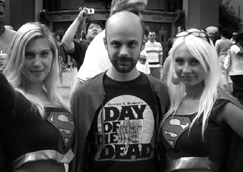 m[m] You've recently released a ten vinyl set, bringing together California based experimental and noise music, how did the idea come about to do this?
Phil Ron from RRR asked me to compile and co-release a California boxset with him.Thanks to Phil for the interview and pictures. You'll find my reviews of the recent The Cherry Point album Black Witchery here. For finding out more about The cherry Point go here, for more info on Troniks and ordering direct go here.Roger Batty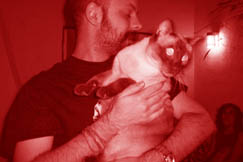 Horribly noisy
The evil mastermind behind seething horror noise project The Cherry Point is Phil Blankenship. He also runs the noise label Troniks which releases his own ma...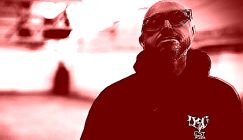 Colossloth - Promethean Meat
Returning to Cold Spring with their latest album, UK's Colossloth continue to plumb the depths of industrial with the rough and crushing Promethean Meat...