Pop Deconstructed #1 [2001-06-24]Here is the first edition of an editorial column about the Pop top5 (taken from the "Hot 100" at Billboard.com). I must admit that I am a little apprehensive about listening to all those pop songs. It feels like entering somewhere that has a police perimeter and the coroner's van parked in front; you know you're going to find something stinky!I will make comments on the songs in reverse order, starting with thebillboard #5 all the way to #1. We'll see if it really gets better or ifthose songs were put in that order arbitrarily by record labels and their"oh so legal and ethical" independent radio promotion.#5 Train - Drops of Jupiter (tell me)What an overly sappy predictable song. It tries so hard to be some bigballad and just ends up sounding like a cross between Elton John, Bon Joviand the Counting Crows. Just what we need, another generic faceless rockband to join the ranks of Matchbox 20 and Third Eye Blind. The fact thatthis is near the top of the Billboard "Hot 100" really shows howunimaginative you have to be to have success in the music business.The song starts with piano and the singer trying to be poetic by talkingabout a girl using metaphors about seasons and astronomical entities. Andthen for the following 4 minutes it's the whole ballad deal: acousticguitars gently strumming away, nice strings arrangements (by the same guywho did "Madman Across the Water" era Elton John and it sounds pretty muchthe same from the few samples that I have heard (thanks to allmusic.com forpointing out the similarity)).The singer croons decently but his melodies are so derivative and the wholesing along bit at the end, the one that goes "nah nah nah nah nah..", makescalling a psychic an interesting alternative pastime. It's really cheap andoverdone sentimental junk with good production. I'm sure that you can findthe formula used to write this song in "Contemporary Adult Pop Rock forDummies"... Well, at least it's decent background music for a dentistwaiting room, it should relax the patients a lot! Hell, I'm sure they coulddo open heart surgery on me without anesthesia if I had this playing on mywalkman in "repeat" mode.This song is about as cliché as someone breaking a bottle on someone's headin a cowboy movie.#4 Lil' Romeo - My BabyThe first time I pressed "play" to review that song, I got scared after 15seconds and thought to myself: "That's it, I can't do this. Screw the wholething, there will be no pop column, I can't handle it..". Then I took alittle time (in silence) to calm myself and remember than I must be strongand not easily impressed (unimpressed?), after all, it's only music. Itcan't hurt me.Well, I summoned the courage (hours after my first try) to listen to "MyBaby" (what an original title). It isn't as bad as I first thought it was,but it's definitely much worse than #5. The song is mostly comprised of a11 (he says his age in the song, I thought he was about 8) years old kidsinging in his best rapper voice using expressions like "in da zone" and "Igot game" and a women trading off with him in an irritating voice thatsounds like it was recorded when she was 10 feet away from the microphone.This is the Aaron Carter syndrome.I'm sure everybody finds this little kid really talented and cute, andmaybe he is, but it seems that his age is the big gimmick here and I'msorry but music should be about music to a certain extent. When I hearlyrics like:Eleven years old, makin A's and B's
And these little mami's can't keep they hands off me
If you see me in the streets holla "What's up Doc?"
I got a Bugs Bunny chain with a matchin watch
I make ya'll jump like Kris Kross, bounce like Bow
I'm the next generation I came to lock it down
I'm a little boy but I live a big man's life
Got girls passin notes tryin to be my wife
Got grown women, wantin to be in my life
By the time I'm 18 I'm not gon' be nothin niceI'm afraid that this gives insight in the mind of kids that have beeninfluenced by this whole "money, respect & women" mentality (not that itwas ever much different). Can we lower our standards anymore than this? Ifkids sell because they are cute, what's next? A song sung by a bunny? I'mnot saying that pop should have substance coming out of the wazoo but thisis definitely not enough to be anything except a novelty song.#3 Nelly - Ride wit meThis is actually a smooth song with a drum machine beat, some nice acousticguitar and a male singer (Nelly?) singing "If ya wanna take a ride witme.." over and over again. I have nothing against that part of the songsince it creates a nice somewhat romantic ambience. But the problem is thatthey added some less good parts to the song (for variety's sake?):somewhere in the middle a bunch of men with very un-romantic voices startrapping and saying "check, yo yo! [...] mutha-fucka'" (they probably putthat it just so they could have a cameo of a bunch of famous rappers in themiddle of the video) and there is this irritating sample that is repeatedthrough the whole song.This song could've been tolerable background music, but it has been ruined.And even if they had made better production and songwriting choices, themain melody gets old fast and it doesn't justify the 4.51 minutes runningtime and it sure as hell doesn't justify the reason why this is in the "Hot100 singles". I guess they show a lot of T&A in the video (which I haven'tseen).#2 Life House - Hanging By A MomentThis song start with clean guitars and the singer doing his best EddieVedder/that guy from Creed imitation. I was kind of expecting him to startsinger "Don't call me daughter, not fair to me..". Well, that's just forthe beginning of the song, after that his voice become way more generic.This is one more adult rock song with big mellow reverb drenched chorusesand ultra predictable song structure. Matchbox 20, Goo Goo Dolls... you'veheard it before. This song is pleasant to listen to, but it really hasnothing special to comment on. That's the keywords: "NOTHING SPECIAL".Let's move on.#1 Christina Aguilera, Mya, Pink, Lil Kim - Lady MarmaladeKi chi ki chi ya ya yee...Here's number one, directly from the soundtrack of Moulin "let's targetteens" Rouge (see great negative review at Mr. Cranky), a LaBelle disco cover: Lady Marmalade.The music consists of a drum machine, a cowbell and a keyboard that playsit's "electric guitar" patch (why not put real electric guitar? I guessthey figured the demographic the song is aimed at doesn't know thedifference between a synth and a guitar...). You'd think that for a bigbudget flashy musical number set in Paris at the turn of the century theycould've had more elaborate and more organic arrangements, but I guess thatafter paying the salary of those four 'divas' (does that word meansanything anymore?) they didn't have any money left for the actual music.What we get in the vocal department is that modern R&B thing which consistsin singing as many notes as possible, as high as possible while being asannoying as possible (Mariah Carrey anyone?); it's pretty much theequivalent of those masturbatory guitar solos that add nothing to the songexcept a spot to show off. As for the chorus, well, the cowbell reallybrings out the inner beauty and sheer cleverness of "voulez vous couchezavec moi" (translation: "do you want to sleep with me"). We also get (who Iassume is Lil' Kim) some female rapping and doing that low "uh uh uh" gruntwhich really embellish the song and gives it a more feminine and sexy edge.This is number 1? Someone tell me again that money and marketing is not theprimary reason why most artists become popular please...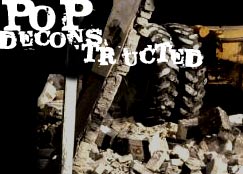 Pop Deconstructed #1
Here is the first edition of an editorial column about the Pop top5 (taken from the "Hot 100" at Billboard.com). I must admit that I am a little apprehensive...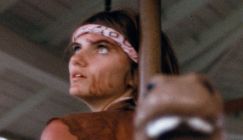 Death Screams - Death Screams( Bl...
Death Screams is an early 1980's North Carolina set slasher- featuring corny 'n' camp dialogue/ characters, some neat brooding stalk scenes...