Too good to be doom [2005-12-14]Dronewise my personal favourite release of 2005 was the debut-cd by American group Asva. Ranging from drone and doom to medieval chant-like female vocals made this album an extraordinary trip. Bandfounder and bassist Stuart G. Dahlquist, who formerly played in Burning Witch with doompope Stephen O'Malley, answered some questions regarding this enrichment to the dronescene.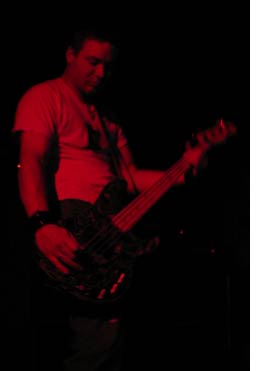 The band and its record
m[m] Is this line-up fixed or is Asva more a project that revolves around a core with changing personnel?
Stuart The current line up is pretty much fixed although there several 'cores' and also a great deal of flexibility. From a compositional standpoint the core would be myself, Trey Spruance and Jessika Kenney. I write the essential sketches of the tracks which the organ and supporting guitars tend to follow to a certain extent. Jessika and Trey utilize those basic tracks and add the more textural aspects which to my mind are integral to the songs as a finished piece. Then theres the Trey, Jessika, and Troy Swanson triumvirat... those three are constantly playing off of one another during the shows, evolving into this organism that seems to be getting more removed (in a good way) from the other 'core' of Dan LaRochelle, Brad Mowen, John Schuller and me, we supply the 'oomph'. Another 'core' would have to be the emotional heartbeat of the band, whatever holds us together as a group. There's a tangible vibe with us when we're together touring or recording... there's eight of us (including producer/soundman Randall Dunn) in that van or studio and we all have ideas about where the tracks need to go, or to where we want to eat. We seem to find common ground pretty easily between us, a lot of laughter as well.
(note: a while back John Schuller was 'relieved of his duties' and he is no longer in Asva.
m[m] How does the band work, as a collective or is there a leader?
Stuart Brad and I are the leaders of the band but neither of us push anybody into places they'd rather not go. We don't tour unless we all can do it, and we've all made real sacrifices to this end. Jobs lost, girlfriends fucking other guys (just kidding!), we're all pulling our own weight.
m[m] There are a couple of quite prolific producers involved, didn't that cause any problems during the recording process?
Stuart No problems at all! As a matter of fact so many doors open when we're working in the studio... I write these pieces of music and they really are so basic at the start. As we get beyond the basic tracks, the bass and drums, some supporting guitars, thats when the creativity of all the people involved just pulls the music up a level. We don't rehearse at all. I record the music here in LA and send copies of my demos up to everybody so they can write parts on they're own. Then I'll fly up to Seattle, go straight from the airport to the studio, lay down the basic shit with Brad and John, and invite the others as time allows to come in and lay down whatever it is they've come up with. It's pretty free really, I'm usually stunned and amazed at what these guys are able to come up with. If there are questions as to whether a part is taking a song in a direction that doesn't seem appropriate we listen, negotiate, think. Assimilating all the ideas that swirl around us is sometimes difficult but there's time and room to make all those contributions work.
m[m] You sold demo's you made for Asva, what do they add to the album or does the album miss something?
Stuart I think they add to the album. There's that historical compositional aspect that nobody knows about; the "Where did that come from?" gets answered. I actually like my demo's quite alot... There's things I do that the band never would do; sampling, a solid beat, simple guitar parts. I only made 55 of these things, just a neat little reference for someone to have in that doom collection.
m[m] Asva, I understand, is the 'workhorse of the Prana', why did you choose it as bandname, what's the idea behind it?
Stuart I came across the word in an article I was reading about thoroughbred horse racing. As usual I didn't research it much but I was aware that Asva is Sanskrit and means Horse (of course theres much more to it but at the time I was just into the word). I grew up on a ranch in Montana, riding and working on horseback. The truth is I just love the animal. I proposed the name to Brad, he liked it and it stuck.
m[m] Futurist's Against The Ocean seems to be one continuous thing, is there a concept involved?
Stuart Yes but not in the normal sense of what a 'concept album' is... playing this style of music, maybe its doom, maybe drone (I've never liked these terms) the lamest thing to do is release the audience before its time to let go entirely. Playing live I would never stop, never let up until it was time to pull the plug, literally. The idea behind the continuity of Futurist's Against The Ocean is to replicate that sort of overwhelming sensory deprivation that accompanies an hour or so of fantastically loud, intelligent music. This is one problem I'm having with the vinyl release... the continuity won't be there and the listener will suffer for it. The solution of course is to make a one-sided 20" 9rpm record but it seems unlikely to happen! The songs stand on they're own pretty well I guess. I'm toying with making it 12" 45rpm instead of 33rpm. I think we have room to do it and the sound quality would be pretty killer. Its very close time wise though, some of those tracks are just a hair long for 45rpm.
Source material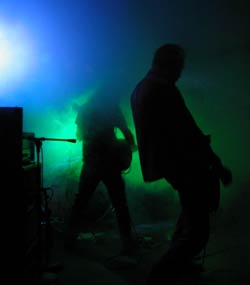 m[m] Who are the Futurists and what's their beef with the ocean?
Stuart I do know a little... the Russian Futurist movement started in the early teens just prior WW1 and lasted until the early 30's. My attachment to the movement is due to some very beautiful hand-made chap books of poetry I came across a couple of years ago, potato prints and collage, wallpaper. Some pretty substancial names were involved: Aleksandr Rodchenko and Marc Chagall were almong the many other lost or anonimous artists. That was a great time for the arts... writing, poety, painting, sculpture; especially in Europe and what became Eastern Europe. When Asva was working on Futurist's Against The Ocean I had just started looking at the Russians and became so caught up with the whole movement! So I stole it.
Metaphorically I like to equate Asva (thinking of this, maybe not just Asva, theres loads of other music that could sit right alongside) to the Futurist movement, and the ocean would represent a world resistant to Asva; Asva (and others) would of course fight back with more music, more difficult sounds. Punkrock and rap/hip hop are so watered down they haven't done a thing for me in quite a while; a new movement, a worldwide shift in what is valuable in music would be a fine thing!
m[m] The apostrophe in 'Futurist's' to me seemed a mistake on the cd, now I see you actually typed in the answers, so what is it?
Stuart Grammatically it is a mistake but it was intentional; we went over and over, back and forth, discussing what we were trying to say. At the end I felt like it just looked better. I'm glad you recognize that its an apostrophy and not a comma but really this doesn't matter at all. Its fake cyrillic so what the hell!
m[m] Do you see a connection between current drone-doom and spectral composers like Iancu Dumitrescu and Giacinto Scelsi? Out of many 'band-with-orchestra' experiments this seems one of the most intriguing and potentially crushing ideas.
Stuart I'm not familiar with either of those composers but I certainly understand the connection. Krzystof Penderecki is my biggest influence by far. Carl Orff, Gabriel Fauré, György Ligeti. Much of my writing is in direct consequence/response to listening to the orchestration these guys come up with. Trey has been threatening to send me both Scelsi and Dumitrescu... I imagine both will lead me in yet another direction. And yes, there is a potentially crushing record yet to be made. This first effort of Asva is pretty good but the next one, with songs written knowing whos in the band and where each individual member can take things, is likely going to end up that crushing record which has yet to be made.
m[m] Are there other noteworthy influences on the band or bandmembers?
Stuart We each bring our own particular influence/sound into Asva. Trey, like Jessika is of course a really key element as far as the texture of the songs is concerned and Troy has this very subtle, brooding, Hammond thing. Theres not a hint of monomaniac in this band; so many really different sounds are coming out all the time! The collection of music that travels with us in the van is astounding, extremely varied.
m[m] Jessika's influences seem to range from contemporary to medieval, from European to Javanese. What's her background and influence on Asva?
Stuart Jessika is really special... she's been studying medieval musics for a long time, Persian singing, Javanese gamelan, all this highly technical, beautiful, ancient singing. A lot of it I'm not familiar with at all and my introduction has come from Jessika singing in the van (which is a real treat... it's just so calming) practicing or showing us what this type of singing is or that. She has attracted the best teachers, literally from throughout the world, who tutor her. Jessika came from Spokane, Washington, a large city on the eastern border of the state. Its cold in winter, hot in summer, high unemployment and a place most kids want to escape from. Perfect environment for punk rock... Jessika told me a few things about this punk band she would sing with. The guys in the band I guess just felt Jessika was a bit much; she'd never be told about shows, and only would find out through the word of friends. She'd just sort of show up, bloody tampons hanging in her hair, and tear the place to shreds. The guys in the band as I understand it were somewhat intimidated but she kept on showing up. She's very versatile, very creative and has the tools to pretty much do anything she cares to do.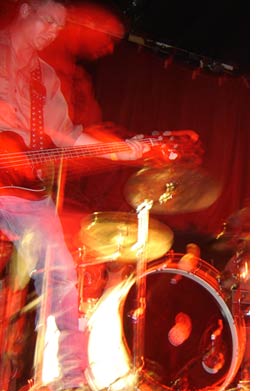 The experience
m[m] Burning Witch, Sunn 0))), Asva, it's all slow and droning, can you imagine the format becoming limiting?
Stuart No I can't. Doom, drone, whatever you like to call it is so far from being tapped. Hardly anyone is doing it! Theres myself, O'Malley, Anderson; maybe a dozen good bands out there that are likely to push the envelope. Have you ever leaned your guitar or bass against your amp, absolutely turned up as loud as it will go and layed down on the floor right in front of it? It's amazing, like an audio version of watching a fire or ocean waves... absolutely hypnotic, completely an animal of its own creation and the sound constantly re-invents itself. This is the very barest most primal example of what the music can do. Now add a little control over it, a few other like minded musicians, and your harnessing something bigger than us all... I see this slow music as being in its infancy. I'm trying to integrate a beautiful, almost pretty aspect in hopes of gaining more ground in listenership. A wider audience will only bring other voices to the genre and that can only be good. At least in the short term... perhaps 10 years down the road this music will be as played out at rap. I hope not!
m[m] What is it you don't like about the terms doom and drone?
Stuart Both terms to me communicate negativity, detachment, something a little bland; Burning Witch, Sunn, Asva... really this is fun music to play and my feeling is that this music should have a distinction that communicates the power, the drama, and the interior dialogue that can happen for the attentive listener. I dont think doom or drone, stoner rock, dirge, none of that really gets the point across. Suggestions?
m[m] Doom, for lack of a better term, seems at a high at the moment, I'm afraid it will collapse soon (only until the next revival though). What will Asva help survive the dissolution?
Stuart Harness the ocean...
m[m] You have the nickname Bootsykronos, is that a tribute to two bassplayers, William "Bootsy" Collins and Cronos (Venom), at once?
Stuart Stephen O'Malley (Khanate, Sunn 0)))) started that... I was playing in a funk band (Bootsy) and Burning Witch (Kronos) at the same time. I'm still at it, but now its Asva (Kronos) and gospel (Bootsy). Bootsykronos!
m[m] A gospelband? Please elaborate?
Stuart Haha! Yes, I play in a gospel band occasionally. I'm a pretty funky bass player when I want to be and I live in a predominantly black neighborhood here in Los Angeles. I've been asked to do the gig full time, touring, recording, all that but its impossible to commit to it. Asva is far more important to me, so I do the gospel thing when I can. Its a cool thing... the music is super challenging, just bass, guitar, drums, and keys with a 30 or 40 person chorus. These guys really kick ass and can improvise over some really intricate stuff. We go off of charts but I'm a lousy reader so for myself theres alot of homework involved. For the record God nor Satan exist for me, but the music is alot of fun and the people involved are great to work with.




Too good to be doom
Dronewise my personal favourite release of 2005 was the debut-cd by American group Asva. Ranging from drone and doom to medieval chant-like female vocals mad...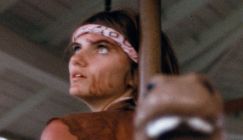 Death Screams - Death Screams( Bl...
Death Screams is an early 1980's North Carolina set slasher- featuring corny 'n' camp dialogue/ characters, some neat brooding stalk scenes...