Death is Fun [2004-12-25]I was quiite taken by surprise when I got Abuse Park, And Then You Die's latest full-length more than one year ago (review here). One of the best albums of the year, limited to 500 copies. One year later I understand it's not sold out yet. Surely there is omething wrong? You just can't let it pass you by...

Hopefully, this article will help them sell a few copies more. As you will see, the writer wasn't in an highly original phase when he sent the question. The tongue-in-cheeks answers he got make for a great read, and will certainly spark some interest. Fans of Scorn, Godflesh and Swans, do yourself a favour and check them out.

m[m]: What's the history of the band?

atyd: We have no single real answer to that. To be honest, we don't know.

m[m]: You've been around for a long time, how come people outside of Finland haven't heard anything about you until that album? It's a shame when you consider the quality of the album.

atyd: We have no answer to that question, either. Come to think of it, it's not really a question, now is it? You are simply stating a fact. 'Who is listening to your music' has always been of great importance. A select few have known the band from the obscure beginnings, but the masses have no clue to this very day. We haven't been that keen on promoting ourselves...
to the masses...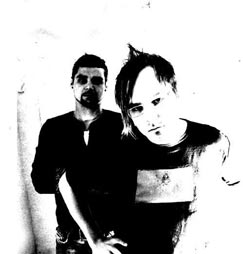 m[m]: What are your influences (musical and non-musical)?
atyd: We are our own greatest influence, our art is only an extension of ourselves. Life is a movie. And you are not invited.
m[m]: ATYD initial ambition was to be an art collective mixing music, film and various other arts. Could you tell us a little more about your vision?
atyd: Our vision is clouded by obscene profanity at the moment. Actually there is no vision. A couple of young men creating a lot of disturbing nonsense that they called art, gathering all the stuff under one common name. But if you think about it, what would be more appropriate than focus on a media that can be presented as one? Or chopped into little pieces, still each small piece would be functional on its own.
m[m]: What is the status of the band right now?
atyd: We prefer the term 'unit'. The status of the unit is one of deep personal and spiritual introspection. Look deep into yourself, and you will find us there.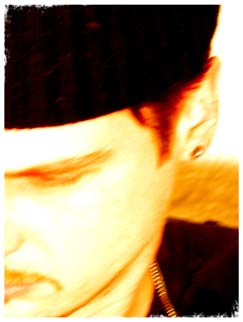 m[m]: How did your sound develop throughout the years?
atyd: Sound is merely a continuation of ones self-perception. You are different today, compared to yesterday. The same mechanics rule and govern the sound that utilizes you. It's not the other way around, the popular belief that you are using sound as a 'way of expression', rather sound is using you as a tool; as a sort of blue-print, a comb that filters away all untrue sound. And of course it has to be admitted that our unusual songwriting/recording technique has got something to do with it also. What is left is what the populistic point of view regards as 'your sound'. When closely scrutinized, the whole 'your sound' notion falls apart, anyway.
m[m]: What about touring?
atyd: We ARE touring. It's all a question of how one defines 'touring'.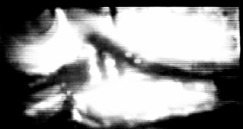 m[m]: You put a lot of efforts in your visuals, who is responsible for them? How important are they?
atyd: The visuals are the most important, the all encompassing expression. The audio is merely a simple wrapping for the visuals. Or perhaps the other way around. Combining sound and vision gives you a highly manipulative tool. We also think that the artwork concept should always be directly linked to the content. Reflections and facets, relaying the same events, and beyond.
m[m]: There seems to be a sort of philospophical ethic around ATYD, could you elaborate? I'm thinking about a form of individualism as stated in the information page of your site.
atyd: The short version: within our own frame of reference, we are omniscient; outside this frame, we are not. The long version won't fit in this post. Okay, we could perhaps elaborate some; the really compressed, three word version of the philosophy is 'Death Is Fun'. Individualism is just plain silly. If you really think that individualism is a great idea, you have a lot of growing up to do.
m[m]: You worked on a short movie called stefan spade, could you tell us a little more?
atyd: Stefan Spade is a story about you. The storyboard was concieved on a dark winter night in 1996 after several liters of cold coffee. After that unfortunate incident we had our thumbs up our asses for about 8 years. The filming and editing cut a massive two weeks out of our lives. What a waste that time was. The movie is a blockbuster, though. With a bit of luck, you might never see it.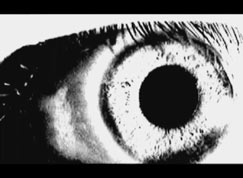 m[m]: What's up in the future? What are your plans?
atyd: We will visit your house and drink your wine. After that, no idea. We might come up with something.
m[m]: Last words if you have any...
atyd: We never, ever have any last words. We are quite unique in that sense
Franšois Monti